Subway® is bringing to life its very own museum, also known as the Subway Big Museum of Taste, from the 10th to the 30th of August 2022, exclusively in Singapore for the first time in over 50 years!
Located at the first level of 11 Prinsep Link, a State Property managed by the Singapore Land Authority, Subway's Big Museum of Taste spanning over 6,000 sq ft offers a discovery into one of the world's largest Quick Service Restaurants (QSR), made experiential through digital installations and interactive activities, all in time to commemorate Singapore's National Day. 
Featuring nine never-before-seen interactive installations across four zones, the museum promises a fun-filled experience for everyone that are sure to intrigue their senses and engage both adults and children.
Behold the seven metre long iconic and longest-running Italian B.M.T.™ sub right at the entrance of the museum, offering a grand welcome to guests. To effectively manage the crowd, all guests are to register themselves online prior to their visit to the museum, before they can collect their near field communication (NFC) tags at the museum, at the start of their journey.
Discover the history behind one of the world's largest and most renowned quick service restaurant brands, through insta-worthy feature walls and fun trivia games. Additionally, guests will have a truly immersive experience by going behind-the-scenes and becoming their own sandwich artists, assembling their virtual sub. Imagine "kneading" your own dough, "slicing" vegetables and challenging your friends to a dance-off while you "pick" your protein!
Take the opportunity to browse their limited-edition museum merchandise at the gift store and bring home your very own exclusive Subway-branded socks, pop sockets, t-shirts, pillows, tumblers and more! What's more, fans can also enjoy a sweet treat of freshly-baked Subway cookies and Coca-Cola towards the end of the journey. 
To mark the momentous launch, the museum has also been certified by the Singapore Book of Records for being the "First Sandwich-Based Museum in Singapore", Subway will also be the first brand to attempt the record for the "Largest Sandwich Making Game" for the Museum's experiential zones. The Singapore Book of Records is a non-profit organisation established to compile and adjudicate all national records.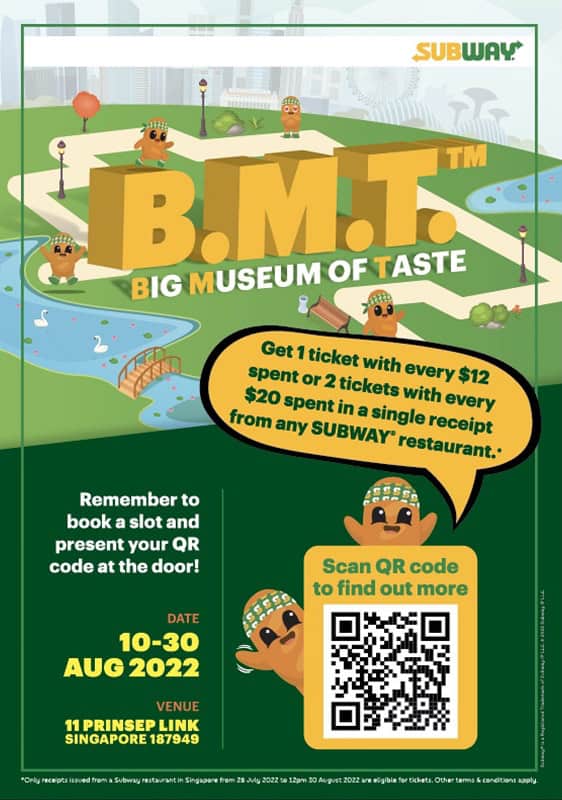 Subway's Big Museum of Taste is one of the activities supporting the brand's "What's Your B.M.T." campaign, which encourages guests in Singapore to explore and discover the meaning behind their own interpretation of B.M.T.™. In line with the campaign, Subway is also delighting guests with its classic Italian B.M.T.™ and has unveiled two upgraded versions – B.M.T.™ Double Cheese and B.M.T.™ Plus – now available at all Subway Singapore restaurants islandwide. The campaign will also be bringing to life the Subway beloved brand mascot, SubBro, in a larger-than-life 3D advertisement, from 10th August to 6th September 2022, at the TenSquare billboard just overlooking the Subway Big Museum of Taste along Prinsep Link.
Experience the Subway Big Museum of Taste
Entrance: Looking for the most insta-worthy spot? Look no further than the entrance where the seven-metre long iconic Italian B.M.T.™ sub sits as a grand welcome to all Subway fans. Don't forget to pose and tag  at #SubwaySingapore #BigMuseumofTaste & @subway.singapore!
Registration Counter: Flash your e-tickets and receive your NFC tags for entry! Please be reminded to redeem your tickets online as tickets are not sold at the museum to manage the crowd.
Zone 1: Discover the story behind the original submarine sandwich brand and its evolution to becoming one of the largest and most iconic quick service restaurants in the world!
Zone 2: Think you are a 100/100 Subway fan? Challenge yourself to a perfect score on all 20 Subway trivia quizzes!
Zones 3 & 4: Build and assemble your own digital sub – "knead" bread dough, "slice" some vegetables and even show off your moves in a dance off!

Redeem your free cookie and Coca-Cola on us while you browse through our limited edition merchandise at the gift store.
Subway Big Museum of Taste
Address: 11 Prinsep Link, Singapore 187949
Date: 10th – 30th August 2022
Opening Hours: Mon – Thurs 10am – 9pm, Fri – Sun 10am – 10pm
Ticketing information: All tickets have to be redeemed via www.subwaymuseumsg.com, tickets are not available for purchase at the museum. Spend $12 in any Subway Singapore restaurants to redeem one ticket or $20 to redeem two tickets. Restaurant spending is only applicable for walk-in and takeaway, not applicable for orders made through third-party food delivery apps and/or websites. Children aged 12 years old and below enjoy free entry. Terms and conditions apply.
To find out more,  please visit Subway Big Museum of Taste Website at https://www.subwaymuseumsg.com/