If you and your family enjoy visiting Gardens by the Bay, take the opportunity to join Friends of the Gardens membership programme to take advantages of its benefits where you can enjoy an exclusive members-only menu at Majestic Bay Seafood Restaurant for the month of September. Friends of the Gardens membership programme seeks to engage and reward members with great savings and an extensive host of privileges including unlimited admission to Flower Dome, Cloud Forest and OCBC Skyway, free parking for the first 2 hours, exclusive merchant discounts, and more! Gardens by the Bay look forward to welcoming you to their ever-growing family.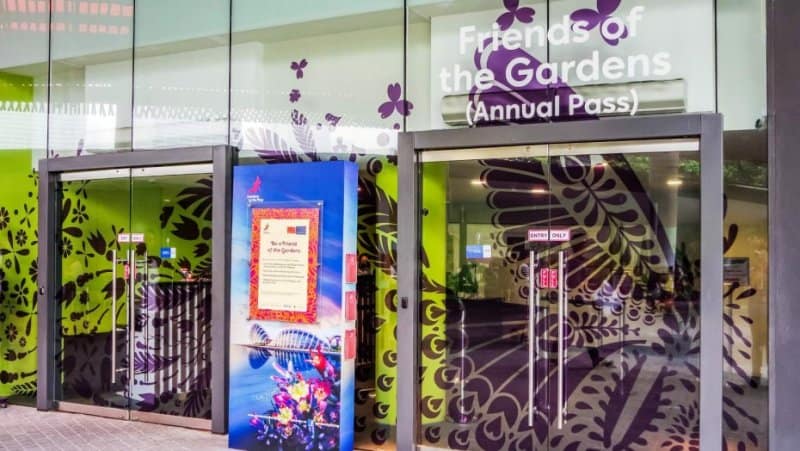 Image Credit: Gardens by the Bay
To find out more about the benefits, to apply online and or to visit Friends of the Gardens Centre, please click

HERE. 
Have you been to South Africa? Now we will have the opportunity to explore the beautiful South African floral display right in Singapore at Gardens by the Bay. From now till 30 October 2016, "Tribal Tempo" marks the first large-scale South African floral display in Gardens by the Bay. Explore and discover South Africa's native flora, from vibrant Gazanias and Gerberas, to the unusual-looking Proteas and Aloe Trees.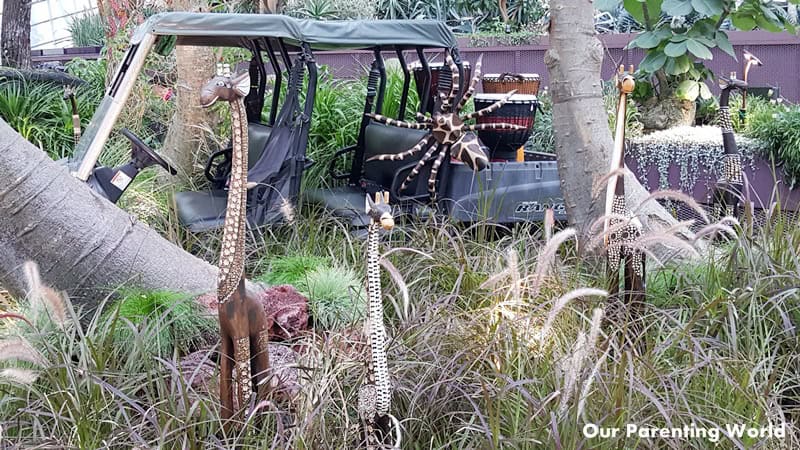 The beautiful Flower Dome has been magically transformed into the colourful landscape of South Africa. Join us as we embarked on our exciting safari tour to find out more.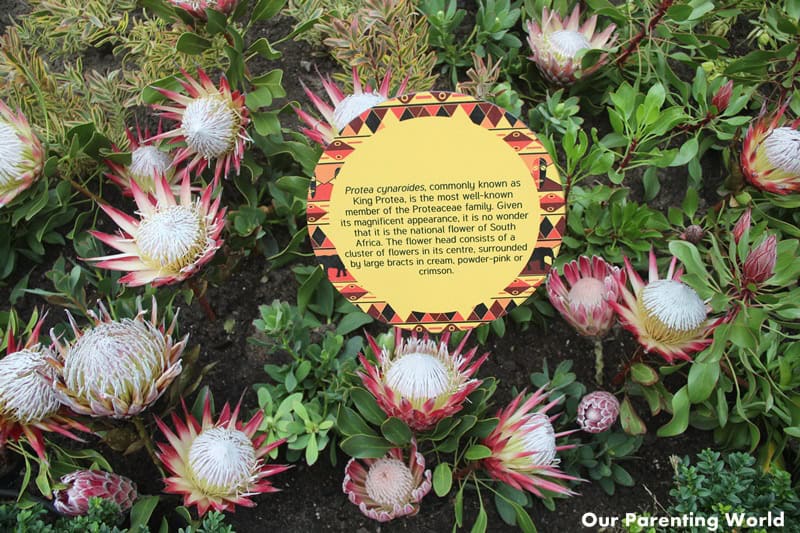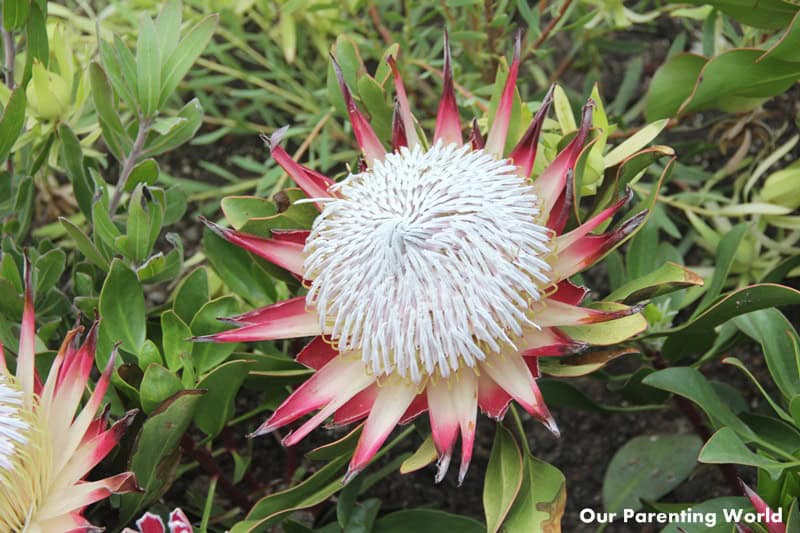 This magnificent flower is known as the King Protea which is the national flower of South Africa. It has the largest flower head in the Proteaceae family. 
Leucospermum cordifolium also called red pincushion protea is found in South Africa. This flower blooms in stunning shades of orange and red.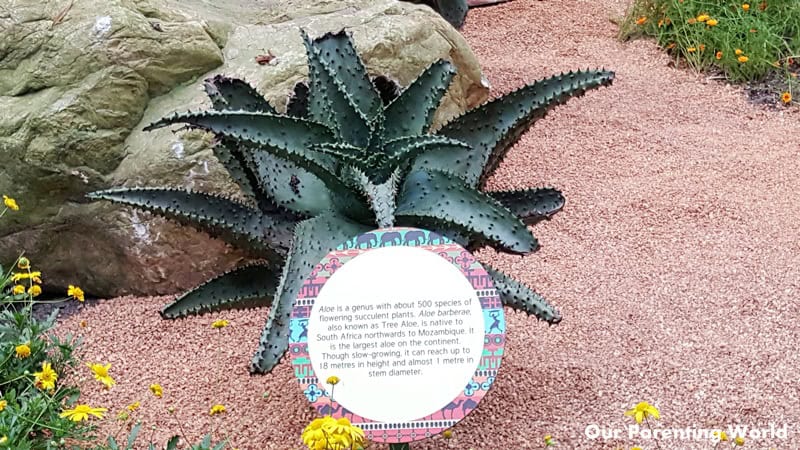 Aloe barberae also known as the tree aloe, this is a species of aloe which is native to South Africa northwards to Mozambique. Aloe barberae is a slow-growing tree can reach up to 18 m high and 0.9 m in stem diameter.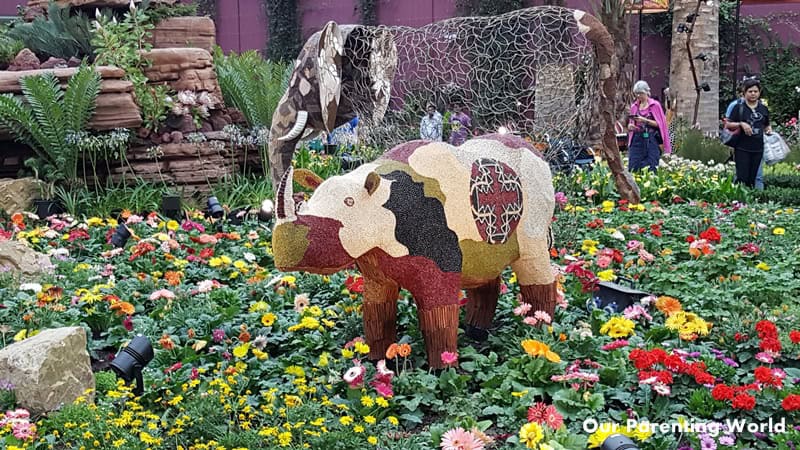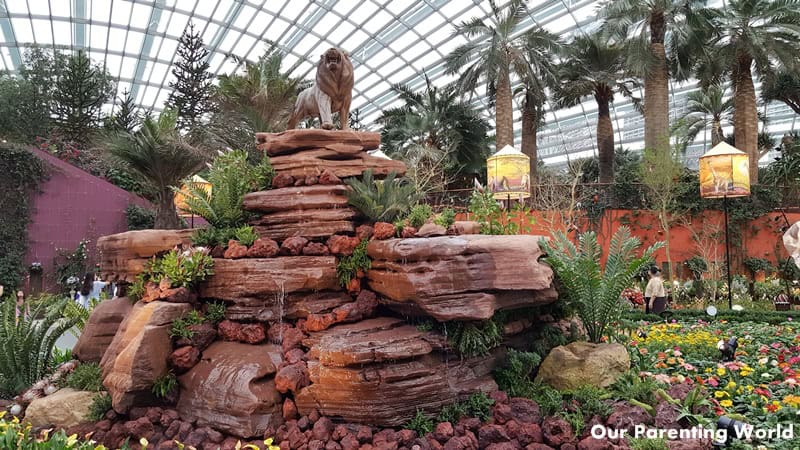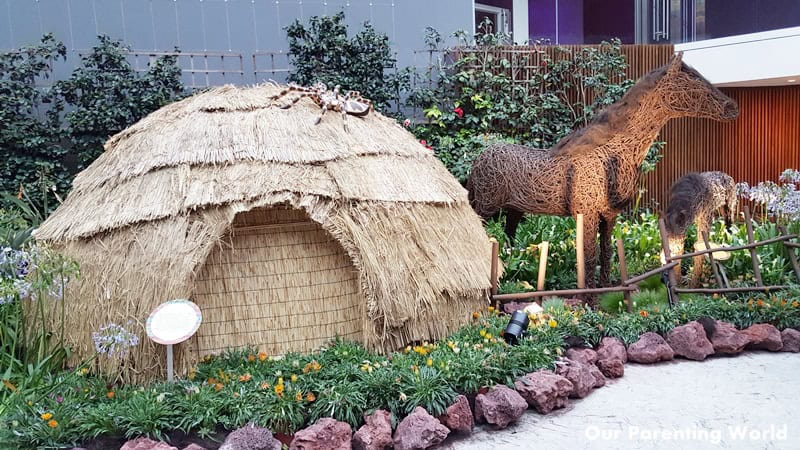 Visitors will be enchanted with this South Africa landscape and to know that South Africa is not just about deserts and savannahs. It has rich and colourful plant life and a wide variety of colourful wild flowers. It is interesting to know that the popular daisies commonly found in florist shops are native to Transvaal, South Africa. 
At the centrepiece of the floral display, visitors will see a 3 metre high waterfall and this waterfall is inspired by the waterfall found around the area of the Northern Cape. Besides the beautiful flowers, be enthralled by the exquisite rock art, animal sculptures surrounding the floral displays and a tribal hut.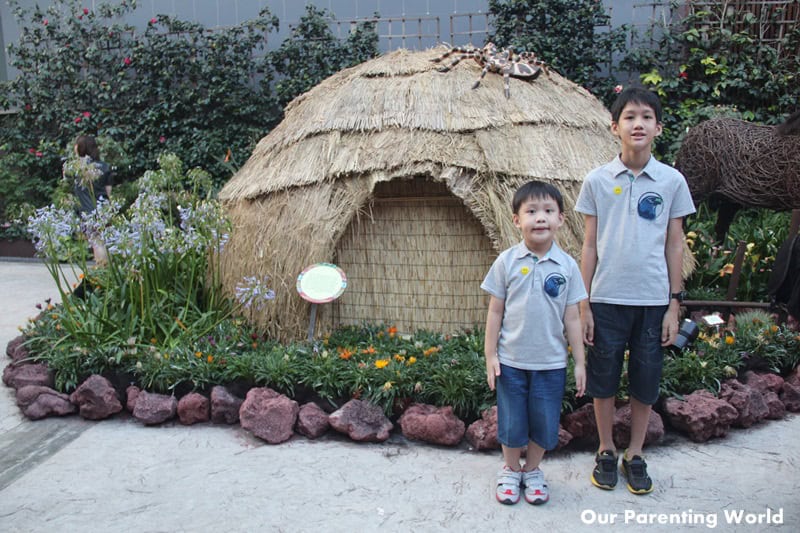 Visit Tribal Tempo at Flower Dome at Gardens by the Bay and discover the vibrant displays of South Africa. Visitors can expect to see a total of 10,000 plants across 70 species at the exhibition, take the opportunity to find out more and be immersed in South African culture. 
Tribal Tempo at Flower Dome at Gardens by the Bay
Dates: Friday, 9 September 2016 – Sunday, 30 October 2016
Opening Hours: 9am – 9pm
Admission charge to the conservatories applies
For more information and ticketing, please click HERE.
While visiting Gardens by the Bay during the month of September, Friends of the Gardens can enjoy Majestic Bay Seafood Restaurant's Special Set Menu at S$188nett. This promotion is valid for a minimum of four person with terms and conditions apply. Majestic Bay is a well known restaurant helmed by Chef Yong Bing Ngen with years of extensive experiences. Diners will be delighted to indulge in sumptuous dishes from Majestic Bay and it is a good time to bring your family and or gather your friends to celebrate Mid Autumn Festival at this fine restaurant.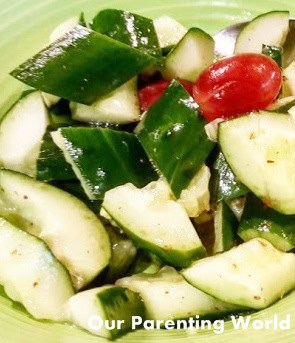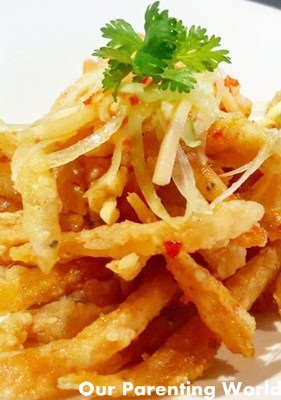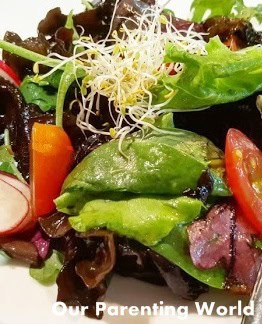 First up on the menu is Majestic Bay Trio Combo which consists of Pickled Baby Cucumber with Grapes, Crispy Silver Fish, Thai Style and Wasabi Black Fungus Salad.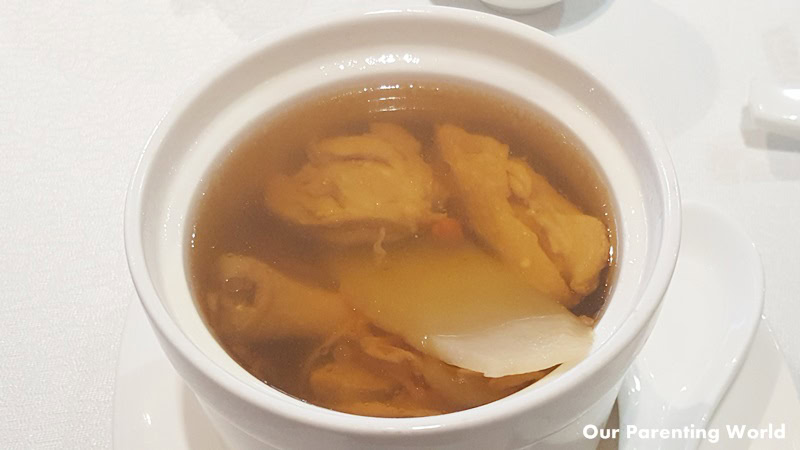 Double-boiled Chicken Soup with Cordyceps Flower, Huai Shan and Dried Scallops. 
We really enjoy this comforting soup full of nutritional goodness!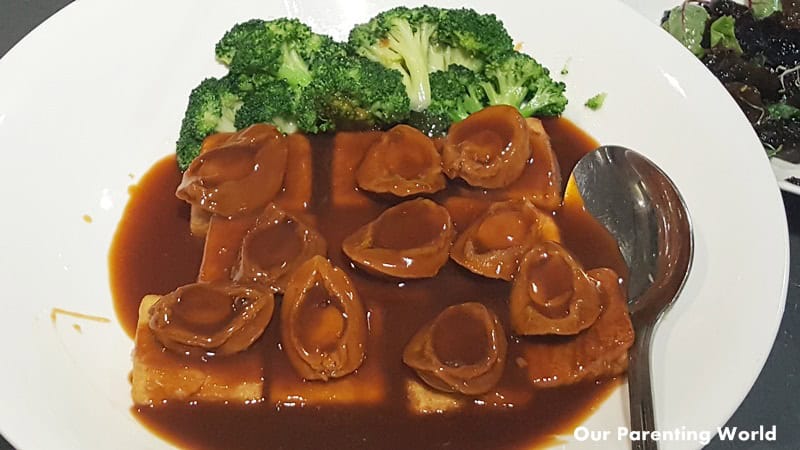 Slow Cooked Whole Abalone with Homemade Tofu and Broccoli Flower in Truffle Oil 
The abalone is full of flavour which is a perfect compliment to the soft and tender tofu.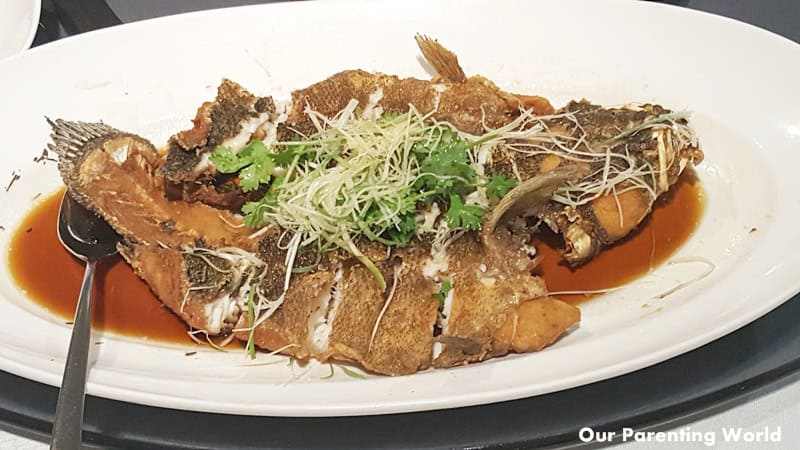 Crispy Catch of the Day, light soya sauce.
The fish is crispy on the outside and the meat remains soft and tender. The sauce is delicious!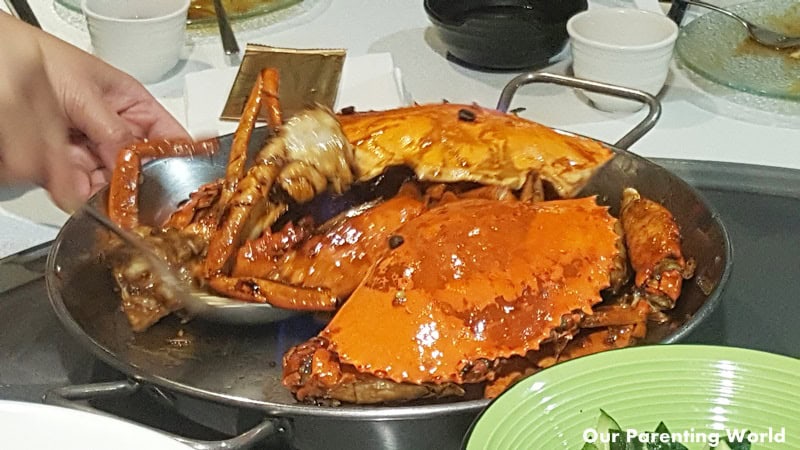 Majestic Signature Kopi Crabs
Most Singaporean love crabs and it is definitely one of the favourite seafood. What's unique about Majestic Signature Kopi Crabs is that the restaurant uses coffee to cook the crabs and this is our first time trying. The crabs will be set on blaze and given a good stir on our table before we can eat. We do like this version as we are coffee lovers and it is interesting to try out this combination. The crabs give off an aromatic coffee flavour much to our delight but it is not overwhelming. The crab meat is very fresh, tender and sweet. 
Pineapple Fried Rice with Scallops and Pork Floss. 
The fried rice is so fragrant chock full of ingredients and with generous topping of pork floss that you can't stop eating.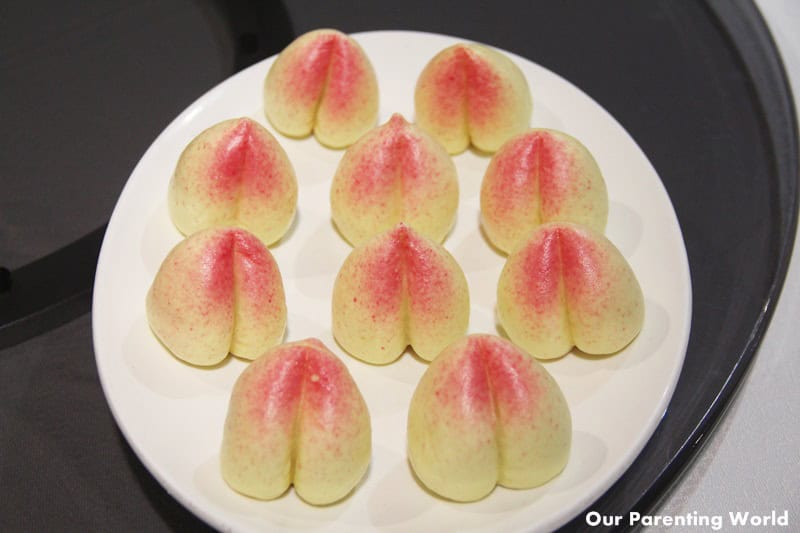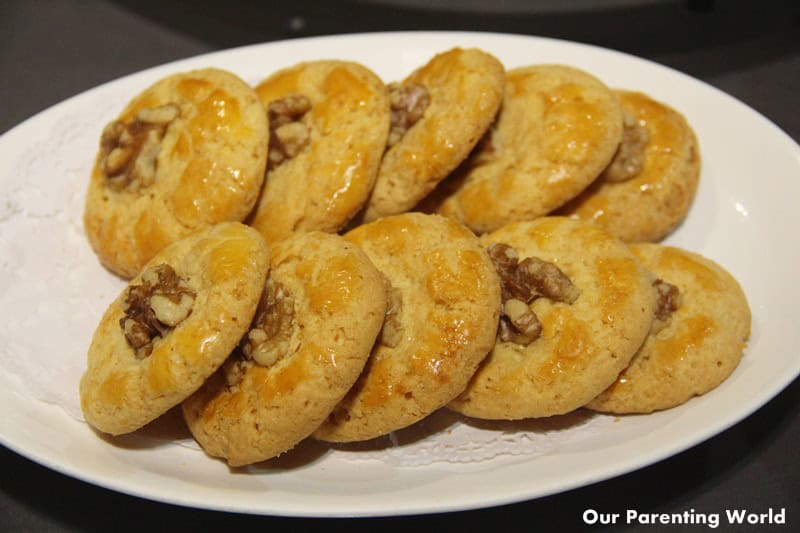 Duo Homemade Dim Sum dessert consists of Steamed Peach Bun with Lotus Seed Paste and Fresh Baked Walnut Cookies, a good way to end a perfect meal for the evening. Thank you to the lovely organisers from Gardens by the Bay and Majestic Bay Seafood Restaurant for the wonderful evening and delicious meal. We also have the opportunity to spend a wonderful time with the lovely families' bloggers. 
Majestic Bay Seafood Restaurant
Below Flower Dome, Gardens By The Bay
18 Marina Gardens Drive #01-10
Singapore 018953
Tel: 6604 6604
Email: [email protected]
Operating hours for Monday to Sunday
Lunch

11:30am – 3:00pm

Dinner

5:45pm – 9:00pm
For more information, please click 

HERE.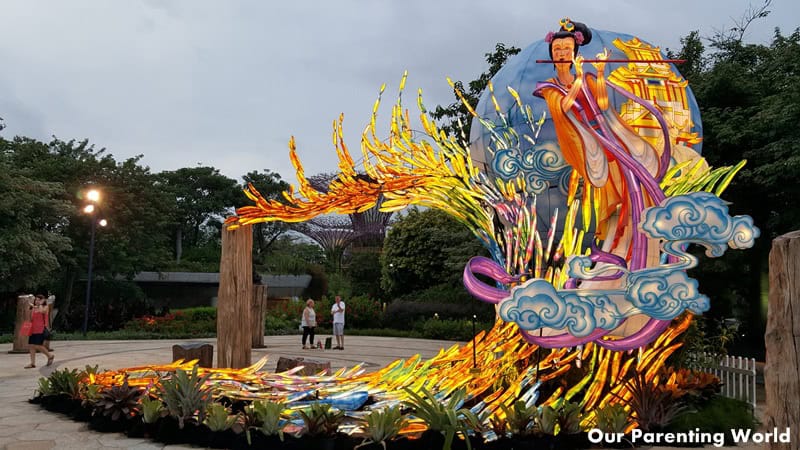 After dinner, we continued our way to the Supertree Grove to view the lantern display in celebration of the Mid Autumn Festival. Visitors are able to take a stroll and view the various stunning elaborately handcrafted lanterns that will bring to life Asian stories of the Moon, enjoy cultural performances and participate in craft booths.
The picture above is about Chang Er after swallowing a pill of immorality floated to the moon. She lived in a magnificent palace in the moon and she is known as the Moon Goddess.
The Jade Rabbit also known as the Moon Rabbit often portrayed as a companion to Chang Er.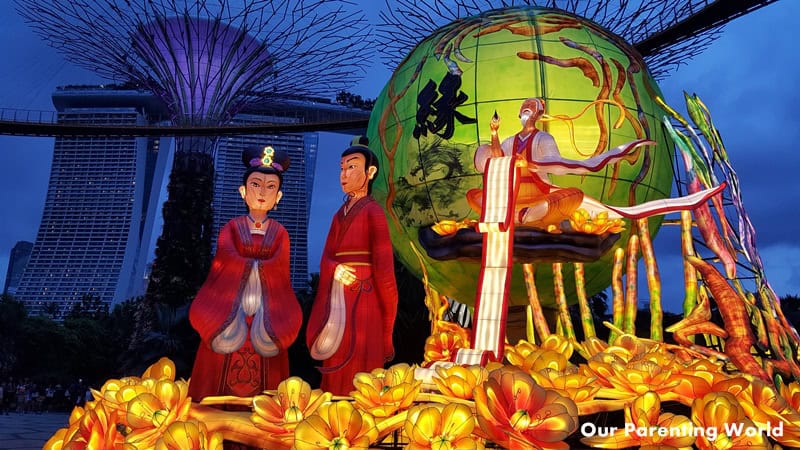 Another story about the moon is the The Matchmaker known as Yue Lao, the God of Marriage and Love. Legend has it that he causes a man and a woman to fall in love and as fate would have it.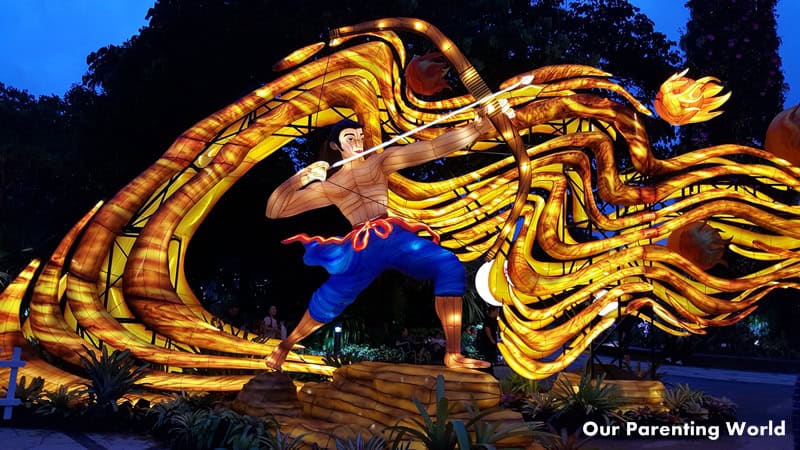 The Ten Suns – Hou Yi, the expert archer shot down ten suns until it is left with one sun to give Earth light and warmth.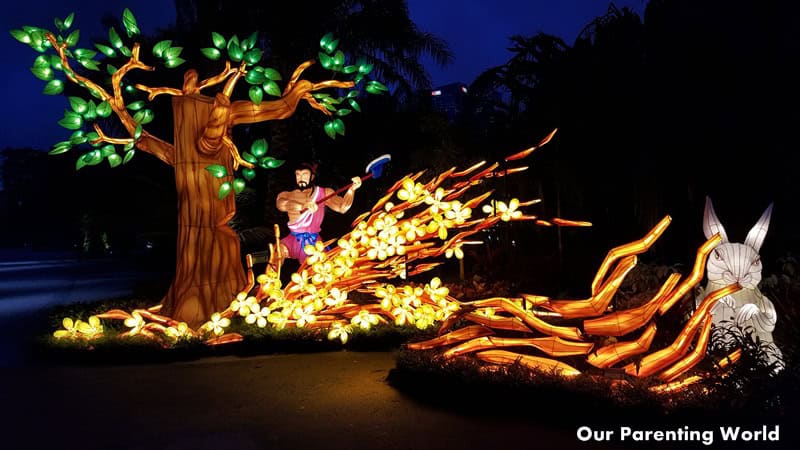 The Eternal Woodcutter, the legendary woodcutter Wu Gang is stated to be the shadow you see on the moon. He is trying to cut down the trees and the trees will continue to grow back due to its magical self-healing properties. 
There are various craft booths at Supertree Grove for visitors to participate in.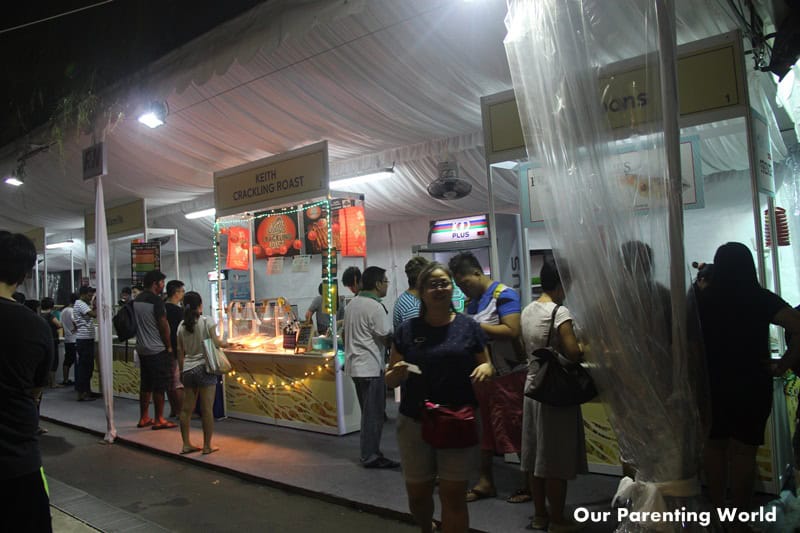 If you are feeling hungry and or thirsty from all the walking and admiring the beautiful lantern displays, head down to the Food Street where you can find a wide variety of food.
Mid-Autumn Festival at Gardens by the Bay
Saturday, 3 September 2016 – Sunday, 18 September 2016
Operating Hours: 7.00pm – 11.00pm
Please click
HERE
for more information on Gardens by the Bay