This week, Our Parenting World – OPW Media team is pleased to interview Dawn Sim, a 39 year-old mother of four and an aerial yoga guru who founded local yoga studio, Trium Fitness. About Dawn, as a mumpreneur, she has to juggle work and family while still keeping herself fit and active, even with her husband being away most of the time on an overseas work posting. Dawn started Trium Fitness with the help of a community and she has since created many outdoor community building events and built a culture where the yoga studio is more than just a place to teach and learn yoga, but also a place that brings people together with a common interest.
Dawn also believes that self-care is important as it helps mothers become better role models to their children, and support from a community is important too. As a group fitness, yoga also has the ability to develop new friendships. For example, mothers can come together and support one another by sharing their experience of how yoga helped them in their recovery process after giving birth. This is something that, as a mother, Dawn really likes because such support extends social networks and deepen friendship ties too. As such, Dawn Sim (DS) will be part of Be the ImPAct, a campaign organised by People's Association, which aims to create a more inclusive and open community through community fitness, as she shares the belief that community is important for social well-being.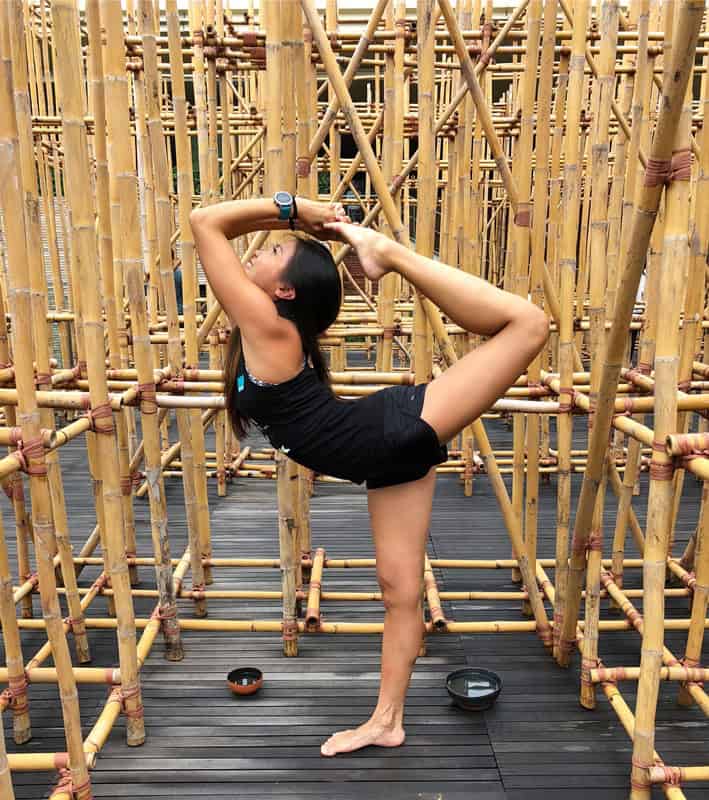 Exclusive Interview with Dawn Sim, Founder of Trium Fitness
1. Please share with us more about your background, your family and career?
DS: I'm the founder of Trium Fitness and Director of the studio. I've been teaching Yoga and Pilates for almost 19 years now and although I studied Marketing in Uni, my passion has always been in fitness and wellness. Even as I held full time jobs in the past, I would always still be teaching part time. Taking part in competitive sports since a young age, I still enjoy running, swimming and and a host of other outdoor sports.
I've been married since I was 21 to my husband whom I met while on an expedition to Sarawak when we were 15 and 16 years old. And together we now have 4 daughters aged 11, 10, 6 and 2. Because of my husband's job as fighter pilot, we've lived overseas for years and 2 of my older daughters were born in France where he was posted for 4 years. We've also spent years in the USA where he was posted and I have had to put my career on hold throughout those years. But wherever we are, I would still always be teaching to the community where we live.
Although I didn't have help while bringing up my children whenever we lived overseas, I always appreciate the the time I get to bond with them and be the best mother I can be to them. I was the homemaker, the yoga and pilates teacher, the tutor to my kids and so much more which I will always be grateful for since now that we are back in Singapore, I do have more help when it comes to managing these roles.
2. What made you interested in yoga and inspired you to set up Trium Fitness?
DS: My injuries I sustained in my younger years especially to my shoulder was what got me into trying yoga when I was 17. My swim coach was the one who recommended me to try it out and I've been practising ever since. Because of how my practice in Yoga and then a little later with Pilates as well has helped me manage my injuries and pain, it inspired me to help and educate others through teaching. And throughout the years I've had many students ask me to start my own studio. It's taken me many years but finally after giving birth to my fourth daughter, I took the big leap. I wanted a space where people could come and improve the quality of their lives through proper training and practice while building a support system through community. This is what Trium Fitness is built on….. Community, great teachers and members.
3. What are some of the challenges that you faced in running your own company?
DS: On the top of the list of these challenges is the fact that I have to manage the family while my husband is based in the USA. We made the decision for me to stay here in Singapore because I had to be here to help build the business since it had only just started. Coupled with the fact that my oldest daughter is sitting for her PSLE this year, we've been living apart for over a year and a half now. But we do make the effort to spend time as a family by having my husband fly back to Singapore or me flying to the States with my four daughters to stay with him for a few weeks.
Other challenges I face include having to multitask even during the early hours of the day or late at night. I often even bring my kids along with me to work if I have to be at the studio on weekends.
Having to take care of my family, teach classes, give talks, manage a business, keep to my training regime and of course find time to do what keeps me sane such as climbing a mountain or going for obstacle races and extreme sports….. this all means I have to manage my time very carefully and say no to alot of things.
4. Understand that you started Trium Fitness with the help of a community, how do you form or join a community?
DS: I started Trium Fitness with community in mind. I didn't want the place to be just another studio where people come for classes and scoot off. What I envisioned from the beginning was a place where members could come to learn from our teachers and hang out to get to know one another, form friendships and partnerships and feel a sense of belonging. This community we built over the past couple of years is what has supported us in our growth.
5. How did having a community helped you in your life journey and your recovery process after giving birth?
DS: They say it takes a village to raise a child, and it truly is in my case. Be it words of encouragement and advice from people around me or the actual helping out with errands and tasks while I have to take care of my kids or work, there's no doubt that community is vital in allowing us to develop and sustain whatever it is that we do. Even after I gave birth to each of my four girls, the sharing of experience and tips from relatives and mommy support groups helped immensely.
6. How can mothers find a community to join for support?
DS: They can join online forums, attend pre or post natal yoga or fitness classes/workshops or regular group fitness classes. Its very heartwarming for me to see over the years wherever I teach to see how mothers come together after classes to talk about their day, parenting tips and just support one another on their journey. Coming together to work out somehow warms people up to one another and oftentimes with the interaction it just gets people to open up.
7. As a mother of four, how do you juggle work, family and stay active?
DS: It really is a lot to do with time management and prioritizing. Very often this would mean I wake up early to get my workout done so that I don't get derailed during the day. The exercise also helps me think clearly as it energizes me physically and mentally so it really is a priority for me. Needless to say with the regular exercise and fueling myself and my kids right, we don't fall sick easily so this gives me peace of mind to concentrate on work too. I do also have help from my mom and dad who have retired since last year. The support I get from them never goes unappreciated and I love it that the kids bring them so much joy in their twilight years too.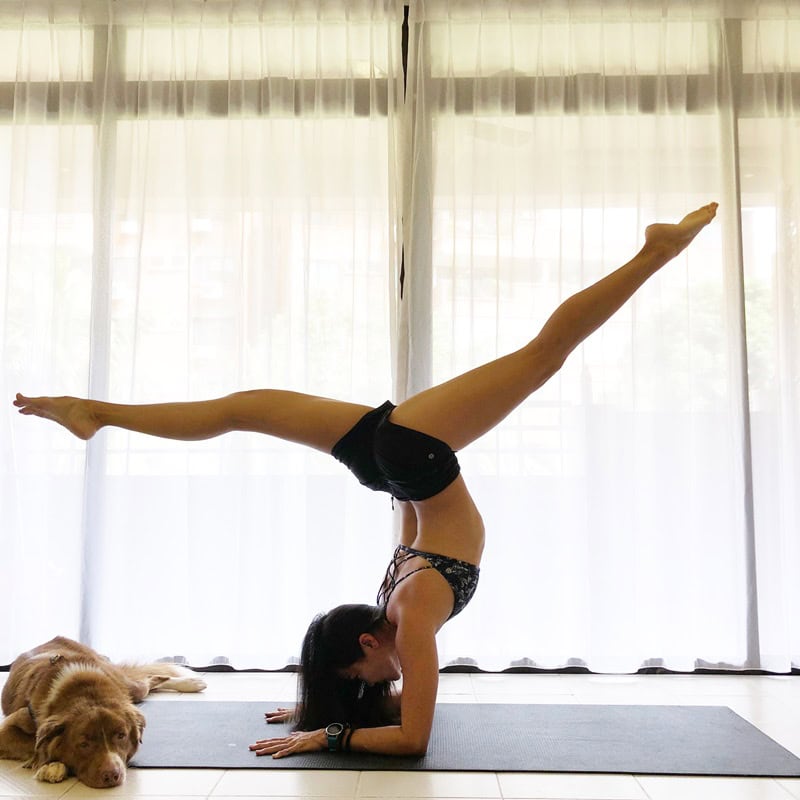 8. How do you think the fitness industry has evolved over the years? Have you seen a surge in popularity towards group-based fitness programmes?
DS: Indeed the fitness industry has evolved over the years and the popularity of group-based fitness programmes has only grown. Although the types of classes in popularity has changed, the fact remains that working out together does make it more fun when you have others sweating alongside with you and oftentimes encouraging you to push through. Knowing that you have workout buddies waiting for you to meet you at the studio or gym also makes it more likely for you to stick to your workout regime.
9. Why do you think group fitness programmes are gaining popularity among the different age groups and young working adults, PMETs, mothers and even active agers?
DS: With everyone being so dependent on the internet and social media, it is so easy to access information and learn about the benefits of exercise or what the latest fitness trend is. With the young working adults, much of it has to do with social media as celebrities or inspiring individuals share about how they stay fit and healthy. There is also a lot more support and encouragement from organizations to help PMETs, mothers and active agers get started on exercise with their various programmes.
10. What are the benefits of joining group fitness workouts and how does it help in improving social interactions?
DS: The camaraderie, friendships, support groups or just friendly faces you get to meet when you partake in group fitness workouts are often overlooked but they really do more than help ensure you show up for the workout regularly. The mental benefits from being in a supportive and active community can also help stave away certain mental illnesses such as depression and severe stress.
11. What's your advice to someone who aspires to be a mum-trepreneur like yourself?
DS: Don't be afraid to reach out and ask for help when you need. Build your network of people you trust and communicate openly and honestly with one another. Trust is so important and know that challenges you face along the way will only help to make you stronger.
12. What are some of the hurdles that an aspiring business owner might face and may not be aware of?
DS: These hurdles may come in the form of problems faced in the family that can cause you to worry and stress or it may be unforseen circumstances that negatively affect the business. It may stem from manpower problems, facility issues or even your own health problems. Know that these can happen at any point in time and you wil still l have to take care of your wellbeing in order to handles these challenges better.
13. What are some of the best parenting advices that you have received that you would like to share?
DS: The best parenting advice I've received is "Parenting is something you show your kids through your everyday actions and choices." And the second best piece of advice is "You want a good kid? Be a good adult"
14. On a personal note, what are some of your favourite beauty tips that you would like to share with busy mothers on looking good?
DS: Definitely exercise at least 3 times a week and eat lots of fruits and vegetables for the antioxidants. I also encourage busy moms to get a relaxing massage once a month at least and commit to doing things that make you happy and bring out your inner child!
15. Lastly, do you have anything else that you would like to share with our readers about Trium Fitness? Any vision and future plans for Trium Fitness?
DS: Yes, come join us at our 2nd Anniversary celebration this September! We also have loads of events and workshops planned that is open even to non members. So don't be a stranger and come say hi!
Thank you Dawn Sim for taking our interview!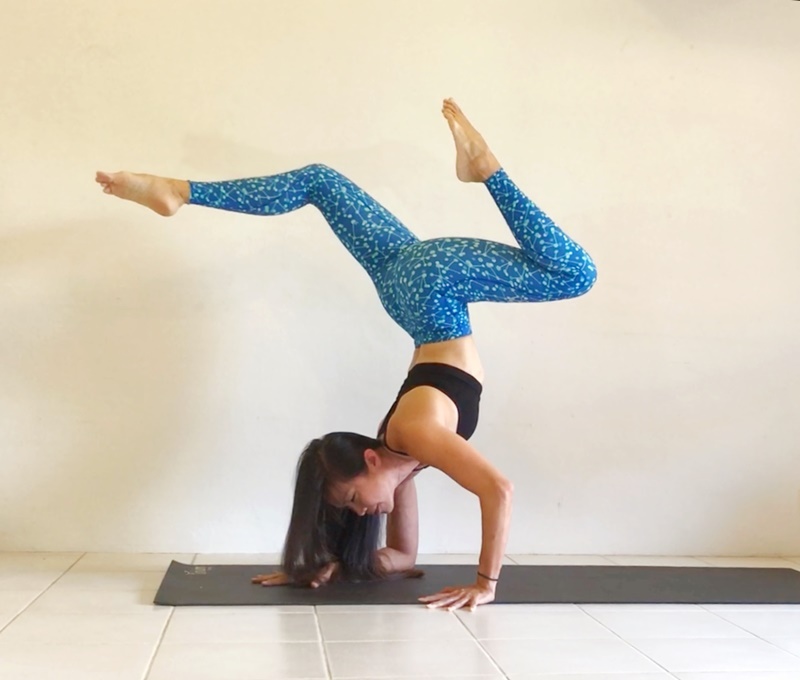 All the above images credit to Dawn Sim 
In addition, there is an event called Be the ImPAct, where there will be a mass workout session, which Dawn will be part of: