Uncle DiDi is a Singapore homegrown snack brand founded in 2018, creates some of the most unique popcorn and cotton candy. Their mission is to provide a delicious and affordable alternative to their client's munching needs with snacks lovingly prepared to ignite taste buds.
Wilson Yeo and Caleb Li, Co-Founders of Uncle DiDi offers a diverse variety of flavours to cater to the tastes of people from all walks of life. They source their ingredients locally in order to make their snacks more affordable. Besides their corn, which originates from South Africa and America, all of Uncle DiDi's supporting ingredients are sourced locally to avoid unnecessary administrative and overhead costs. Uncle DiDi is also halal-friendly, using all halal ingredients in their recipes, allowing people from all walks of life to enjoy their delicious snacks.
Uncle DiDi offers over 12 flavours of freshly-made popcorn as well as handmade flavoured cotton candy, with low or no-sugar choices. All of Uncle DiDi's products are freshly made and kept in airtight microwave reusable containers to maintain their crisp for up to 8 weeks. 
Apart from producing delicious and affordable snacks, Uncle DiDi strongly believes in contributing back to society by working with different charity organisations such as KK Women's and Children's Hospital, Agency for Integrated Care and National University Hospital – providing delicious snacks to brighten the hearts of people in need. Over the years, Uncle DiDi has also worked with Aphasia Singapore in providing popcorn to sell, of which proceeds will go toward supporting persons with aphasia and their caregivers.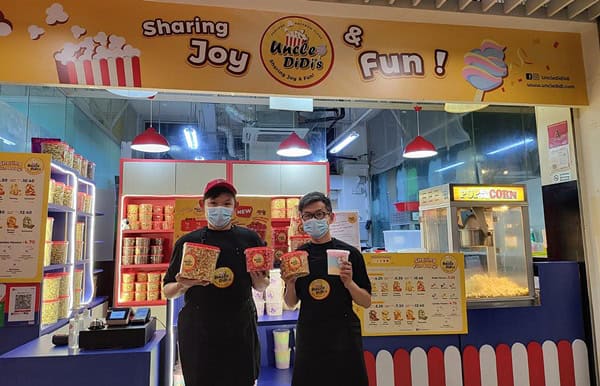 (Above: Wilson Yeo and Caleb Li, Co-Founders of Uncle DiDi)
We speak to Wilson and Caleb, Co-Founders of Uncle DiDi to share about how Uncle DiDi has gotten to its current position from when they first started, the struggles and challenges that they have faced as well as how they strive to provide affordable and convenient snack options and more. Read on to find out.
Interview with Wilson Yeo and Caleb Li, Co-Founders of Uncle DiDi
1. Can you share more about your background before entering into the F&B industry?
Wilson: Was previously in banking and had a business venture in accommodation services.
Caleb: Was previously in the hairdressing industry and worked in an MNC where I was promoted from a hairstylist to a supervisor and then to a team leader. Being a team leader provided me with an opportunity to be exposed to a managerial position, where I had the chance to learn more about company policies and subsequently implement them to help with the business.
2. How did you start up your business, Uncle DiDi and how did you come up with the name?
Wilson:
Popcorn and cotton candy have always brought joy and fun to me, but I was unfortunately unable to find affordable and delicious popcorn that suited my local taste. Also, those in the market were either too expensive or unsatisfactory.

After experiencing a business failure in my life, I decided to sell popcorn and cotton candy in hopes to provide fun food for all, which in turn brought me much fun and joy as well.
Caleb:
What started off as trying to help a long time friend to get back on his feet became what it is today.

We are both "Uncles" in our families and we are also the "DiDi"s (younger brother) in the families, thus an easy name for everyone to remember us. As well as the Uncles who bring you your favourite snacks!
3. What are the struggles and challenges that Uncle DiDi have faced and how did you manage to overcome them?
Wilson and Caleb: We had no prior experience in F&B or product creation at all. It was simply a daring move on our end, where we took a temporary event in a mall, got secondhand equipment from Carousell and dived straight into it without calculating the profits and losses.
At the same time, we tried to get other products from a wholesaler to resell them during events. Without a clear direction and proper calculation of costs, we ended up not being able to sell what we bought and had owed event organisers rent fees and were left with credit card debts as high as $50,000.
Specifically, we remember how we had less than $10 and we had no food in the fridge on the eve of Chinese New Year in 2019.
However, we pressed on. Looking back at how we got ourselves there, we had also realised that popcorn and cotton candy were our main source of income, unlike the other products we had tried to sell.
Thankfully, various event organisers had also provided help by giving us the opportunity to continue participating in their events and gradually repaying the debts – something that we are really thankful for. This also marked the start of how we only sold in-house popcorn and cotton candy.
4. How has Uncle DiDi reached its current position from when you first started?
Wilson and Caleb: The first turnaround event was European Fair 2019 at Gardens By The Bay where we made more than $12,000 within a week, selling popcorn and handcrafted cotton candy.
Understanding that popcorn and cotton candy were the focus of the business, we went on to develop our own recipes. We continued selling our popcorn and cotton candy at more profitable events and managed to pay off our debts within a year.
The smiles and feedback from our returning customers kept us motivated to continue with what we are doing. We even had customers telling us how good our popcorn is – "Wah your popcorn is so good, the movie haven't start, the popcorn finished already."
During the pandemic, we saw the opportunity to set up our permanent shop and that is how we started at NEWest.
The subsequent opportunity came where we took up our second permanent location at Hillion Mall.
Till date, we have sold more than 300,000 tubs of popcorn and cotton candy worth $1,000,000.
5. Can you share more about the range of snacks available at Uncle DiDi? How did you come up with the recipes and innovative flavours for your products?
Wilson and Caleb: We sell mainly popcorn and cotton candy. Our products are made freshly and kept in airtight reusable containers to maintain their crisp.
Popcorn
Our standard flavours are Original Sweetcorn, Salted Butter, Honey, Caramel and Salted Caramel (Best Seller).

Our specialty flavours are Seaweed, Double Cheese, Sour Cream, Brown Sugar and Milo Dinosaur (Our signature).

Comes in 3 different sizing, Fun tub(750ml), Medium tub (1500ml) and Jumbo Tub (3000ml)

We also have seasonal flavours like Ondeh Ondeh, Florentine Mixed Nuts, Bandung, etc.
Cotton candy
Single flavoured ones are Strawberry, Blueberry, Grape, Mango, Lychee and Green Apple.

Combo flavoured ones come in a Unicorn Tub (strawberry, blueberry, grape), Rainbow Tub (strawberry, blueberry, mango) and a Mermaid Tub (green apple, grape, mango).

We offer customised parties or corporate gifts for popcorn, cotton candy as well as nolstagics snacks with different types of packaging as required.

We can R&D flavours for any project or campaign.

We also offer a live event station service for popcorn, cotton candy and nostalgic snacks like Kacang Puteh.
6. How does Uncle DiDi strive to provide affordable and convenient snack options?
Wilson and Caleb:  Being the popcorn underdog, we want to bring affordable and high quality popcorn to every neighbourhood in Singapore. While we only have two physical stores, our popcorn is also available on our website and at various event spaces in the heartlands.
Regardless of an inflation or economic downturn, we hope to ensure that there will always be affordable popcorn and cotton candy around to bring joy and fun to the stressful lives of Singaporeans.
7. What kind of advice would you give to aspiring entrepreneurs who would like to set up their own F&B business?
Wilson and Caleb:  
Be bold to take the first step.

Learn and observe how others succeed in their business and learn.

Always think about what your consumers want.
8. What's your next plan/project?
Wilson and Caleb: Uncle DiDi plans to reach out to more corporate clients for customised gifting options, to go down to their offices to run office bazaar, pop some popcorn, spin some cotton candy to bring joy and fun to the mundane work environment!
9. Lastly, what would you like to say to our readers who are looking forward to try out Uncle DiDi?
Wilson and Caleb: Come and try out our popcorn! In fact, many customers who did not consume popcorn in the past would come to enjoy ours.
Our products are also catered to the Singaporean palette. From rich savoury flavours to unsweetened healthier options, we have a wide variety of flavours to choose from. Among those, there is bound to be at least one that you would like.
For more information and where to purchase Uncle DiDi's products, please visit: https://www.uncledidi.com