Your favourite Pilot Pen writing instruments have just received an irresistibly cute and sweeter upgrade! In October, Pilot Pen collaborates with the beloved Japanese entertainment company, Sanrio, to sprinkle a little magic on its Juice Series and Shunpitsu Pocket Brush Pens. Taking inspiration from Sanrio's heartwarming philosophy of 'Everyone Getting Along Together,' these two Pilot collections are now adorned with the much-loved Sanrio characters, coming together for a delightful 'Sweet Party' that is bound to captivate the affections of countless fans.
Sanrio founded more than 60 years ago has given life to a whimsical universe featuring a remarkable cast of 450 beloved characters cherished across the globe. Each character boasts a distinct personality and a captivating story, allowing fans to discover the ones they relate to most. Similar to Pilot Pen, Sanrio possesses the unique ability to captivate people of all age groups, from young children to adults, making this collaboration an exhilarating prospect for fans of both brands.
A 'SWEET PARTY' WITH THE PILOT JUICE AND PILOT SHUNPITSU POCKET BRUSH PEN SANRIO COLLECTIONS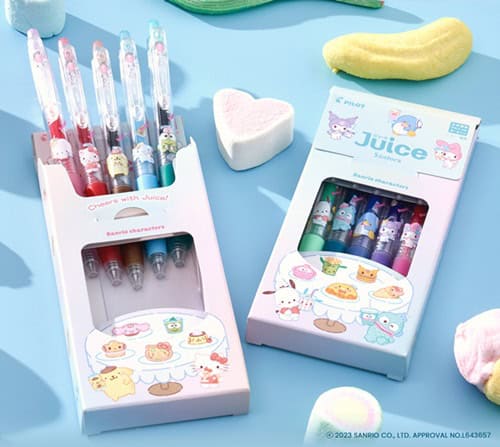 The Pilot Juice Sanrio 'Sweet Party' Collection is a nostalgic journey aimed at reigniting cherished childhood memories, with hopes to bring smiles and spread happiness to all. Featuring 10 cute Sanrio designs that will make you squeal in excitement, Pilot Juice Series lovers are spoilt for choice as they can choose from various iconic characters such as HELLO KITTY, CINNAMOROLL, KUROMI, POMPOMPURIN, KEROKEROKEROPPI, MY MELODY, POCHACCO, HANGYODON, TUXEDOSAM and COGIMYUN. The lovable characters and colourful sweet treats are not only decorated on each pen barrel, but on the ink chambers too! 
Much like the original Juice series, the Pilot Juice Sanrio 'Sweet Party' Pens are equipped with a 0.5mm nib, ensuring a seamless writing experience for users. The exceptional attributes of the Pilot Juice Series, such as its high-quality, water-resistant pigmented gel ink, comfortable rubberised grip, and the extensive array of ink refill options in standard, pastel, metallic, and fluorescent shades, have left a lasting impression on users. However, this collection elevates the experience by introducing an exciting twist that adds a delightful touch – with each click, users will be treated to a different design that emerges as the ink chamber rotates within the pen's barrel!
Select from two playful sets, each featuring a charming array of bold and pastel ink colours to add a touch of beauty to your notes. Each set is available for S$17.50 (including GST) and include five endearing Sanrio pen designs that are sure to flutter your heart. Alternatively, the individual Pilot Juice Sanrio 'Sweet Party' Pens, available only in black ink, can be purchased for S$2.95 (including GST) each.
In addition to the Juice Series, the Pilot Shunpitsu Pocket Brush Pens receive a delightful Sanrio makeover as well! Adorned with adorable characters and sweet dessert motifs on the pen barrels, this set of brush tools is certain to ignite the artistic envy of anyone who lays eyes on them.
The Pilot Shunpitsu Pocket Brush Pen Sanrio 'Sweet Party' Collection presents a choice of three brush pen models. You can opt for the Single Brush (S$5.85), which includes a fine brush hard tip in six unique designs. Alternatively, the Twin Brush (S$6.65) offers dual brush tips in black and grey on each end, available in two designs. Lastly, there's the Medium Brush (S$11.70), which comes with a medium brush tip in two distinct designs.
Tailoring to a variety of purposes, the Pilot Shunpitsu Pocket Brush Pens serve as ideal writing instruments for calligraphy, sketching, or crafting heartfelt letters to your loved ones. Renowned for their superior bristle quality and a specially formulated pigment-based black ink that dries in an instant, these pens effectively thwart smudging, ensuring clean and expressive writing on every occasion. Their versatility makes these brush pens a charming inclusion in any stationery collection, catering to both experienced artists and beginners alike due to their user-friendly nature.
A kawaii collection not to be missed, get ready to be a part of the Sanrio 'Sweet Party' with Pilot Pen!
The Pilot Juice and Pilot Shunpitsu Pocket Brush Pen Sanrio 'Sweet Party' Collections are exclusively available at Hands, NBC Stationery & Gifts, Popular Bookstore, Sanrio Stores, and THINK at Funan.