Have you ever considered how often you should wash your hair? The answer lies within your individual circumstances, such as the amount of oil your scalp produces, your hair type, perspiration levels, and the use of styling products. While it is important to use shampoo to cleanse the scalp and remove excess oil, it should also provide nourishment and hydration to your hair.
Introducing The Na Shampoo, formulated in Japan using plant-based ingredients, incorporates natural oils and plant extracts to rejuvenate your scalp. This formulation is free from parabens, sulphates, and silicones, which can potentially harm your hair and scalp. Its gentle cleansing action nourishes, fortifies, and moisturises your hair, ensuring a smooth appearance throughout the day.
Are you struggling with tangled hair? Discover the remarkable benefits of the new Na Conditioner, formulated in Japan. After each wash, this unique conditioner strengthens and nourishes your hair, leaving it luxuriously soft and effortlessly sleek. Say goodbye to unruly tresses as you enjoy the bliss of smooth, moisturised hair that is incredibly manageable.
Na Shampoo Product Benefits:
• Plant-based formulation free from parabens, sulfate, silicon
• Nourishes hair
• Hydrates hair
• Strengthens hair
• Shinier hair
• Adds volume to hair
Na Conditioner Product Benefits:
• Free from parabens
• Nourishes hair
• Hydrates hair
• Strengthens hair
• Shinier hair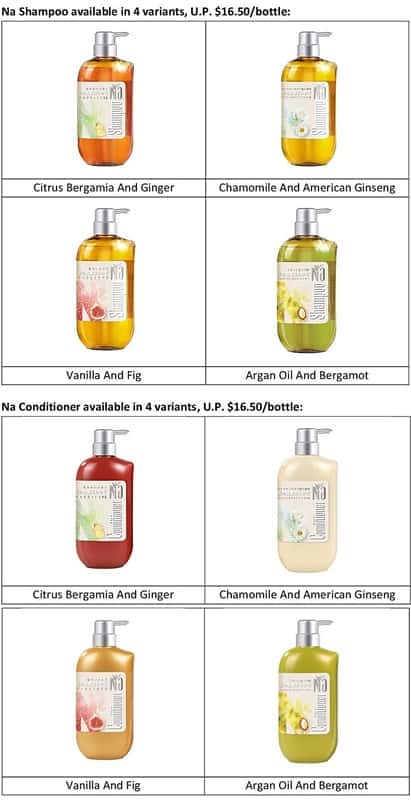 The range of Na Shampoo and Conditioner is available at all major supermarkets, Walch® official online stores on Shopee and Lazada at https://shopee.sg/walchsg and https://www.lazada.sg/shop/walch