Having good cleaning tools like scrub sponges are essential for every household and brands like 3M is a leading brand for Home Care & Cleaning products has launched 3 types of scrub sponges – Delicate Care Scrub Sponge (pink), Non-scratch Scrub Sponge (blue) and Heavy Duty Scrub Sponge (green) to cater to your different cleaning needs.
3M's research discovered that most of Singaporean households use one type of scrub sponge for multiple cleaning tasks. Studies shown that if your cookware is not clean properly and even tiny scratches can trap harmful bacteria which will lead to food contamination. It is important to use the right sponge as not all kitchenware are the same in order to clean effectively.
Each of 3M's latest scrub sponge is designed to cater for different uses, it has a 2 fold combination benefit with an abrasive and non-abrasive side to help you clean your kitchenware thoroughly and at the same time protect them from damages. 
3M Scotch-Brite® Delicate Care Scrub Sponge

This scrub sponge is suitable for extra gentle cleaning on fragile surfaces and breakable items like glass, porcelain, china and crystal. We used this sponge to clean for delicate items, it is very gentle, will not scratch your items and yet able to clean thoroughly. 
3M Scotch-Brite® Non-Scratch Scrub Sponge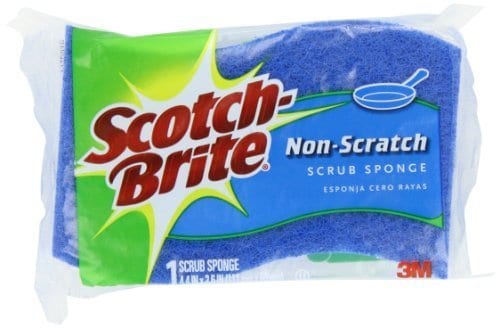 This scrub sponge is suitable for cleaning non-stick coatings and easily scratchable surfaces. It is gentle and yet effective in fast cleaning without scratching your kitchenware. We use this scrub sponge on our non-stick frying pan and rice cooker, it cleans fast and well without worrying about scratching our cookware. 
3M Scotch-Brite® Heavy Duty Scrub Sponge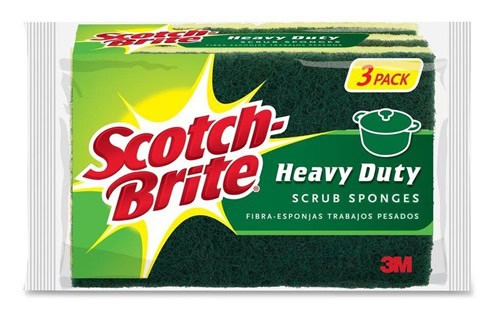 This scrub sponge is suitable for removing tough stains from heavy cooking. We use this sponge when we need to scrub off the oil and gravies from the pots and when cleaning the kitchen stove. It is so effective in cleaning off the grease and stains without having to put in too much effort.
3M range of scrub sponges are made with cellulose, 100% plant-based fiber with high liquid absorption. It provides an easy to hold shape for better grip and the sponges will be your best partner in kitchen cleaning. The scrub sponges are available in (3pcs) for each range at $8.95 and are available at all major retailers such as NTUC FairPrice, Giant, Cold Storage, Sheng Siong and Japan Home as well as online partners, Qoo10, RedMart and Lazada.