Xin Cuisine Chinese Restaurant is renowned for serving sumptuous and authentic Cantonese cuisine since 12 July 1990. This coming Chinese New Year, Xin Cuisine offers exquisite Chinese New Year Menu that is set to delight your taste buds.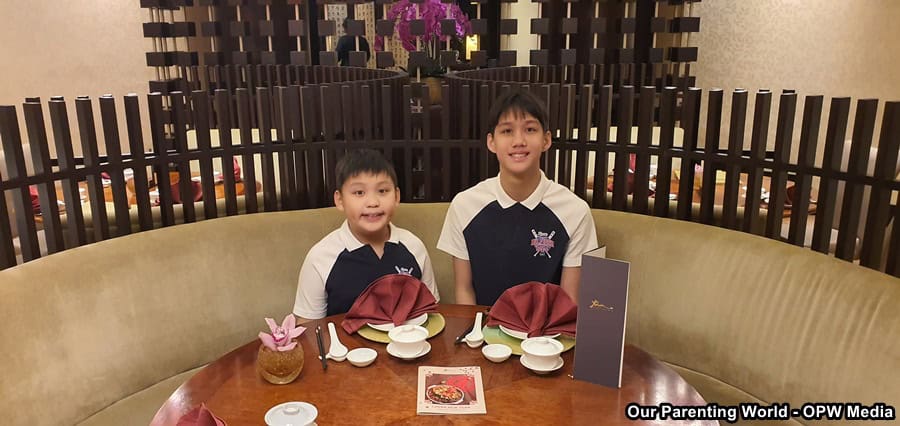 Here's the highlights of some of the delectable Chinese New Year dishes that we have tried as follows: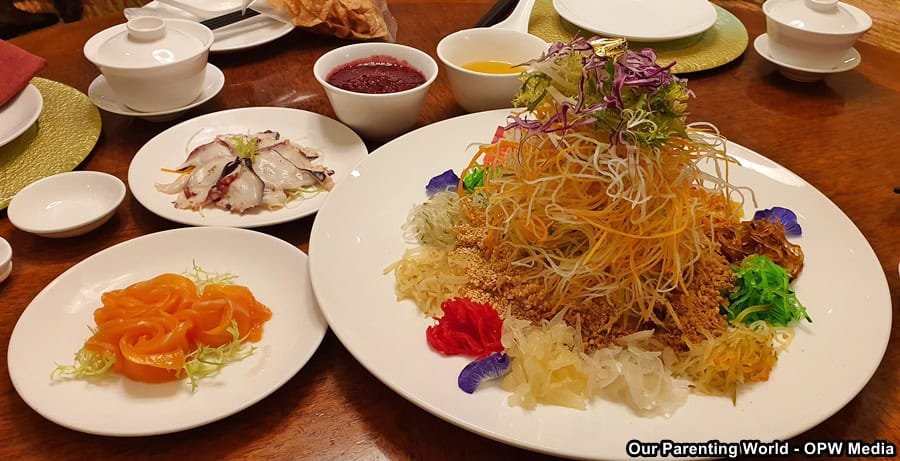 Toss to prosperity and good fortune with the New Japanese Octopus & Salmon Yusheng with Blueberry Sauce from S$98.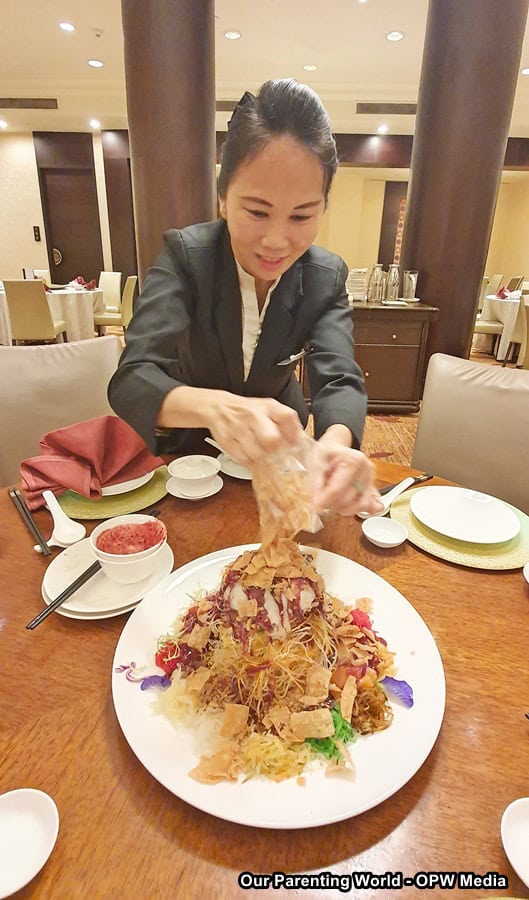 The distinctive flavour and chewy texture of the Octopus combined with fresh Salmon, sweet blueberry sauce, mixed together with an assortment of shredded vegetables, carrots, radish, pomelo bits, crispy crackers, and a variety of sauces and condiments make this unique Yu Sheng so refreshing and delicious.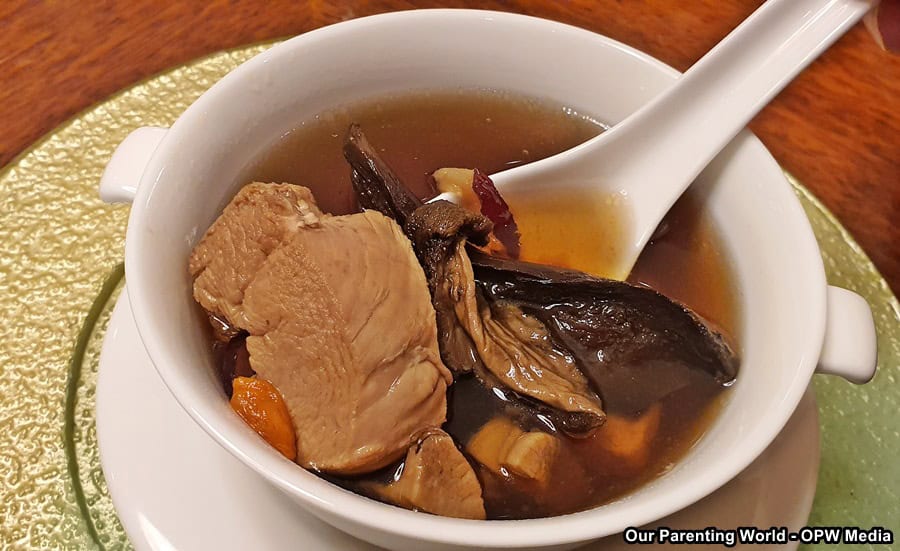 Double-boiled Chicken Soup with Yellow Boletes and Dried Scallop
This is a bowl of nourishing and hearty soup that is filled generously with tender chicken meat, yellow boletes that is a type of mushrooms and dried scallop.
Xin's Traditional Pen Cai from S$288.00
This is a heavenly pot of treasure trove that is delicately presented filled with luxurious and premium ingredients like whole abalone, live prawns, fish maw, dried oyster, fat choy, fresh scallop, roasted pork, sea cucumber, mushroom and many more. The Pen Cai is available for takeaway during the festive period.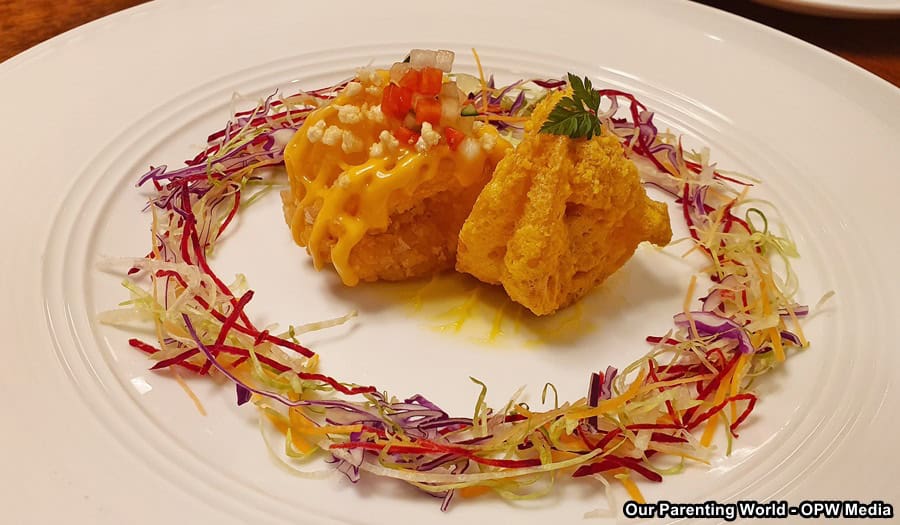 Deep-fried Prawn with Egg Yolk and Deep-fried Prawn coated in Thousand Island Sauce
This beautifully plated dish features fresh, succulent prawns that have been perfectly deep-fried till crispy golden on the outside while the meat remains moist and juicy on the inside. The prawns are deep-fried with savory egg yolk and coated with creamy thousand island sauce.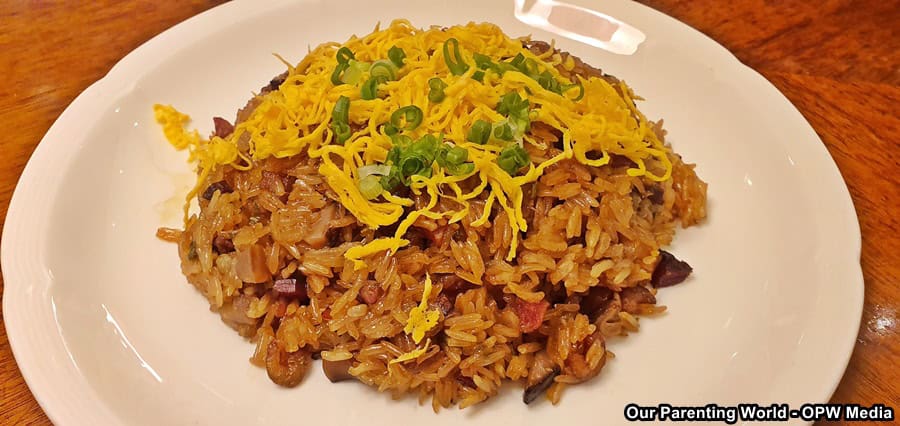 Wok-fried Glutinous Rice with Preserved Meat
This is a satisfying dish with the sticky glutinous rice stir-fried till it releases an aromatic "wok-hei" that goes very well with the flavourful preserved meat.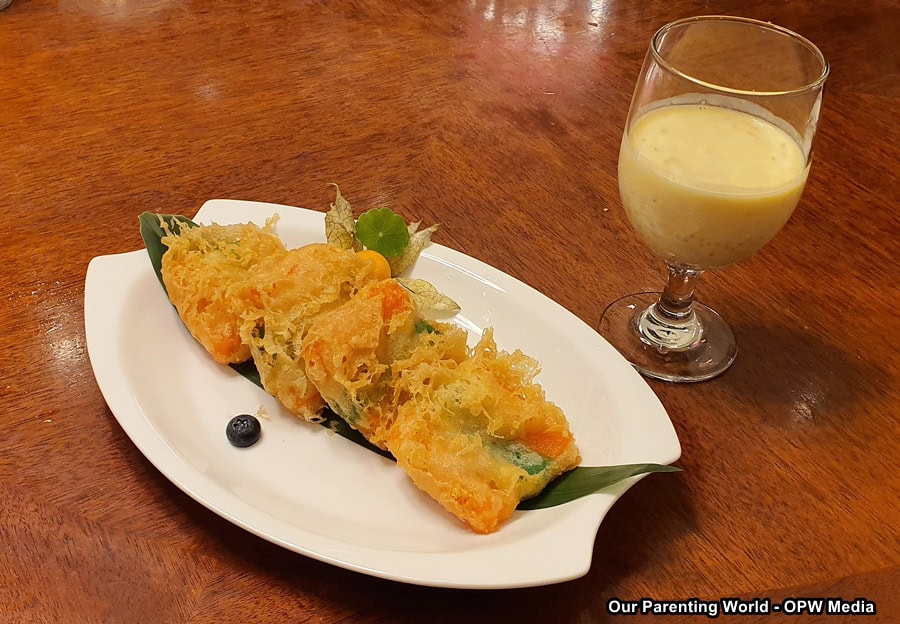 Chilled Puree of Mango, Sago and Pomelo with Deep-fried Xin's Nian Gao
Nian Gao, a sweet sticky rice cake is most popularly enjoyed during Chinese New Year for its auspicious meaning of increasing prosperity every year! Xin's Nian Gao has a crispy outer layer and is gooey sweet inside. The Chilled Puree of Mango, Sago and Pomelo is so cooling and bursting with the sweetness of the mangoes, jellied sago and bits of pomelo sacs. 
Come and dine at the Award-Wnning Xin Cuisine Chinese Restaurant, Holiday Inn Singapore Atrium with your family and friends to have an enjoyable and memorable Chinese New Year dining experiences! 
Additional Information:
Chinese New Year Set Menus
You can enjoy 25% off your banquet dinner when you host your celebration with the restaurant on Friday 24 January 2020.
Promotion Period: 2 January – 8 February 2020
Chinese New Year Takeaways
Have a relaxing celebration from the comfort of your own home with a gourmet dinner prepared by their culinary team, including treasure pots, yu sheng, roasted meats as well as decadent desserts!
Now, you can save up to 25% off with Early Bird special when you place your orders before 12 January 2020.
Order Period: 13 December 2019 – 5 February 2020
Collection Date
• 2 January – 8 February 2020: 12.00pm – 2.30pm & 6.30pm – 10.00pm
• 24 January 2020: 11.00am – 3.00pm
A La Carte and Dim Sum Special
Choose to enjoy decadent a la carte and dim sum items prepared by master chefs as you enjoy the classic oriental ambience of Xin Cuisine Chinese Restaurant.
Promotion Period: 13 January – 8 February 2020
Xin Cuisine Chinese Restaurant
Venue: 
Holiday Inn Atrium Level 4
317 Outram Road
Singapore 169075
Tel: +65 6731 7173
To find out more and to make a reservation, please visit its website at https://singaporeatrium.holidayinn.com/chinese-new-year-singapore