Usher in a prosperous Year of the Rabbit with perennial favourites for takeaways and lavish set menus for dining in hassle-free at Xin Cuisine Chinese Restaurant.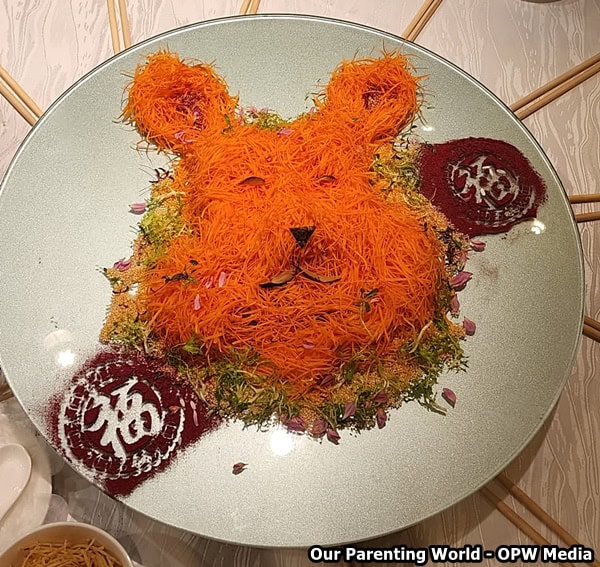 During the media tastings, we tried out the star of their Chinese New Year Takeaways – Japanese Unagi Yu Sheng with Roselle Sauce and other delectable dishes include Double-boiled Sea Whelk Soup with Dried Velvet Mushrooms, Baked Lobster in Superior Stock, Eight Treasure Duck, Sliced Foie Gras with Roasted Chicken & Mango Sauce, Braised Rice Vermicelli in Hong Kong Style and Chilled White Fungus with Kumquat and Peach Resin.
Please go to our Instagram to look at the sumptuous Chinese New Year dishes served during our media tastings at this LINK. 
FESTIVE TAKEAWAYS
Hop into the year of the rabbit with the star of our Chinese New Year Takeaways – Japanese Unagi Yu Sheng with Roselle Sauce! Starring mouth-watering and nutritious grilled Japanese Unagi slices that is sweet-savoury, it's superbly paired with Chef's concoction of Roselle sauce to balance the toss with sweetness and a hint of fresh flower. Available in small and large portion, for dining in and takeaway.
There are four other Yu Sheng selections are available; from their best-selling Xin's Signature Salmon Yu Sheng to Vegetarian Abalone Yu Sheng to Sliced 2-head or Baby Abalone Yu Sheng. Additional salmon, abalone and crackers are also available for order.
Must-trys include best-sellers such as perennial favourite Xin's Roast Suckling Pig, Xin's Home-style Roast Duck with Tea Leaves and Xin's Traditional Pen Cai that's brimming with premium ingredients such as Whole Abalone, Fresh Scallop, Deep-fried Fish Maw, Sea Cucumber, Live Prawn and Roast Meat to name a few, will also return this year. For an extravagant alternative, opt for either Xin's Prosperity Pen Cai or Xin's Imperial Pen Cai that has lobster, Whole Australian 3-head Abalone or Bird's Nest.
For those with a sweet tooth, end your meal on a sweet note with Xin's Signature Yam and Pumpkin Cake or Xin's Nian Guo with Coconut Sauce that's made in-house by Xin's team of Master Chefs.
Xin Cuisine's Chinese New Year Takeaways are available for order from 1 December 2022 till 2 February 2023 through its e-shop (singaporeatrium.holidayinn.com/eshop), for collection/delivery from 21 December 2022 to 5 February 2023. Order before 31 December 2022 to enjoy an early bird discount of 20% (key in promo code CNY20 to avail the offer).
REUNION DINNER AND LUNAR NEW YEAR SET MENUS
Choose from 7 different set menus that showcase an irresistible array of Cantonese dishes. For a cosy intimate dinner, the 5-course Auspicious Times menu at $198++ for 2 persons will satisfy your cravings for a hearty meal with Xin's Salmon Yu Sheng, Braised Abalone, Sea Cucumber & Bai Ling Mushroom in Supreme Stock and Braised King Prawn Ee-fu Noodle etc.
For a bigger celebration, the Prosperous Celebrations menu at $1,588++ for 10 persons comprise Xin's Baby Abalone & Salmon Yu Sheng, Baked Lobster in Superior Stock, Double-boiled Cordyceps Flower with Flower Mushrooms in Bone Broth, Steamed Sea Perch with Minced Garlic and Sliced Foie Gras with Roasted Chicken and Mango Sauce etc. The luxurious symphony of flavours will wake up every senses of your palette.
Xin Cuisine's set menus are available for order/dine in from 21 December 2022 and reservations for Chinese New Year reunion dinner is now open. For more information about Xin Cuisine Chinese Restaurant's CNY set menus, please click here.
Enquiries & Reservations
Operating Hours:
Wednesdays to Sundays | 11.30am to 3pm, 5.30pm to 9.30pm
Daily from 9 Jan 2023 – 5 Feb 2023
Tel: +65 3138 2531
Email: [email protected]
Location of Xin Cuisine Chinese Restaurant: Holiday Inn Singapore Atrium, Level 4
Reservations: https://www.tablecheck.com/shops/holidayinn-atrium-xin-cuisine/reserve
Featured Image credit to Xin Cuisine Chinese Restaurant