Earlier this month we came back very impressed with the Chinese New Year dining at Famous Treasure Restaurant, at Capitol Piazza, which is the new restaurant in town by the popular The Famous Kitchen restaurant (for more information on Famous Treasure Restaurant, please visit our feature at https://ourparentingworld.com/usher-in-the-year-of-the-rat-with-authentic-nanyang-cuisine-at-famous-treasure-capitol-piazza/
Now we are at their main restaurant, The Famous Kitchen, which is located at Sembawang, near the soon to be opened Springleaf MRT. To usher in the Year of the Rat, the culinary team at Famous Kitchen has curated prosperous set and à la carte menus featuring authentic Nanyang creations.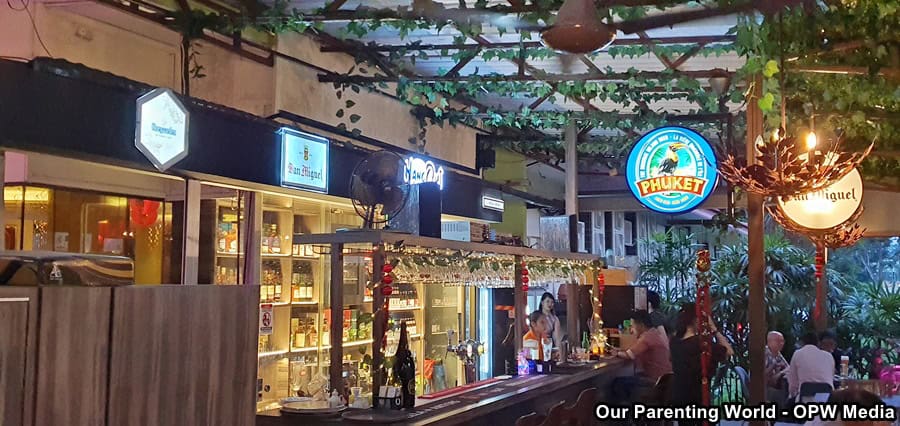 The Bar at the outdoor area of The Famous Kitchen Restaurant
For those who drive, there are limited free parking just outside the restaurant however valet parking is available. This restaurant has an indoor and outdoor dining area. The outdoor dining area has a cosy bar area for those who like to have a drink before or after dinner. For the coming Chinese New Year Dining, the Chinese New Year sets will be available from now till 10 February 2020.
Prosperity Salmon Yu Sheng (七彩三文鱼捞生)
Toss to good fortune and great abundance with The Famous Kitchen's Prosperity Salmon Yu Sheng that is filled with colourful assorted vegetables, a variety of condiments and sauces and fresh Salmon.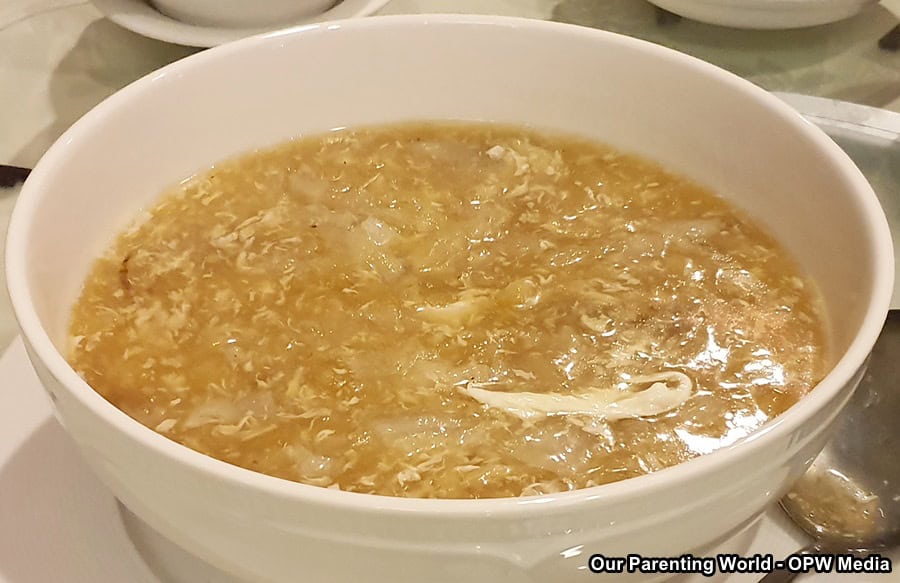 Braised Shark's Fin Soup (海味鱼翅羹), this is a hearty soup that is full of flavour and umami-rich!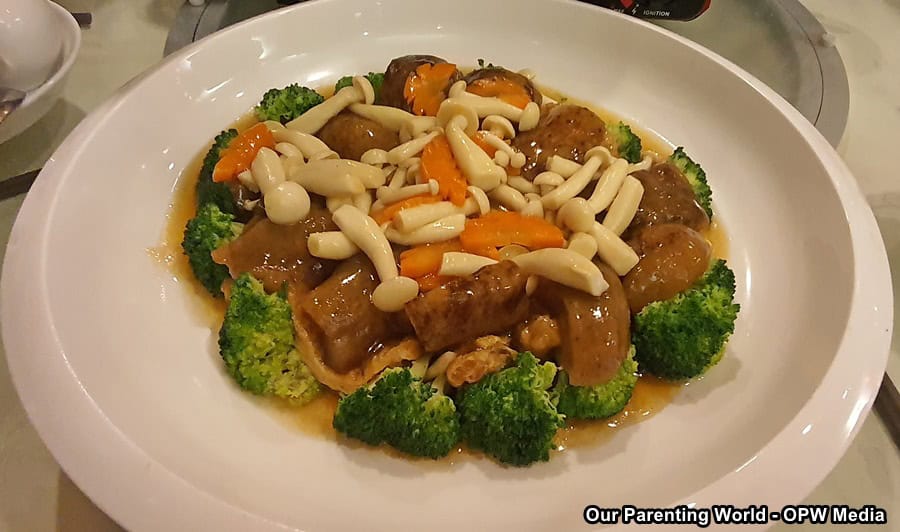 Braised Sea Cucumber with Beancurd and Mushroom (白玉菇豆包海参), sea cucumber is a delicacy in Chinese cuisines that is popularly served during Chinese New Year. The sea cucumber comes with a chewy texture well accompanied by the crunchy broccoli, savoury mushroom and silky soft beancurd.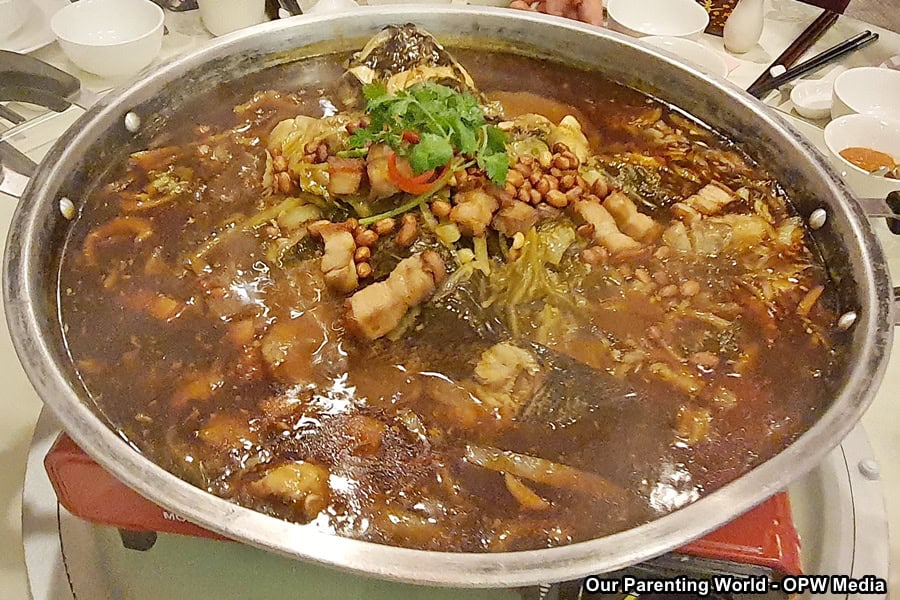 Steamed Fish with Preserved Vegetables on Hot Plate (招牌铁板酸菜蒸鱼), for a change, the restaurant served us this dish of steam fish with preserved vegetables on hot plate instead of the usual soya sauce steam fish. We find this dish unique as the preserved vegetables gave the dish a nice sour taste together with the pork slices make this dish even more tasty. This is available on the normal à la carte menu, not just during the Chinese New Year period and price is seasonal.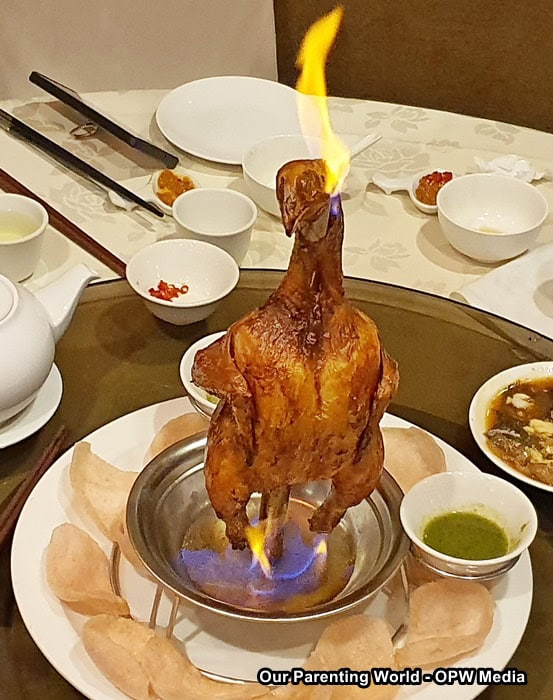 Oven Baked Volcano Chicken (火山烤鸡 )
This dish drew a lot of attention when it was served on the table with the chicken on flame, this method makes the outer skin very crispy while the meat remains soft and moist. Advance order is required, available on the normal à la carte menu and price is S$58++ for a whole chicken.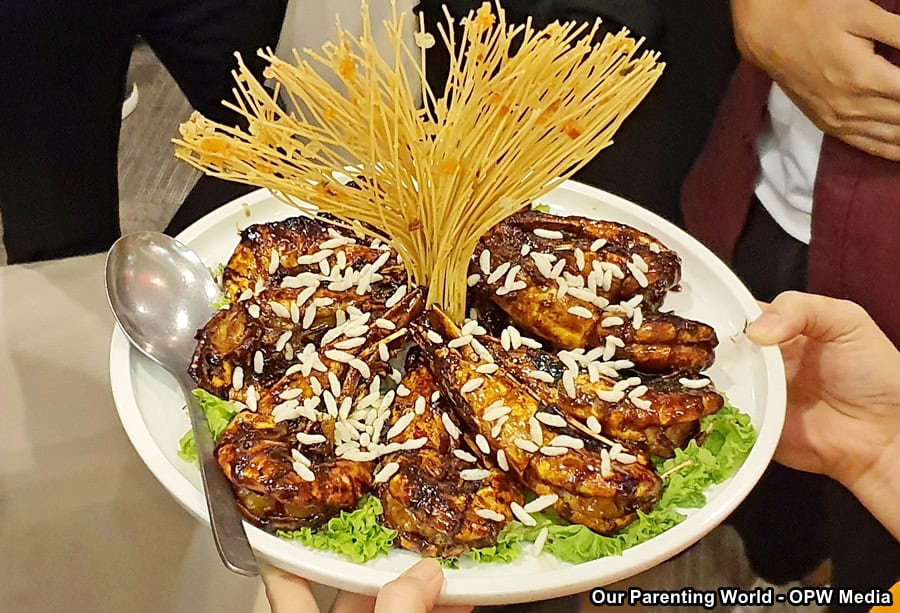 Caramel Prawn (雪花焦糖虾)
This beautifully presented dish is filled with huge juicy and crunchy prawns that are coated with savoury caramel sauce.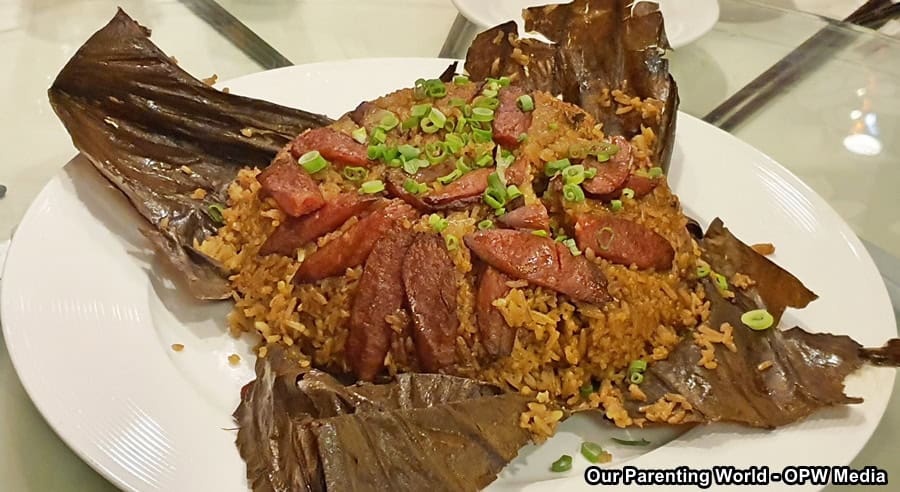 Fried Rice with Waxed Meat Wrapped in Lotus Leaf (腊味荷叶饭), the fried rice is fragrantly steamed in lotus leaf and with added texture and flavour from the waxed meat.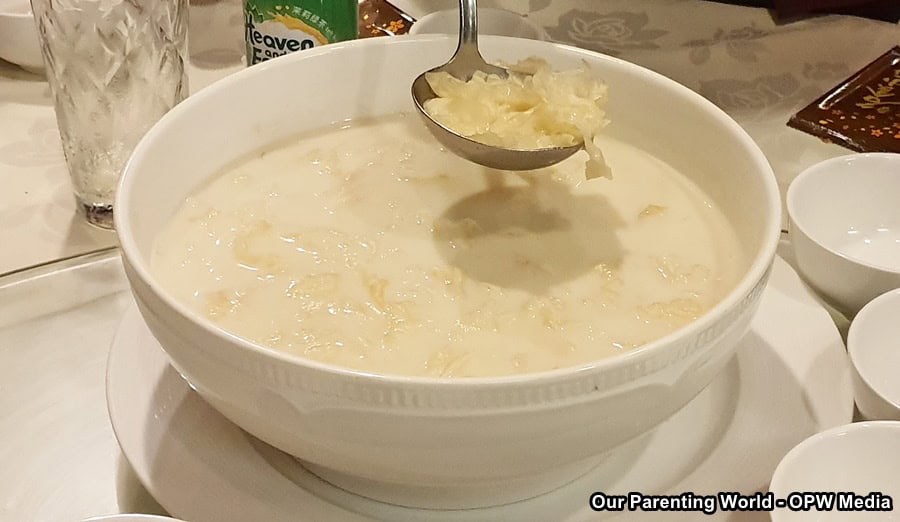 Soya Bean Gingko Nuts with Snow Fungus (豆浆福果雪耳), this is a nourishing dessert filled with healthy benefits from soya bean, gingko nuts and snow fungus. A great way to end a delightful and sumptuous meal! 
Overall, we find this family friendly restaurant one of the best Chinese restaurants in the northern part of Singapore and it is a hidden gem one that should not missed for family dining and reunion especially during this Chinese New Year period!
The Famous Kitchen 名食小厨 
Sapphire Set A (S$488++ for 8 diners) Available on 10 Jan to 10 Feb 2020
On 24 Jan, 25 Jan and 26 Jan, Sapphire Set A menu is priced at S$538++
Venue: Hong Heng Mansions, 54 Sembawang Road, #01-01, Singapore 779085
Opening Hours:

Monday to Sunday Lunch: 11.30am – 2.30pm
Dinner: 5.30pm – 10.30pm  

For reservations, please call +65 6636 8333/ 6257 1843, whatsapp 8125 3818 or email [email protected]
Website : https://famouskitchen.sg/