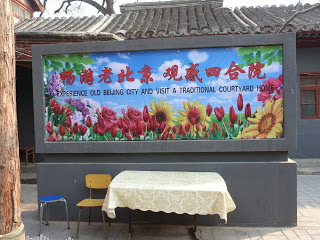 Welcome sign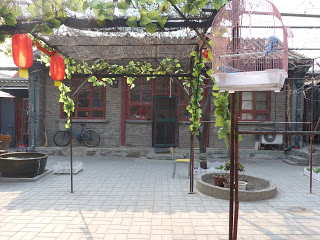 This is the best part of the house and is usually given to the elders of the family, the parents to live. This room is directly facing you when you walked into the house.
The owners will put a net to symbolise shelter or protection, put greenery, plant trees for good Feng Shui purposes.
According to Feng Shui putting a fond of fish in the garden at the right position will enhance your financial luck.
Kitchen
Traditionally, the daughter's room will be located at the left hand side of the house
The son's room will be located at the right hand side of the house
The owner is fond of painting and his works are displayed at the side of the living room which are also available for sale.
The setting of the living room
This family signed up for a package that includes having a local meal at the house.
After visiting the house, our tourist guide and trishaw uncle continue to bring us a tour around Hutong.
They brought us to Qianshi Hutong which is the narrowest hutong preserved in Beijing, with the narrowest point at 40 centimeters (16 inches), so when two people meet, they must turn sideways to pass each other.
The ticketing entrance to the mansion and the directory signboard of the huge mansion.
Once we left Hutong and went back to our hotel. We decided to go for dinner. When you come to Beijing, one of the must try food is Peking Duck. Where to go?
The grand entrance of the restaurant and surrounding is decorated with golden sculptures.
The restaurant showcase a display of the food being served to the athletics at the Beijing Olympics games.
You can also buy some of the products like salted eggs, duck and wine back.
The interior of the restaurant.
It has one of the cleanest toilets in Beijing, there are even service attendants stationed at the toilet to help you. One will help you to press for the soap and water. The other will bring a paper towel for you to wipe your hands. We are very impressed with the services.
This is how the ancient Quanjude oven looks like.
The chef is preparing the duck that we ordered.
The waitress put a plate of duck skins that the chef has prepared for us to try first.
The rest of the duck, the skin is separated from the meat.
You can order the number of pancake you want, place some duck skin, spring onions and sweet bean sauce. Wrap the pancake up and eat it with one mouthful.
The waitress recommended us to try the Palace Desserts which is sweet but not too sweet, cooling and chewy.
Overall, our meal at Quan Ju De is satisfying, the ambience is good, food wise is tasty and the price is reasonable depending on what you order. It is a must try food experience in Beijing.