Waa Cow! – the creators of Singapore's renowned flame-torched Wagyu Beef Bowls. Their journey began six years ago in a modest spot within NUS University Town, where they quickly gained popularity for their delectable culinary delights. Exciting news! Waa Cow! is delighted to unveil its latest flagship outlet at VivoCity (#01-188C) on Saturday, 27 May 2023. With a refreshed concept designed for family dining, Waa Cow! is set to continue to capture the hearts (and tastebuds!) of all.
Well-known for their delectable Wagyu Beef dons, Waa Cow! has gained a significant following among CBD diners frequenting their outlets in the bustling district. Taking the next step in their expansion, they have chosen VivoCity, one of Singapore's largest family-friendly shopping malls, as their newest location. This move aligns with Waa Cow!'s vision of reaching a wider range of diners, particularly families, by offering greater accessibility. Serving as the brand's flagship outlet, Waa Cow! VivoCity presents an exclusive menu that showcases enticing new dons, tantalizing small plates, and, of course, delightful kid's meals to ensure a memorable dining experience for the entire family.
VivoCity, known not only as a family-friendly mall but also as the gateway to Sentosa, Singapore's island getaway, holds a special place in the hearts of many. Aaron Yeo (34 years old), co-founder of Waa Cow!, expresses his vision:  "We've always imagined the beach to be a place filled with fun and laughter, where the best memories are made."  This vision serves as the inspiration behind the captivating murals and exclusive beach-themed merchandise at their new outlet.
With a spacious area of 160 square metres accommodating 90 diners, Waa Cow!'s latest outlet captivates with its playful design. As customers step into the dining hall, they are greeted by two vibrant digital murals, skillfully drawn in-house, showcasing Waa Cow!'s unique interpretation of a beach station. Adorned with striking hues of royal blue, emerald green, and yellow, complemented by a fun confetti exterior, the venue exudes a celebratory ambiance, perfect for engaging conversations and joyful gatherings with loved ones. Each visit to Waa Cow! VivoCity promises an opportunity to forge delightful memories, ensuring it becomes an unforgettable dining destination.
Exclusive VivoCity-Only Menu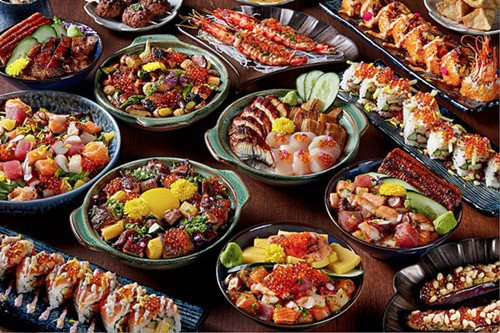 With a focus on using the best and freshest ingredients, Waa Cow! brings forth an exhilarating menu that guarantees a feast for the senses. At the VivoCity outlet, diners can anticipate an array of new and exclusive dishes that are unavailable elsewhere. Drawing inspiration from Japanese cuisine, the menu presents a delightful assortment of flavours and ingredients. Prepare to be spoiled for choice as you explore the expanded range of appetisers, each designed to tantalize the taste buds. Furthermore, even the little ones are not forgotten, as a dedicated kid's menu offers delectable options tailored to their preferences, ensuring that everyone can indulge in a delightful culinary experience.
Each of Waa Cow!'s dishes have been thoughtfully created to deliver a satisfying mouth-watering experience for everyone. Kickstart your dining experience with hand-rolled Makis, which were co-developed by Chefs who worked at Michelin restaurants, and tasty appetisers to tantalise your tastebuds before devouring into Waa Cow!'s heavenly dons. Must-try Makis and appetisers include Dragon Prawn Maki, SGD19.90 (crispy deep fried tiger prawn, drizzled with Waa Cow!'s special house-made chili oil and signature mentai sauce), Crispy Unagi Maki, SGD19.90 (grilled unagi, shisho, and house-made sweet sauce topped with ikura, crispy tempura bits and house made-mayo sauce finished with a dash of sansho and ume powder), Grilled Eggplant, SGD14.90 (miso grilled eggplant topped with a creamy, tangy and refreshing house-made goma ponzu sauce with crispy tempura bits) and Seasonal Sashimi Salad, SGD14.90 (fresh seasonal vegetables that come together in a medley of flavours, accompanied by a tangy house dressing and sashimi cubes), and more.
Living up to its name of always delivering delicious dons that make diners come back for more, the latest don additions to Waa Cow!'s VivoCity menu is ready to exceed all expectations. New and exclusive dishes include Unagi Butadon, SGD23.90 (enjoy the best of land and sea with grilled iberico pork jowl and unagi combo don), Unagi Chirashi, SGD24.90 (a duo of grilled unagi and an assortment of fresh sashimi grade seafood marinated in Waa Cow!'s house made sweet savoury tare), Miso Salmon Don, SGD22.90 (a thick cut of pan seared medium rare sashimi grade salmon drenched in a sweet miso sauce and finished with house made pickles for that extra tang) and a combination of fan favourites, Mentai Tamago Chirashi, SGD22.90 (fresh sashimi grade seafood that has been marinated in Waa Cow!'s house made sweet savoury tare paired with sweet grilled Japanese Tamago).
Waa Cow! fans will be elated to know that three popular seasonal dons have been permanently added to the menu but, with an elevated premium twist. They include popular Medley of The Sea, SGD36.90 (unagi, anago, scallops and ikura atop a bed of house seasoned sushi rice), Meat Lovers Chirashi, SGD35.90 (think chirashi, but with all the best cuts of meat, featuring premium wagyu slices, iberico pork jowl, tender-grilled teriyaki chicken and foie gras) and last but not least, Truffle Royale, SGD36.90 (a house-made truffle rice topped with premium wagyu slices, caviar, ikura and summer asparagus and foie gras).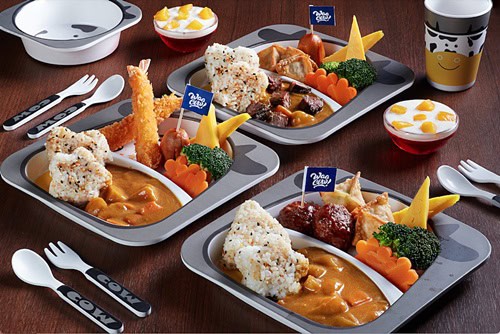 Not forgetting the little ones, Waa Cow! VivoCity's kids menu features a delicious mild Japanese curry and perfectly-cooked sides from in-house chef, Chef Ben. Kids can look forward to filling their tummies with Wagyu Beef Curry Kids Meal, SGD16.90 (mild Japanese curry combined with Waa Cow!'s signature beef in cube form, Chef Ben's cheesy crab dumplings, Japanese arabiki sausage, tamago and seasonal vegetables), Ebi Curry Kids Meal, SGD14.90 (mild Japanese curry accompanied by two crispy breaded prawns, Japanese arabiki sausage, tamago and seasonal vegetables) or Chef Ben's Kids Meal, SGD15.90 (mild Japanese curry, Chef Ben's Japanese Meatballs, chef Ben's cheesy crab dumplings, Japanese arabiki sausage, tamago and seasonal vegetables).
Limited-Edition Beach Merchandise Giveaway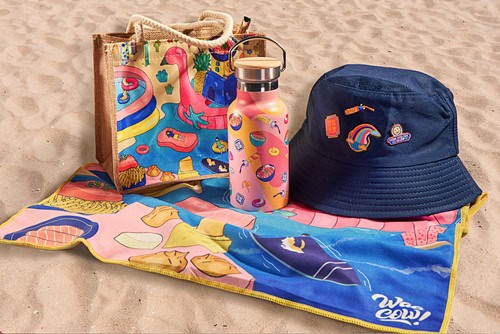 With the launch of its latest outlet, Waa Cow! will be having a giveaway for their exclusive beach merchandise to thank  customers for the continuous support throughout the years. 
Similar to its playful and vibrant outlet design, the limited-edition beach merchandise are designed in bright colours and created with the hopes of spreading joy and happiness to diners beyond the dining experience.
A fun and vibrant collection comprising a beach bag, bucket hat and iron on patches, beach towel and the water bottle, these beach essentials are the perfect items to bring on the next family trip to the beach. Each merchandise will be given out weekly for free with a minimum spend of SGD80, while stocks last.
The perfect dining destination for families to dine in before or after a day out in the sun, be one of the first to experience Waa Cow!'s latest concept and experience its famous tagline "Don Worry, Be Happy".
Waa Cow! VivoCity (1 HarbourFront Walk, #01-188C, Singapore 098585) opens on Mondays – Sundays from 10am to 10pm.
Waa Cow! is also available for delivery online: https://www.waacow.sg/