The award-winning Wan Hao Chinese Restaurant starting from 31 July 2017 onwards will excite the appetites and taste buds of diners with new releases of sophisticated Cantonese delights specially curated and created by Executive Chinese Chef Brian Wong. Diners can look forward to new dishes from dim sums, soups to meats and seafood presented in a fresh, imaginative and unique interpretations using premium ingredients and different elements resulting in a hard to resist culinary masterpieces that diners will enjoy! 
Wan Hao Chinese Restaurant presents Cantonese Cuisine at its best! Our Parenting World – OPW Media Team is delighted to bring to you the highlights of the promotion and new dishes at Wan Hao Chinese Restaurant as follows:
PROMOTION MENU : DIM SUM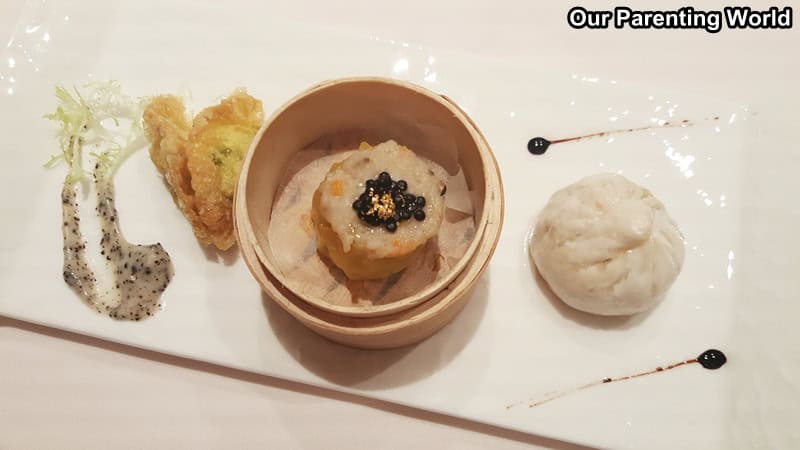 Delicate assorted Dim Sum creation consists of Deep-fried Prawn & Chinese Chives Dumpling with Black Truffle Mayonnaise 金钱韭菜明 虾伴黑松露沙律酱 ($8++ for two pieces) (L), Steamed Minced Fish Siew Mai with Avruga Caviar 鱼子鲮鱼烧卖 ($15++ for two pieces) (M) and Pan-fried Spicy Minced Pork Bun 香辣煎包 ($8++ for two pieces) (R). 
Each of these dim sum is delectably impressive first with the crispy deep-fried dumpling filled with savoury prawn, chinese chives which is further enhanced with the deep flavour of Black Truffle Mayonnaise. Next, this Siew Mai's version has a better twist with minced fish fillings and topped with Avruga Caviar which is a delight to pop into your mouth. Finally, the soft and fluffy pan-fried bun that comes with a crispy bottom filled with mouthwatering spicy minced pork fillings.
Wan Hao Chinese Restaurant is well known for its wide variety of freshly-made, delicious dim sum and it is definitely the place to visit when you have cravings for dim sum! The promotion menu will run from 1 to 31 August 2017.
Monday to Friday / Saturday, Sunday and Public Holiday
Lunch: 12pm to 3pm / 11.30am to 3pm
Dim Sum is only available for lunch. 
NEW DISH: SOUP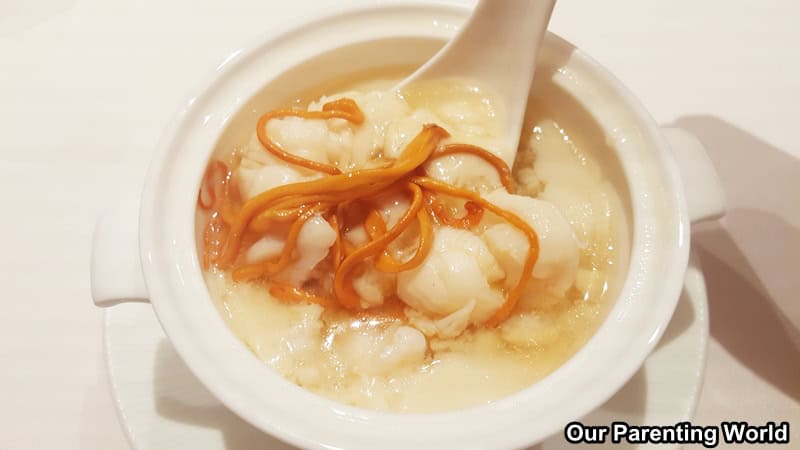 Double-boiled Cordyceps Flower Consommé with Lobster & Egg White 龙虾虫草花芙蓉清鸡汤 ($32++ per person)
Being Chinese, we love to drink soups and having soups as part of our meal is an essential part of our dining culture. Diners will be impressed with the Double-boiled Cordyceps Flower Consommé with Lobster & Egg White that is a modern take on the traditional double-boiled chicken soup.
When it was served, it looks like a bowl of Dou hua (silken beancurd) with the egg white that gives a silky taste to the soup and comes with premium ingredients like cordyceps and lobster. The soup is very nourishing and flavourful with Chinese ham, old fowl, chicken feet, pork loin and conpoy as a soup base that has been boiled for 6 hours! 
It is so good that we slurped up every drop of the soup!
NEW MAIN COURSES: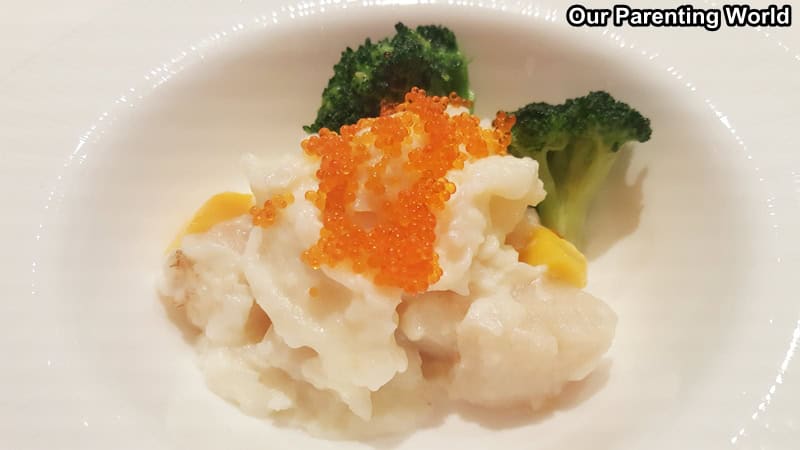 Fresh Milk Stir-fried Scallop with Mango, Egg White, Shrimp Roe & Broccoli 香芒玉带炒鲜奶 (Small: $36++, Medium: $54++, Large: $72++)
This dish is a twist to the traditional crab meat with egg white, the crab meat has been replaced with fresh, sweet and succulent scallop stir-fried with fresh milk. How interesting! The taste is very light and yet refreshing with the addition of Mango which comes up with a superb combination of sweet and savory. Very tasty!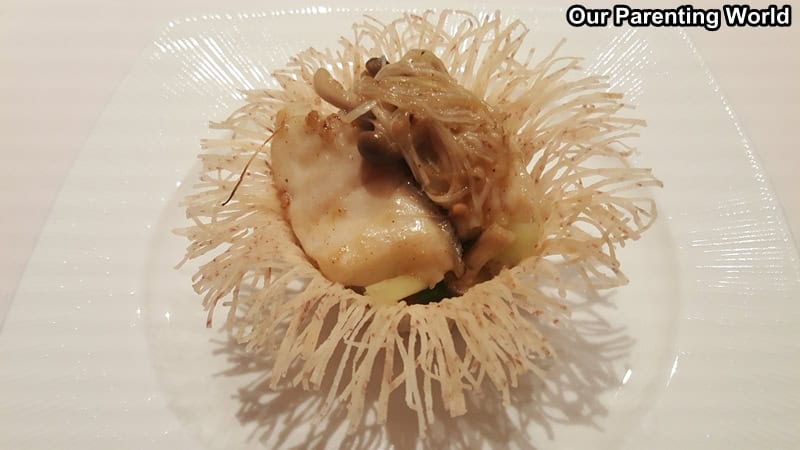 Stir-fried Garoupa Fillet & Celery with White Pepper Sauce 石斑片西芹白胡椒酱 (Small: $42++, Medium: $63++, Large: $84++)
We usually have stir-fried crabs with either black and or white pepper sauce. This dish has an innovative twist to use white pepper sauce with garoupa fillet. The fish is very fresh and has an interesting kick with the full-bodied, fiery taste from the white pepper sauce. It is very appetizing and served in a pretty yam basket.
Braised Beef Short-rib with Chinese Spices 酱香焖 牛肋骨 (Small: $36++, Medium: $54++, Large: $72++)
We were told that this dish has been slow cooked for 4 hours and infused with Chinese spices like star anise, cinnamon, bay leaf, bean sauce and fermented bean curd sauce till the beef short-ribs become so soft and tender. The resulting taste is so fragrant with the spices and every bite from the meat is so juicy and flavourful!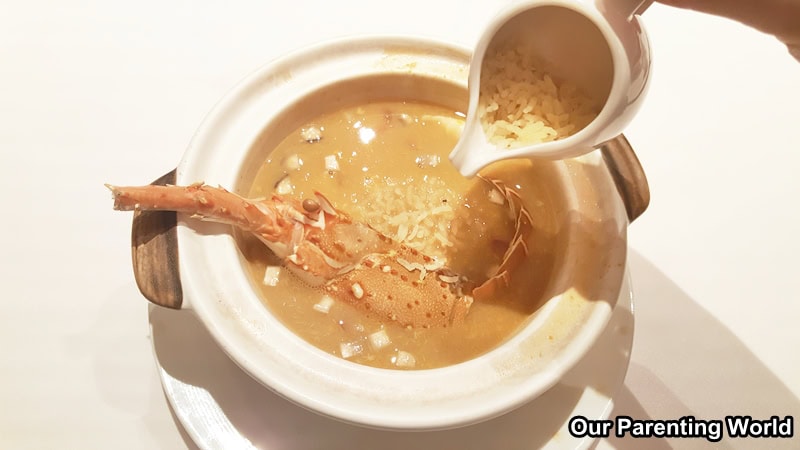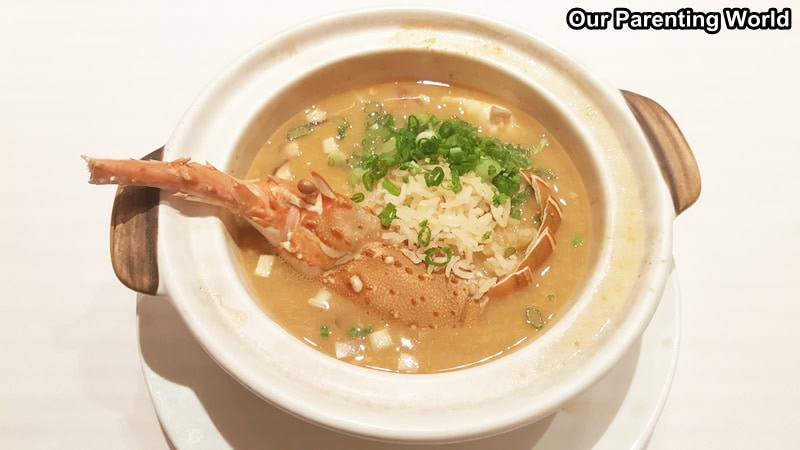 Braised Lobster with Assorted Seafood, Fresh Mushroom, Tomato & Rice 龙虾生滚丝苗 ($22++ per 100g)
This dish reminds you of lobster bisque but has been creatively tweeted to delectable Asian version with rich broth that has been slow cooked using prawns shells, whole crab, lobsters, chicken soup base with old fowl and chicken feet for 3 hours! To bring in the added textures and flavours, pour in the rice consisting of part crispy and part steamed will surprise you with the creamy, smooth taste of the soup, the fresh chunky lobster and crunchiness from the rice. What a delicious combination, this is a comforting and nourishing soup based dish that is not to be missed! 
PROMOTION MENU : DESSERTS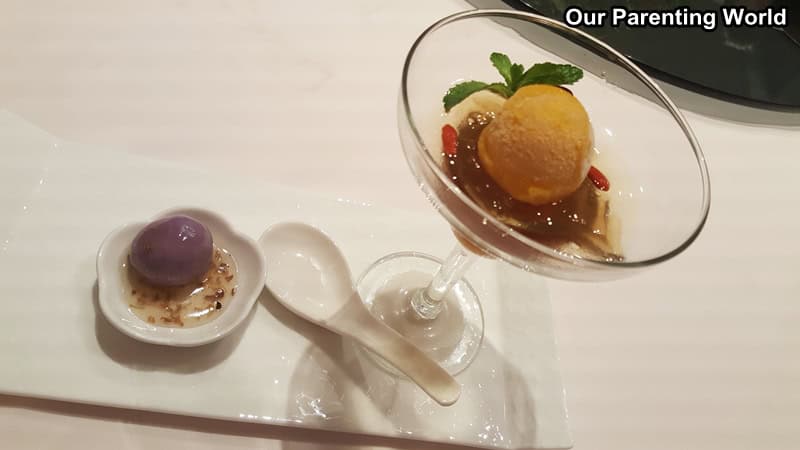 Green Bean Paste Glutinous Rice Ball with Osmanthus 桂花绿豆汤圆 ($15++ per portion) (L), the glutinous rice ball has a nice, chewy mochi-like texture coupled with smooth, creamy green bean paste fillings and Chilled Chrysanthemum Tea Jelly with Mango Sorbet 香芒雪花伴菊花冻 ($16++ per portion) (R), a delightful and refreshing way to end a splendid and fulfilling meal. The desserts featured are from the Dim Sum promotion menu which will run from 1 to 31 August 2017. 
Visit Wan Hao Chinese Restaurant to enjoy its appetizing cuisine and try out the new range of delectable dishes specially created by the talented Executive Chinese Chef Brian Wong and his team! 
For dining reservations, please call 6831 4605 or visit singaporemarriott.com/dining.
All prices stated above are subject to 10% service charge and 7% Goods & Services Tax (GST) unless otherwise stated.
Wan Hao Chinese Restaurant
320 Orchard Road
Singapore Marriott Tang Plaza Hotel
Singapore 238865 
Tel: 6831 4605 
Nearest MRT Station: Orchard
Opening Hours
Lunch: 12PM to 3PM
Dinner: 6.30PM to 10.30PM
Monday to Friday
Lunch: 11.30AM to 3PM
Dinner: 6.30PM to 10.30PM
Saturday , Sunday and Public Holiday