Photo Credit: Waterway Point
(From left to right) Philip Ng, CEO, Far East Organization; Khunying Wanna and Khun Charoen Sirivadhanabhakdi, Vice Chairman and Chairman, Frasers Centrepoint Limited; Isami Wada, Chairman, Representative Director & CEO, Sekisui House, Ltd
{Media Invite and Official Launch of Waterway Point}
Waterway Point by Frasers Centrepoint Malls, the newest mall located in the heart of Punggol has officially opened on Tuesday 19 April 2016.
Waterway Point with an area spanning 370,824 square feet is a joint venture by Frasers Centrepoint Limited, Far East Organization and Sekisui House, Ltd. The mall first opened its doors to the public in mid-January and has since received over 6 million visitors. It has a diverse tenant mix to meet the lifestyle and daily needs of the immediate Punggol community and visitors from other parts of Singapore. It is also part of Singapore's first waterfront eco-town with its strategic river frontage and Green-Mark certified transportation infrastructure enabling better access to green spaces and encouraging an active lifestyle for residents around the vicinity and visitors across the island.
Summing-up, Mr. Christopher Tang, Chief Executive Officer, Commercial, Frasers Centrepoint Limited says "Waterway Point is a destination of choice in Punggol that meets the changing lifestyles of the community. It brings all the convenience of city living to the residents and provides a scenic getaway for others who are looking for a mall that offers a holistic retail and dining experience. The enhanced convenience, easy accessibility to various transport nodes and close proximity to nature are all winning factors that allow Waterway Point to stand out as the first integrated waterfront development in Singapore."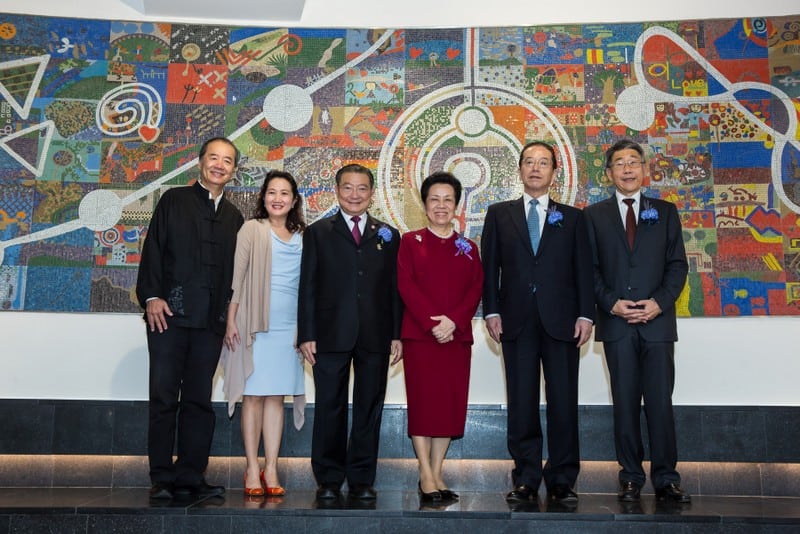 Photo Credit: Waterway Point
(From left to right); Sun Yu-Li, Artist and Mural Director; Dawn Tam, Artistic Director, ArtBeatz, Khun Charoen and Khunying Wanna Sirivadhanabhakdi, Chairman and Vice Chairman, Frasers Centrepoint Limited; Isami Wada, Chairman, Representative Director & CEO, Sekisui House, Ltd; Philip Ng, CEO, Far East Organization
The project's joint consortium of developers also announced its contribution of S$60,000 to the Punggol Coast CCC Community Development and Welfare Fund, which provides financial and social assistance to underprivileged residents.
Waterway Point, the huge mall has four levels of more than 200 tenants of retail, food and beverage and entertainment outlets. Visitors can find home-grown favourites like Shaw Theatres and FairPrice Finest (operating round the clock), international retailers like Uniqlo, and new-to-suburb brands including London Fat Duck, have reported favourable results since its soft opening. London Fat Duck at Waterway Point is the first outlet away from the town area.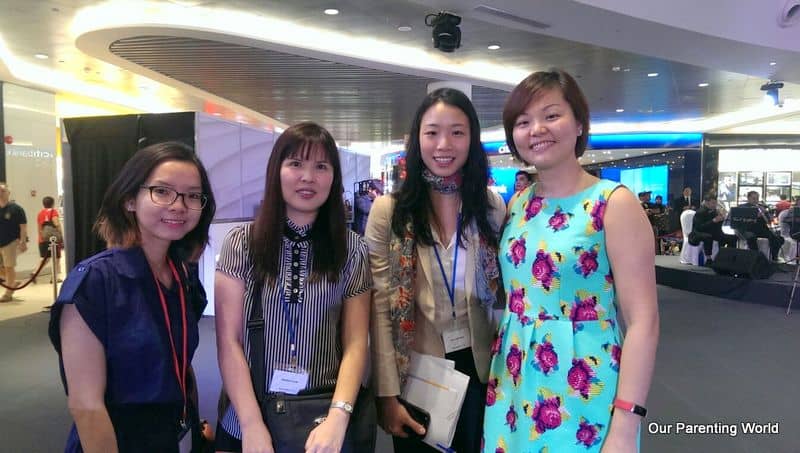 Our Parenting World Team with Olivia Woo, Frasers Centrepoint Malls. Thank you for your kind hospitality!
Additional Information:
Waterway Point is managed by Frasers Centrepoint Malls. For more information on Waterway Point, please visit www.waterwaypoint.com.sg.
For more information on Frasers Centrepoint Malls, please visit www.FrasersCentrepointMalls.com.