Watsons, Singapore's number one favourite health and beauty store in celebration of its 27th birthday invited the ladies to celebrate and participate in its highly-anticipated beauty event 'Girls Day Out'! The ladies in our team were delighted to attend the first-ever Watsons Girls Day Out beauty bash and they have always shopped at Watsons.
Mr Daniel Teo, General Manager of Watsons Singapore launched the event and he stressed that Watsons will always strive to bring more to customers' lives by being a personal, knowledgeable and trusted brand. It aims to deliver the best in health and beauty by seeking to make Watsons shopping experience a memorable one with exclusive brands and having the trendiest products to customers.
At the event, we were introduced to leading brands that include Kinohimitsu, Bioderma, Revlon, KATE cosmetics, Yu Pin Zhen, Energeyes, Honeycé and many more with products that are new and exclusive to Watsons. The beauty bash also showcase Watson's very own brands which include Watsons Hair Pro, Pure Beauty and Divinia which is its all new skincare line.
Here are some of the products that we have visited at the event: 
We are excited to know that Watsons has its own brands and Pure Beauty is one of them. Pure Beauty range of products with breakthrough technologies and innovative research, it combines extractions of key ingredients that result in a unique blend rich in antioxidants that helps to limit free radical damage and slow down the ageing process of the skin which is good news for ladies! It helps to lift, firm skin, reduce fine lines and wrinkles, enable women to have a nourish, hydrate skin and help to restore radiance. 
The Pure Beauty Youth Restore Lift & Nourish Range is exclusively available at selected Watsons stores from $29.90 to $35.90.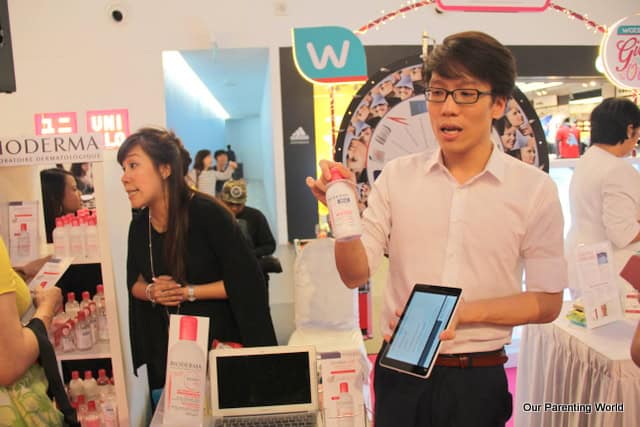 At Bioderma, we were introduced to Bioderma Sensibio Lait Cleansing Milk which has an ultra-light texture. It does more than just gentle cleansing and removal of make-up from face and eyes. This unique formula containing the TOLERIDINE® patent biologically increases the skin's tolerance level and reduces skin sensitivity over time. Its non-rinse formula is fragrance-free, hypoallergenic and non-comedogenic. 
We have tried the cleansing milk, the texture is smooth, light and it cleans make up easily. Bioderma Sensibio Lait is available exclusively at Watsons from March 2015 at $26.90 (250ml).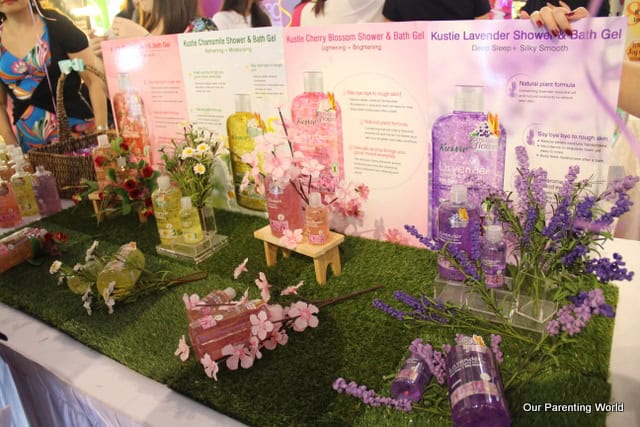 Kustie, a shower gel brand that is formulated in France with the finest selection of fresh florals. Each of the shower & bath gel is packed with handpicked petals, essential oils and natural nutrients to let the skin experience the freshest touch of nature at every wash.
The bottles are so pretty especially with the flower petals inside and it smells good! Kustie is available exclusively at selected Watsons and departmental stores, retailing at $19.90 each.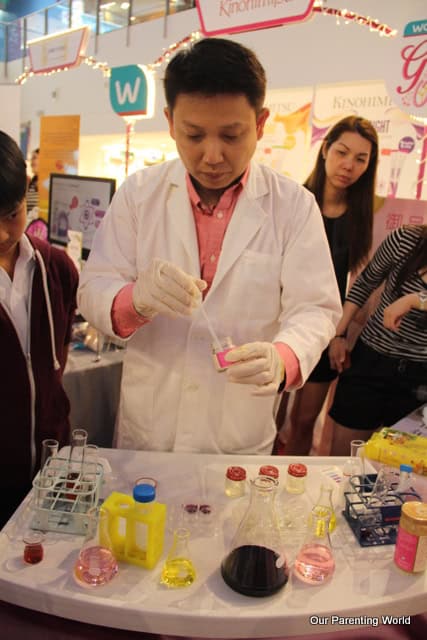 At Yu Pin Zhen booth, we were introduced to Yu Pin Zhen Pure De Yan, their in-house brand of premium bird's nest. We were shown an experiment to demonstrate that its products are purified, free from harmful chemicals and its of the highest assured quality. Yu Pin Zhen's Pure De Yan bird's nest products are a nutritious treat perfect for people of all ages at all stages of their lives. 
The Concentrated Bird's Nest comes in two packaging sizes – $95, six bottles x 30ml or $152, two bottles x 150ml. It is exclusively available at selected Watsons stores.
KATE Black Feather Lash priced at $25.50 will transform your lashes into jet-black and voluminous lashes. Try it out at Watsons and the limited edition KATE Flash Crush, KATE Super Sharp Liner S(3) and KATE CC Lip Cream will be exclusively available at selected Watsons outlets, while stocks last.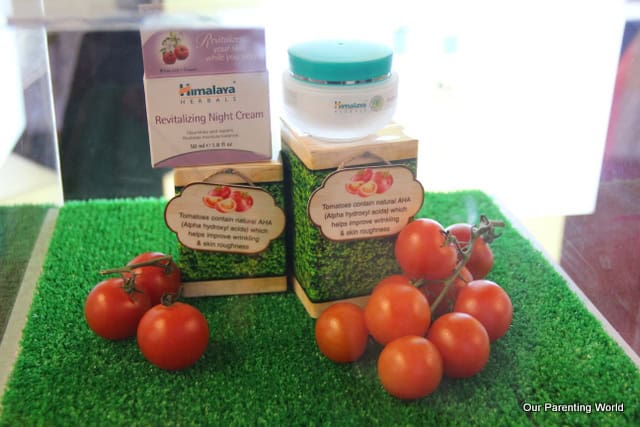 Women need to take care of our skins, Himalaya introduces Himalaya Herbals Anti-Wrinkle Cream which is an herbal formulation that works to delay wrinkles and tones up facial skin and Himalaya Herbals Revitalizing Night Cream. The night cream has been voted as the 'Best Night Cream' by the Women's Health & Fitness Magazine in the United States, this daily-use night cream is enriched with vitamins and essential oils, which nourishes the skin with nutrients and moisture. It also helps to revitalize dry lack luster skin and skin exposed to harsh environmental conditions and pollution. 
Both products are available at selected Watsons, each retails at $14.95 (50ml). 
The Kinohimitsu BB Drink that will help woman to look her best by having healthy and glowing skin. It is  is a functional, instant drink that helps restore skin's natural glow and clarity – not only on the face but the entire body, including the back, hands and legs. It works best for dehydrated, oily and acne skin.
We have tried out the BB Drink at the event, its very easy to drink in one shot, the taste is fruity and delicious. We love it! The Kinohimitsu BB Drink Value Pack retails at $39.90 for a pack of six, with four complimentary bottles.
In addition at the Girls Day Out! event, Watsons is proud to announce the official unveiling of its Watsons eStore, the brand's online portal designed to complete a shopper's 360 shopping experience.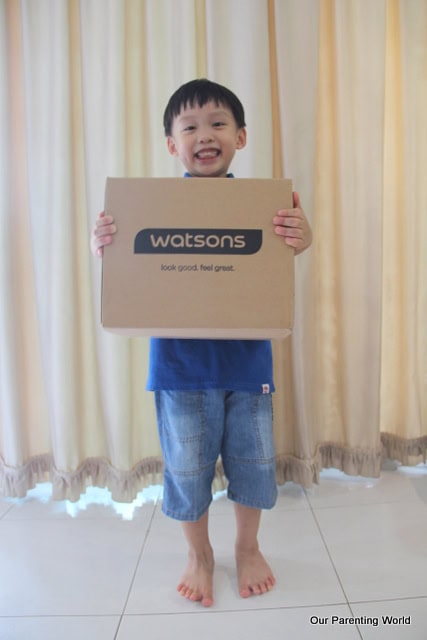 Our media group had an opportunity to try out the experience of shopping at the eStore and we had a mini competition to see who's the fastest to complete shopping within one minute and our team won! Thank you to the kind organisers and Watsons for giving us this fabulous experiences.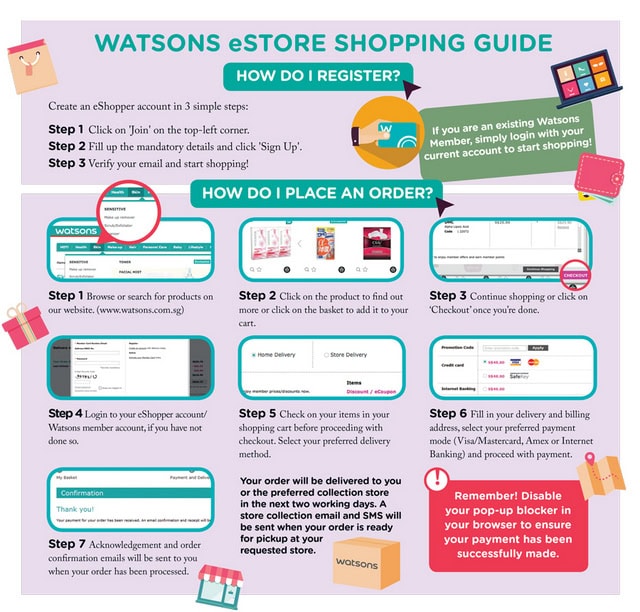 Photo Credit: Watsons Singapore
Shopping is made even more convenient with Watsons eStore, delivery is free for those who spend a minimum spend of $80 and items will be delivered within the next two days by a trusted and reputable carrier.
What's more, as part of Watsons' 27th anniversary celebrations, the brand would like to thank customers for their loyal support throughout the years with a special surprise gift added to each purchase order for online shoppers during the entire birthday month of March. For more information on Watsons eStore and the latest promotions and updates, simply visit www.watsons.com.sg and stand a chance to win a basket of your favorite items or vouchers.
Come down and join in Watsons Girls Day Out! happening from now till 15 March 2015. There are many more brands at the event, look out for the exclusive brands and product offerings and be pampered by various beauty booths. 
Events Details:
Watsons Girls Day Out! from now till 15 March 2015
Atrium at NEX
23 Serangoon Central
Level 1, Singapore 556 083