Calling all We Bare Bears fans! Get ready to catch We Bare Bears: The Movie, it's all stacking up to be the biggest Cartoon Network's movie premiere ever at 11am on Saturday, September 12!   
Everyone's favourite Bears return in their greatest adventure with their first TV movie, We Bare Bears: The Movie in a cross-platform debut on Cartoon Network (Starhub TV 316, Singtel TV 226) and other *WarnerMedia channels such as Boomerang, HBO, HBO Family, streaming service HBO GO, Warner TV, and Korean entertainment channel Oh!K, which is also screening last year's famous MONSTA X episode.
Life is good for this lovable trio but when their love of food trucks and viral videos get out of hand, it catches the attention of the menacing Agent Trout from the National Wildlife Control, who pledges to restore the "natural order" by separating them forever. Chased from their home, Grizz decides there's only one thing they can do to find refuge – move to Canada! The Bears embark on an epic road trip filled with new friends, dangerous obstacles, and massive parties. But most importantly, the perilous journey will force the Bears to face how they first met and became brothers, in order to keep their family bond from splitting apart.
In the run-up to the movie release, fans can also get their fill of the best We Bare Bears episodes in a special three-week block, 4pm daily from August 24 to September 11, only on Cartoon Network (Starhub TV 316, Singtel TV 226). Each week will see the spotlight on one Bear, with specially-curated episodes to celebrate the unique story, origin, and qualities of the beloved Bears: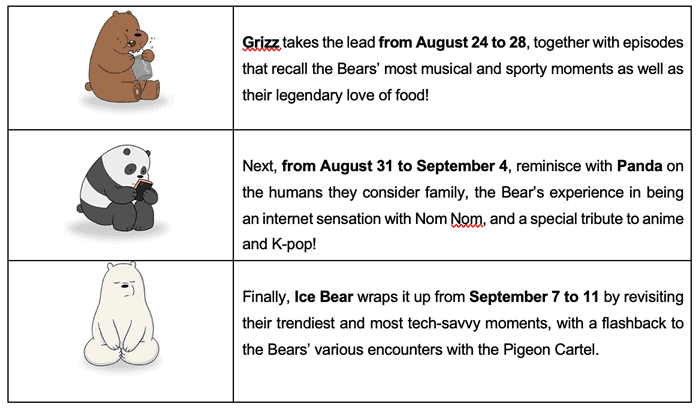 More about We Bare Bears: The Movie
Bringing adventure and bear-y brotherhood to whole new levels, Eric Edelstein, Demetri Martin and Bobby Moynihan return as the lovable bears Grizz, Ice and Panda in We Bare Bears: The Movie. The movie will also feature recurring guest stars Cameron Esposito (as Ranger Dana Tabes), Ellie Kemper (as Lucy), Jason Lee (as Charlie), Patton Oswalt (as Nom Nom), Mel Rodriguez (as Darrell Zaragosa), and Charlyne Yi (as Chloe Park), and special guest stars such as Marc Evan Jackson (The Good Place) as Agent Trout and Jimmy O. Yang (Silicon Valley) as the internet famous racoon Joey Raccoon.
AIl the above images credit to Cartoon Network
Cartoon Network to host its first #CNWatchParty for Asia with We Bare Bears-themed Party Ideas and Activities
Tune in at 11am on Saturday, September 12, with encores at 3pm and 7pm, and join fans all across Asia in Cartoon Network's We Bare Bears: The Movie first-ever watch party. Share live reactions during the movie premiere by adding hashtags #CNWatchParty and #WeBareBears on social media posts.
To get into the party mood, Singaporean fans can also download a We Bare Bears: The Movie-themed party kit and enjoy other entertaining activities such as exclusive videos, games and quizzes https://cartoonnetworkasia.com/webarebearsthemovie.
WARNERMEDIA CHANNEL NUMBERS 
Cartoon Network: Starhub TV 316, Singtel TV 226
Boomerang: Starhub TV 317, Singtel TV 228
Warner TV: Starhub TV 515, Singtel TV 306
Oh!K: Starhub TV 816, Singtel TV 525
HBO: Starhub TV 601, Singtel TV 420
HBO GO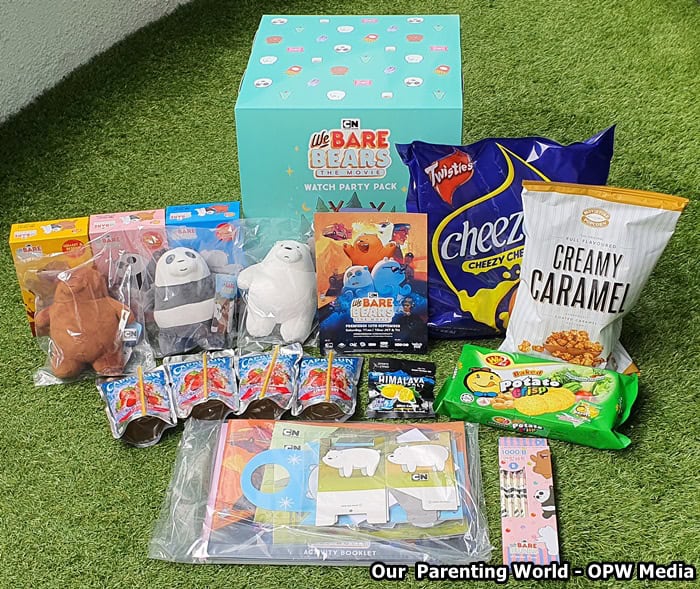 Thank you to The Cartoon Network Team for sending us the We Bare Bears : The Movie Party Pack! We can't wait to catch the movie. Remember to save the date, come and join us as we welcome We Bare Bears : The Movie premiering at 11am on Saturday, 12 September 2020!