Today is Gor Gor's first day in Primary school. It is also his first day in the school bus. Passengers in school buses are now required to wear seat belt for safety reason. Gor Gor is happily wearing seat belt in the school bus while waiting for other students to board the bus.
Wearing seat belt in the bus is important as when an accident happens, the seat belt can prevent the child from being thrown forward and suffer severe injury.
Daddy works as an Emergency Doctor before and Daddy seen enough accident arising from not wearing seat belt and thus it is very important to have your child wear seat belt in car or school bus.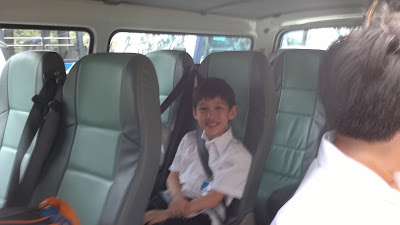 Gor Gor is happily wearing seat belt in his school bus