To welcome the Year of the Ox, Cherry Garden, one of the top Cantonese restaurants in Singapore is offering mouth-watering and bountiful Chinese New Year feasts at this popular Chinese fine dining restaurant at Mandarin Oriental Singapore, including an enticing array of Lunar New Year goodies for a convivial celebration in the comfort of your home this coming festive season.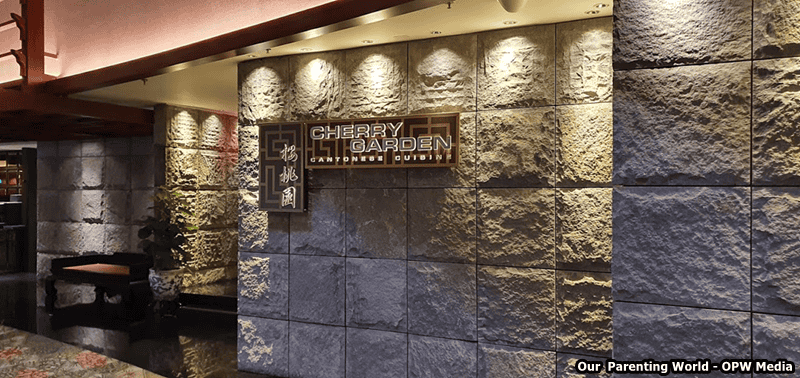 View of Cherry Garden Restaurant at Level 5 Mandarin Oriental Singapore
Cherry Garden, together with Dolce Vita, a well-known Italian restaurant and Melt Café, a buffet restaurant in the same hotel are some of the popular dining establishments for many Singaporean families in Mandarin Oriental hotel.
Walking in, through an antique doorway, into the restaurant is like an experience of walking into a luxurious Oriental residence to enjoy a sumptuous Chinese fine dining meal. A good restaurant should have beautiful ambience and great food, and Cherry Garden certainly fulfilled these criteria.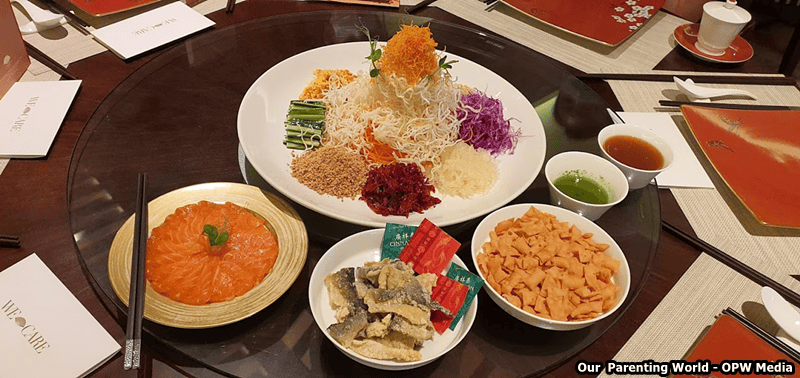 The classic Prosperity Yu Sheng to start the meal
A traditional Chinese New Year meal should start with a good Yu Sheng platter. Here, you can choose the Yu Sheng platters topped with homemade plum sauce, including the Triumph Yu Sheng featuring a medley of premium ingredients such as black truffle and black caviar or opt for the Prosperity Yu Sheng with salmon, a classic presentation of this dish. For our meal, we were served the Prosperity Yu Sheng, which has thick slices of fresh salmon complimented with crunchy and crispy fish skin.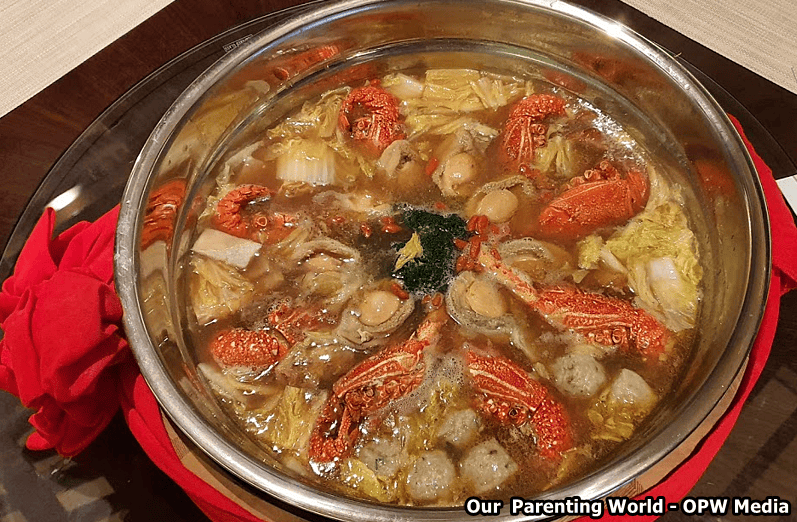 This is the largest pot of Pen Cai we have ever seen, and with large lobsters and abalones.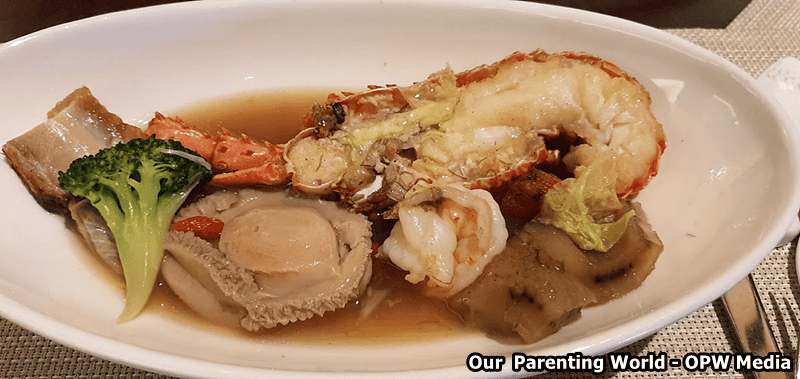 This large portion is from the Pen Cai for one person
The Luxurious Pen Cai, a symbol of prosperity and abundance, offered by this restaurant is very unique, in two different ways. Firstly, it comes in a large metal pot, the largest pot we have seen for Pen Cai, and secondly, this Pen Cai is served with lobster, which is also uncommon in Singapore as lobster is normally more expensive. The Pen Cai also contains whole head abalone, scallop, king prawn, sea cucumber, dried oyster roll, dace fillet, black moss, roasted pork belly, roasted duck, chicken and more that is set to impress! .
If we are going to use one sentence to describe this amazing Pen Cai, it would be "Lobsters and Abalones swimming in this large pot".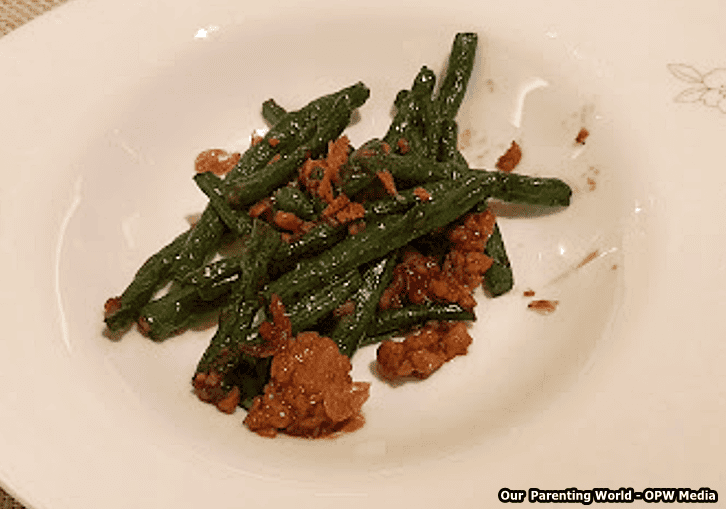 Wok friend string beans
The next two dishes for the set meal are stir-fried green vegetables with mushrooms, celery and black garlic, and wok-fried string beans with minced pork and garlic in premium XO sauce. This wok-fried string beans tastes very well if paired with their popular sambal chili prepared by the restaurant.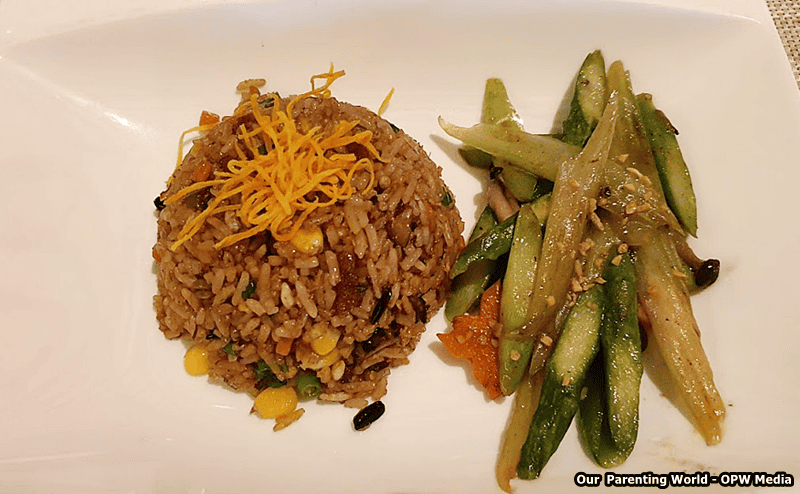 Five grain fried rice
After the vegetable dishes, they are followed by a Five grain fried rice with Cantonese pork sausage and vegetable. We like the fried rice the tastes is very fragrant and gives us a homely feel when we consume the dish.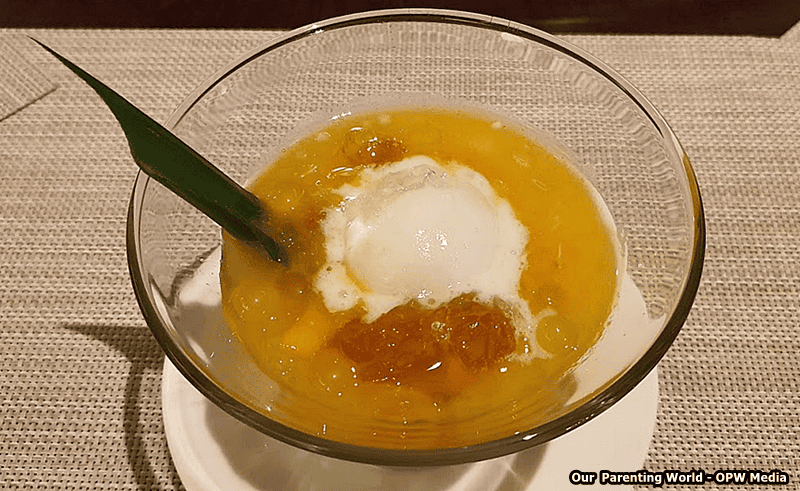 Chilled mango with sago pearls
This set meal ends with Chilled mango with sago pearls. It contains fresh pomelo, with lime sorbet and peach gum, which helps to refresh our taste after this satisfying meal. For all proper Chinese New Year meal, we must have nian gao for desserts too. This traditional red dates nian gao consist of steamed osmanthus and chestnut is a nice way to end this fabulous Chinese New Year meal.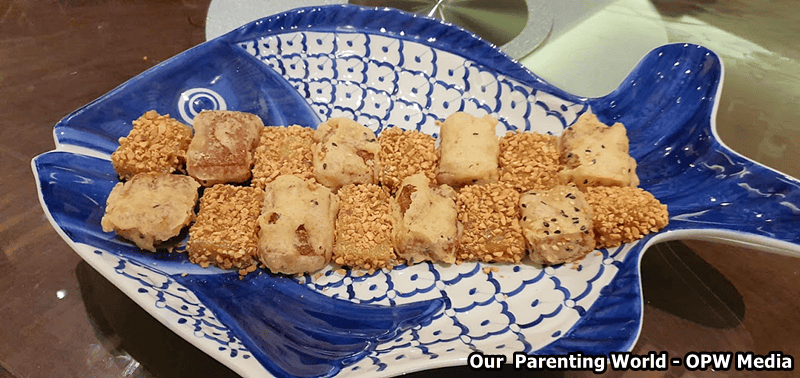 Traditional red dates nian gao
For this coming Chinese New Year dining, if you are looking for a nice traditional Chinese New Year meal in a cozy fine dining restaurant with a value for money meal, look no further, this $168++ per person value for money set meal from Cherry Garden, Mandarin Oriental Singapore is definitely one that you should not missed!
In addition, the Mandarin Oriental Shop Singapore presents an ensemble of Lunar New Year delights that is perfect as an addition to Lunar New Year feasts at home or an ideal festive gift. Kick start the celebratory meal at home with a selection of Yu Sheng platters, the Prosperity Yu Sheng with salmon, Bountiful Yu Sheng with abalone, or the Harmonious Yu Sheng with lobster, abalone and salmon. Not to be missed is the Cherry Garden Superior Pot, the takeaway version of Cherry Garden's signature Pen Cai. Send well wishes of good luck and blessings to loved ones with exquisitely crafted hampers, traditional Nian Gao delicacy infused with flavours of Chinese wolfberries, osmanthus and chestnut, or the homemade Radish Cake with waxed meat, dried shrimp, white radish and carrots. Making a debut this year and a representation of an abundance of wealth is the Golden Turmeric Peanut Bar, a banana turmeric sponge cake with peanut dulcey chocolate ganache and crunchy notes of almond.
For festive dining, visit https://www.mandarinoriental.com/singapore/marina-bay/fine-dining/restaurants/cantonese-cuisine/cherry-garden. Lunar New Year Set Menus are available from 8 to 26 February 2021.
For festive takeaways, visit https://singapore.mandarinorientalshop.com/collections/chinese-new-year-treats. The festive counter at the hotel lobby opens from 25 January to 26 February 2021, 11am to 8pm.
For more information, please email [email protected] or call +65 6885 3500.
Discover the world of gastronomy with Lunch On Us at Melt Café 
Embark on an epicurean journey of flavours at Melt Café with a specially curated Lunch On Us offer at Mandarin Oriental, Singapore. Redeem your SingapoRediscovers Vouchers on an indulgent staycation in the heart of Marina Bay and be treated to a complimentary semi-buffet lunch at Melt Café. From gourmet cheese platter, luxurious seafood feast to a myriad of local and international delights, a lavish spread of delicacies awaits your palate. Catch chefs in action behind the partitioned live stations as they serve up a tantalising selection of succulent meats, carved à la minute. Sweeten the experience with a medley of handcrafted dessert creations including the signature Melt Chocolate Cake.
Complimentary semi-buffet lunch is only applicable for bookings with SingapoRediscovers Vouchers via GlobalTix, Klook and Trip.com from now until 31 January 2021 and valid for stays from 1 January 2021 to 30 June 2021. For more information, please visit https://www.mandarinoriental.com/singapore/marina-bay/luxury-hotel/singaporediscovers-vouchers