Our Parenting World team is invited to review the new Western Digital (WD) TV – Personal Edition. WD, a Western Digital company, is a long-time innovator and storage industry leader. As a storage technology pacesetter, the company produces reliable, high-performance hard disk drives and solid state drives. It is one of the more well-known companies in the area of digital technology.

This TV media player as the name describes, is a device to let us play various media files on our home television. The model was just launched in Singapore end May 2014. Normally, we would watch media files like videos and movies on our laptop and or on our desktop screen. However, nothing beats watching a music video/movie sitting on our sofa in the living room and watching it on large screen television instead.

Front View of WD TV Media Player

Back View of WD TV Media Player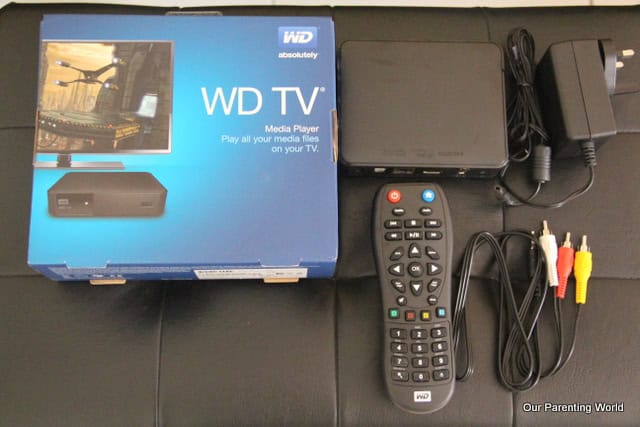 Overall view of WD TV Media Player content. 
Connecting the device is quite simple. There is a power adapter with the conventional three-pin plug which you can plug into your home power plug. It comes with a remote control and a set RCA Audio Visual cable to connect to the television.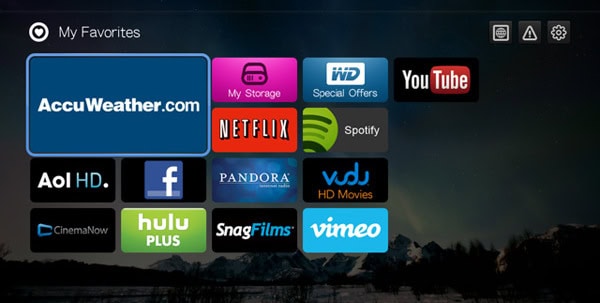 WD TV Screen
All other photos credit : WD TV Media Play
We find that WD TV Media Play is easy to set up as it boots up quickly and the colourful home screen looks like Window 8. It enables users to customise our home page and even turn our smartphones into remotes control. The WD TV Remote mobile app is currently available for download for free from the App Store and Google Play Store. You can also use your smartphone apps for easy navigation and quick access to the icons. 
This device is family friendly. As you know children should not spend too much time in front of the computer screen because of the near distance between their eyes and the computer screen, it may cause children to develop Myopia (Short-sightedness). By moving the media files to be screened on the TV screen, it can help to reduce this risk because the TV screen is further from their eyes compared to the computer screen and thus causing less strain to their eyes. Nevertheless, it is important to have sufficient rest time in between watching TV or watching computer screen to reduce their risk of developing or worsening their short-sightedness. 
WD TV- Personal Edition allows users to enjoy a wide range of personal media such as photos, video and music on their home entertainment systems by supporting many file formats, including MKV, MP4, AVI, WMV, MOV and more. Files can be streamed from any connected USB drive like the My Passport® Ultra™ and My Book® product families, personal cloud and network attached storage drives like WD's My Cloud product family, digital camcorder or cameras, and any networked PC or Mac® computer in the home. For example, you can just plug your USB drive containing a media file to play on your TV screen.    
WD TV is currently available at select retailers and online at wdstore.com.sg. WD TV is distributed by Eternal Asia (S) Pte Ltd in Singapore with MSRP of SGD $169.