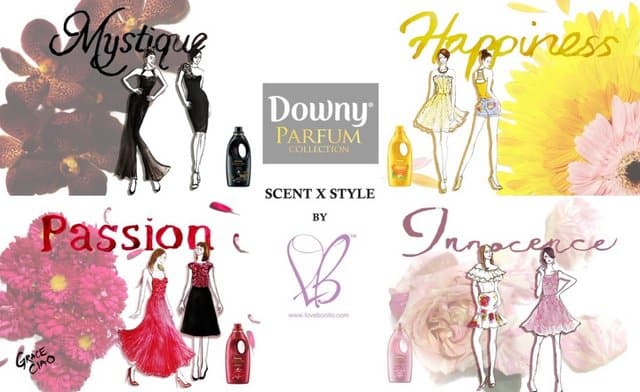 Our Parenting World team attended the launch of the new Downy® Parfum Collection™ to find out more about it latest range of fabric softeners. Downy® Parfum Collection™ with Scent Switcher Technology™, now available in four variants – Happiness, Innocence, Mystique and Passion. With the latest perfume innovation in the form of Scent Switching Technology™, one's dressing and scenting up experience with Downy® will never be the same again.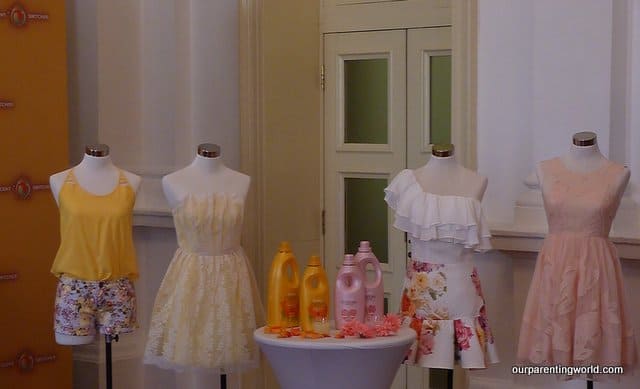 Our Parenting World, Mummy chose the Happiness and Innocence range.  How about you, what is your scent style?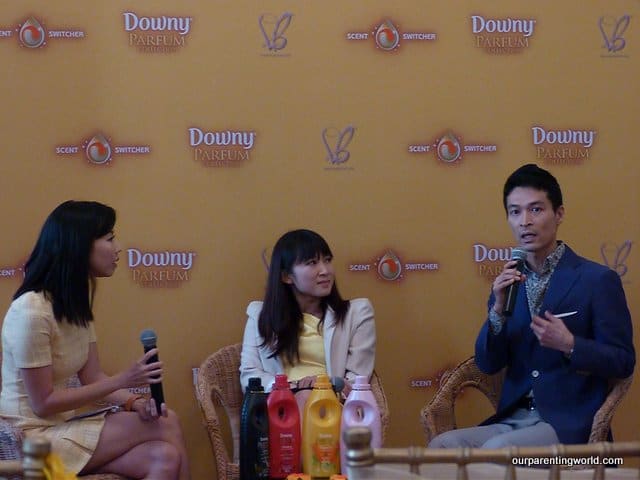 Fu Shuqi, Brand Communications Manager in the middle and Junqi Hamano, Senior Perfumer at the right side of the photo introduced and shared with us the new parfum collection and its research story. 
"With the amazing Scent Switcher Technology™, every rub is a new perfume experience."said Fu Shuqi.
Downy® Parfum Collection™ will keep our clothings soft and smell good too. Upon hearing this, Mummy is very excited and looking forward to use this on our laundry with her chosen Downy Parfum Scent. You can have a whiff at our clothings!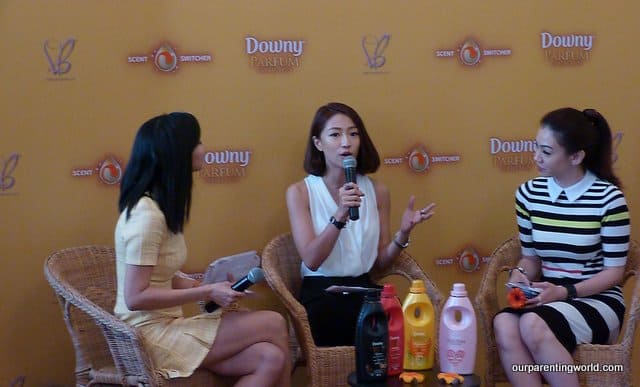 Viola Tan and Rachel Lim, Co-founders of Love, Bonito showcased its style collection with Downy Parfum Scent according to the four scent variants and shared with us useful fashion care tips for our clothings.
Additional Information:
Downy® Parfum Collection now features the new, breakthrough Scent Switcher Technology™. Each variant in the Parfum Collection™ – Happiness, Mystique, Innocence and Passion – now contains two types of Perfume Micro-Capsules (PMCs) that will be deposited onto your clothing during each wash. These capsules are activated upon rubbing, wearing or moving of the fabric, slowly releasing fresh bursts of fragrance in the air to make every rub a new perfume experience.
The scents for Downy® Parfum Collection™ are carefully blended by the world's leading perfume house to provide you a special, long-lasting scent experience on your clothes, just like wearing fine fragrances.
FEATURES & BENEFITS:
Downy® Parfum Collection™ – Happiness
A new refreshing perfume fragrance that's flirtatious, playful and breezy in the summer heat.
A refreshing perfume fragrance that is both flirtatious and playful; Happiness entices your senses with fruity citrus top notes of Elon, Passion fruit, Bergamot andCalamansi, reinforced by a pure creamy floral mix.
This includes Lotus, Peony, Jasmine, Violet and green notes that sit on a solid yet sophisticated frame – woody and powdery notes from Sandalwood, Oakmoss and Musk. 
Downy® Parfum Collection™ – Mystique
A creation of evocative and sensorial oriental spicy floral scent inspired by the timeless theme of Paris at midnight.
Mystique's heady fresh top notes of Grapefruit, Apricot and luscious Red Fruit flourishes into a dainty floral bouquet of French Lily and Osmanthus. This is skilfully blended with sweet Tonka and creamy powdery Vanilla notes. The earthly background of rich Amber, airy Musks and precious Woods is woven together with an assortment of aromatic, intriguing and playful spices.
Downy® Parfum Collection™ – Innocence
An enchanting floral bouquet sheathed with precious Musks explores the gentle and romantic side of sophisticated femininity.
Innocence entrances the senses with its charming combination of Raspberries, fresh flowers, and rich and precious Amber that are woven together to form a perfect balance of sweet innocence and refined femininity.
Downy® Parfum Collection™ – Passion
A delightfully sweet, alluring and fruity mix immersed withan enchanting floral wrapping with a warm and sensual Vanillic background.
Passion's delectable, fruity fragrance is destined to turn heads; a flawless concoction of Apple Blossoms, Freesia, and Vanilla, topped up with subtle hints of fresh Mulberry and Cedarwood, formulates the perfect dose of sweet and vibrant.
Downy® Parfum Collection™ is available at all leading supermarkets.