Daddy sharing: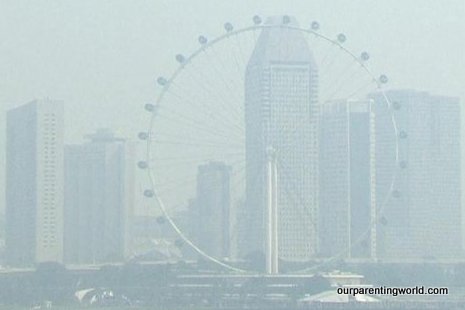 Singapore's skyline being covered by haze. 
I am asked by many friends and readers how will the current haze affects their children? As a doctor, daddy currently encounters many patients with haze related problems like cough, sore throat, red eyes, difficulties in breathing and even asthmatic attack. Children are more particularly affected because they are more vulnerable to the haze due to their less developed immune system.
Daddy has thus come out with the 10 precautions for all parents to observe during this haze period.
1. Stay indoors at all time. Even if you do not have air-conditioned at home, there will still be less haze particles in your home as compared to outdoors.
2. Minimize outdoor exposure. Even a short trip like walking to the bus stop to take an air-conditioned bus will cause irritation as the heavy haze particles can cause problems to your child.
3. Avoid all physical activities even in indoor air-conditioned environment. As our breathing system is already being affected by the haze, any exercises will cause it to be more distress.
4. Drink a lot of water. This will help to hydrate your child and improve his/her immunity.
5. Use air-conditioned room where possible. This will decrease the haze particles in the environment.
6. Seek medical consultation immediately if your child is breathless or exhausted from the haze.
7. Be careful about the traffic if you are outdoors. Road visibility tends to be low during this period and it could be hazardous as the drivers may not notice your child.
8. Be careful about using N95 mask. Although the mask is useful in reducing the haze exposure, children normally do not fit the mask well and sometimes could worsen their breathing difficulty if they have underlying asthmatic condition.
9. Rest and sleep more to build up your child's immunity.
10. Parents should also stay indoors and take the opportunity to spend time with your child at home.
Hopefully this period will pass quickly. Remember, your child is more vulnerable than you and thus you should take more precautions for them.