We saw a newspaper report which mentioned Cordlife is now going for IPO in Singapore. Cordlife is one of the two private cord blood banks in Singapore. The other is Stemcord. Most parents nowadays choose to bank their child's cord blood in one of these two private cord blood banks for their child's future.
Other than the details which you can read from our blog article earlier, I am sure readers are interested to know which is better?
Overall, both cord blood banks are good and of high standards. There are some small differences which favours Cordlife. These are:
Cordlife is a public listed company, currently listed on Australia Stock Exchange and now planning to list on Singapore Stock Exchange. Public listed company's accounts are available to the public and thus if you are interested to know of the financial situation of the company, it is available easily. This is important as you want to be assured that the company which you bank your child's precious cord blood is financially sound and will not go bankrupt in the near future.
Cordlife stores the cord blood in one location whereas Stemcord stores in 2 different locations. In theory, the 2 different locations sounds safer as if there is a problem with one location (eg fire), you still have another sample from the other location. Unfortunately, in practice, storing in 2 different locations are higher risk. This is because in a normal transplant, the doctor will actually need the full amount of the cord blood stored, not half the amount as half amount is not sufficient. By storing the cord blood in 2 separate location, the risk of one location on fire will be higher than just storing in 1 location (eg if you have 2 houses, the chances of one of them caught fire is higher than just 1 house).
Thus, with these differences, we decided to choose and endorse Cordlife to store Di Di's cord blood last year. We wish their IPO a success in Singapore.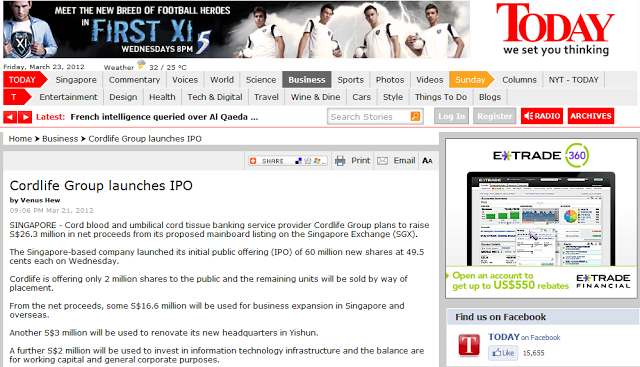 News on Cordlife's IPO in Singapore