If you have read The New Paper report last Sunday on some parents spending $6,000 a month for their children's tuition, many of us parents may not be surprised as tuition is now considered a "necessity" and not a "luxury" for all school going children.
We believe that tuition has some benefits to the child, as long as the lessons are planned and taught properly, to supplement the school lessons.
One questions most parents ask is "Should we engage a tutor to come to our home to teach or should we send our child to a tuition centre instead?" Lets look at which is better in this column.
Home tuition : This is useful for busy parents who have no time to send their children to the tuition centres. When the tutor comes to your home, you save a lot of travelling time both for yourself and also your child. Another advantage is the one-to-one home tuition lessons can be customised to help your child in his weaker areas. The tutor is able to spend more time teaching topics which your child has problem and less time on those topics which he already knows quite well.
Tuition centre: Many parents prefer tuition centres because these centres normally provide standardised worksheets for the students. The lessons are more structured and follow a fixed time-table. This is useful if your child can study in a group and does not need individualised coaching. There will also be informal benchmarking with the children from other schools in the same tuition centre, so that you know your child's performance in relation to other children who are not in his school. The teachers from the tuition centres maybe a MOE qualified teacher who has more experienced than home tutors who are normally university students.
Thus, each of these have their benefits. You need to weigh the pros and cons of each type of tuition. If you are not sure, you could start your child in tuition centre and evaluate if the learning style suits him. If not, then you can engage a private tutor instead.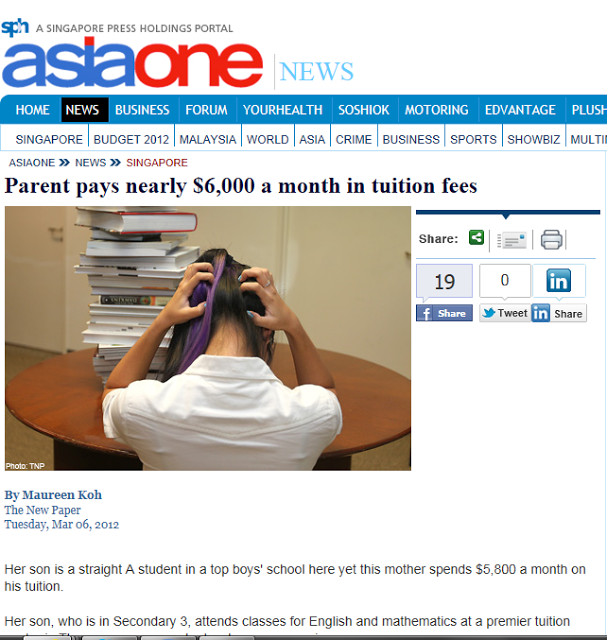 Headlines from The New Paper on Sunday 4 Mar 2012