At Playeum – Children's Centre for Creativity, look out for its exciting and educating Tinkering Sunday sessions taking place on the last Sunday of every month. This time, Our Parenting World boys attended Wicking Planter workshop conducted by Permaculture Designer, Nova.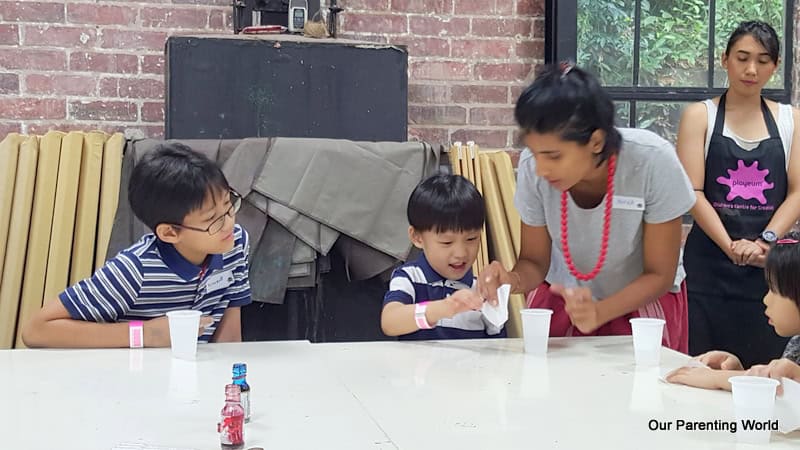 The boys worked on their materials under the guidance of their friendly instructor, Nova. The children are taught how to grow plants in small spaces, indoors and with little water. 
Through a simple experiment, the children are taught what Caterpillary action is and how we can do watering from bottom up. This is an unique way to water your plants.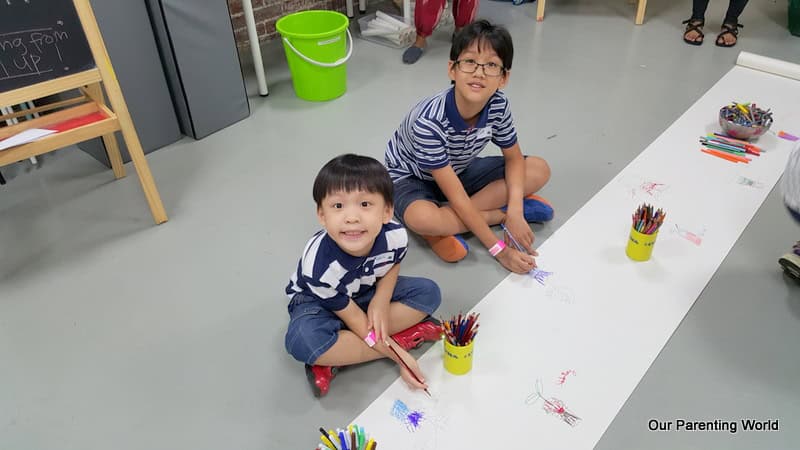 Children get to exercise their creativities and imagination by drawing their experiment at the workshop.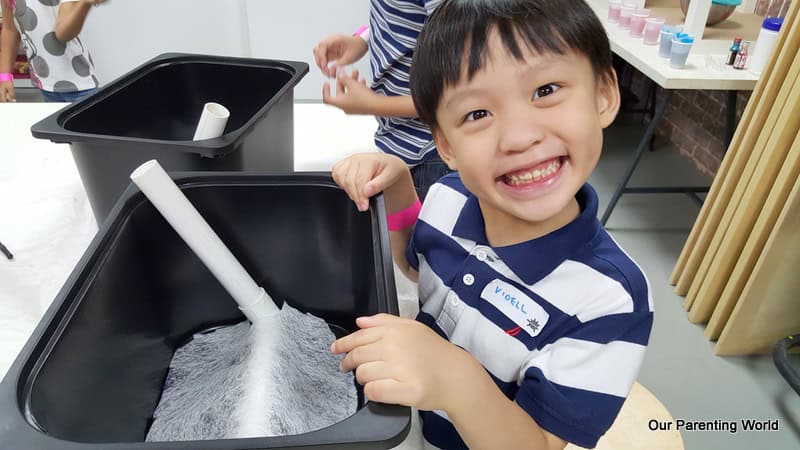 I am so excited to grow my own plant!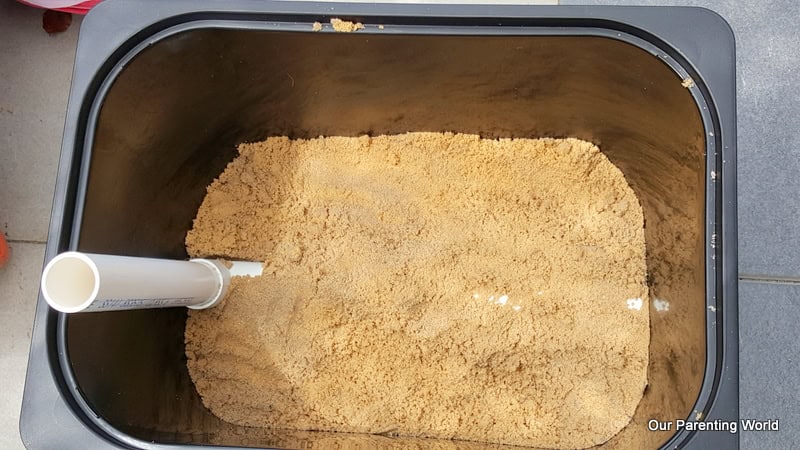 We are taught to put in a PVC pipe with holes to create a DIY reservoir in our planter, covered it and filled up with soil.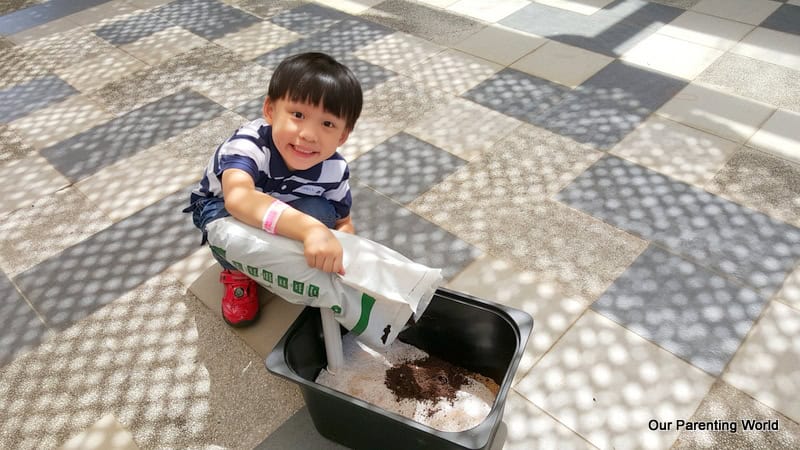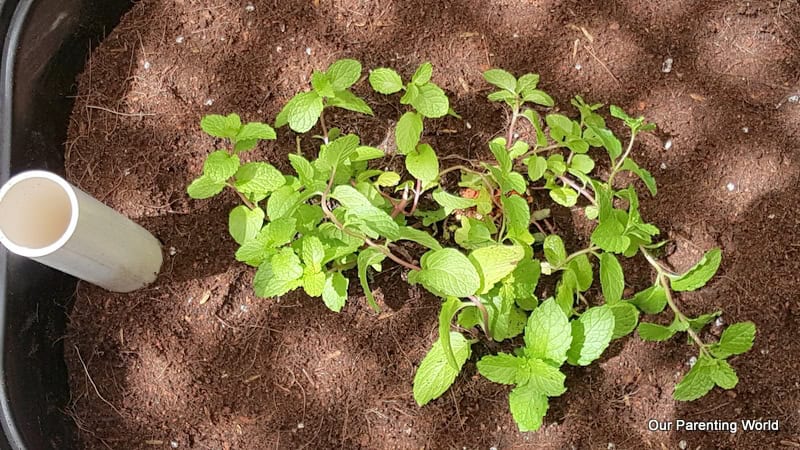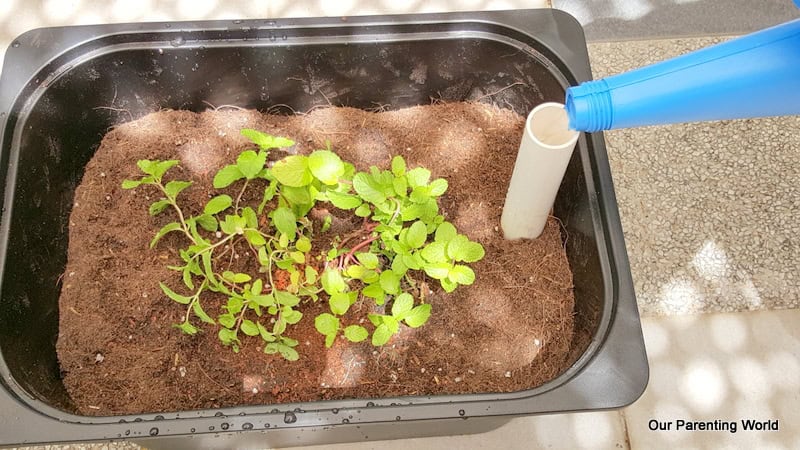 We moved to outdoor to fill up our container with more organic soil, plant our seedlings and water our plants.
The children are so excited where they are introduced to worms and they get to put the worms into their planters!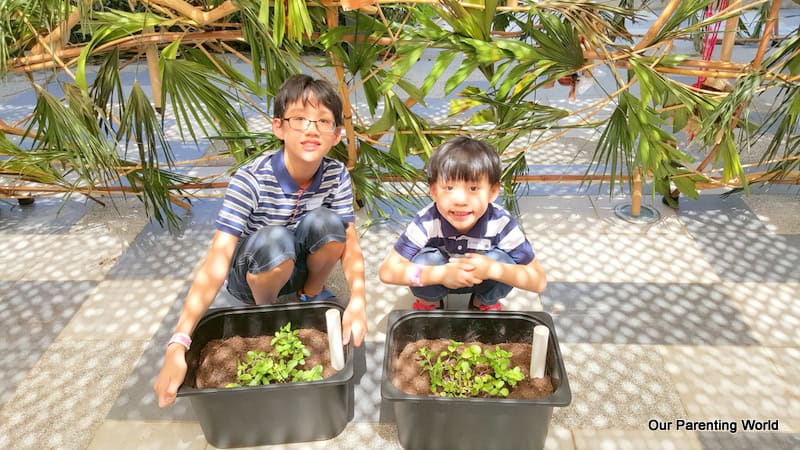 It is a good learning opportunity for children and even for parents to learn about wicking planter. It is great for the urban context in which we live in and helps us to find ways to enable us to grow plants with less water, little space and having our plants indoors. 
At this workshop, children will get to explore the design essentials for a wicking planter, how to create a DIY reservoir in their planter and find ways to introduce worms by incorporating a composting element into their planter system. Best of all, children get to take back home their own wicking planter to continue their gardening experiences.  Garden materials and items needed for the wicking planter will be supplied at the workshop. To take care of your wicking planter, remember to water the plants and put some vegetable, fruit peels for the worms. 
Thank you  Nova and Playeum team for the wonderful experiences! The boys have learned so much for the workshop. They have been caring for their wicking planter and worms since they brought back from the workshop. 
Additional Information:
Playeum, The Children's Centre for Creativity. 
Blk 47, Malan Road
Gillman Barracks
#01-23
Singapore 109444
Opening Hours:
10am to 6pm and closed on all Mondays and Christmas Day. 
Ticketing:
Child (1 to 12) $20
Accompanying adult: Free
Additional Adult: $10
Special:
Promotional rate for school and groups at $10 per student.
Website: http://www.playeum.com 
Tinkering Sunday Workshops 
The workshops will take place on the last Sunday of every month, Tinkering Sunday sessions are suitable for parents and children (from the age of 5 to 12) to do together. The activities are open-ended but within a theme, and carefully curated materials and tools are available. The aim of these facilitated sessions is to try out things, explore, experiment and create. Most of the time, you will not go home with a product but with a set of experiences.
Please click HERE for more information on the workshops schedules and registration details.