We always look forward to Wild Rice's productions, especially their annual Christmas shows, like "A $ingapore Carol". It was unfortunate that due to the pandemic last year, there was no Christmas show for the year 2020 and luckily this year, despite the still on-going pandemic, we managed to watch this latest excellent Christmas show with proper safe management measures at Wild Rice's own theatre at Funan.
Ivan Heng, the Founding Artistic Director of Wild Rice introduced the show "So, in spite of all the challenges, we have defiantly pressed on, pulling out all the stops to present a brand-new, home-grown musical. True to form, we've reimagined a classic folk tale with a twist, taking on the climate crisis with humour and heart. Momotaro and the Magnificent Peach is our made-in-Singapore vaccination against the gloom and doom, and a much-needed injection of inspiration, joy and hope."
True enough, for the next 1 hour 40 minutes into the show, we were taken on a joyous ride in this light-hearted, playful and interesting musical peppered with some local references to the current pandemic situation like "circuit breaker", "social distancing ambassador" etc. in the dialogues. The musical is an adaptation to a popular Japanese folktale, with strong emphasis on family values and the importance of caring for the environment.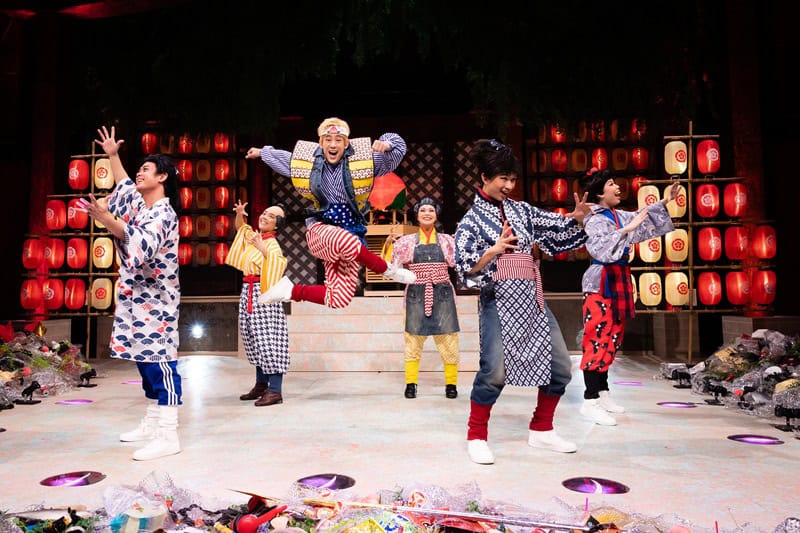 The story was about a 15-year-old boy, Momotaro, who lived on Peach Paradise, a beautiful island popular with tourists. Momotaro's adopted parents did not reveal to him that he actually came from a mystical peach and thus he always thought they were his real parents. One day, a poisonous wave from a nearby island, caused by the evil and ambitious President Oni invaded this beautiful island and caused severe illness to many of the residents. The evil President Oni's favourite phrase was adopted from President Donald Trump's: "Make America Great Again" when she aimed to take over Peach Paradise.
Determined to leave home to save his island, Momotaro met three animal friends, Aiko, the dog, Yuki, the Snow Monkey and Hiroto, the Crane. Together they searched for clues which eventually led them to President Oni and his sidekick, Captain Kit. A big battle broke out between the two opposing groups, although Momotaro's team initially were outclassed by their opponents, but a change of heart from Captain Kit eventually saved him and President Oni had to escape using a helicopter.
After the battle was over, Momotaro went back home and was reunited with his parents. Although he already knew they were not his real parents, he continued to love them like his real parents. He also let his three animal friends stay with him at his parents' home and they live happily ever after.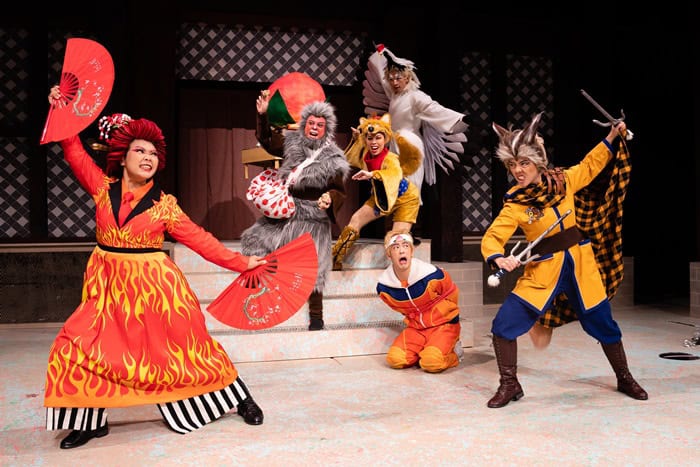 All images credit to Ruey Loon
This musical was brought to us by Wild Rice's Director, Glen Goei, with lyrics from Dwayne Lau and a thrilling musical new score by Elaine Chan. The case included veterans like Siti Khalijah Zainal and Audrey Luo and also newcomer like Ryan Ang who was Momotaro, the hero in this show. Other cast members were Vester Ng, Greg Sim and Sharon Sum. The cast did a wonderful job in portraying their respective roles, we were totally immersed into their characters and story. Look out especially for the flamboyant Siti Kahlijah Zainal as the evil President Oni and Ryan Ang, the lovable Momotaro in this good versus evil story.
In addition, the props and costumes were colourful and equally impressive. This entertaining show has certainly lifted up the Christmas festive spirit for many of us, having to cope with the extraordinary measures in our lives due to the global pandemic. We would highly recommend this as one of the "must watch" musicals for this coming Christmas festive season.
This is a fun, awesome and family-friendly musical with all the right elements on the importance of family values, environmental issues and celebrating cultures that everyone will enjoy and have a great time together! 
Momotaro and the Magnificent Peach
Performance Dates: 25 November – 24 December 2021
Tuesday – Friday: 7.30pm
Saturday & Sunday: 2pm & 6pm
Ticket Prices: $40, $65, $80
Venue: The Ngee Ann Kongsi Theatre @ Wild Rice
Duration: Approximately 1 hour 30 minutes with no interval
To purchase the tickets, please go to https://www.sistic.com.sg/events/momotaro1221