Most of us have heard of the story, Pinocchio, the wooden toy boy made by a carpenter whose nose will grow longer when he tells a lie. Of all the Pinocchio shows we have watched, none has done it better and more entertaining than the amazing Wild Rice Production, led by none other than their founder, Ivan Heng, and the show director, Pam Oei. This is a brand-new, original musical written by Thomas Lim, with lyrics by Joel Tan and music by Julian Wong.
The Pinocchio musical by Wild Rice is a refreshing take on the classic folktale we are all familiar with. The brilliant minds at Wild Rice put a uniquely Singaporean spin on the classic story, changing the show to a relatable coming of age story set in Singapore. With characters and locations being changed from their original fairy tale settings to being in the heart of Singapore itself making it more appropriate to our society today. For example, using the word "Don Don Donki" refer to donkeys definitely makes the show funnier and we can resonate with.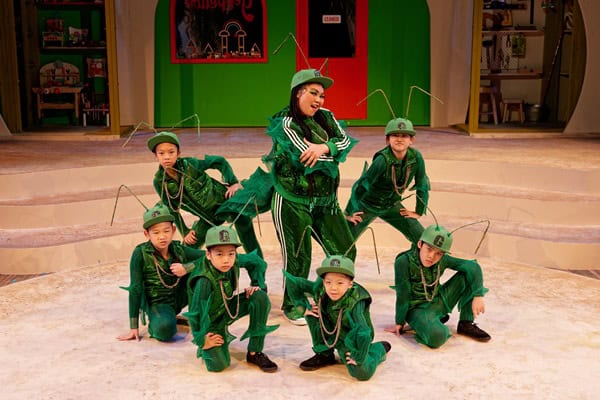 Thumbs-up to the excellent performance by adorable First Stage Kids whose enthusiasm and glee can be felt from our seats. This is the first time since the pandemic started that Wild Rice production includes children in the cast after three years! 
The impressive cast includes Mae Elliessa as the kind-hearted and naive Pinocchio, Ebi Shankara as Geppetto, Pinocchio's loving Father, Siti Khalijah Zainal as G-Hopper, Pinocchio's friend, a giant grasshopper as well as Dwayne Lau, Michelle Ler and Vester Ng put together this spectacular musical that we love so much! The music of the show is led by the talented Julian Wong, who was the star of the recent Wild Rice show, "Don't Call Him Mr. Mari Kita".  
Both the adults and children cast together manage to convey the highs and lows of the story to the audience magnificently, bringing a tear to our eyes during the heart-breaking moment. Something needs to be said about the Director of the show, Pam Oei. To organise an excellent show like this with so many intertwined moving parts flawlessly within the confine of a small stage is no easy feat. For those of us still having reservation about watching this due to the apparent childish nature of the show, fret not! All this culminates in a show that everyone from all walks of life can come together and enjoy. We highly recommend you to come down and witness this once in a lifetime performance for yourself!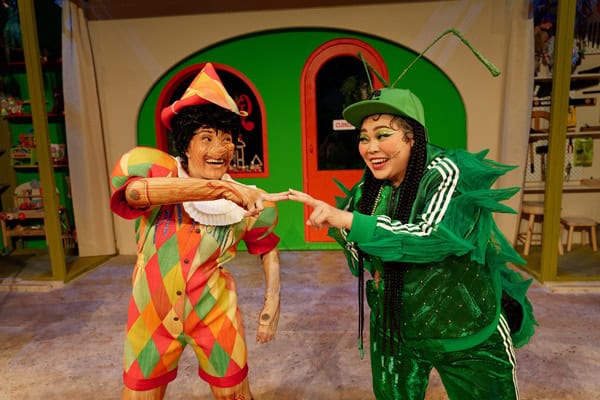 Don't miss the opportunity to catch Pinocchio by Wild Rice showing from now till 24 December! This is a fun, moving and heartfelt musical that is full of surprises suitable for everyone and for the whole family to enjoy together!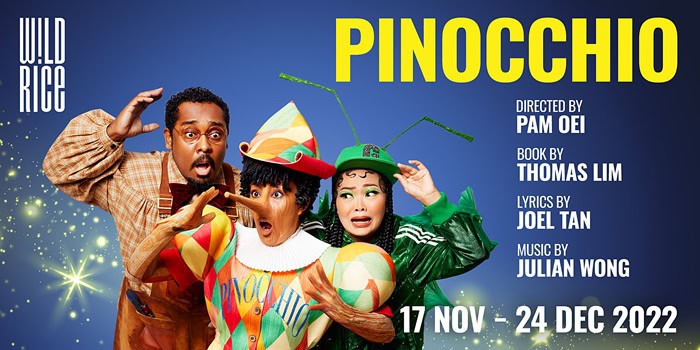 Pinocchio
Written by Thomas Lim
Directed by Pam Oei
Lyrics by Joel Tan
Music by Julian Wong
Starring Mae Elliessa, Ebi Shankara, Siti Khalijah Zainal, Dwayne Lau, Michelle Ler & Vester Ng
Show Dates: Thu, 17 Nov 2022 – Sat, 24 Dec 2022
Venue: The Ngee Ann Kongsi Theatre @ Wild Rice, Funan
Tickets: S$25 – S$90
Find out more and get your tickets now at https://www.wildrice.com.sg/event/66633-pinocchio/