Wine & Chef, an Italian Kitchen owned by the team behind SG Wine Cellar has launched a newly-revamped Italian menu incorporating Asian ingredients that is curated by Chef Darence Wee. Chef Wee was previously from the renowned Les Amis group with more than 23 years of culinary experience.
Diners can look forward to indulge in mouthwatering dishes and at the same time pair your dishes with the largest range of exclusive Italian boutique wines. Wine lovers can choose from more than 140 labels. What's more, the wines are priced at pocket-friendly prices starting from $7++ per glass that are sourced directly from boutique wineries at great-value prices.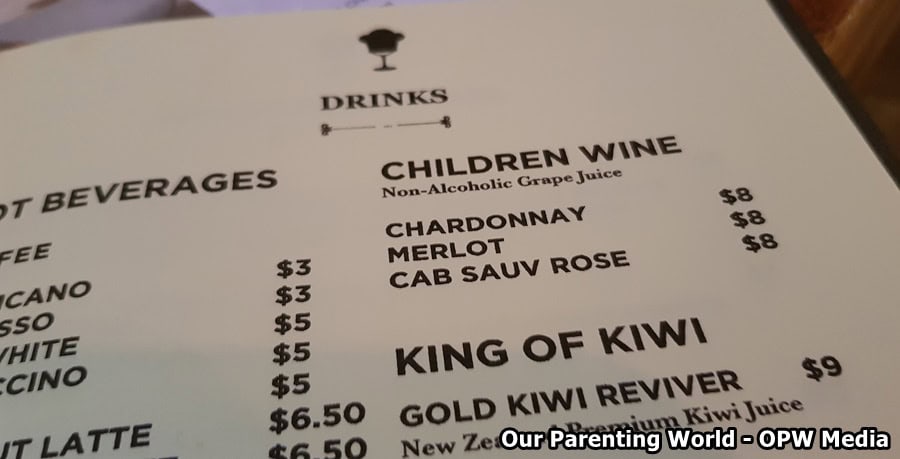 Have you heard of Children Wine? We were pleasantly surprised when we were told that the restaurant served Children Wine which is non-alcoholic grape juice served in wine glass so that children won't feel left out when their parents are enjoying the food with their wines. How thoughtful of Wine & Chef!
Now let's come to the food, here's some of the highlights of the new exquisite dishes that we have tried at Wine & Chef as follows: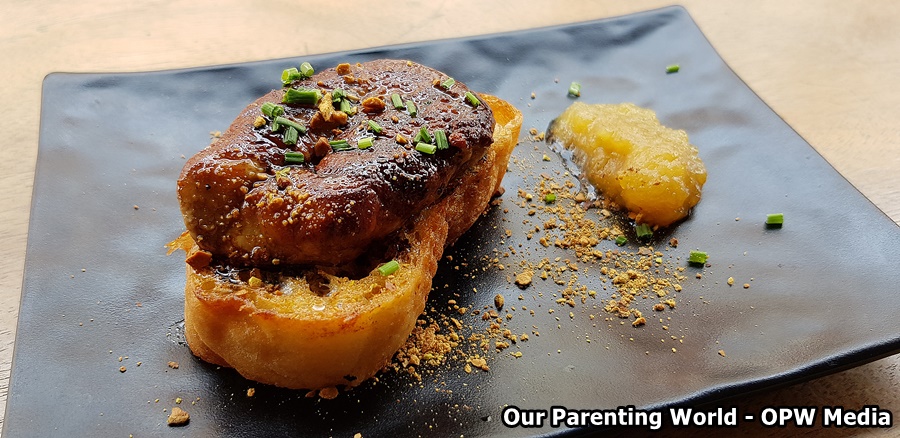 Seared Foie Gras ($16)
Every bite into this well-seasoned pan-seared foie gras with sea salt, pistachio and balsamic reduction that sits on a warm, toasted ciabatta is heavenly. The soft, creamy foie gras is perfectly paired with homemade apple and thyme brandy compote to create a wonderful harmony on your tastebuds. Enhance your experience by pairing this with wines that go exceptionally well its Italian reds.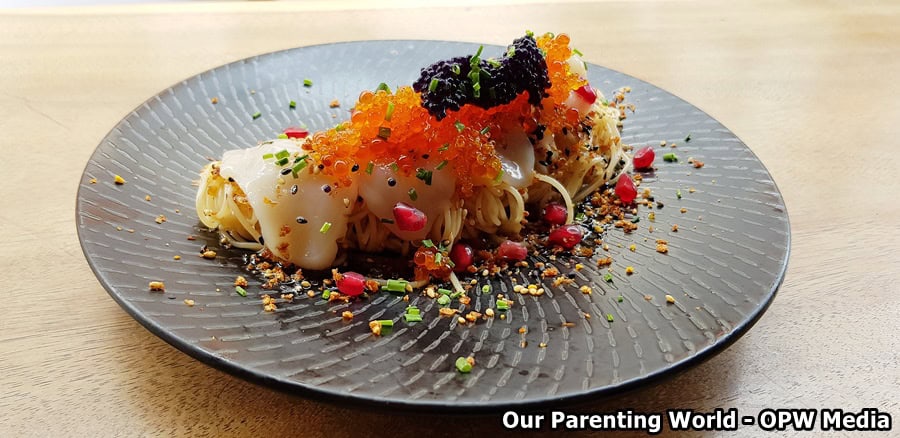 Scallop Capellini ($28)
This is a must try dish when you visit the restaurant. Capellini is a very thin variety of Italian pasta, the pasta is served cold and has a springy and chewy texture couples with fresh, juicy and sweet scallops that are air-flown from Hokkaido. This is a refreshing dish that is suitable for the hot and humid Singapore. It has a strong, aromatic truffle flavour and is a colourful dish filled with bright-red ikura, golden brown fried shallots, shio kombu and furikake that is pleasing and appetising. We enjoyed this dish very much!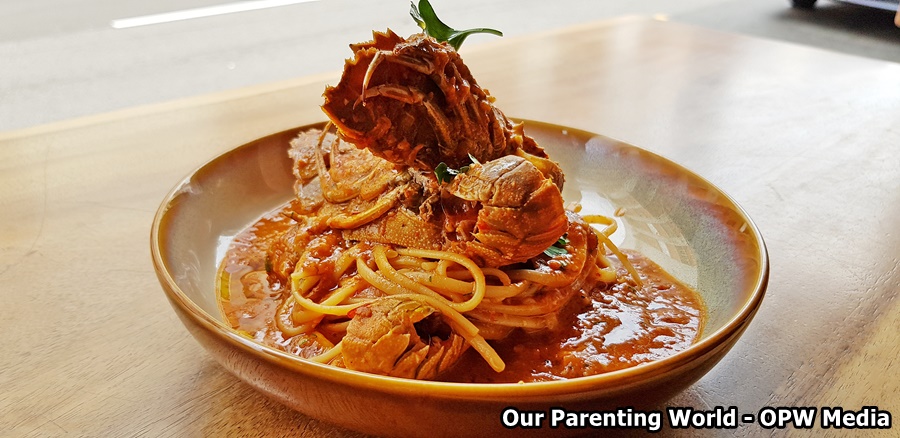 Nduja Pasta ($28)
We were told that this pasta dish is one of the crowd favourites at Wine & Chef featuring fresh crayfish, Nduja salami and pasta that is tossed in a umami tomato sauce boasting a earthy and robust flavour that is specially imported from South Italy, Calabria.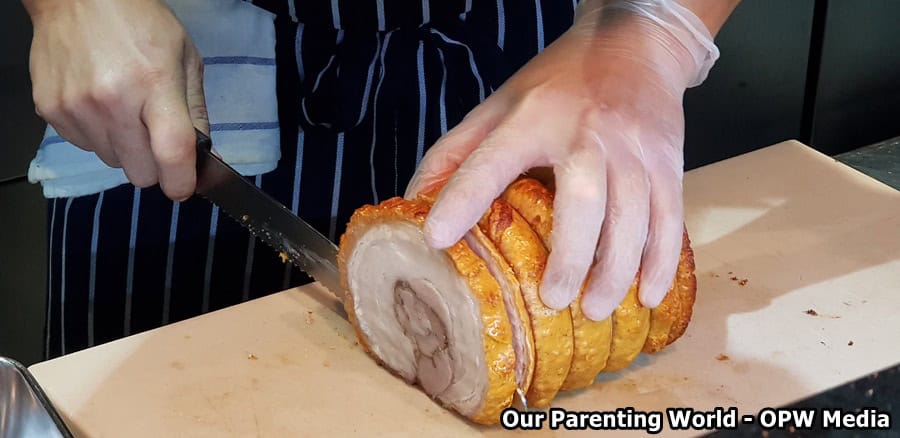 Pork Roulade ($24)
When Chef was doing the slicing, we can all hear the crispy sounds coming from the meat. The Pork Roulade is made from their secret five-spiced blend using pork belly and carefully rolled into a roulade, slow-roasted to retain the juicy goodness of the meat. After which the meat will go through high heat resulting in crackling skin on the outside that is super crispy while the meat remains moist and tender. It is a flavourful dish that all will enjoy, please take note that limited portions are available, please call to reserve to avoid disappointment.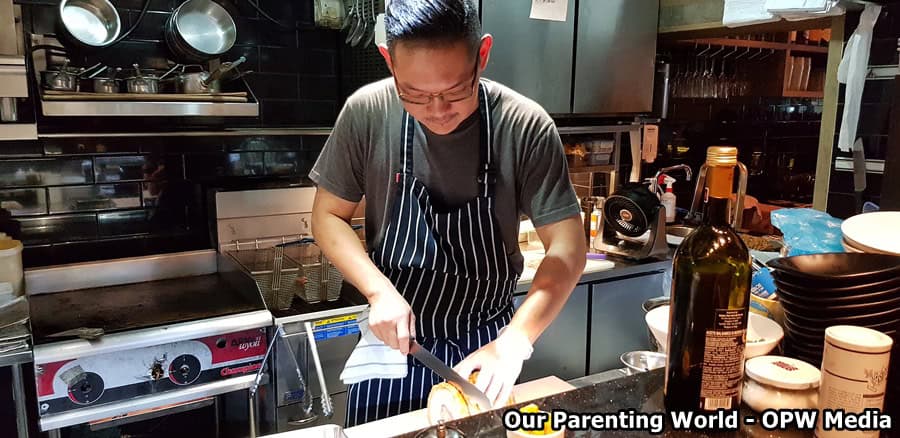 Diners can be assured of the quality of the food and look forward to enjoy the food that is curated by Chef Darence Wee. Wine & Chef meticulously handpicks wines assured to be of extremely high quality. Pair your food with an extensive range of exclusive Italian-focused wines at affordable prices.
Guests can sample the selection of monthly-changing Housepour wines at just $7++ per glass. Please feel free to approach its friendly and knowledgeable staff, they will be happy to share more about their wines, and the team at Wine & Chef endeavours to host the best dining experience for every guest! 
Wine & Chef
Address: 7 Keong Saik Road, Singapore 089115
Tel: 6221 9271
Operating Hours:
Monday to Saturday: 12pm – 12am; Closed Sunday
Seating Capacity: 49
Website: http://www.winenchef.com/
Facebook: https://www.facebook.com/Winenchef/
Instagram: https://www.instagram.com/wine.n.chef/
Hashtag: #winenchefsg