If you like to eat Chicken Wings, you have to visit Wingstop, the #1 Wings in America! Now you have the excuse to indulge in your favourite wings even more with Wingstop's newly launched Hand-Breaded Wings and special promotion, Buy 1 Get 1 (6pcs) promotion at all its outlets from 9 to 17 September!
Wingstop is well-known for its savoury chicken wings in different flavours. You can challenge your taste buds by choosing your wings from least spicy to spiciest in 11 mouth-watering flavours!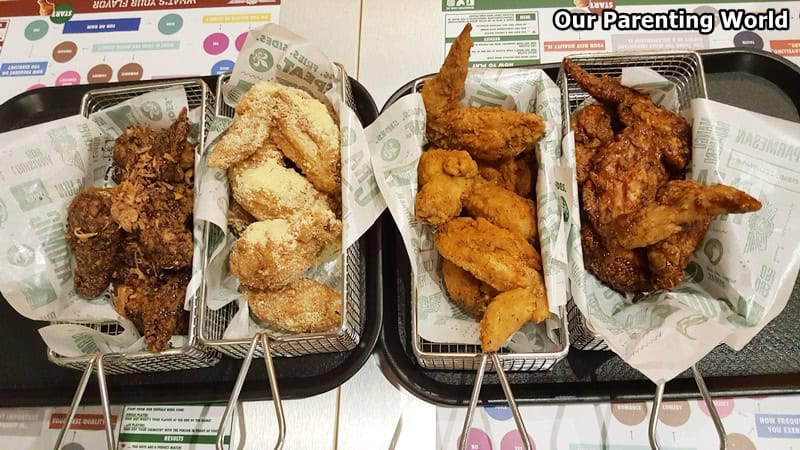 Kecap Manis, Garlic Parmesan, Louisiana Rub and Teriyaki
Diners at Wingstop can now look forward to its newly launched, Hand-Breaded Wings! These Hand-Breaded Wings are lightly breaded making it bigger, juicier, but just as flavorful as before. Just like its Classic and Boneless Wings, diners are able to choose any of its 11 bold flavors for their Hand-Breaded Wings.
You can select your wings with 11 bold flavours from least spicy to spiciest starting from Hawaiian, Teriyaki, Garlic Parmesan, Lemon Pepper, Hickory Smoked BBQ, Oriental Soy Pepper, Louisiana Rub, Texas Buffalo, Kecap Manis, Mango Habanero and Atomic.
Each of the hand-breaded wing is a joy to bite into its crispy skin while the meat inside remains tender, very juicy and succulent. We enjoyed the different flavours and they are absolutely delicious!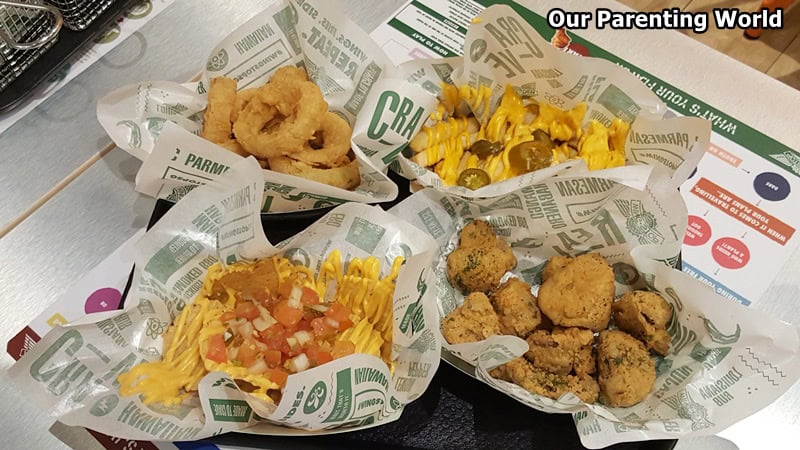 Hand-breaded Onion Rings (Top Left), Tortilla Chips with Salsa & Cheese (Bottom Left), Jalapeno Cheese Fries (Top Right) and Mushroom Fritters (Bottom Right).
At Wingstop, it has a wide variety of sides like Hand-breaded Onion Rings (New), Tortilla Chips with Salsa & Cheese, Jalapeno Cheese Fries and Mushroom Fritters and more! We like the hand-breaded onion rings which is very crispy and you can't stop munching on it. We also like the Mushroom Fritters which has been deep fried till crispy while its inside remains soft and juicy! You can order its dipping sauces which consist of Ranch, Honey Mustard and Cheese to accompany your food.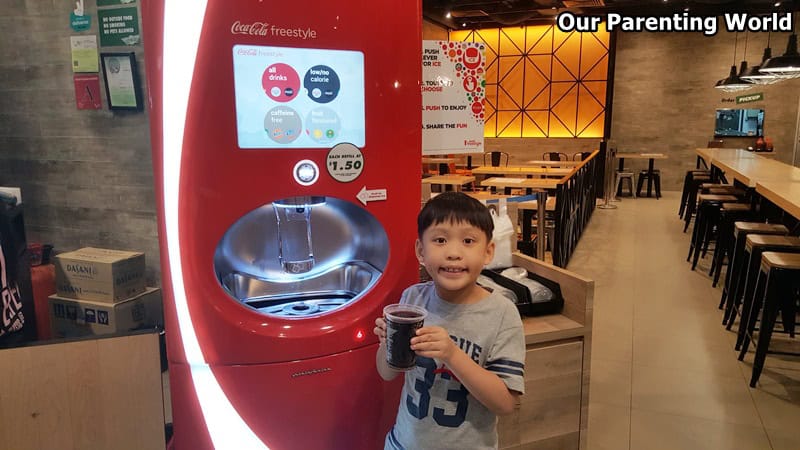 Another highlight at Wingstop restaurant at Suntec City that we have visited is the Coca-Cola freestyle machine. You can choose from a wide range of soft drinks like Coca-Cola, Schweppes, Fanta, Sprite and more. It comes with flavours like Vanilla, Cherry Vanilla, Raspberry, Lime, Orange Coca-Cola that we don't see these flavours available outside. Enjoy your drink with your favourite wings!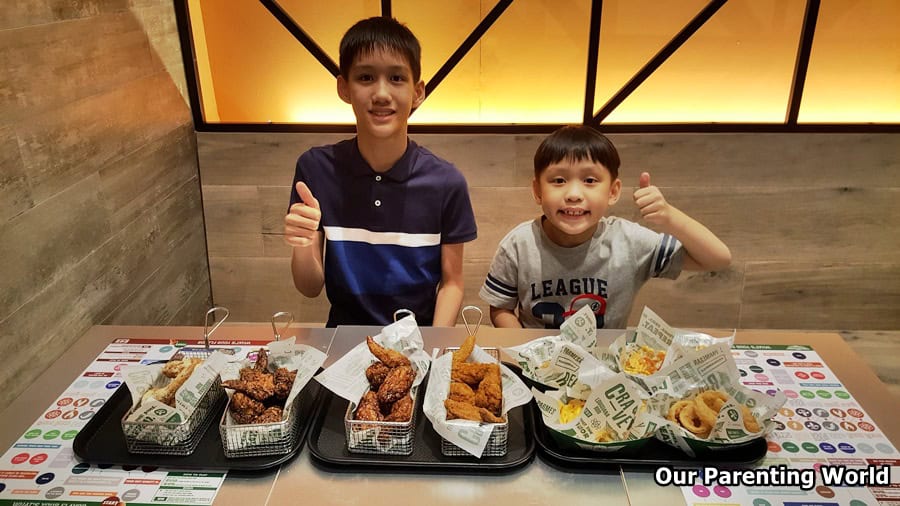 Thumbs up to the yummy chicken wings at Wingstop! Don't miss the Buy 1 Get 1 (6pcs) at all Wingstop outlets from 9 to 17 September 2017!
BUY 1 GET 1 6 PC HAND-BREADED WINGS COMBO
Wingstop fans, something exciting is coming your way! Indulge in its newly launched hand-breaded wings – bigger, juicier & just as flavorful! For 9 days straight from 9th Sep to 17th Sep, fans who purchase a 6 pc Hand-Breaded Wings Combo will get another 6pc. 
Terms & Conditions:
– Only valid for dine-in and takeaway.
– Not valid with other promotions or discounts. 
Wingstop Singapore

Venue:
SUNTEC CITY #B1-108
3 Temasek Boulevard, #B1-108 Suntec City Mall, Singapore 038983
Operating Hours: 11:00am – 10pm
Tel: 6265 2648
To find out more and other Wingstop's outlets in Singapore, please visit: