Youguth is a new probiotics supplement from Korea that works on improving and promoting gut health. Youguth is manufactured by Chong Kun Dang Bio (CKD Bio), the number one probiotics company in Korea. CKD Bio, based in Seoul, is backed by 50 years of research excellence in microorganisms and advanced fermentation know-how.
What are Probiotics and why is it important to have Probiotics in our body? 
Probiotics are made up of good live bacteria that helps to protect your body and maintain a healthy balance. This is particularly important when you fall sick, bad bacteria enters your body and multiply, this will knock your body out of balance. Having good bacteria will fight off the bad bacteria and restores your body back to balance resulting in you getting well. Probiotic supplements like Youguth is a good way to add good bacteria to your body. Youguth is a probiotic health supplement that contains a patented formula which is specially designed to improve your immune and digestive health. 
Child Strength Up, Lady Charming Up, Green Energy Up and Silver Up
A healthy gut is known to improve your immunity, heart health and overall digestive wellness. Youguth's product range consists of four formulas; 
Child Strength Up

Lady Charming Up

Green Energy Up

Silver Up
Child Strength Up promotes gut health and immunity boost, consisting of essential probiotics supplement, supports a healthy digestive system by introducing healthy bacteria to the intestine. Formulated to enhance immunity, Child Strength Up also boosts your child's natural defenses to keep infections at bay. Recommended for children age 1 and above. Packed in an easy-to-take powder stick, your child will love this milk-flavoured probiotics. 
Lady Charming Up helps to enhance your inner and outer beauty. The gut and skin health are closely intertwined. A well-balanced gut is essential for radiant-looking skin. Lady Charming Up promotes a healthy digestive tract and is also enriched with antioxidants for youthful skin. Packed in a convenient powder stick, this lemon-flavoured probiotics supplement can be easily consumed on-the-go.
Green Energy Up boosts your vitality and energy. It enhances your overall well-being by restoring the digestive balance in your gut. Enriched with vitamins, this probiotics supplement also helps to reduce stress and lift your physical and mental energy. Suitable for men and women with busy or stressful lifestyles, this blueberry-flavoured probiotics supplement comes in an easy-to-take powder stick.
Silver Up supports the digestive system and improve bone health. Suitable for seniors, Silver Up has beneficial bacteria to keep your bowels running smoothly. It also contains manganese to prevent the loss of bone density as you age. Instead of popping another pill, consume this fruity-flavoured probiotics supplement easily from a convenient powder stick.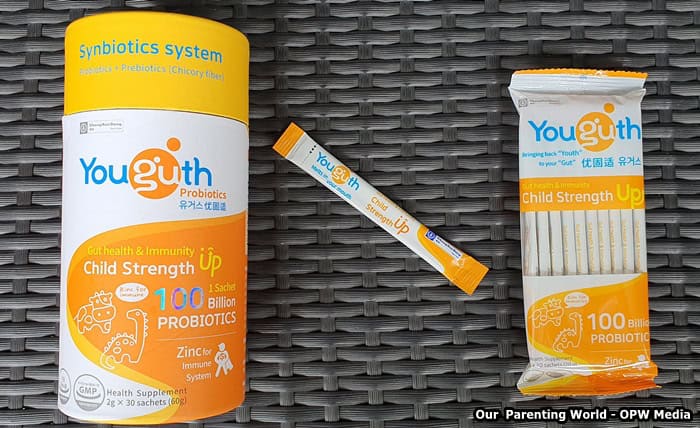 Every bottle of Youguth Probiotics contains 30 handy sachets in a unique powder format. One sachet provides a daily serving of 100 billion Colony Forming Units (CFUs) of beneficial gut microflora. Youguth Probiotics has a range of four unique formulations that is uniquely made to cater to different demographics; children, women, men and seniors to meet their respective needs. Milk-flavoured Child Strength Up (for children aged 1 and above) contains zinc to strengthen their immune system. Lemon-flavoured Lady Charming Up contains collagen to boost skin radiance. Blueberry-flavoured Green Energy Up contains Vitamin B1, B2, B5 and B6 and is designed for busy individuals on the go to boost energy levels. Lastly, grape-flavoured Silver Up's fruity taste contains manganese for enhanced bone health.
Youguth Probiotics by CKD Bio uses the proline feeding method to strengthen the durability of the probiotics. Cultivated with patented technology, it is designed with a coat of proline, a type of amino acid produced by various plants as a defensive material to survive in extreme conditions. This coating enables the probiotics to survive our harsh stomach acid environment, in turn ensuring maximum efficacy in delivering the probiotics to the gut to achieve a well-balanced intestinal flora. The proprietary proline coating method also enables Youguth Probiotics to be effectively fast-acting.
Now you can take better care of your gut health and your loved ones with Youguth, each of the product is optimally tailored with additional ingredients to support the needs of your family members' respective life stages. With 100 billion Colony Forming Units (CFUs) and its fast-acting proline probiotics, manufactured with patented technology, you can be assured of its efficacy.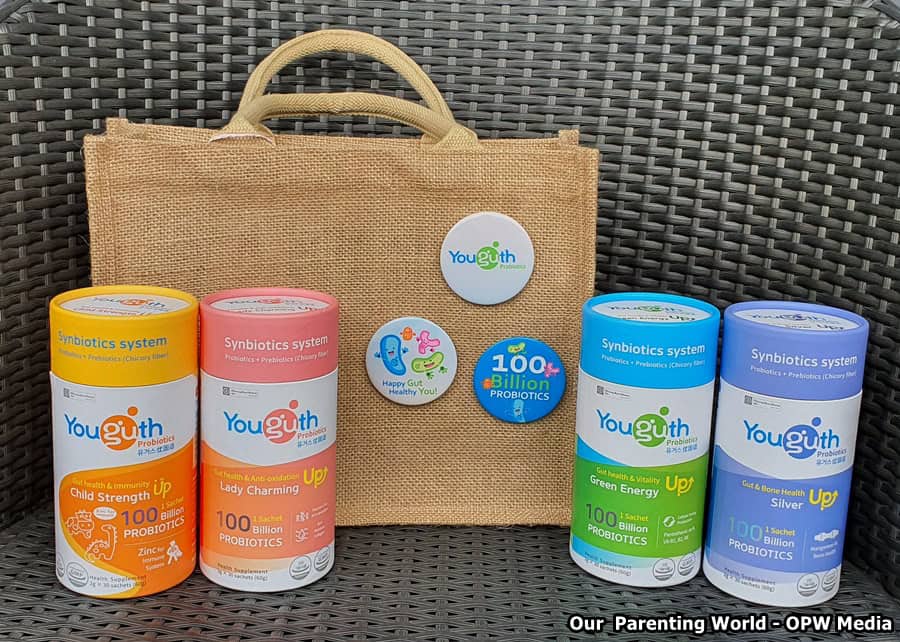 #Youguthcares for your gut health. Try out Youguth today! To find out more about Youguth and to purchase, please go to youguth.com.sg or Guardian, Robinsons, Unity and Watsons islandwide.