With most of us homebound these days, never has there been a more pertinent time for a few tips on how to make the most out of Netflix. To help you discover more of your favourite shows, or similar shows that you would love, use these five little-known tips below:    
1) CHECK OUT WHAT TO WATCH USING TOP 10 LISTS 
Netflix recently ​announced that you can now see what's popular in your country through a special Top 10 row. Did you know that this list is updated everyday ?  Not only that, if you look under the "Series" or "Films" tabs – you will also find a Top 10 list each for TV series and movies, which are also updated daily.
2) SEARCH FOR QUIRKY COLLECTIONS  
The Netflix "Search" function may be one of its most underrated features. Did you know that besides searching for specific show or film titles and genres, you can also search for shows that may have been tagged under specific categories? Entertainment is about moods, so there's something for whatever mood you're in right now. Missing your girl gang? Maybe a gal pal movie is just what you need to cheer you up. Or you've had your fill of reality, and want to escape into a world of fantasy movies, or epic worlds. Or you're looking for an initiation into anime, or K-drama. Here are a few to get started:   
● Great K-drama screenwriters  
● Romantic workplace TV shows  
● Watch in one weekend 
● Ensemble TV shows 
● Love triangle K-dramas 
● Fantasy movies 
● Talking animals 
● Slow burn 
● Epic worlds 
● Feel-good 
● Anime for Beginners 
● Retro TV 
● Underdogs 
● Gal pal movies and tv shows 
3) LIKED THAT SHOW? CHECK OUT 'MORE LIKE THIS' 
If you enjoyed watching a particular show or movie, you can actually checkout similar ones under the "More Like This" tab under the show's title page. Clicking on it reveals a list of other shows that Netflix thinks are similar. So, if you enjoyed that one show or film, this is a great way to find more that might interest you. 
4) SURFING THE DETAILS  
This only works on the web interface but there's seriously a lot of useful information hidden away under the "Details" tab of a show. When you click on it, you will find the show's creators, cast, genres, and even interesting tags. Here's the thing: Did you know that all these are ​ clickable? So, if you click on the name of an actor, Netflix will show you all the films on the service that the actor appears in. Or, if you're feeling adventurous, click on the interesting tags under "This show is" which will take you to shows that have been tagged with words like, "Goofy" or "Feel Good". 
5) NEVER MISS A MOVIE/SHOW THAT'S COMING SOON 
On mobile devices, there is a tab called "Coming Soon" – it's a great resource to find out all the shows that are, well… coming soon to Netflix. Under this tab, you'll see the trailer and a helpful synopsis. Not only that, if you're looking forward to a specific show, you can also click on the "Remind Me" bell icon so that you can get a notification when the show premieres on Netflix! That way, you never miss out on the next big movie or show.
Look out for newer releases in May:
HOLLYWOOD (May 1)
A new limited series from Ryan Murphy and Ian Brennan, HOLLYWOOD follows a group of aspiring actors and filmmakers in post-World War II Hollywood as they try to make it in Tinseltown — no matter the cost.
The Lovebirds (May 22)
When a couple in the fast lane to splitsville accidentally careens into a murder, they take off on a wild race to find the killer and clear their names.
Space Force (May 29)
Set in the vibrant multicultural neighborhoods of modern-day Paris, THE EDDY tells the story of the owner of a struggling club, its house band and the dangers they face from the chaotic city that surrounds them.
Mystic Pop-Up Bar (Coming Soon)
Wol-ju, the bartender, is not of this world, or the underworld—she is the weaver of dreams between worlds. Though she might seem obscene and unhindered to some, she provides solace and advice to the weary souls whose dreams she enters. After a drink with Wol-ju, one feels spirited and able to turn the page on their own misfortunes. At the Mystic Pop-up Bar, she is able to cross the threshold between this world and the other, between past and present, revealing visions that rectify her customer's suffering.
Snowpiercer (Coming Soon)
In this futuristic thriller, the world has become a frozen wasteland, and the remaining humans inhabit a giant train that perpetually circles the globe.
The Netflix Virtual Classroom and Free Documentaries on YouTube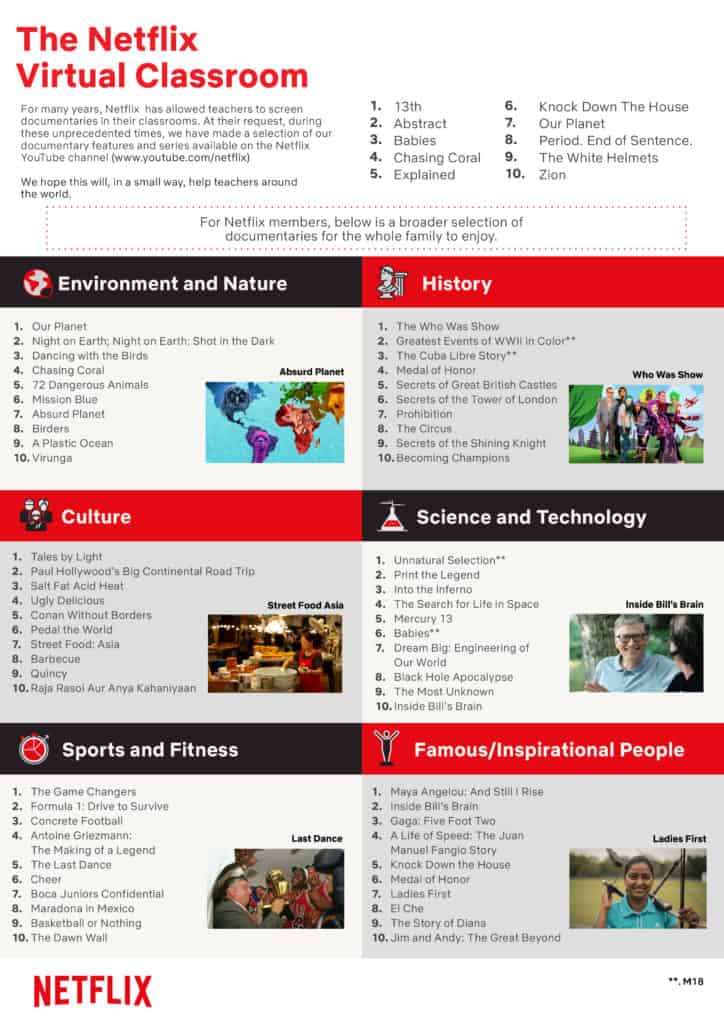 In addition, while workplaces and schools continue to be closed in the extended circuit breaker period, education still lives on! With students now on home-based learning and many of us having a little more time on hand to self-improve or learn new things, Netflix has introduced two things:
Free Documentaries on YouTube
For many years, Netflix has allowed teachers to screen documentaries in their classrooms. However, this isn't possible with schools closed. So at their request, a selection of documentaries will be available on the Netflix YouTube Channel (www.youtube.com/netflix) for free!
You can find out more about this initiative in the Blog Post here
Netflix Virtual Classroom
A curation of documentaries by subjects on Netflix that both you and/or your children can enjoy to level up knowledge in those areas. Be it History, Science, Sports, or even Famous People, there is something for everyone.

There will also be a standalone limited series titled: Coronavirus, explained  launching this Sunday, 26 April. This topical series examines the coronavirus pandemic, the efforts to combat it and ways to manage its mental health toll.