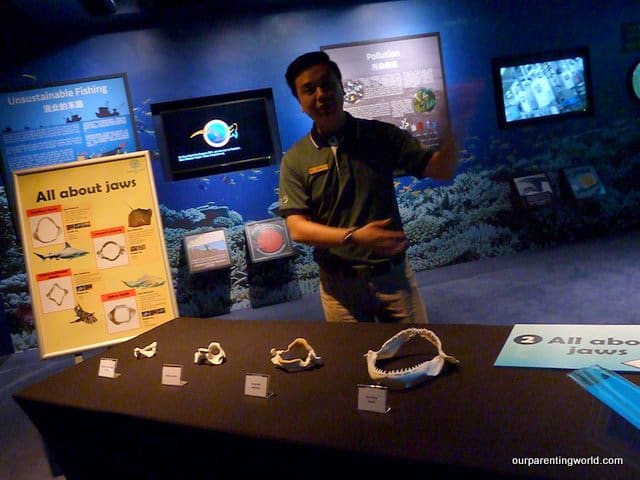 Our Parenting World team attended the media preview of A Feeding Frenzy at the S.E.A Aquarium at Resorts World Sentosa, Singapore.
S.E.A. Aquarium is one of our favourite places to visit and it is also a place to bring our overseas relatives and friends whenever they come to Singapore. Everyone is impressed and fascinated with the colourful and beautiful underwater world at the aquarium.
We have been to the aquarium many times and for the first time we get to embark on an adventure behind-the-scenes to see how the aquarist take care of their marine animals. Join us as we bring you on an exclusive peek to see how it is done!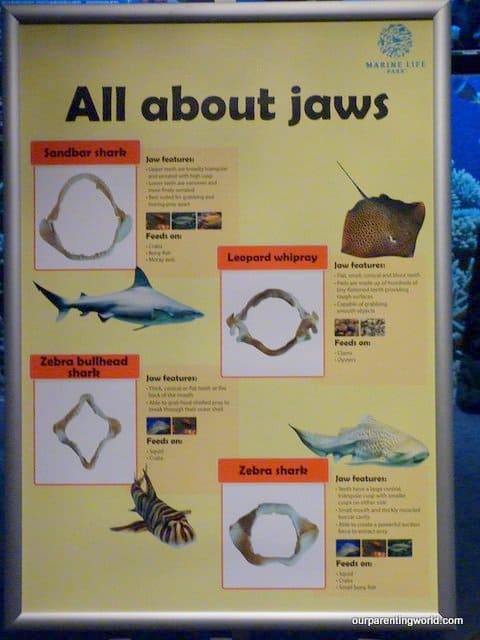 First, we were brought on an educational tour to understand our fascinating marine animals better. At this stop, we learnt "All about jaws" and get to feel the jaws of various sharks and other specimens.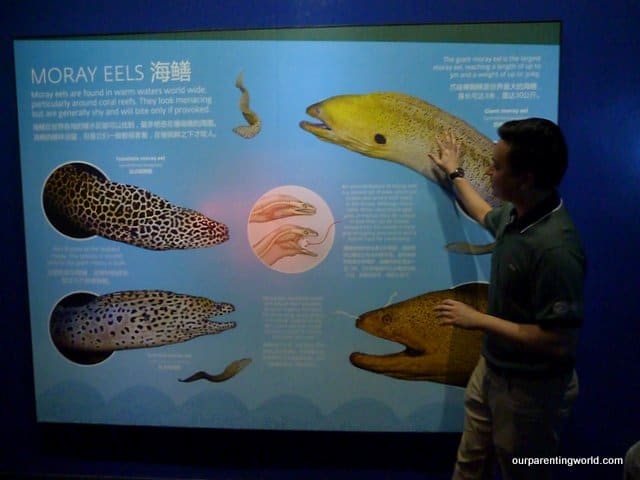 At the Moray eels exhibit, we learnt that although they look threatening or even dangerous, they are actually very shy. They are usually found in warm waters particularly around the coral reefs.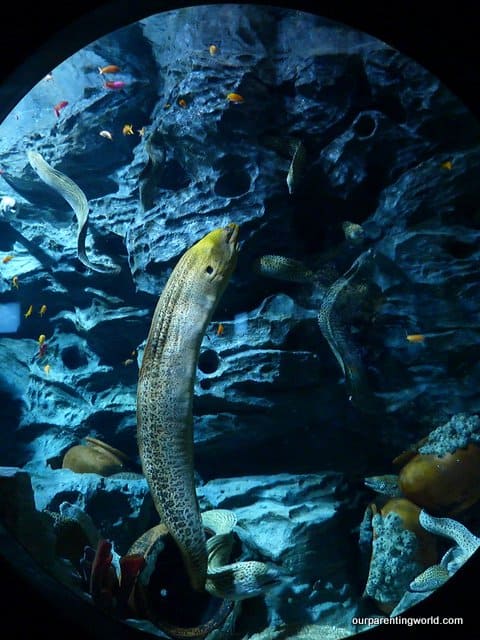 A close up view of the Moray Eels. 
Coral reefs is one of the most diverse ecosystems in the world and visitors at S.E.A. Aquarium will be awed with its wide variety of colourful fishes and beautiful corals.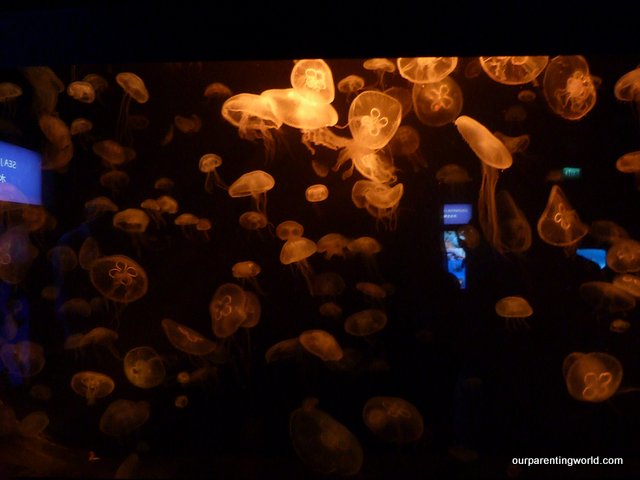 One of the favourites at the aquarium is the sea jellies. They are a beautiful sight to watch as they moved along gracefully with the changing of lights.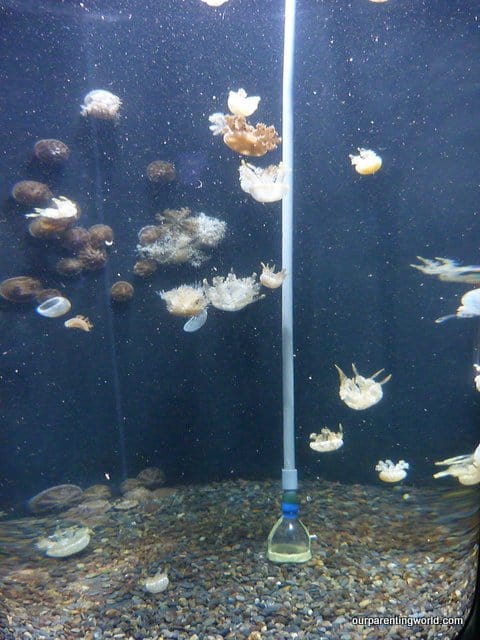 Another interesting sight to see during our tour, we saw how cleaning was done to make the sea jellies' environment a clean and pleasant one. 
At the aquarium, there are a wide variety of sea jellies available which include sea moon jellies, white spotted jellies, upsidedown jellies, Indonesian sea nettle and so on.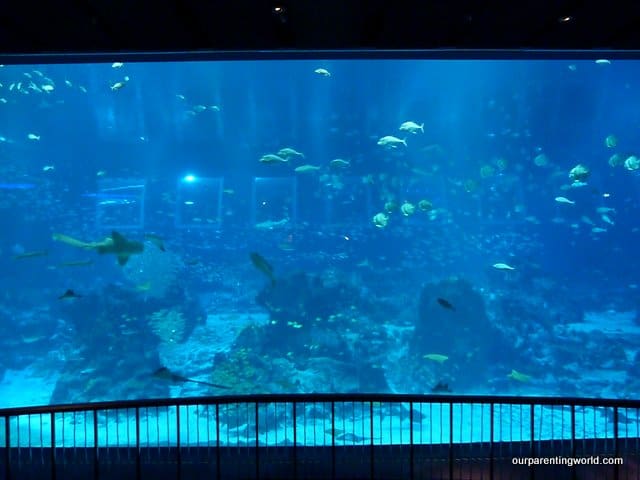 The Ocean Gallery at the S.E.A. Aquarium is the world's largest viewing panel. It aims to give visitors the feeling of being on the ocean floor.
Whenever we visit the aquarium, we will spend a lot of time here observing the wonderous of marine life.
At this stop, we learnt what kind of micro food needed to satisfy the mega appetites for the aquatic animals and what are those micro food? It is interesting and educating to know what are the different types of micro food and many of those we have not heard before. 
At "What's for lunch?" stop, we learnt about what some of the aquatic animals feed on for example some feed on crabs, cockles, selar, krill and so on. Yummy!
Here's the top of the viewing panel and at this exclusive tour, we get to see how it is like and watch the aquarists feed the manta rays.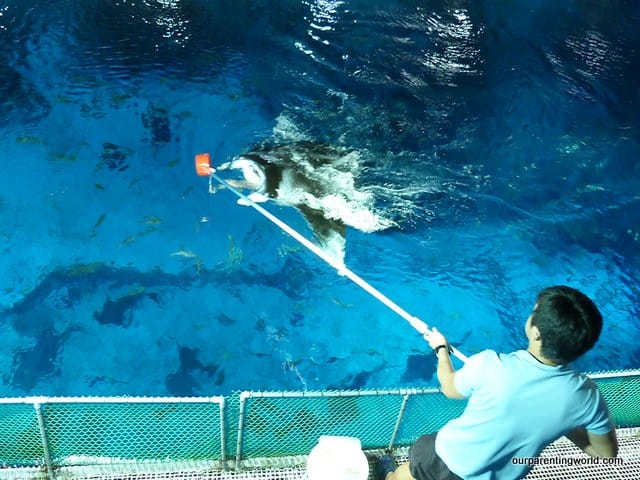 The aquarists will tap on the water to signal to the manta rays that it is feeding time and here comes the manta ray.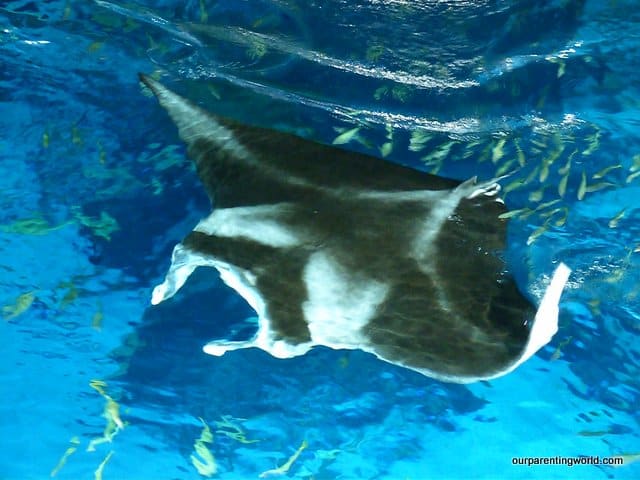 The manta ray is satisfied after a sumptuous meal.  
A closer look at the dive suits that the divers wore and the metal mesh shark suits are used by divers when they dived to the sharks enclosure to protect themselves.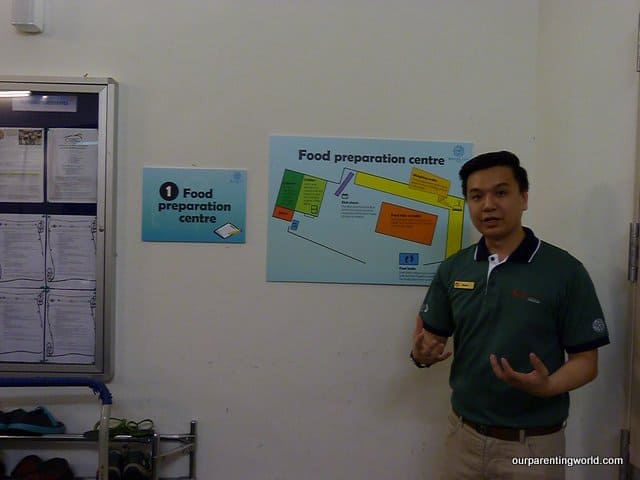 We all need to eat and so do our aquatic animals, here's the important part of S.E.A. Aquarium, the Food Preparation Centre.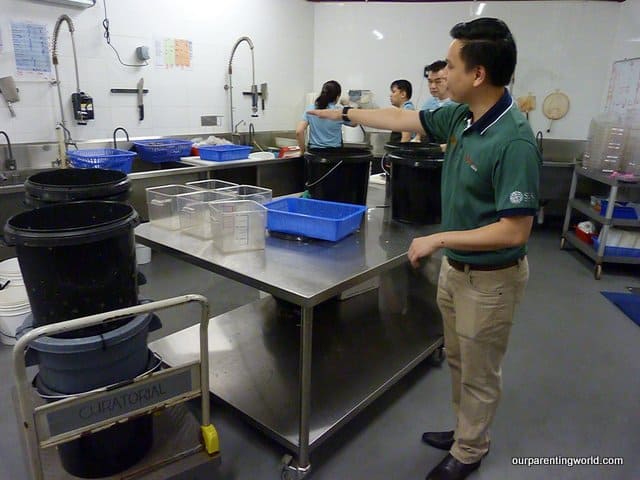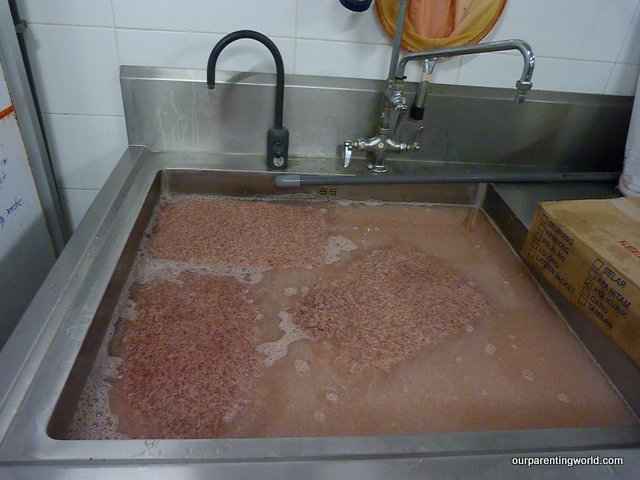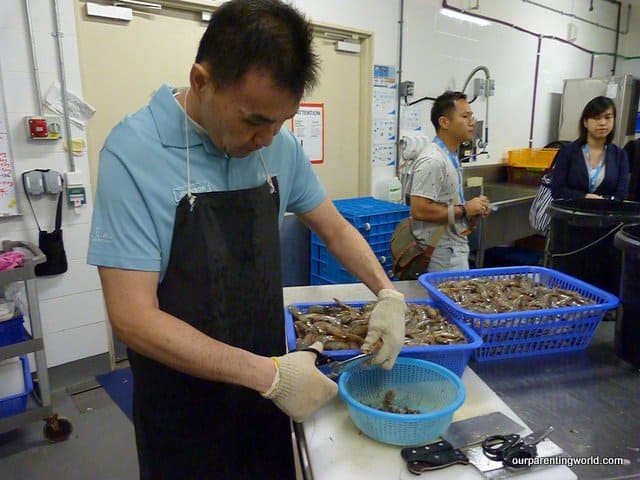 Behind-the-scenes look into the food preparation room and how the staff prepared the food. Looking at the food which consists of various fishes, prawns etc, our S.E.A. Aquarium aquatic animals are well fed.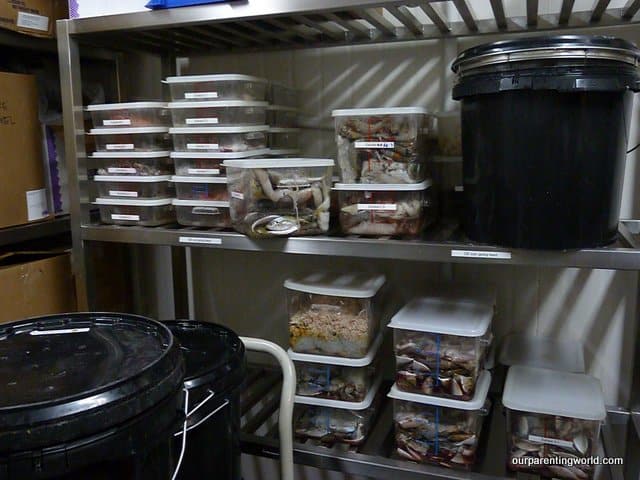 We also get to visit the freezer room where the feed for various exhibits are stored.
A closer look at the feed.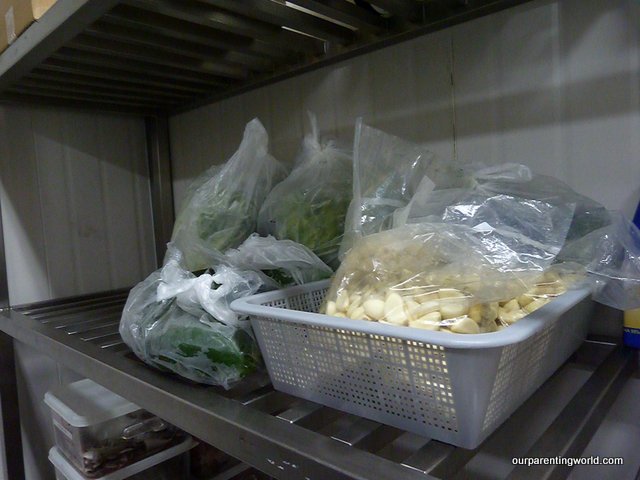 It's interesting to know that the aquatic animals are also fed with vegetables as it has nutritional content. It also helps to prevent constipation as it contains fibres. Garlic is added to enhance the taste of its feed and Vitamin C for their health.
We were taught how feeding was done by the aquarists and now we have a better understanding of what goes behind the scene and all the work that needs to be done to upkeep our beautiful S.E.A. Aquarium.
Kudos to all the dedicated and passionate staff!
The friendly diver waved good bye to us as we were leaving the aquarium after the tour.
Our Parenting World team would like to thank all the lovely organisers, RWS team and our knowledgeable and friendly guides and staff for inviting us to this event and for giving us a wonderful experience! 
This is the second year that the S.E.A. Aquarium is participating in the Singapore Science Festival and will be offering the following programmes to learn more about marine life through engagement and interaction. Please click HERE to find out more about Singapore Science Festival. 
About Feeding Frenzy Trail:
Everyone loves to eat, and our animals are no different! Participants will be able to get an exclusive sneak peek of the S.E.A. aquarium in this behind-the-scenes adventure.
The morning begins with a private viewing of the aquarium before opening hours. Here, you will go on "morning rounds" with our Marine Guides to see where and how food for our aquarium inhabitants is prepared, and the feeding done at the various habitats by our aquarists.
This programme is being offered to members of the public for the first time during Singapore Science Festival (SSF) 2014.
Duration: 8.30am to 10.30am
Age range: 6 years old and above
Dates: 20, 26, 27, 28 July, 9,10 Aug
Max. no. of participants: 20 per session
Cost: $20 per pax (excludes admission to S.E.A. Aquarium)
Other events by S.E.A. Aquarium being held during Singapore Science Festival 2014:
Ocean Dreams
It's the A to ZZZZZZ of everything fun and educational at S.E.A. Aquarium! Ocean Dreams indulges you in an overnight immersive experience to go behind the scenes and explore the wonders of our blue planet with fun-filled activities and games at S.E.A. Aquarium. Drift into slumber as you gaze at shimmering schools of fish in front of the spectacular Open Ocean Habitat in S.E.A. Aquarium, home to more than 100,000 marine animals from over 800 species
This programme is being offered under SSF for the first time.
Duration:

5.00pm – 10.00am (next day)

Age range:

6 years old and above

Dates:

1-2 Aug, 10-11 Aug

No. of participants:

Minimum of 35 participants

Cost:

$138

(adult); $118 (child);

 

$468

(family package of 2 adults, 2 children)
Quote "SSF2014" in subject header when making reservations
Junior Marine Explorer
Join us as a Junior Marine Explorer and discover what goes on behind the operations of one of the world's largest oceanarium. Let our team guide you during this hands-on experience, learning about the passion, skills and responsibilities that go into caring for the more than 100,000 animals at Marine Life Park.
During this exclusive day camp, you will also embark on an exclusive tour and inquiry-based activities with our Marine Guides where you will discover more about the wonders of the oceans. Participants will also learn about what makes the attraction tick, from water treatment to feeding of the marine animals.
Duration:

8.30am to 4.00 pm (Full Day)

Age range:

6

– 14 years old

Dates:

7

& 19 July, 11 August

Max. no. of participants:

30 per session

Cost:
$119 per pax (Quote "SSF2014" in subject header when making reservations.)
X'periment! At Marina Square
Science becomes a real-life learning experience at the Marine Life Park booth where children and adults alike are able to find out more about marine organisms such as the horseshoe crab, sea cucumber and sea star at the mobile touch pool.
These animals are important resources either in the biomedical field – horseshoe crab; or for human consumption – sea cucumber. Visitors to the booth will also learn about the amazing adaptations and structures of these organisms, from the thousands of tube feet on the sea star, to the blue-coloured cyanolymph of the horseshoe crab, as well as the mind-boggling evisceration defense behaviour of the sea cucumber.
In addition, the booth also provides the opportunity for visitors to learn more about marine conservation through food-web games and other activities that emphasise the importance of marine biology and life sciences in the preservation and protection of our seas and oceans as well as the whole living world.
Dates: 18 – 20 July
Venue: Marina Square Central Atrium
Price: Free
For enquiries and booking, guests can email [email protected] For more information, please refer to  www.sciencefest.sg.