Stepping into the heart of Singapore's Central Business District, our family embarked on a remarkable staycation at Dao by Dorsett AMTD Singapore. What awaited us was more than just a getaway; it was an experience that transcended the conventional, offering us a thoughtfully crafted sanctuary that seamlessly combined luxury, sustainability, and heartfelt hospitality. As a family of four, we sought to create cherished and enjoyable moments together, and Dao exceeded our expectations in every way. From the moment we arrived to the day of our departure, the experience was nothing short of extraordinary. Join us as we recount our unforgettable family staycation at Dao by Dorsett AMTD Singapore.
Location and Accessibility: Dao by Dorsett AMTD Singapore is conveniently located near the Tanjong Pagar MRT station, providing easy access to the city's commercial and tourist attractions. We were able to explore iconic destinations like Orchard Road, Marina Bay Sands, HarbourFront, Resorts World Sentosa, and Universal Studios Singapore with great ease. You can enjoy a complimentary shuttle service that will transport you to the city's popular attractions. Details of the shuttle schedule will be provided during your check-in process.
Upon arrival, our check-in was smooth and efficient at the hotel's reception located at Level 7, and the warm welcome we received from the staff immediately set the tone for our stay. The personalised service was evident from the get-go, and we were impressed by the attention to detail as they walked us through the various features of the hotel. The staff at Dao by Dorsett AMTD Singapore went above and beyond to ensure that our family felt right at home. They even provided us with a thoughtful welcome kit, which included a guide to the hotel's facilities and the nearby attractions, helping us plan our stay with ease. This level of service and hospitality truly made us feel like valued guests throughout our time at the hotel.
Plant Library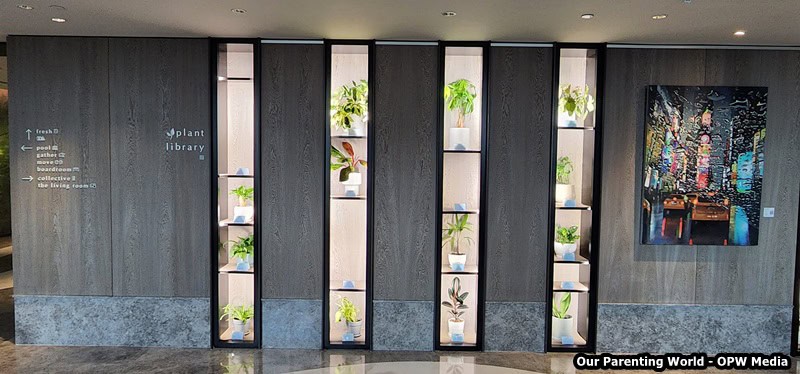 Staying true to Dao by Dorsett AMTD Singapore's commitment to creating an eco-conscious environment, we were excited to discover their unique Dao Plant Library during our visit.
This remarkable initiative, in collaboration with the local plant store, The Botanist and Her Thieves, truly stood out. Located in the lobby on level 7, it was a breath of fresh air—literally!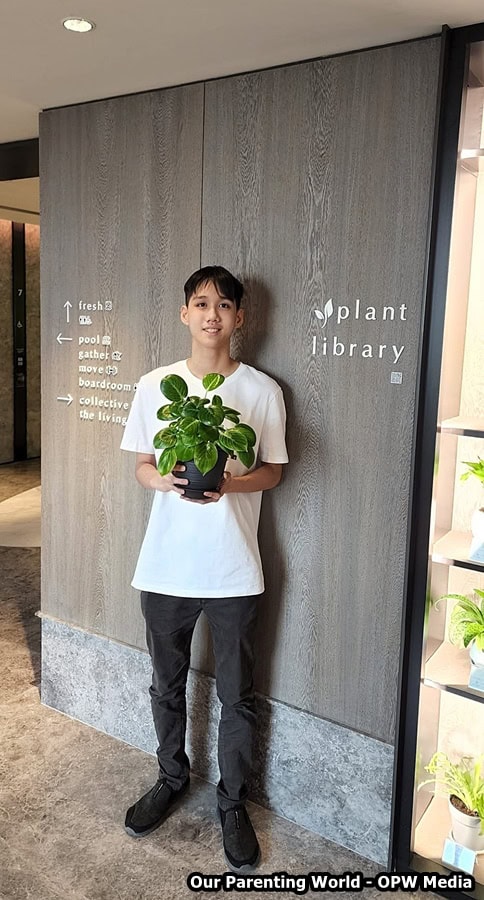 For us, this was more than just a concept; it was a hands-on experience. Whether you're a first-time plant parent or a seasoned gardener, the Dao Plant Library offers a fantastic opportunity for guests to adopt and nurture their very own houseplant during their stay. The idea of bringing a little piece of greenery into our temporary home appealed to us. The best part was that the knowledgeable and friendly staff were always available to assist and guide us on selecting and caring for our chosen plant.
Two-Bedroom Executive Suite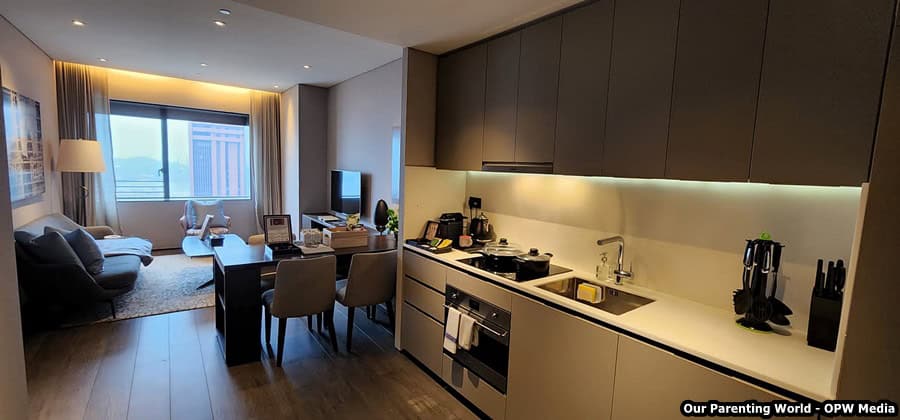 Upon checking into our two-Bedroom Executive Suite at Dao by Dorsett AMTD Singapore, we were immediately struck by the thought and attention to detail that went into designing the space. The layout of the suite was impressive and perfectly suited to our family's needs. It truly became our sanctuary during our stay.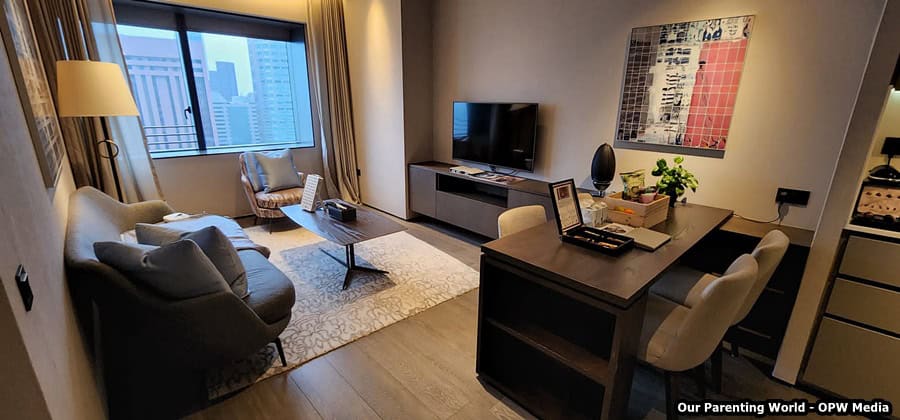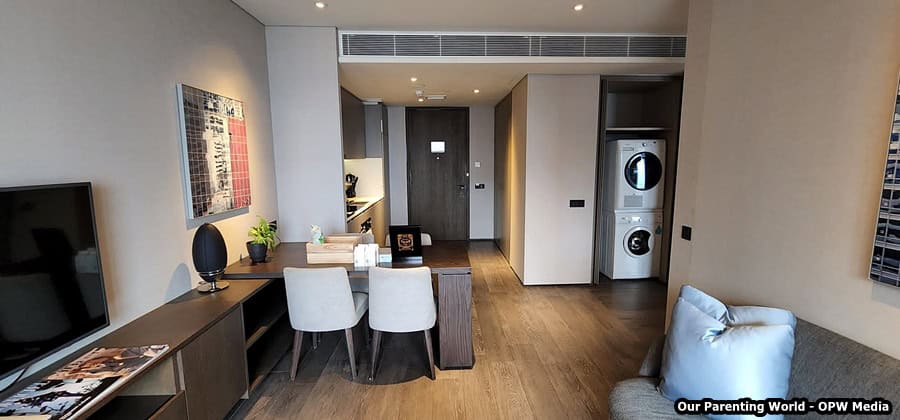 The spacious living room was a standout feature, offering plenty of room for our family to relax and unwind. The comfortable furnishings and tasteful decor created an inviting atmosphere where we could bond, play games, or simply enjoy each other's company. It was the ideal place to lounge after a day of exploring the city, and we often found ourselves sharing stories and laughter in this cosy space.
The separate dining area was another highlight, providing us with a dedicated place to enjoy meals together. It comfortably seated all four of us, making mealtimes an enjoyable family affair. Whether we were indulging in delicious takeout from the nearby restaurants or preparing our own homemade dishes in the well-equipped kitchen, this dining area became the backdrop for many cherished moments.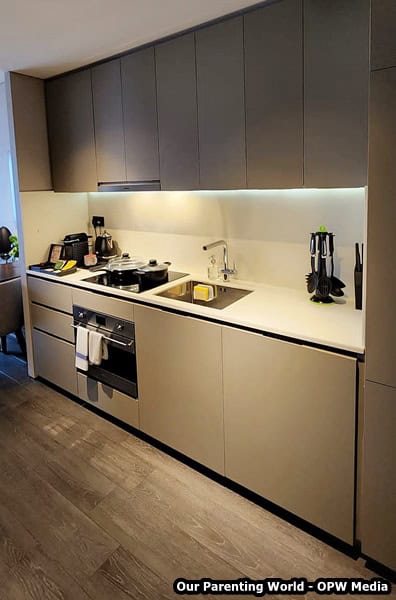 Speaking of the kitchen, it was a true gem. It was outfitted with modern appliances and a fine selection of kitchenware, including a Nespresso® coffee machine, electric kettle, oven, rice cooker, refrigerator, crockery and others. This allowed us the flexibility to cater to our dining preferences, whether we wanted a quick breakfast, a hearty dinner, or just a comforting cup of coffee. It felt like a home away from home, and we appreciated having the option to dine in whenever we pleased.
Plush king in the master bedroom 
Twin-bedding at the second bedroom 
The master bedroom featured a plush king-sized bed that felt like a cocoon of luxury. The moment we sank into the soft, inviting mattress, it was evident that we were in for a restful night. The sheer comfort and quality of the bedding made us eagerly anticipate bedtime, and we were not disappointed. It was a haven of tranquility, offering us the perfect respite after our daily adventures in the city.
The second bedroom was equally delightful, with a twin-sized bed that catered perfectly to the needs of our family. The comfortable bedding and thoughtfully designed layout ensured that our children had a cosy and restful place to lay their heads at night. It was a welcome sight after a day of sightseeing and exploration. We can also enjoy a refreshing shower in both the en-suite and common bathroom. 
Furthermore, each suite is thoughtfully equipped with a comprehensive array of amenities to ensure a comfortable stay. These include complimentary Wi-Fi for seamless connectivity, a 49-inch Smart TV with an extensive selection of international cable and local channels for entertainment, an in-room safe for added security, and a convenient washer/dryer to cater to all our needs during our stay.
Other Key Features & Services
● 24-hour Front Desk Concierge
● Guest Launderette, with Laundry and dry cleaning services available
● Room Service (Last order at 10:15 p.m.)
● Complimentary Shuttle Service to take you to selected popular spots in the city
● Pet-friendly with pet amenities available
● Wellness benefits available upon request to enjoy in the comfort and privacy of your room:
○ Fitness Aqua Bag
○ Tandem Bike
○ Dumbbell
○ Red Light Therapy
○ Sauna Blanket
● Tipi tent set up and complimentary loan of the Dao Toy Collection for families and children during their stay
Dao+
At Dao by Dorsett AMTD Singapore, their top priority is ensuring a seamless and exceptional experience for all guests by carefully balancing premium in-room amenities and complimentary services. Under the "Custom Fit" brand pillar, guests have the opportunity to enhance their stay and personalise it with the exclusive Dao+ program, which offers a variety of special privileges and tailored services.
The Dao+ package can be purchased upon check-in, and includes the following benefits:
● Seasonal Welcome Fruits Box
● Welcome Snacks by Green Common
● A Fine Selection of 100% Arabica Coffees from Bacha Coffee
● High-Quality Luxury Tea from TWG Tea
● Dao+ Cocktails & Canapés at The Living Room (6.00pm – 8.00pm)
Non-alcoholic beverages for guests under 18 years old.
● In-room Dining Breakfast with Prosecco
● Dao Turndown Service with refreshments
● Local Newspaper selection
● 30% Savings on Private Transfer Services
Unwind at Gather
Unwind, relax and enjoy the breathtaking views at Gather, the rooftop pool deck. Complete with an outdoor infinity pool overlooking the city skylines. There is also an indoor function room available for celebrating special events, providing an elegant venue for memorable gatherings.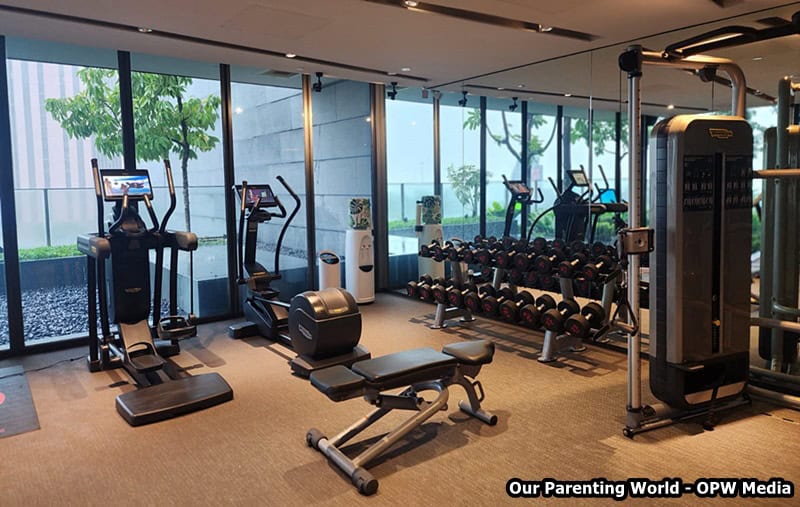 For those who prioritise physical well-being, check out "Move," an outdoor fitness center located on the deck, equipped with a comprehensive range of fitness apparatus. Here, you can cater to all your workout needs and maintain your fitness routine with ease.
Dining at Collective
Collective, the 74-seat restaurant situated in the Grand Lobby on Level 7, provided a tranquil haven away from the hustle and bustle of the central business district during our stay. This culinary gem, under the expert guidance of Executive Sous Chef Dexter Lim, delivered a culinary experience that was both diverse and satisfying.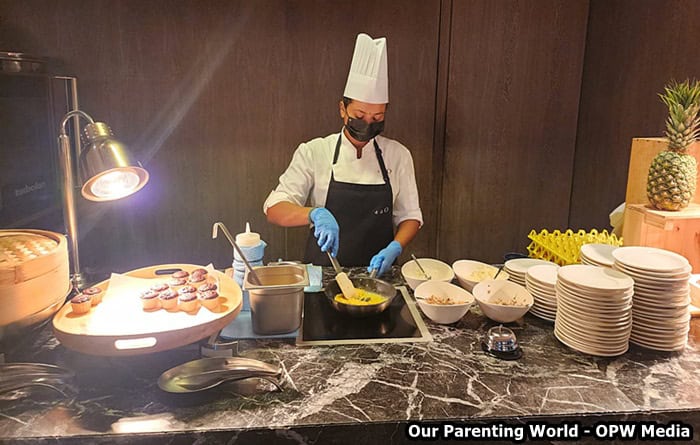 The mornings at Collective were a true delight. The restaurant offered a splendid breakfast spread that catered to all tastes. From Western classics to local delicacies, the extensive variety of options powered us up for the day's adventures. The presence of Starbucks® favourite beverages through the "We Proudly Serve Starbucks®" program at the complimentary breakfast buffet was a unique and appreciated touch. Dao by Dorsett AMTD Singapore stood out as the first hotel to provide this special offering, allowing us to start our day with our preferred coffee selections.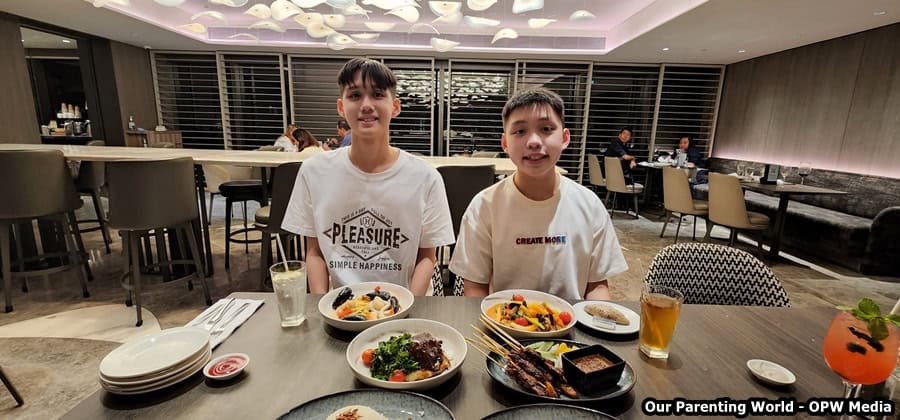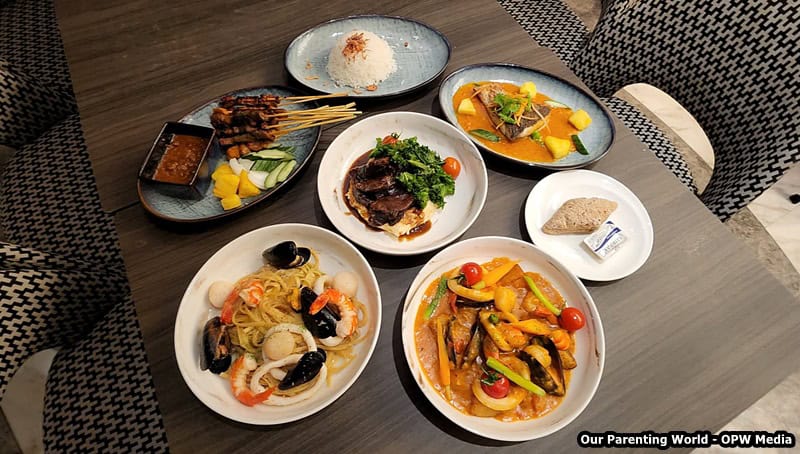 The beauty of Collective extended beyond just its delightful food offerings. The serene ambiance and attentive staff added a touch of luxury to our dining experiences. Whether it was savouring a leisurely breakfast, enjoying a sumptuous lunch, or indulging in a delightful dinner, Collective exceeded our culinary expectations. It became a cherished part of our stay, and we looked forward to each meal there as a moment of culinary exploration and delight.
Collective's Opening Hours
Breakfast : 6:30 a.m. to 10:30 a.m.
Lunch : 12:00 p.m. to 2:00 p.m.
Dinner : 6:00 p.m. to 10:00 p.m
Our family staycation at Dao by Dorsett AMTD Singapore was such an enjoyable and amazing experience. The hotel's attention to detail, commitment to sustainability, and thoughtful amenities made it a truly exceptional stay! To find out more and for booking, please visit https://daobydorsettamtd.sg-singapore.com/
Dao by Dorsett AMTD Singapore
Address: 6 Shenton Way, #07-01 OUE Downtown 1, Singapore 068809
Our editorial team interviewed Roy Liang, who serves as the Vice President of Operations for Dao by Dorsett and also holds the position of General Manager at Dao by Dorsett AMTD Singapore. He shared insights into his responsibilities as Vice President of Operations and his instrumental role in shaping the brand during the launch of the first Dao by Dorsett hotel in Asia, among other topics. To read our interview feature and learn more about this engaging conversation with Roy Liang, please visit https://www.ourparentingworld.com/dao-by-dorsett-amtd-singapore-redefining-the-stay-experience-in-the-heart-of-the-central-business-district-interview-with-roy-liang-vice-president-of-operations-for-dao-by-dorsett-and-general-mana/.
Featured image credit to Dao by Dorsett AMTD Singapore