A Tapir's Tale is a Singaporean premium baby and family skincare brand that is specially formulated for Singapore's climate and common skin issues faced in Singapore. Formulated with the most delicate of skin in mind, A Tapir's Tale fuses the gentlest botanical ingredients with proven lab-tested key actives to create a thoughtfully curated range of high-quality, highly efficacious skincare products. A Tapir's Tale is also suitable for those with sensitive and atopic skin of any age.

A Tapir's Tale is founded and formulated by Singaporean Charlene Ng, she has obtained a CIDESCO Diploma in Beauty Therapy, has worked in various roles in the beauty industry such as an aesthetician, a beauty consultant and until recently, a skincare trainer at a luxury global brand. Our team speaks to Charlene Ng where she will share more about A Tapir's Tale, how she manages to balance #momlife and #bosslife with her clean baby skincare line and more.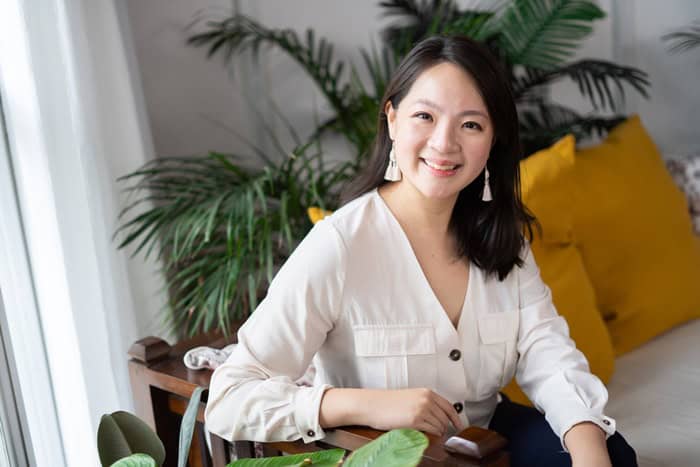 Exclusive Interview with Charlene Ng, Founder of A Tapir's Tale
1. What inspired you to move into the Beauty Industry after graduating with a Bachelor of Media and Communication?
I have always been fascinated by the beauty industry since I was young but never thought of working in it because I did not know anyone else who worked in this field. I am risk-averse, so I prefer the tried and tested route of getting a degree and working my way into a corporate job.
I bounced around various internships in marketing and news-editorial roles, but I soon realised that I normally use my free time to do something beauty-related. I used lunch breaks to read beauty magazines and would go to Watson's and Sephora after work (literally almost everyday!) to just read the labels of beauty products.
I started deep diving into the industry to consider a possible career option and plunged into a CIDESCO diploma in beauty therapy after much deliberation. Since then, I've never looked back. Every day I learn something new in this industry. I am reminded of the fascination, happiness and wonder I felt when I received my first beauty present- a lipstick, lotion and perfume set when I was 12.
I enjoyed studying media and communications thoroughly, it is handy as the skills I learnt were very transferable. I appreciated it the most because it broadened my mind by exposing me to different trains of thought, helping me develop an increased awareness of society and culture transformations. This awareness is especially important when I am trying to build my business.
2. How did you start up A Tapir's Tale, what are the challenges you faced when setting up your business and how did you manage to overcome them?
I was looking for the perfect soap-free cleanser and lightweight moisturiser for my son with sensitive skin. Some in the market were fine but had very basic ingredients or similar formulations, so I created a basic formulation after much research and use of knowledge gained while working in the beauty industry. It was saved in my computer for a while until my husband encouraged me to manufacture the baby skincare line that I had conceptualised. I had in mind a baby skincare line that can benefit both baby skin and adults looking for gentler alternatives.
I faced different challenges due to the supply chain because of Covid-19 or finding the right manufacturer, but I think most entrepreneurs find financing a challenge. It can be quite costly to set up and market a skincare brand. Also, because of the type and quality of ingredients used, I spent most of my budget on the product formulation. It is not only the ingredients, but the effort used to combine the formulations to make it the most beneficial for baby skin. I felt that formulation would be the most important to me and my customers amongst all my costs. I overcame it by bootstrapping everything else and using the minimal resources I had to build my sales and marketing channels. It is also fortunate that the barriers to entry are lower due to excellent online platforms, increased online shopping and increased customer demand for indie skincare brands.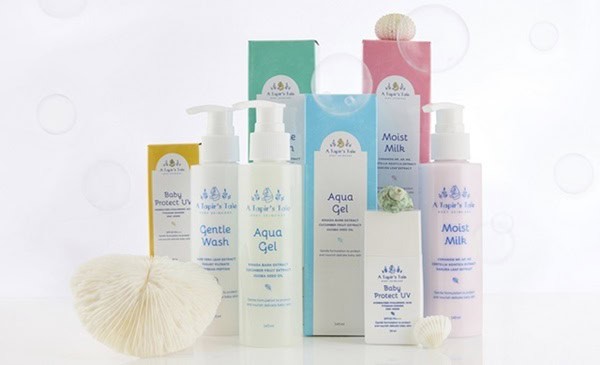 3. How did you come up with the formulation and ingredients for A Tapir's Tale's skincare?
I had a basic formulation first and I brought it to a Japanese Pharmaceutical company to refine and manufacture it.
In more detail, first, I studied the structure of baby skin and how it works to decide the most suitable regime and product textures. I must keep in mind that our weather is hot and humid, so ideally products should suit this climate.
Next, I identified the skin conditions that usually occur in baby skin and the ingredients that could alleviate the symptoms. In this case, baby skin tends to have sensitive skin that is highly reactive to the weather and environment. It gets irritated easily and prone to inflammation such as rashes and bumps. I created a basic formulation containing ingredients that could help alleviate these symptoms. My formulation consisted of a blend of soothing natural ingredients such as Aloe and Centella Asiatica and Scutellaria Baicalensis (my personal favourite!)  with lab-tested actives such as Hyaluronic Acid and Ceramides to help restore the protective function of the epidermis.
I had my formulations calculated down to the percentages for concentration and maximum potency. Still, I needed the help of an experienced manufacturer as they can procure the ingredients much more quickly and produce the products under good manufacturing practices. They also have the technical expertise – for example they know which phase of the formula you should add a particular ingredient to ensure its effectiveness. They helped me to refine my formula and conduct stability testing.
Since I was producing for baby skin, I did not want to take any chances and chose to partner up with a Japanese manufacturer that has been in the industry for a long time and has rigorous quality control processes which smaller manufacturers may not necessarily have.
4. What do we need to look out for when choosing the right skincare products specially for babies and children?
First and foremost, it is important to buy products that are produced under good quality and safety standards. The structure of baby skin is thinner than adults making it more permeable hence more easily irritated. Look out for products specially formulated for babies and children as they tend to be milder and will not cause unnecessary imbalance for baby skin.
Due to their thinner nature of baby skin, it is more prone to dryness than adult skin. Hence it is important to use lightweight products in hot and humid climates. Babies are more likely to develop heat rash because their pores are underdeveloped so they easily become clogged and cannot expel sweat. This is more likely to happen in warmer climates after intense exercise or for babies when they crawl. Using thick lotions and creams can trap sweat, leading to heat rash.
Adequate sun protection is also essential for babies and young children. Children's skin is more sensitive to ultraviolet damage and is harmed more than adults in equal amounts of radiation. Also, as they tend to have a lot of outdoor play, the amount of UVB (sunburn rays) exposure they get is triple that of an average adult. Look out for sunblock specially formulated for young skin, preferably those with UVA and UVB protection. This can be seen by the SPF and PA labels. SPF protects against UVB and PA protects against UVA.
5. How do you differentiate your products from other clean and organic skincare products in the market for babies, children, and family?
We are applying the premium that you see in luxury women's skincare to family and baby skincare, which is a rarity. We are bringing that innovation at a reasonable price point.  We don't compete on price necessarily. Our value lies in the quality and the safety of the products, and the innovative ingredients we bring to our formulations, which a lot of families look for. These are women who are used to using the best beauty products and indie beauty brands. When they become mothers, they don't want to sacrifice that expectation of quality and efficacy for their children.
However, I would like to add that there are different definitions of clean and organic skincare. Just for the record, we are not certified organic, however we can assure you that our products use natural or nature-inspired ingredients. Our formulations do not contain additives meaning they are free from synthetic coloring, artificial fragrance, drying alcohol and parabens. Our ingredients are carefully selected and sourced from quality conscientious origins. We carefully choose and combine raw materials that Japan has approved.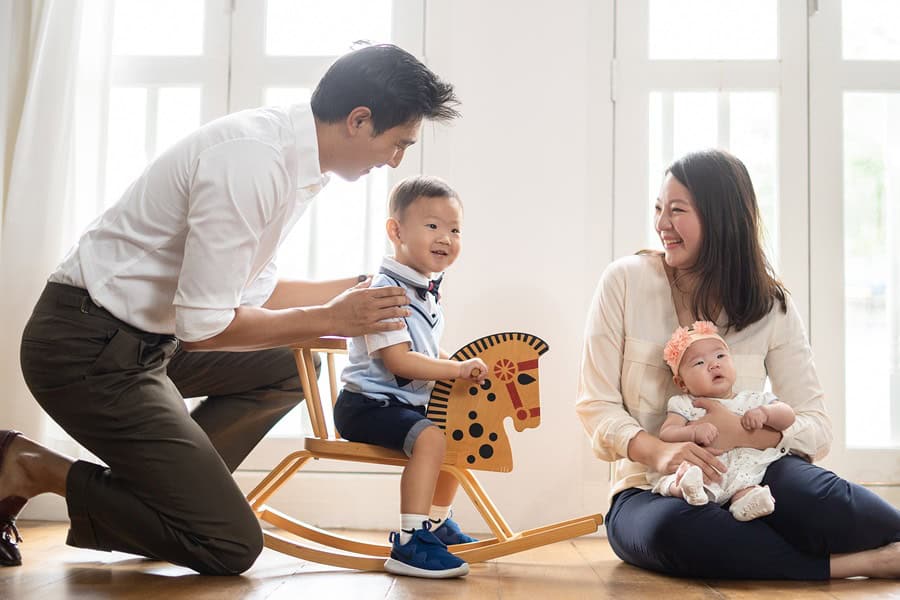 All images credit to Charlene Ng and A Tapir's Tale
6. How do you manage to balance #momlife and #bosslife with the launch of your clean baby skincare line? How is your daily schedule like?
I think starting a business is a privilege when you are a parent because it is hard to find the time or the bandwidth to dedicate yourself to it fully. I am fortunate to have support at home which allows me to pursue this business. It also helps that my son goes to school. When it gets hectic, I always try to do one positive thing a day for my business to keep the momentum going.
My schedule sometimes changes depending on my children (e.g. whether one child is sick or my baby daughter does not sleep well). In general, I work about 4 to 5 hours a day. My day follows this general schedule- wake up at 730am and look after kids, 11.30am send son to school, get a quick bite and do business related tasks till about 3pm. Fetch my son from school and look after him till about 5pm, after which I'll resume work till 7 or 8pm. No matter what I will switch everything off at 9pm and have a little bit of me-time or hang out with my husband.
7. What are some of your favourite beauty, skincare and fashion tips that you would like to share with our Mummies readers who are busy working women and mothers on looking good and taking care of themselves?
One of my favorite beauty tips that I learned when I was working in skincare was to make sure that you apply your skincare product properly. For example, a great way to apply moisturiser is to warm it up in the palm on your hand and pat it in, sealing the moisture into your skin. This makes your product much more effective that just patting it in. It takes a little bit more effort but isn't' time-consuming and is very beneficial. I love doing this as a self-care ritual as it gives me a small escape and at the same time encourages me to look after myself better- not only in terms of skin care but in terms of mental health and diet as well.
Also, if you break out on your chin and jawline often, try using and keeping a hand sanitiser next to your computer. We often unconsciously touch and lean chins into hands while in front of the screen, causing the dirt and bacteria on our hands to spread and trigger breakout-prone areas of the face.
8. Lastly, what would you like to say to our readers who are looking forward to try out A Tapir's Tale's skincare and what's your next plan/project if any?
Thank you very much for your interest, that makes our day! I have worked hard on the formulations and hope you will enjoy the products as much as I do. Feel free to drop us a message to say hi or give us any feedback about the products as we are always learning from our customers.
We try not to expand our product range too quickly as we prefer to do it one at a time and do it well. I have a product in mind, but we are still at the research and testing stage. Please keep an eye out for it!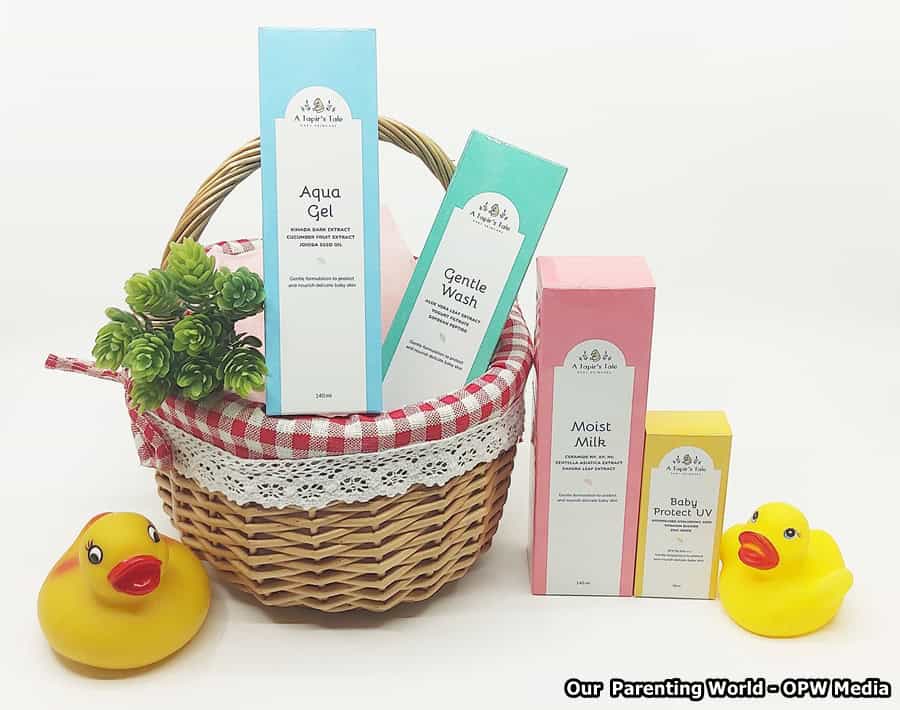 A Tapir's Tale's skincare is packed with benefits for the whole family!  Find out more about A Tapir's Tale's range of skincare products at our earlier feature at https://www.ourparentingworld.com/a-tapirs-tale-the-new-go-to-singapore-premium-baby-and-family-skincare-label/
Get yours today! A Tapir's Tale Skincare is exclusively available at www.tapirstale.com