A Tapir's Tale, the homegrown paediatric skincare label features a range of skincare solutions based on high-quality botanicals and proven skincare active thoughtfully curated by founder, Charlene Ng. A Tapir's Tale helps to soothe and nurture your baby's tender skin with the latest nature-derived new-born skincare range that is safe, clean and effective products that Singaporeans can count on for themselves and their little ones.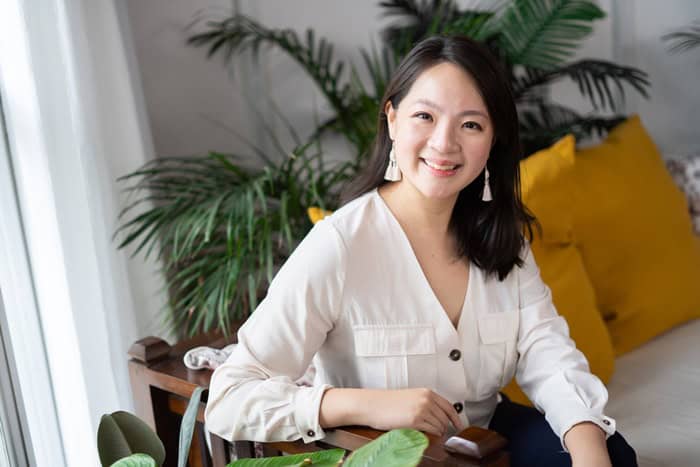 Charlene Ng (Featured Image and Image credit to Charlene Ng and A Tapir's Tale)
Charlene Ng is an aesthetician, beauty consultant, and skincare trainer with a CIDESCO Diploma in Beauty Therapy. Charlene started her own baby skincare brand in 2019 when her son reacted adversely to an organic skincare brand. Due to her son's eczema condition, he was only able to use products prescribed by the doctors, which Charlene realized consisted mainly of synthetic ingredients and with heavy textures that were unsuitable for Singapore's tropical climate. The brand's name "A Tapir's Tale" came about when Charlene noticed how the lower portion of the tapir which was white resembles a baby's diapers. The brand mascot features the Malayan tapir allowing Charlene to pay homage to the brand's Southeast Asian roots. 
The skincare collection uses nature-derived botanicals like Sakura Leaf Extract, Green Tea, and Scutellaria Baicalensis Root Extract. It also contains other skin-loving ingredients like Aloe Vera, Centella Asiatica, and Jojoba Oil. Each ingredient is specially curated due to its gentle, nourishing properties making it perfect for those with sensitive or atopic skin conditions.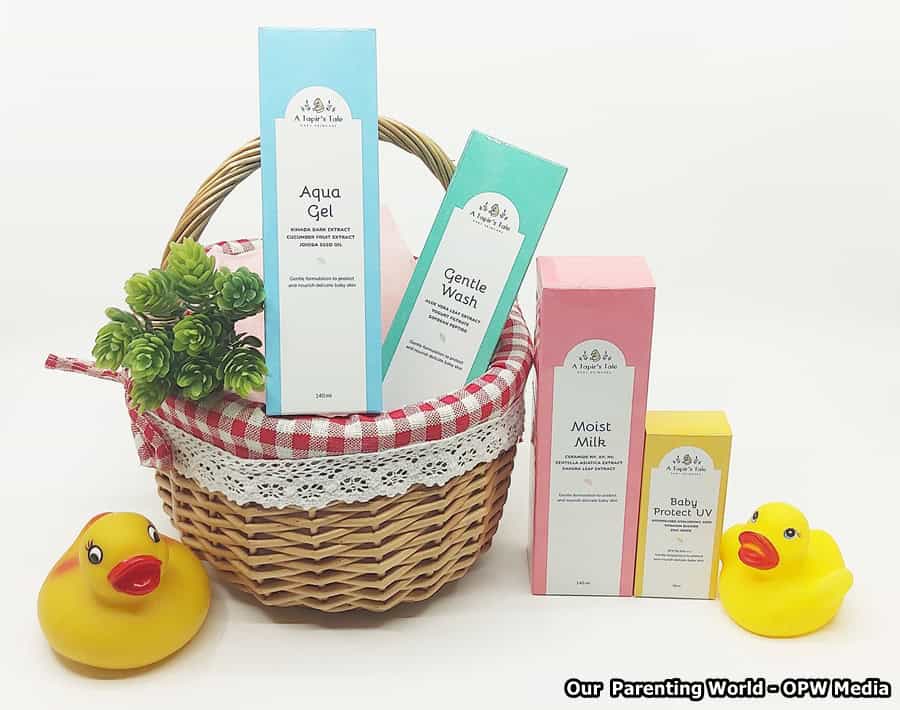 A Tapir's Tale is thoughtfully formulated and produced in Japan with high-quality botanicals and proven skincare ingredients, free from nasties and additives like colouring, synthetic fragrances, alcohol, and parabens. Boasting a plethora of hydrating and nourishing properties, these skincare solutions give you peace of mind when you're looking after your family's skin health. A Tapir's Tale's skincare is gentle, skin-nourishing and suitable for the whole family, you can count on the skincare range to tackle common skin issues caused by Singapore's climate and environment.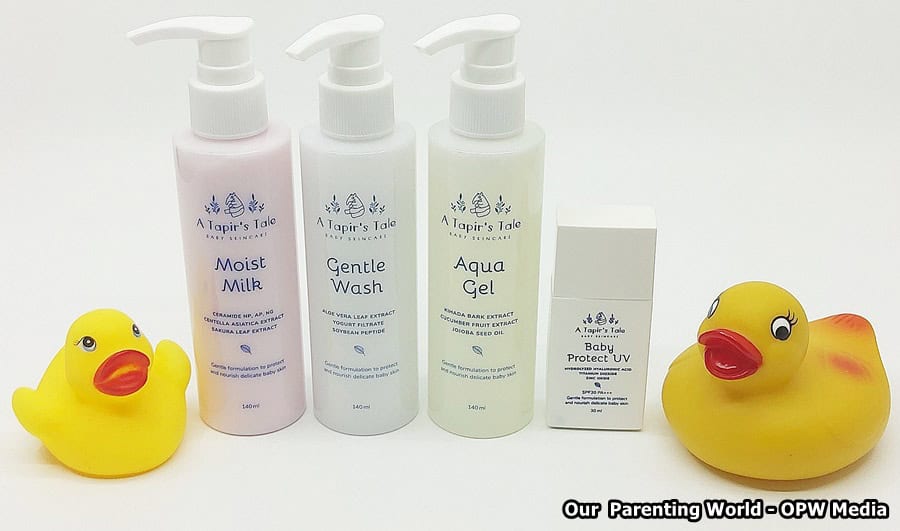 From L to R : A Tapir's Tale Moist Milk, A Tapir's Tale Gentle Wash, A Tapir's Tale Aqua Gel and A Tapir's Tale Baby Protect UV.
A Tapir's Tale Moist Milk, $37 for 140ml
A silky, milky lotion that boosts 3 essential ceramides to supplement and preserve skin moisture and oil content while strengthening the skin barrier.
It has added Centella Asiatica and Sakura Leaf Extract to help soothe and protect baby skin while boosting hydration and retaining moisture.
A Tapir's Tale Gentle Wash, $28 for 140ml
This gentle, non-foaming hair and body cleanser cleans without stripping your skin's natural moisture.
Enriched with Aloe Vera, Yoghurt Filtrate and Soybean Peptide, hair and skin are left feeling clean and soft.
A Tapir's Tale Aqua Gel, $34 for 140ml
Formulated with an abundance of beauty ingredients such as Kihada Bark Extract, Cucumber Extract and Jojoba Oil. This lightweight gel lotion has an excellent moisturizing effect that provides the skin with deep hydration to prevent skin dryness.
A Tapir's Tale Baby Protect UV, $28 for 30ml
An ultra-lightweight sunblock that blends well with the skin and has a smooth finish without it being greasy.
Specially formulated for babies and children, it has added hyaluronic acid to enhance the skin's natural moisturizing factor.
A Tapir's Tale Skincare is exclusively available at www.tapirstale.com