Nature's Glory, one of the Leading Organic Shops in Singapore that sells a wide range of affordable fresh organic products for healthy living suitable for the whole family! Our Parenting World team is recently introduced to Nature's Glory Nano Energy Booster (NEB) Magnetic Patches and Flat Tummy for Detoxification.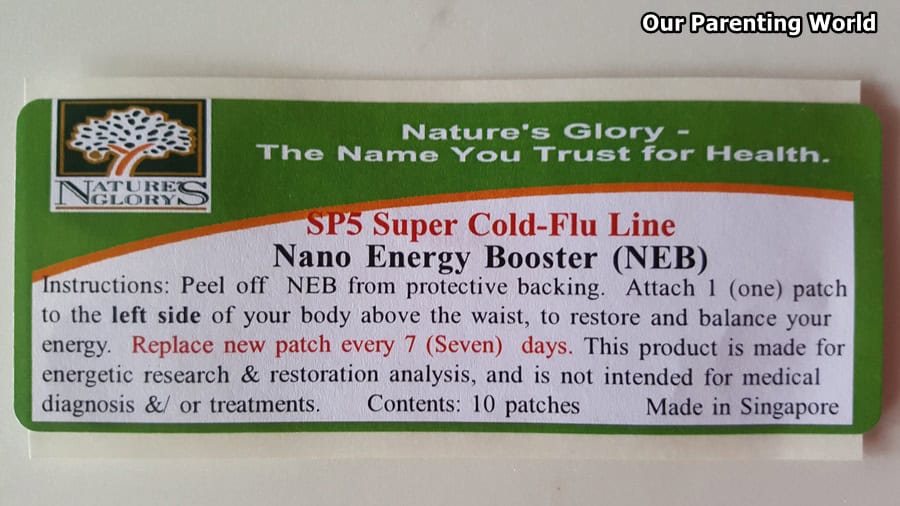 Nano Energy Booster (NEB) Magnetic Patches is something new to us and we have not tried a similar product like this before. Nature's Glory has different magnetic patches that serve different purposes to address to your needs. They are as follows: 
(A) Sleep Support to restore your energy for your best natural sleep patterns
(B) Comfort/Pain-Tens Support to provide energy to reduce observable pain (such as body ache/headache)
(C) Cold/Flu-Bacteria Support to help with bacterial infections supporting the immune system
(D) Candida (UTI) Support for LADIES only, for fungal infestations, in candida fungus, yeast and fungus based vaginal infection.
The Nano Energy Booster is a series of boosters that are programmed to support and restore vital energetics to the human body. It delivers natural energetic frequencies that allows the body to restore healthy energy more effectively, enable the body to maintain balance for optimal performance. It is perfectly safe to use as there is no drugs, no chemicals or any invasive procedures are involved. 
We tried out the Cold/Flu-Bacteria Support to help protect against bacterial infections and to support and strengthen our immune system. You can also use the patches in conjunction with your normal medication or nutritional supplements. This technology provides frequency signatures that are needed to achieve health benefits. Cough and flu are very common because of the persistent rainy days and in order to protect ourselves from getting the flu virus, we decided to give this Nano Energy Booster Magnetic Patches a try. 
How does it works?
According to its instruction, it is best to attach the booster above the waist on the left side as our body receives energy from the left. Please make sure that the area is flat and has no hair. You can also paste it on your top left shoulder or arm for better effect. 
To test its effect, I tried out the booster and pasted it on my top left shoulder and use it diligently for many days. If you have sensitive skin, not to worry, the booster patch does not cause allergy. If the patch fell off, you can use a plaster to paste over it. I wore it everyday, 24/7.
Is it effective? I am usually prone to getting cough and flu. I would say that during the period of using the Nano Energy Booster, I did not catch any flu, it helps to strengthen my immune system and I am perfectly healthy. It is very easy to use and does not cause any inconvenience to my daily life.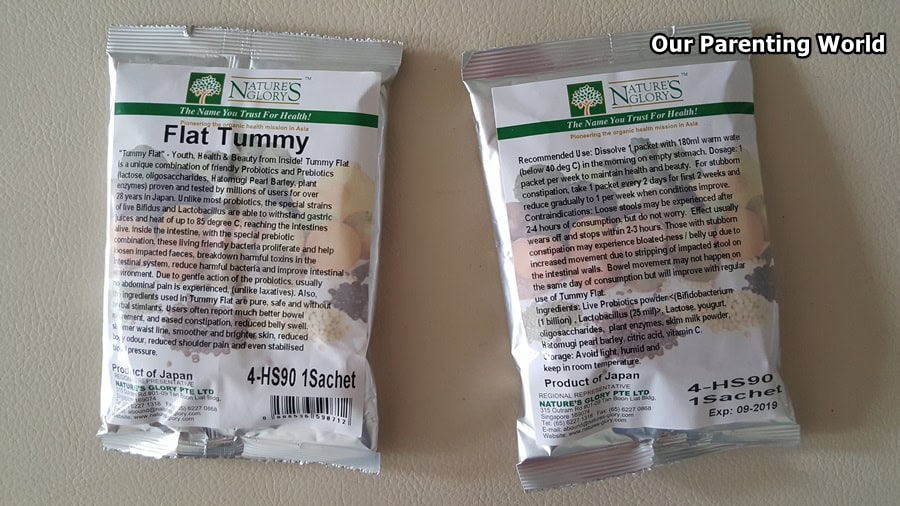 Flat Tummy for Detoxification comes in powder form and has an unique combination of friendly Probiotics and Prebiotics (lactose, oligosaccharides, Hatomugi Pearl Barley, plant enzymes) proven and tested by millions of users for over 28 years in Japan.
How does it work?
It contains special strains of live Bifidus and Lactobacillus are able to withstand gastric juices and heat of up to 85 degrees C, reaching the intestines alive. Inside the intestine, with the special prebiotic combination, these living friendly bacteria proliferate and help loosen impacted faeces, break down harmful toxins in the intestinal system, reduce harmful bacteria and improve intestinal environment.
How to use? It is very easy to use, pour out all the power content from the Flat Tummy's packet. Dissolve it with 180ml warm water (below 40 deg C) in the morning on empty stomach. It is recommended to use 1 packet per week to maintain health and beauty. If you are experiencing stubborn constipation, take 1 packet every 2 days for first 2 weeks and gradually reduce to 1 per week until your condition improve.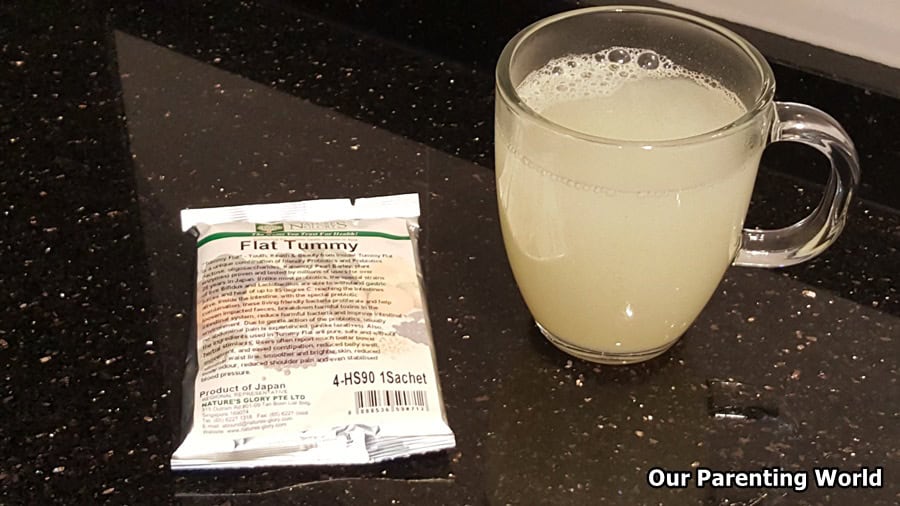 Is it effective? The drink tastes good to me and yes, it is very effective. Upon taking the drink, after a while, I experience some gentle movement but no abdominal pain like those found in laxatives. It is due to the gentle action of the probiotics, it is pretty bearable. After continued usage, this product will help you to improve your bowel movement, ease constipation and you will experience positive results like a reduced belly swell, promote a slimmer waist line which in turn will promote smoother and brighter skin, reduced body odour, shoulder pain and even stabilised your blood pressure. 
Nature's Glory brand is the organic company that we trust and to try out the above products and find out more about Nature's Glory, please visit: http://www.natures-glory.com/