Resorts World Cruises has launched a series of thematic cruises with a variety of specially designed enrichment programs and activities on the Genting Dream that will delight and enhance guests' experiences on this fun-filled cruise. Look forward to enjoy a one-of-a-kind amazing experience at sea with extensive onboard offerings, delicious cuisines, shore excursions and interesting activities. During our recent 4D3N Singapore-Port Klang-Penang-Singapore cruise, the highlights include celebrate Halloween at sea with Resorts World Cruises' "Clowning Around" thematic cruises from 16 October – 2 November 2022 and embarking on a Halal Culinary Journey by Celebrity Chef Mel Dean. 
We went onboard the Genting Dream and checked into The Palace suite. Staying at The Palace provides a luxurious experience with impeccable service and comes with all-inclusive privileges like 24-hour butler concierge service, exclusive access to The Palace Restaurant with complimentary dining, priority access to live production shows and many more!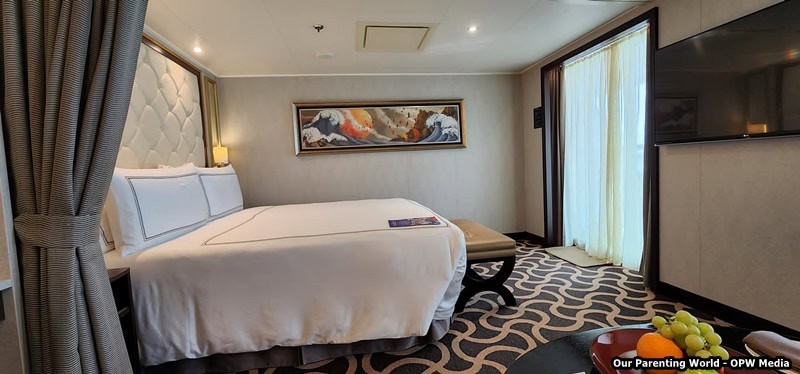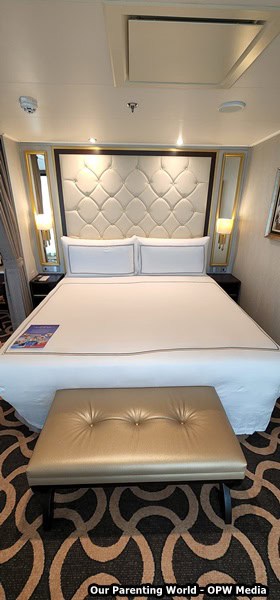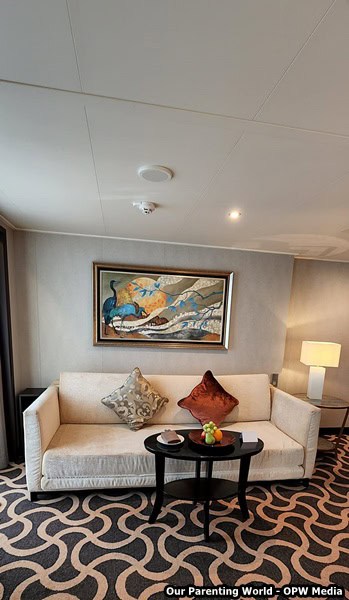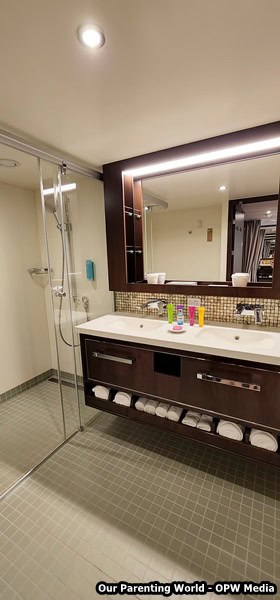 An overview of the beautiful room at The Palace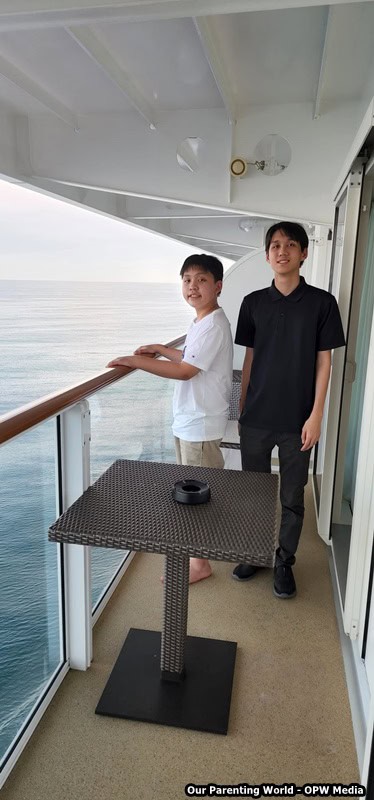 Each of the room has a private balcony where you can enjoy the sea breeze and the view. 
The rooms at The Palace are stylish and spacious with top-of-the-line fittings, amenities and linens. What's more, you can enjoy complimentary Wi-Fi. Other privileges for The Palace guests include a once-off complimentary minibar for the trip, exclusive use of The Palace pool, jacuzzi and gym which is separate from non-The Palace guests and 24-hour dining at The Palace Restaurant.
High tea at The Palace Restaurant
Enjoy fine dining onboard Genting Dream as guests of The Palace, you can have exclusive access to dine at the Palace Restaurant that comes with complimentary dining including delicacies using premium ingredients, a wonderful view of the sea at the beautiful and comfortable dining area. This 24-hour exclusive restaurant for The Palace guests not only offers breakfast, lunch and dinner, but also serves afternoon tea, supper and ala-carte dining off peak.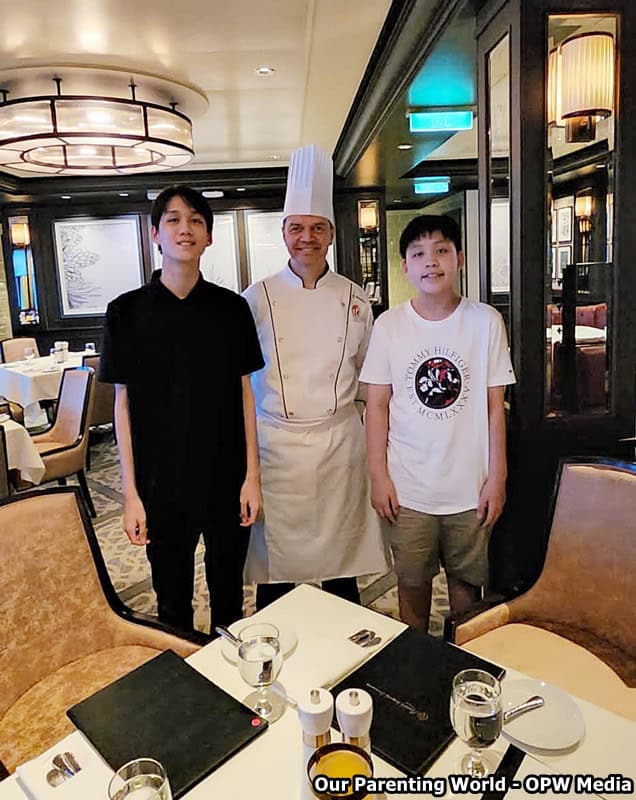 Bistro, the Western fine dining restaurant helmed by Chef Reinhard Mammes, Executive Chef of the Dream Cruises fleet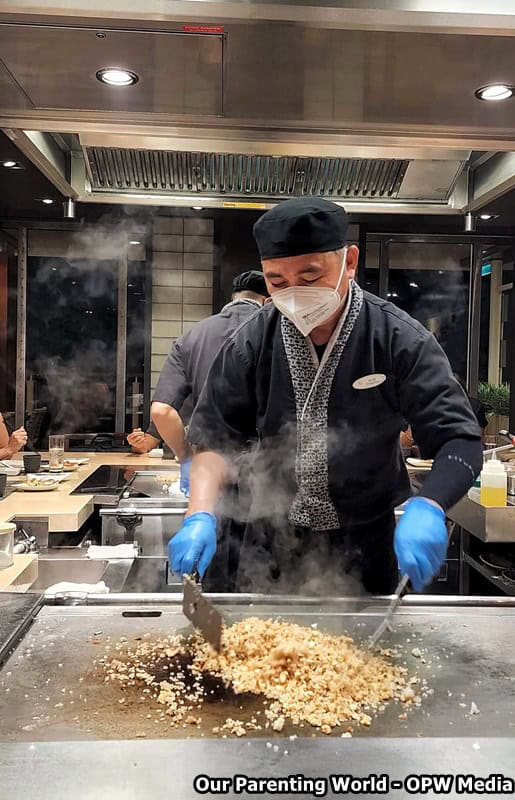 Chef at Umi Uma Teppanyaki
In addition, The Palace guests get to enjoy other specialty restaurants (one complimentary visit to each of the specialty restaurant) like Bistro (Western fine dining), Umi Uma Teppanyaki and Silk Road (Chinese fine dining).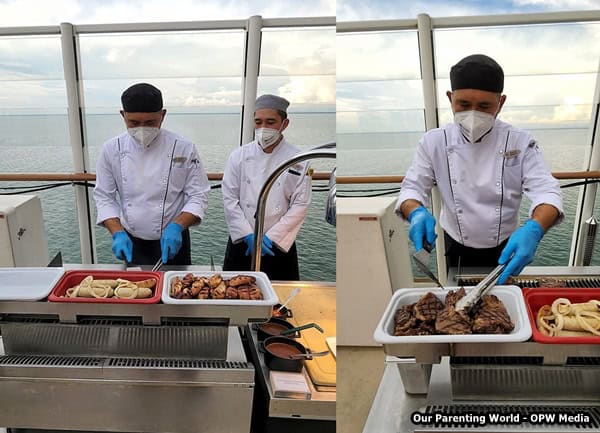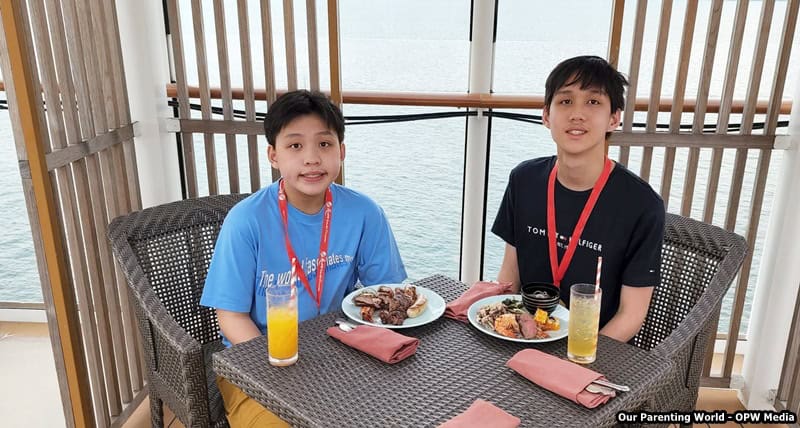 Guests at The Palace can also look forward to enjoy an exclusive al fresco seafood barbecue dinner hosted on the Genting Dream Palace private pool deck area for one of the evenings where you can enjoy freshly, delicious grilled meat and food with sea view and cooling sea breeze.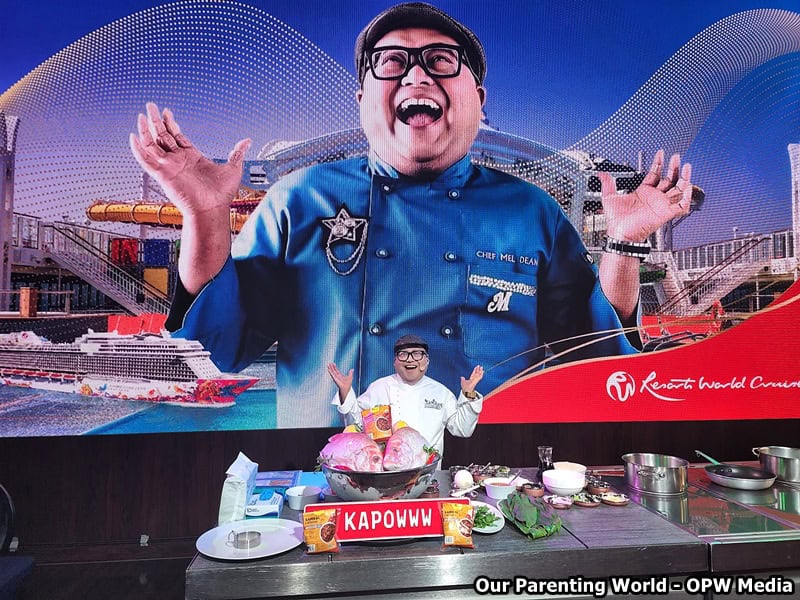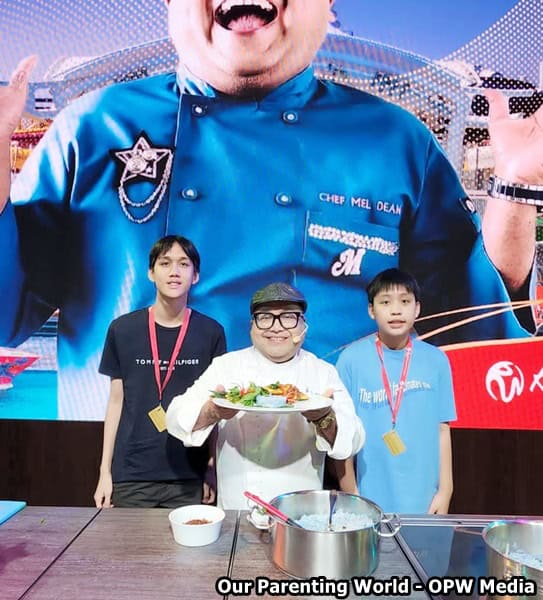 One of the highlights during our cruise trip was meeting our friend, Celebrity Chef Mel Dean, who was onboard Genting Dream to conduct cooking demonstration where audience can learn and master the art of Halal cuisine creation with Chef's engaging and exciting live culinary workshops. Audience get to taste his delicious cooking too!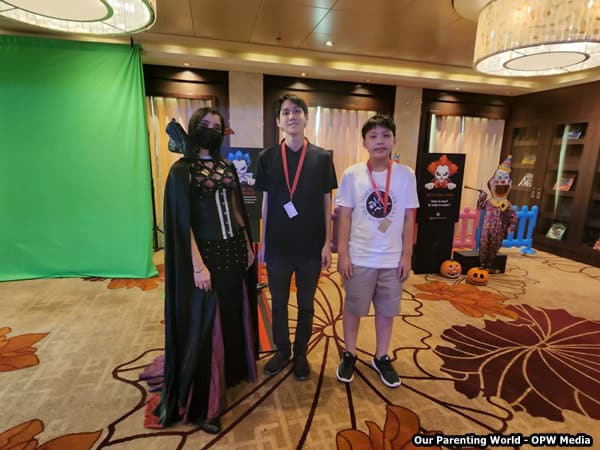 It's Halloween at sea! This is another highlight at the cruise for the period 16 October to 2 November 2022, the theme of the cruise is "Clowning Around" based on Halloween. There are special Halloween themed cabins, a Horror Maze at night, roaming Halloween clowns on board and you can take photos with them, special Halloween activities for the kids and even dishes and cocktails on board with Halloween theme.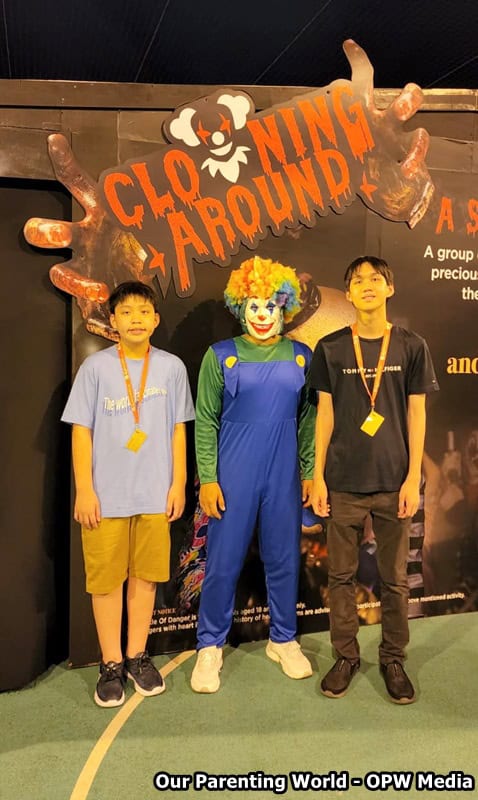 Go test your nerves and the only way out is to find the gems at the Horror Maze. We went to the Horror Maze although it was a nerve-racking experience, it was pretty fun! You can go in a group of 3 or 4 for greater team enjoyment and more excitement.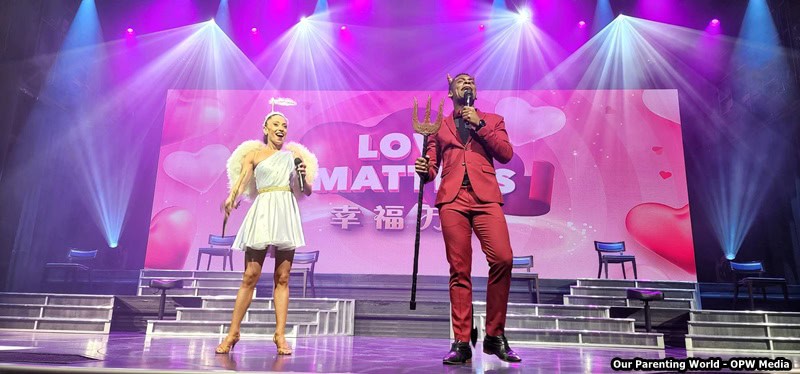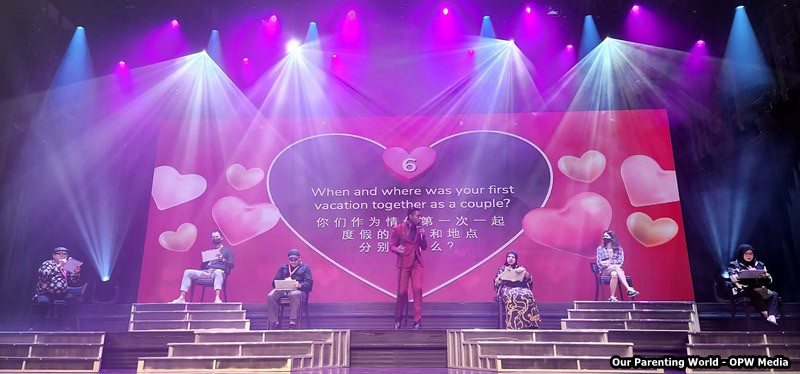 "Love Matters" Entertainment Show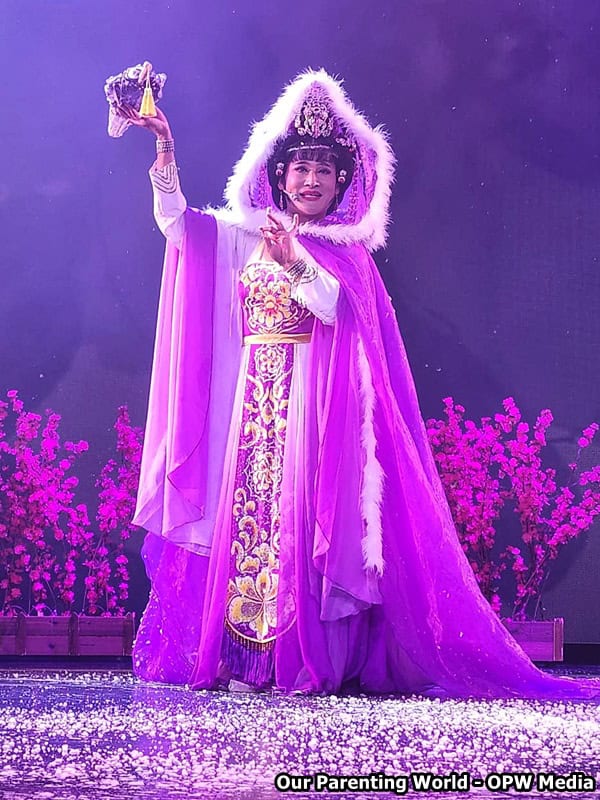 "Yin & Yang" Entertainment Show
The signature shows at Genting Dream are "Love Matters" and "Yin & Yang" Entertainment Shows at Zodiac Theatre. "Love Matters" is highly entertaining and interactive with audience participation. Three couples were invited on stage to test how strong their relationships are. "Yin & Yang" features Tong Shaohan who is impressive in his ability to sing in male and female voice effortlessly. The shows are well-choreographed, with colourful costumes, lots of actions and dancing by talented performers. We were mesmerized by their performances and enjoyed both shows tremendously!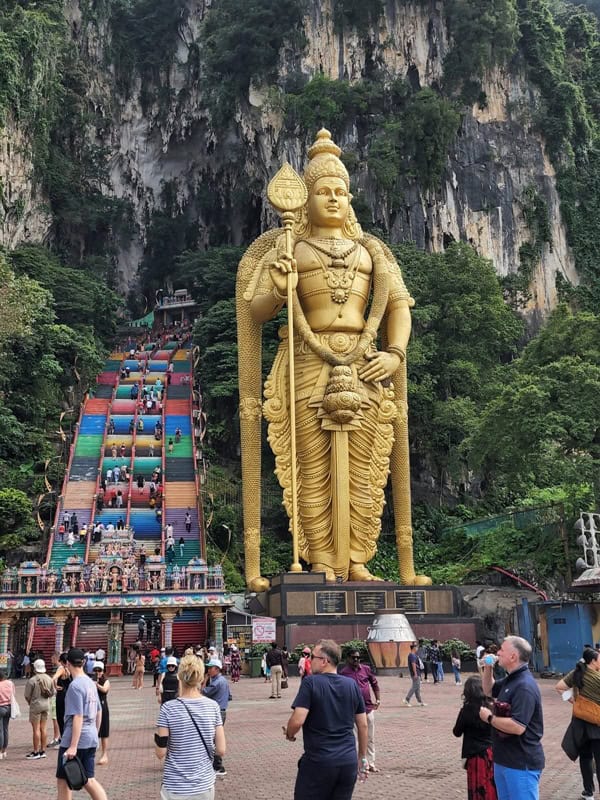 During our cruise trip, we joined the onshore excursion. First stop, we went to Kuala Lumpur to visit Batu Caves, followed by a visit to Kwai Chai Hong and we had lunch at Pavilion KL, Madam Kwan.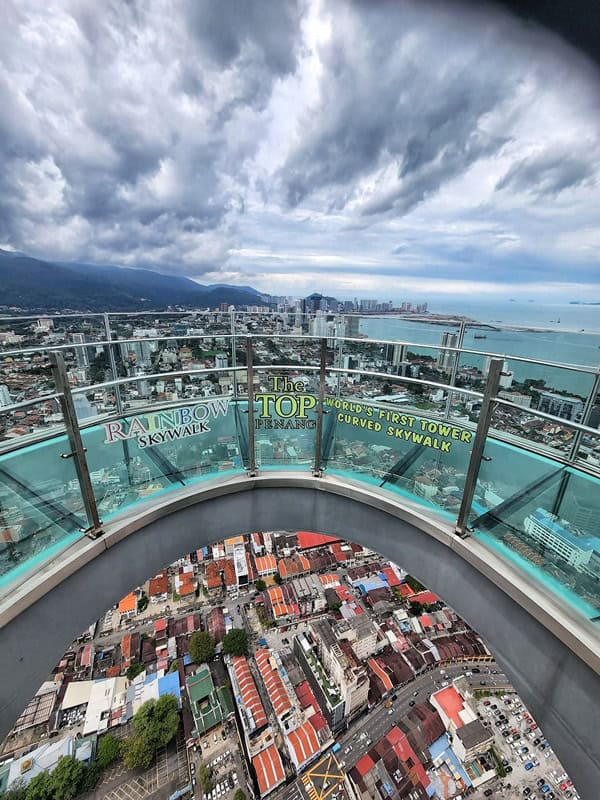 The next day, we went to Mural Street Art at Georgetown, followed by a trip to Penang Hill, took the Cable Car up to the top and after that we visited The TOP Komtar – The Rainbow Skywalk & Observatory Deck. During lunch, we had Penang's local favourites, Char Kway Teow & Cendol.  Overall, it was a wonderful excursion, the tour guides are friendly and engaging, they provided us with the history and background of the places that we visited. Both places have a rich mix of heritage, culture and mouth-watering signature local dishes.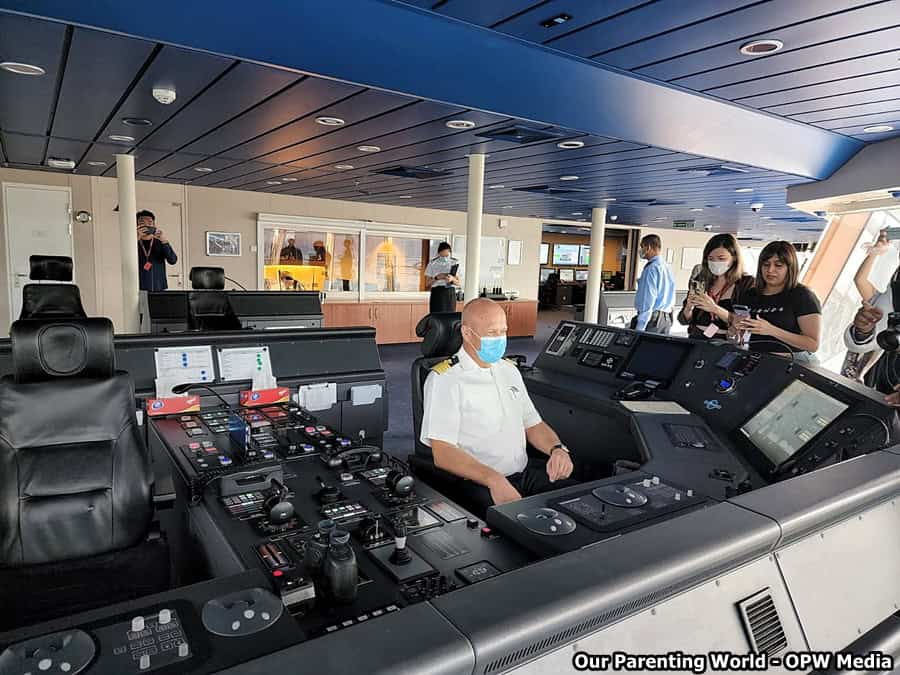 The Resort World Cruises' Genting Dream is one of the largest and most luxury cruise liner in the world. The Palace is a luxurious experience that is not to be missed in this amazing cruise liner. As part of the media experience, our team was invited to the restricted area of the Captain's Bridge Tour hosted by none other than the Ship Captain himself, Captain Jukka. The ship bridge is like a large office with a spectacular view of the sea. We joined The Lido & Halal Kitchen tour hosted by Executive Chef Saifol where Chef briefed us on how the halal kitchen on board can now cater for the Muslim diners on board. Genting Dream is the first cruise ship to serve halal food and the first to have an internationally halal-certified kitchen.
This has been a truly amazing, enjoyable and memorable experience for us onboard Genting Dream and The Palace. Find out more about Resorts World Cruises and book now at https://rwcruises.com