Ruhens, a renowned leader in water purification technology, is proud to announce the launch of its brand extension, Bbyeol. Catering to both families and individuals looking for affordability, Bbyeol introduces a collection of budget-friendly, family-oriented products that combines safety and award-winning design, setting a new standard for accessibility for every household. 
Introducing two revolutionary products meticulously designed to inject innovation into anyone's pursuit of a healthier lifestyle. These sleek and minimalistic items have been crafted to seamlessly integrate into daily life, enhancing consumers' health and well-being.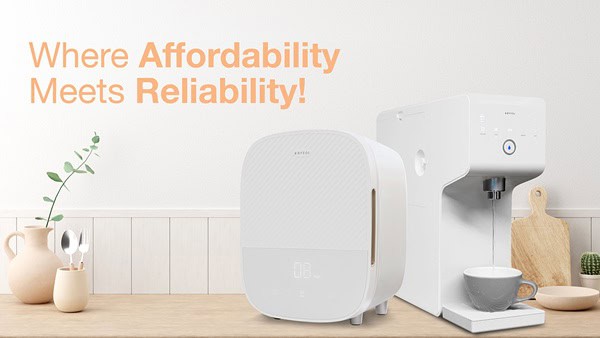 Highlights of the products as follows:
Equipped with EternalGuard Technology to ensure product durability, sterilisation efficiency, consistent pathogen targeting and user safety. 

Offers multiple uses to suit various sterilisation needs, from baby bottles, teethers and toys to cutlery, mobile phones and even makeup brushes 

Compact in size, perfectly fits into local homes

Available in white

Exclusive launch price of $299 (UP: $429) from now to 31 December 2023 
Sleek and compact design that seamlessly blends into any modern kitchen or living space

10 advanced features including: 
Six temperature choices including cold (4°C and 15°C), room temperature (20°C) and hot (40°C, 70°C and 87°C) water

UVC Sterilisation for Nozzle

Electrolysis Sterilisation

Self-cleaning function

Filter cleaning function

Serving size flexibility from present columns (100ml, 250ml, 500ml and 2000ml)
Available in matte black or ivory white 

Exclusive launch price of$1,299 (UP: $1,799) and $1,499 (UP: $2,299) with 1 year warranty & filter and 3 years warranty & filters from now to 31 December 2023
Review: Solaris UVC Steriliser – Elevating Home Hygiene with EternalGuard Technology
As a meticulous mother and a firm believer in maintaining a clean and hygienic environment for my family, I must say,  Solaris UVC Steriliser has exceeded my expectations in every way. Its sleek design and compact size fit perfectly into my home, blending effortlessly with the décor. It's become an indispensable part of my daily routine, providing the peace of mind that comes with knowing my family's belongings are thoroughly sanitised.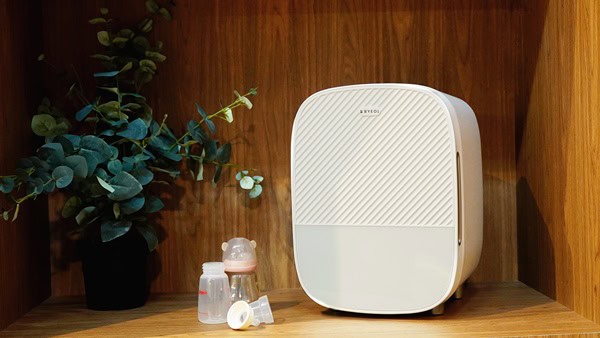 One of the standout features that I've come to appreciate is the 360-degree sterilisation coverage. With its generous 16-liter capacity, it ensures that there are no hidden corners or dead zones where germs can hide. Whether it's my baby's feeding bottles, toys, or even my smartphones and keys, everything comes out germ-free, and I couldn't be happier.
The smart storage mode has been a real game-changer. It not only maintains sterility for an impressive 72 hours but also actively kills bacteria, viruses, and microorganisms during this time. This feature has proven invaluable, especially during busy days when it's not always convenient to remove items immediately after sterilisation.
Speaking of convenience, the Solaris UVC Steriliser is incredibly user-friendly. Its intuitive interface and timer settings make it a breeze to operate. The motion sensors are a thoughtful addition, helping conserve energy when the steriliser is not in use, aligning perfectly with my efforts to reduce our carbon footprint.
Furthermore, the durability of the Solaris UVC Steriliser is noteworthy. The EternalGuard Technology, which shields the UVC lights from wear and tear, has extended the product's lifespan considerably. It's reassuring to know that I've made a long-term investment in a reliable sterilisation solution.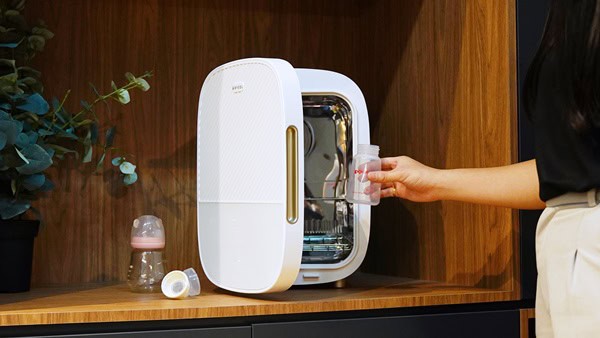 In terms of performance, the Solaris UVC Steriliser has always delivered on its promise of thorough and efficient sterilisation, leaving our items not only clean but also free from harmful pathogens. This has been particularly important during times when hygiene is paramount.
The Solaris UVC Steriliser has proven to be an invaluable addition to our household. Its innovative features, including the groundbreaking EternalGuard Technology, exceptional versatility, and unwavering commitment to safety, have redefined my approach to home hygiene. This steriliser is more than just a household appliance; it's a guardian of my family's health and well-being. This steriliser is suitable to anyone seeking a reliable, efficient, and enduring solution for home sterilisation needs.
We speak to Mr. Joel Lim, Managing Director of Bbyeol by Ruhens, where he shared with us the inspiration behind Ruhens' decision to launch the new brand extension Bbyeol, as well as the key features and innovations that set it apart in the market. Read on to find out more. 
Interview with Mr. Joel Lim, Managing Director of Bbyeol by Ruhens
1. What inspired Ruhens to launch the new brand extension 'Bbyeol'? Could you please share an overview of the key characteristics and offerings of this new brand?
Mr. Joel Lim: 'Bbyeol' is born out of our desire to make high-quality home appliances accessible to a broader audience. We understand that household needs vary, and budget considerations can often be a deciding factor. With 'Bbyeol,' we have curated a range of affordable home appliances that carry the trusted Ruhens quality.
2. What was the driving force behind the creation of this brand? Is there a particular story or vision behind it that you can share?
Mr. Joel Lim:  Market Expansion: The driving force behind 'Bbyeol' was the desire to expand our presence in the market. By offering a more affordable range of home appliances under a new brand, we aimed to reach a wider customer base and strengthen our position as a trusted provider of home solutions.
3. Could you highlight some key features or innovations that set "Bbyeol" apart from other brands in the market, particularly in the sterilizer and water purifier categories?
Mr. Joel Lim:  Bbyeol's Solaris UVC Sterilizer feature cutting-edge UV-C technology, which is highly effective at disinfecting surfaces and objects. Our UV-C sterilizers provide a thorough and chemical-free sterilization process, ensuring the safety of your belongings, and with our EternalGuard Technology that uses "reversed programming" objective, it will protect and prolong the lifespan of the product.
4. For consumers who are considering purchasing a sterilizer or water purifier, what are the most important factors they should keep in mind when evaluating their options? 
Mr. Joel Lim:  Reviews and Reputation: Research customer reviews and the reputation of the brand and model you're considering. Feedback from other users can provide valuable insights. Of course, this is apart from the cost of it, only work within your budget! Ruhens have very good reviews online and offline, that's one of our core mission for Bbyeol too.
5. Sustainability is becoming increasingly important to consumers. How does Bbyeol by Ruhens incorporate sustainability practices into its product manufacturing and operations?
Mr. Joel Lim: 
Bbyeol uses eco-friendly materials, reducing waste and designing products with a longer life cycle

We also implement energy-efficient technologies, optimize resource usage, and minimize water and energy consumption in production process
6. Who is your ideal customer or target audience, and how does your brand cater to their needs or preferences?
Mr. Joel Lim:  Our target audience primarily consists of new homeowners aged 25-35 years old, a demographic often in the process of acquiring new homes or starting their families. This group actively seeks affordable, high-quality products for their homes, which perfectly aligns with Bbyeol's mission. Bbyeol's products, being compact and efficient, cater well to the housing needs typical of Singaporean homes.
7. In terms of customer support and satisfaction, what initiatives is Bbyeol by Ruhens taking to ensure that buyers have a seamless experience with their new appliances?
Mr. Joel Lim:  Certainly, here are some key initiatives that Bbyeol is taking to ensure a seamless customer support and satisfaction experience with their new appliances:
Comprehensive Product Information: Bbyeol provides detailed product information on their website and product manuals. This includes clear instructions on installation, usage, and maintenance, helping customers to get the most out of their appliances from the start.

Responsive Customer Support: Bbyeol has a dedicated customer support team available through various channels, such as phone, email, and chat. This team is trained to respond promptly to customer inquiries, addressing any questions or issues effectively.

User-Friendly Warranty Policies: Bbyeol offers transparent and user-friendly warranty policies that outline what is covered and for how long. This gives customers confidence in their purchase and assurance that the company stands behind its products.
8. The home appliance market is highly competitive. How do you plan to differentiate Bbyeol by Ruhens and establish a strong brand presence in this industry?
Mr. Joel Lim:  We prioritize the quality and reliability of our products. We rigorously test our appliances to ensure they meet and exceed industry standards, and we offer transparent warranty policies to instill confidence in our customers.
Customer-Centric Approach: Our customers are at the heart of everything we do. We invest in understanding their needs and preferences through surveys, feedback channels, and market research. This information guides our product development and customer support strategies.
In addition, look out for the opening of the new showroom at 3 Temasek Boulevard, Mall, #02-341/342 Suntec City, Singapore 038983 on 26 October 2023!
Bbyeol products are available for purchase through official website at https://bbyeol.sg/ or physical showroom located at 33 Ubi Ave 3, #01-31, Vertex, Singapore 408868. Strictly by appointment only.