Canon announced the launch of the EOS R7 and the EOS R10, its first cameras in the EOS R mirrorless system to be equipped with APS-C image sensors in Singapore today. 
The high-performance 32.5-megapixel EOS R7 features In-Body Image Stabilization (In-Body IS), weather-sealing, and dual SD card slots, designed for more experienced users who require a fast camera to photograph dynamic subjects such as sports and wildlife.
The 24.2-megapixel EOS R10 features a built-in flash and a smaller form factor, that is designed for more standard everyday needs. Launched alongside the two cameras are the RF-S18-45mm f/4.5-6.3 IS STM and RF-S18-150mm f/3.5-6.3 IS STM, two new lenses built to fully optimise the mobility advantages of the new APS-C cameras.
Edwin Teoh, Head of Marketing, Singapore Operations, Canon Singapore shared that "EOS R7 and EOS R10 marks a significant evolution of the EOS R system. With the addition of these APS-C mirrorless cameras to the EOS R system, there are many opportunities in Singapore for them to shine. The APS-C segment is favoured by many photographers for the smaller form factor, affordability, and advantages such as increased reach for genres like sports and wildlife. With otters and a plethora of birds in Singapore to photograph, these APS-C cameras will provide budding photographers with an affordable step into our mirrorless R system. In addition to the new native RF-S lenses, the wide range of compatible EF and EF-S lenses via mount adapter also means an enlarged ecosystem of lenses to explore and express your photographic vision." 
High-speed Continuous Shooting
Both the EOS R7 and EOS R10 are capable of up to 15 fps high-speed continuous shooting in mechanical and electronic first-curtain shutter modes (with AF/AE tracking)—the fastest speed not just among all APS-C EOS cameras, but also in the EOS R series.
RAW burst mode
Both cameras feature a RAW burst mode, which shoots full-resolution RAW images at up to 30 fps. The mode supports pre-shooting, which starts recording the scene up to 0.5 second before the shutter is released, aiding the capture of unexpected opportunities.
Newly Developed APS-C CMOS sensors and DIGIC X
Both the EOS R7 and EOS R10 utilise newly developed APS-C CMOS image sensors that are 32.5 and 24.2 megapixels respectively. When combined with the DIGIC X image processing engine, they achieve image quality and visual resolution beyond what the megapixel count suggests. The visual resolution of the EOS R7 surpasses that of the EOS 90D and the EOS M6 Mark II despite having the same megapixel resolution, whereas that of the EOS R10 is equivalent to the same two cameras. Silky hair, fabric textures, and other fine details can be captured with precision and sharpness.
Superior Video Quality
For content creators particular about video quality, the EOS R7 can use 7K oversampling to record high-quality 4K UHD video at up to 30p in the new 4K UHD Fine mode. Uncropped 4K 60p recording is possible in 4K UHD Standard mode. It is also the first APS-C EOS photography camera to support the Canon Log 3 gamma, good for colour grading and HDR video production. Meanwhile, the EOS R10 is capable of high-quality 4K UHD Fine 30p video achieved by 6K oversampling. Both cameras are capable of 4K HDR PQ video recording.
Cross-compatibility with RF and EF/EF-S lenses
Besides the RF-S lenses which were developed specifically for APS-C EOS R cameras, the EOS R7 and EOS R10 can also directly take RF lenses designed for full-frame cameras. This also applies for EF and EF-S lenses via the EF-EOS R mount adapters. When a lens designed for full-frame cameras is attached, the 1.6x telephoto effect will automatically be applied. The cameras are not compatible with EF-M lenses.
New Features to Enhance Creative Expression
The EOS R7 and EOS R10 contain some new features and enhancements, which will streamline workflows and expand creative expression. These include a new Panorama Shot SCN mode and an improved Panning SCN mode with better image stabilisation to increase the chances of successful panning shots. In addition, a new in-camera Depth Compositing mode automatically merges focus bracketed images into an image that is clearly in focus from front to back. The EOS R7 also features a new auto-level function that automatically detects and rotates the image sensor to correct tilted images in still images and video, saving users the time and effort required to ensure a camera is level. Both cameras also have improved auto white balance accuracy, due to a new auto white balance algorithm developed using deep learning technology.
Left – Edwin Teoh – Head Of Marketing – Canon Singapore Pte Ltd
Right – Andrew Koh – Head of Singapore Operations Group – Canon Singapore Pte Ltd

*Updated on 1 June 2022*
Canon today announced the start of local pre-orders for their brand-new EOS R7 that was officially launched last week on 24th May 2022.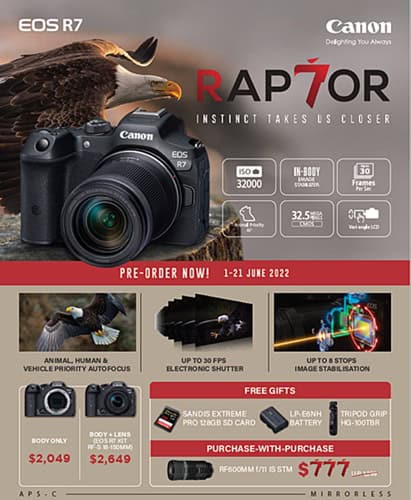 For more information, please visit https://sg.canon