Cetaphil® is the trusted skincare brand that is recommended by dermatologists that has been used by millions of people with sensitive skin around the world. This year is a challenging and stressful year for many due to the COVID-19 pandemic. The prolonged use of face mask and frequent use of hand sanitisers have resulted in exacerbated chronic skin conditions like eczema.
Nowadays, Eczema is a very common skin condition for infants, children and adults, they suffer from red, itchy and very dry skin. This skin condition is especially distressing for little ones who have to tolerate with itchy skin and the urge to scratch their skin resulting in the skin being inflamed and even causing scars. People with eczema-prone skin usually lack Filaggrin, a protein that maintains skin integrity and is essential for the production of natural moisturising factor (NMF) – substances that maintain skin hydration and skin barrier. Environment, lifestyle, stress, using of harsh soaps and detergents, uncomfortable clothing materials, dust, and among many other factors can trigger eczema to flare up. 
One of the most effective ways to manage eczema-prone skin is to ensure that skin is properly cleansed and well-moisturised. Cetaphil PRO AD Derma is the first skincare range within Cetaphil to contain Filaggrin technology™ to help restore your skin's Natural Moisturising Factor and help rebuild a healthy skin barrier. The range helps to soothe your skin and reduces itchiness, this is particularly useful to those who tend to scratch, it will stop the itch-scratch cycle especially for those with eczema-prone skin.
Cetaphil PRO AD Derma Skin Restoring Wash (L) and Cetaphil PRO AD Derma Skin Restoring Moisturizer (R)
Cetaphil PRO AD Derma Skin Restoring Wash, $29.90 for 295ml. This is a gentle, soap-free, mildly foaming body wash; clinically proven to cleanse, moisturise and soothe dry and itchy skin. Suitable for daily use, gently massage into a lather when bathing and avoid scrubbing the skin. Rinse off and gently pat skin dry. The wash is very gentle, after bathing, we can feel that our skin is so clean, very soft and smooth to touch. Skin does not feel dry at all. 
Cetaphil PRO AD Derma Skin Restoring Moisturizer, $49.90 for 295ml. This non-greasy and lightweight, daily body moisturiser clinically proven to soothe and alleviate dryness and itching. After bathing, while your skin is still slightly damp, apply immediately to seal in water and hydrate the skin. You can re-apply whenever your skin is dry or as often as you need. What we like about this moisturizer is that it is light and yet effective. It is not greasy, after applying, dry skin immediately looks more hydrated, supple and smooth. 
Cetaphil PRO AD Derma range consists of Cetaphil PRO AD Derma Skin Restoring Wash and Cetaphil PRO AD Derma Skin Restoring Moisturizer, the products are gentle, free from fragrance and paraben, suitable for all ages including infants from 3 months old. Embark on the 2-step regime that is trusted by dermatologists and clinically proven to soothe, hydrate and strengthen your skin's barrier.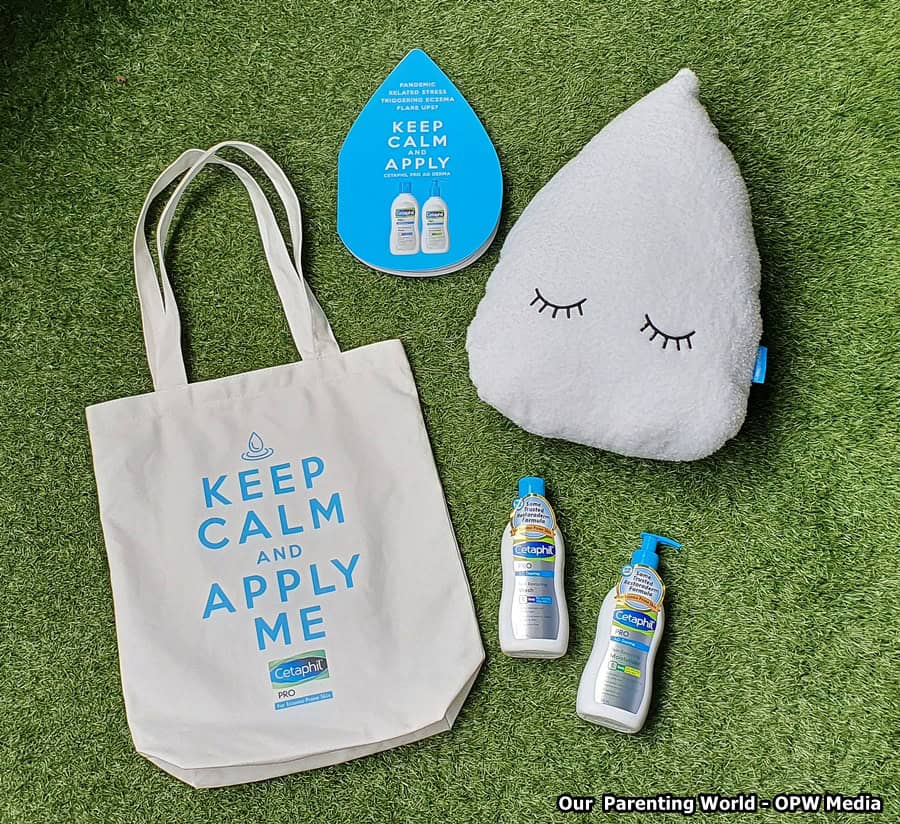 Cetaphil PRO AD Derma is available at Guardian, Unity, Watsons, hospital retail pharmacies, Redmart, Amazon and official Cetaphil® online stores on Lazada, Qoo10 and Shopee.
Keep Calm and Apply Cetaphil PRO AD Derma to help you manage pandemic related stress and or other factors that trigger and cause eczema to flare up. To find out more, please go to www.cetaphil.com.sg