Where can we go to have fun activities during the school holidays and also to soak in the Christmas festive atmosphere? Where else but at Sentosa State of Fun!
Our Parenting World, Gor Gor and Di Di are so excited to know that Sentosa PLAYcation 2014 has a host of activities and to create some larger-than-life memories known as the Giant Inflatables!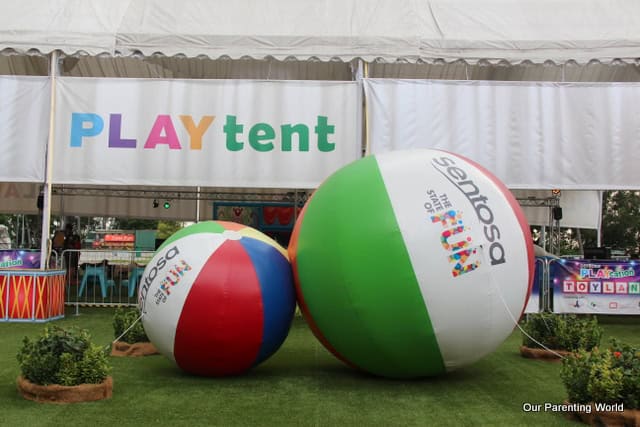 We are at the PLAYtent where all the fun actions will begin!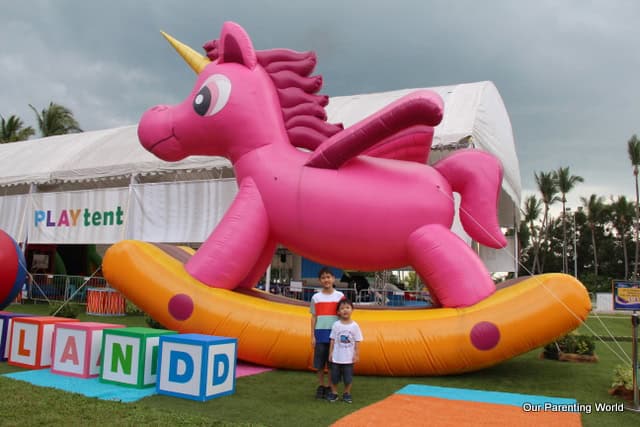 First, let's not forget to take memorable pictures with the larger-than-life inflatables. These inflatables stand at an impressive 8 metres tall and they are located at the three magical zones on Toyland at Palawan Beach, Candyland at Beach Plaza and Christmas Cheers at Merlion Plaza.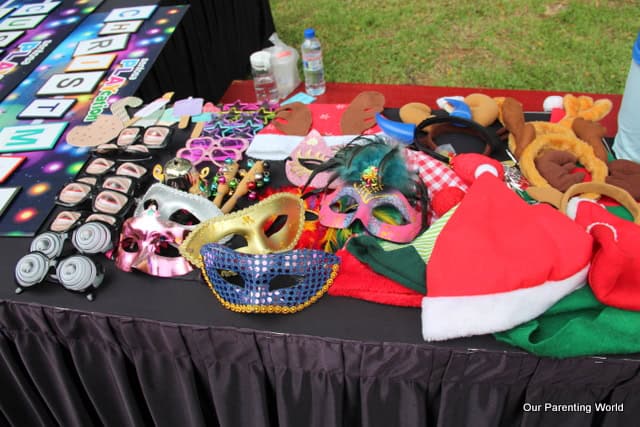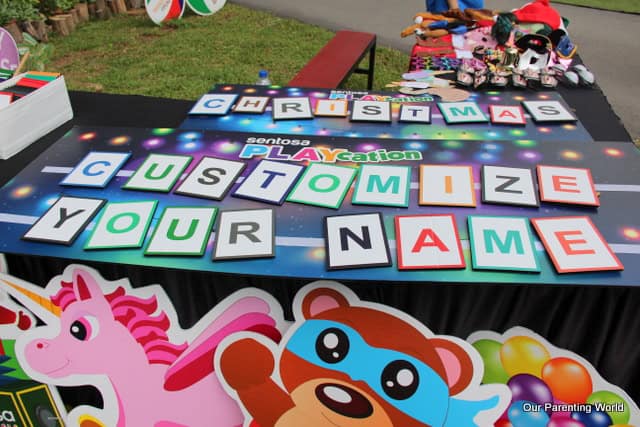 Another interesting activity happening at the PLAYtent is photo taking opportunity inside a Snow Globe. Wow, that's so unique!
There is a wide variety of props available for you to take pictures with and you can get to customize your name too.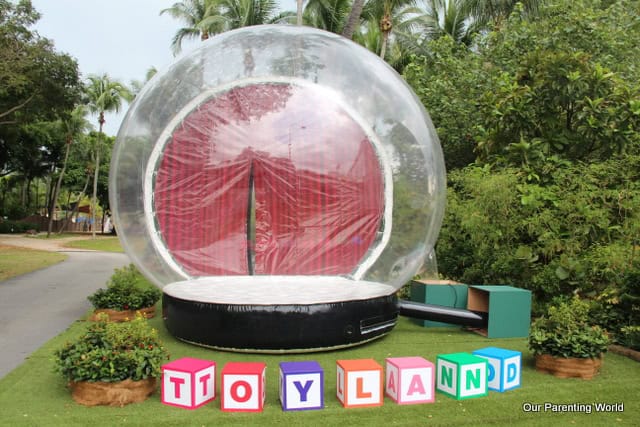 This is a 4-metre high Snow Globe.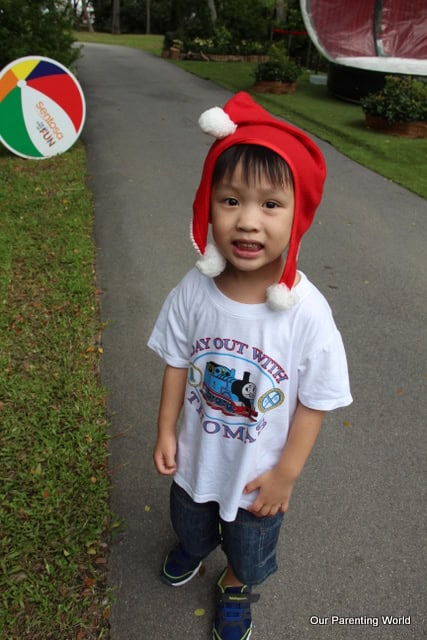 "I am excited, I am getting ready to go inside the Snow Globe. This is my first time going into a Snow Globe."
"Do you like my Christmas hat?"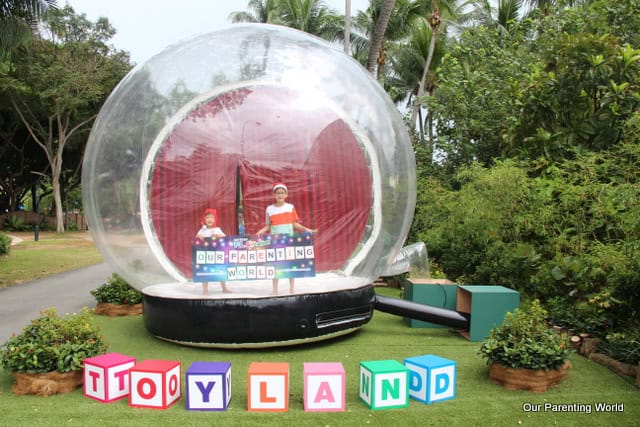 "Ta-ta, Gor Gor and I are inside the Snow Globe!"
Don't miss this unique photo taking opportunity inside a beautiful 4-metre high Snow Globe with your family and friends. 
Now we move on to explore and take part in the various activities inside the PLAYtent. This activity is the Wave Surfer. 
Please take note of the safety rules and you have to be at least 1.2m tall to participate in this ride. 
"We are having fun playing together at the soft play activity centre."
The boys are enjoying themselves so much and Di Di keeps giving us a cheeky happy face!
This activity is the Bouncer and children must be above 3 years old to be able to play.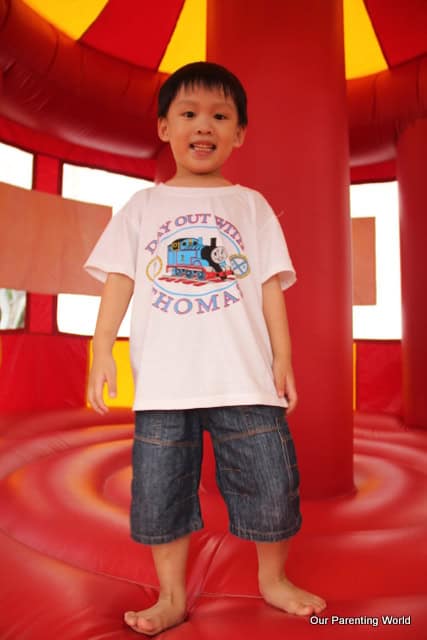 "I am bouncing like a Kangaroo!"
This activity is known as Sticky Wall. Children must be above 3 years old and maximum 1 person per play.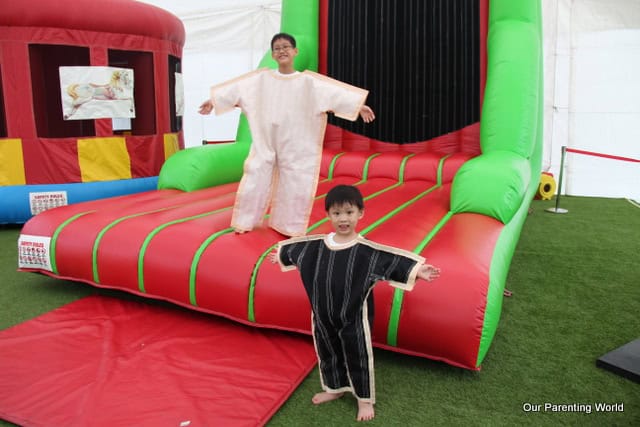 Children have to be suited up in order to be able to stick to the wall.
See how far you can stick!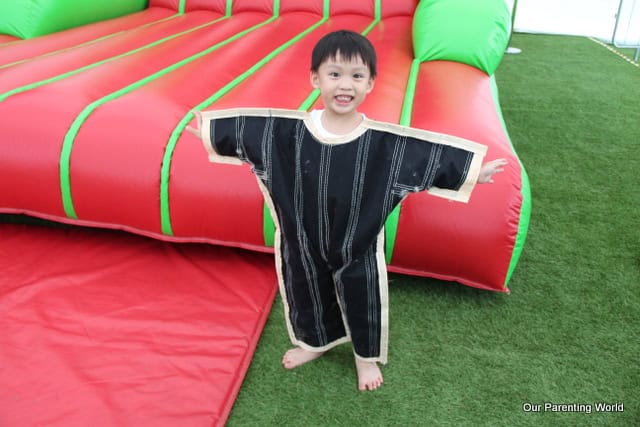 "Hee hee … how do I look?"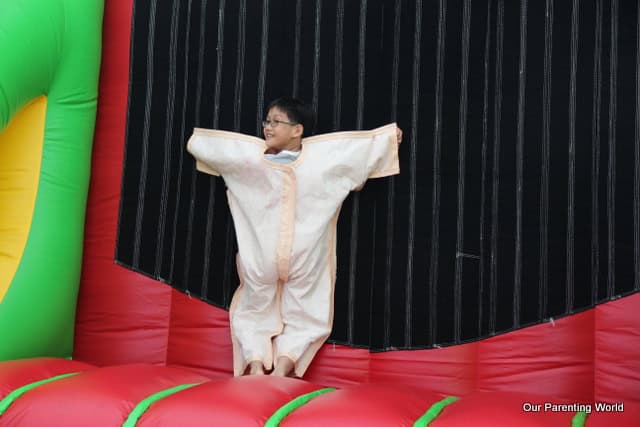 Gor Gor is trying his best to stick as high as possible on the wall. 
Our Parenting World, Gor Gor and Di Di would like to thank the lovely organisers and Sentosa for having us! We have a good and memorable time at Sentosa PLAYcation.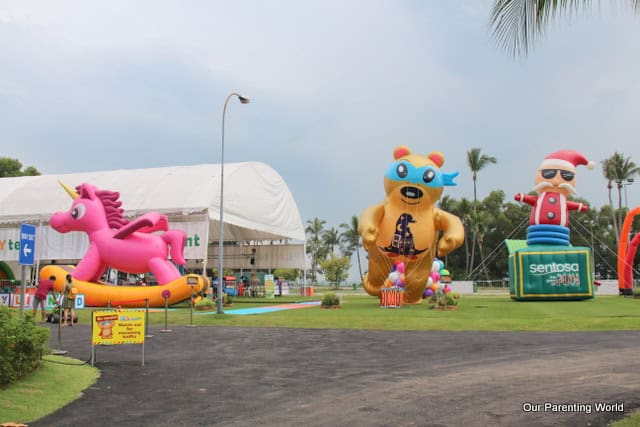 Giant Inflatables
Specially customised for Sentosa, Sentosa PLAYcation will have the widest variety of giant inflatables in Singapore this festive season! Explore and take photos with delightful and colourful inflatables at three magical zones – Candyland, Toyland and Christmas Cheers! Fun for the whole family, both adults and kids as young as infants can enjoy the PLAYtent* featuring various inflatable fun activities such as a bouncy castle, rock climbing and a rodeo bull challenge. They can even snap a picture inside the unique Snow Globe or enjoy a little shopping and good food during the weekends at the flea market and food street. 
Date: 15 November 2014 – 4 January 2015
Venue: Merlion Plaza (Christmas Cheers),
Beach Plaza (Candyland) and Palawan
Beach open car park (Toyland)
Time: 11am to 9.30pm 
*All zones are free except for PLAYtent and Snow Globe. Enjoy one session of free play at the PLAYtent or Snow Globe for those who spend a minimum of $30 on Sentosa. Terms and conditions will apply.
That's not all, do check out the following activities when you are at Sentosa PLAYcation.
Please click HERE for more information. 
Symphony of Lights
Groove to familiar tunes and be dazzled by the enchanting lights by the zigzag bridge with the Symphony of Lights show located at Sentosa Beach Plaza.
Date: 1 December to 26 December 2014
Venue: Beach Plaza
Time: 7:30pm, 8:15pm, 8:30pm, 9:15pm, 9:30pm
Grill N' Chill
Gather good friends and family and get into the festive mood over live music performances and good food. The performances will feature local talents such as Claressa Monteiro, Char Siew Bao, Key Elements, Fuze Collective and others that will cover music genres such as Blues, Jazz, Pop and Fusion.
Date: 20 December – 28 December 2014
Venue: Merlion Plaza
Time: 4.30pm to 9.30pm