Beauty in The Pot's outlet at OneKM, a delightful place for the whole family to enjoy delicious and nourishing hot pot meals while the kids can enjoy playing at the awesome, huge and colourful soft fall playground which is suitable for kids of all ages.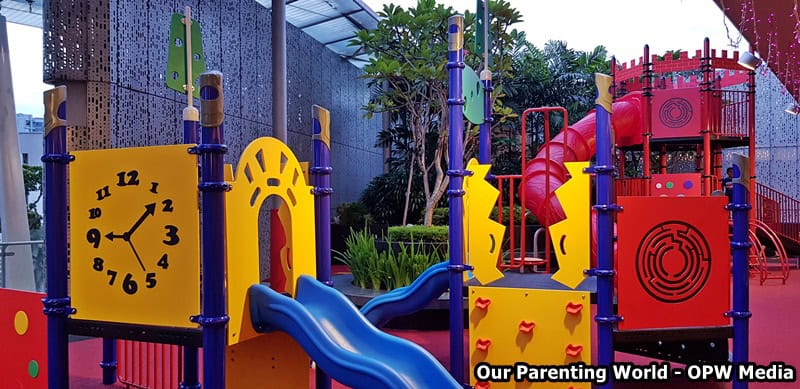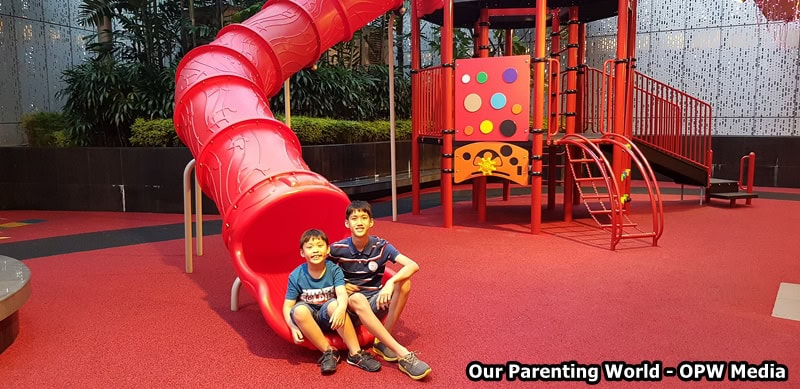 Our kids had so much fun playing at the playground, the place is so spacious, they were running around, sliding down the tunnels, climbing up and down and jumping on the trampoline.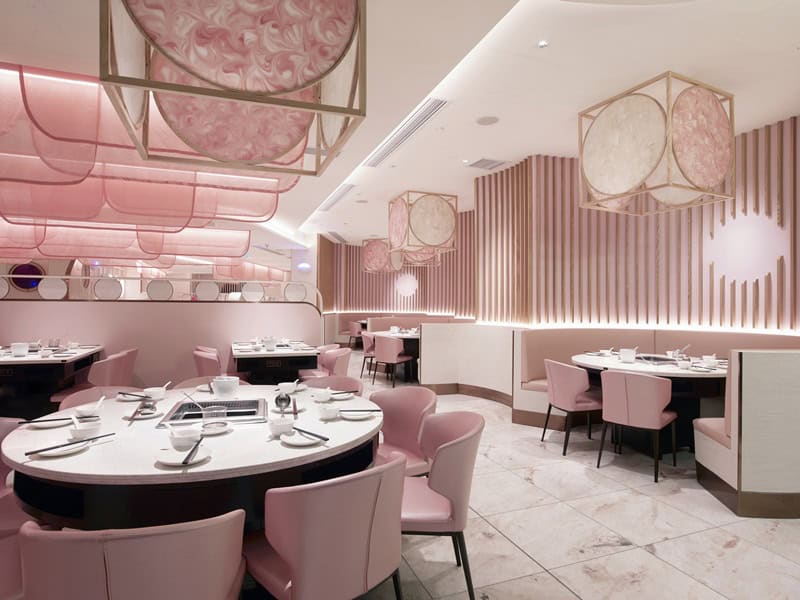 Image credit to Beauty in The Pot
We also like the lovely pink princess theme of the restaurant which is inspired by the beautiful cherry blossoms. The whole restaurant covers over 7,600 square feet with 288-seater boasts a cosy interior that is different from the rest of its outlets. That's not all, the restaurant has rose gold charging points and lovely pinkish marble floor tiles. So pretty!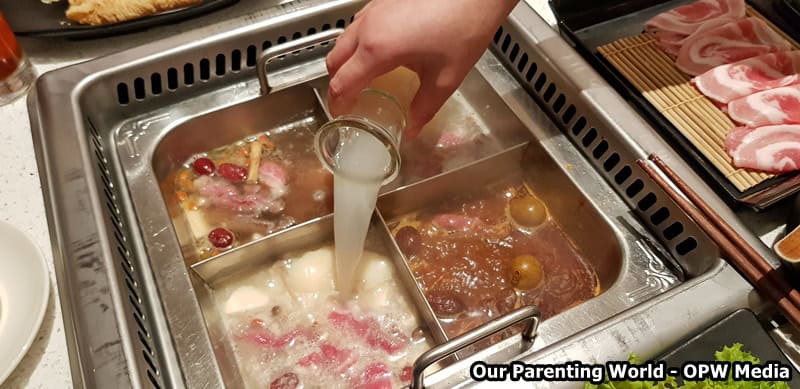 Beauty in The Pot comes with quadruple pots so that you can enjoy up to four flavours at once and it serves up to six soup bases, including the Signature Beauty Collagen Broth (Shark's Cartilage Soup), Signature Spicy Nourishing Soup (Pork Bone Soup), Herbal Drunken Chicken Broth, Cooling Coconut Broth, Longevity Wild Pine Mushroom Broth (Vegetarian), and Vitamin C Tomato Sweet Corn Broth. The price of a single pot starts from S$14; a quart pot starts from S$5 each.
Diners need not worry about feeling hot from the heat coming from the hot pot as there is an exhaust system surrounding each pot, all the pots in the restaurant are specially imported, and the place is well-ventilated.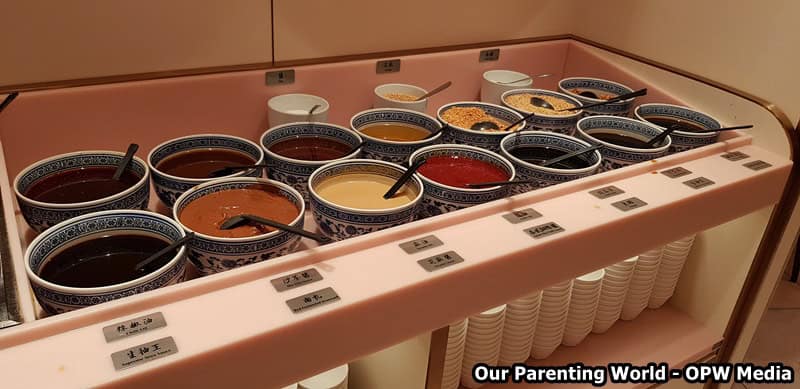 Diners can enjoy more than 20 condiments and sauces to dip your ingredients in. You can top up S$3.80 to enjoy free-flow condiments and a selection of fresh fruits.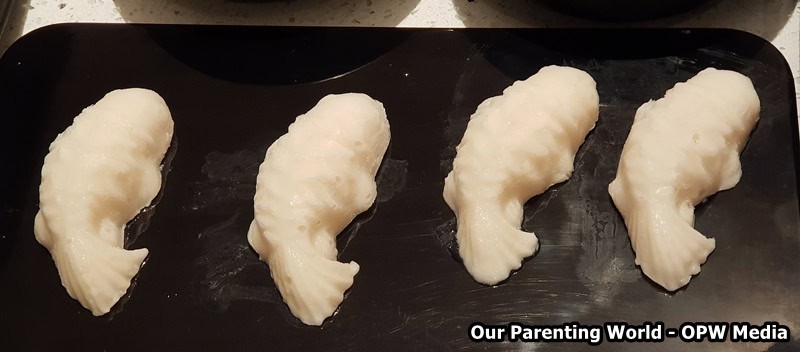 Signature Homemade Fish Tofu at S$2 per piece
Ebiko Prawn Paste at S$18.80
The Fried Beancurd Skin at S$4.90 for half and S$9.80 for full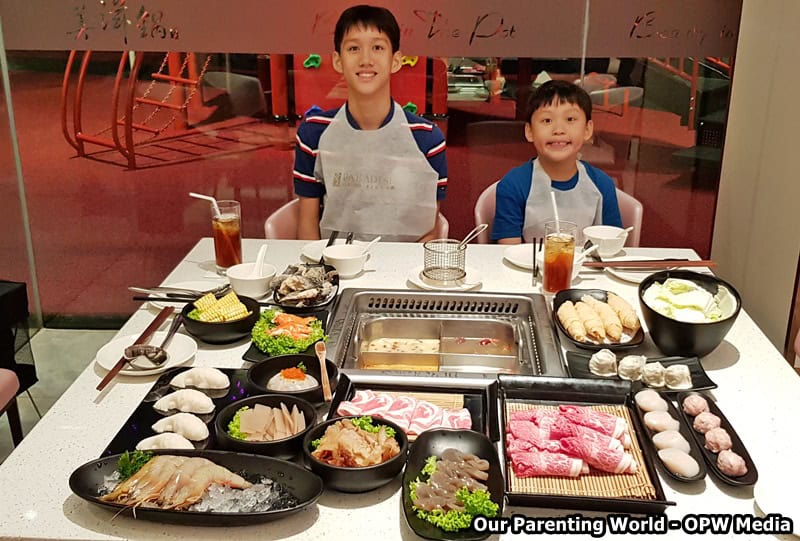 Beauty in The Pot offers a variety of fresh ingredients from meat and seafood to vegetables and noodles specially selected to match with the soups giving you the full rich and delectable experiences of enjoying a good hot pot. Some of the must-try items include Signature Homemade Fish Tofu, the smooth, soft and delicated tofu that is perfectly blended with yellowtail fish, soya bean and egg that comes for a secret recipe. Ebiko Prawn Paste that is shaped out of 100% prawn meat topped with ebiko to give the nice, juicy crunch and these are handmade daily. The Fried Beancurd Skin that is very crispy, you can either eat it on its own or soak in your favourite broth. If you like meatballs, try the juicy and tender, Soft Bone Pork Meatballs at S$5 for half portion; S$10 for full. The balls, specialty paste and dumplings are all made by hand.
We enjoyed dining at Beauty in The Pot, it is a great place to enjoy mouth-watering and flavourful hot pot meals, the kids can keep themselves occupied at the playground while the adults enjoy their meals. The selection of soups and ingredients are extensive and the services is impeccable! 
Beauty In The Pot at OneKM 
Venue: OneKM, 11 Tanjong Katong Road
#03-38 Singapore 437157 
Tel: +65 62848820
Opening Hours: 11:30am – 3:00am daily and last order 2:15am
Beauty In The Pot at The Centrepoint
Venue: The Centrepoint, 176 Orchard Road #05-15/16 Singapore 238843 
Tel: +65 62353557
Opening Hours: 11:30am – 6:00am daily and last order 4:30am