Singapore is definitely a food paradise, if you are a buffet lover, you would have heard of and or have already visited J65, the all-day-dining restaurant at Hotel Jen Tanglin. If you haven't, this is the best time to visit and satisfy your food cravings!
J65 has one of the best buffets in town and has recently revised their buffet dinner to five new weekly themed spread which include International nights to Asian flavours to Lobster frenzy to live barbecues and seafood galore. Each of the theme will have its own unique experience. Diners will be spoilt for choice with more variety, freshness, quality and taste from now till May 2017.  
Our Parenting World team visited J65 recently for its "Seafood Mania" theme which is held on Fridays and Saturdays.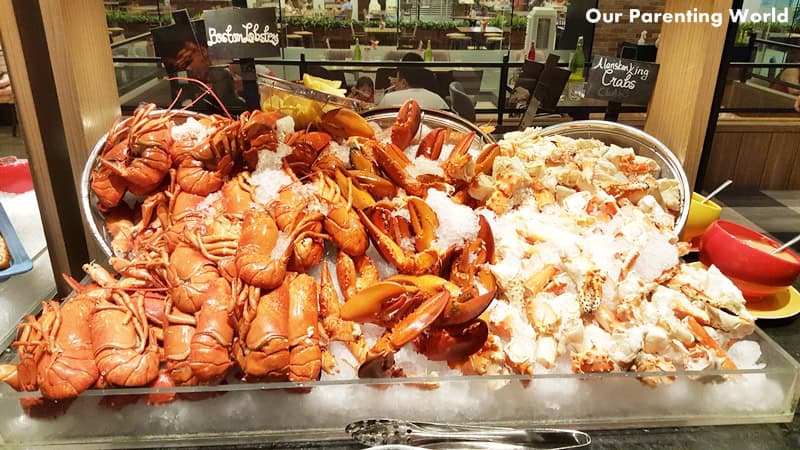 Boston Lobsters (L) and Alaskan King Crabs (R)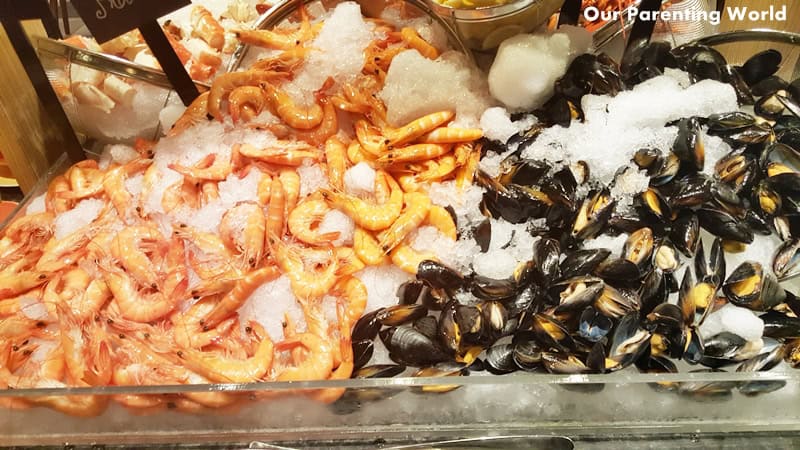 Fresh Prawns (L) and Mussels (R)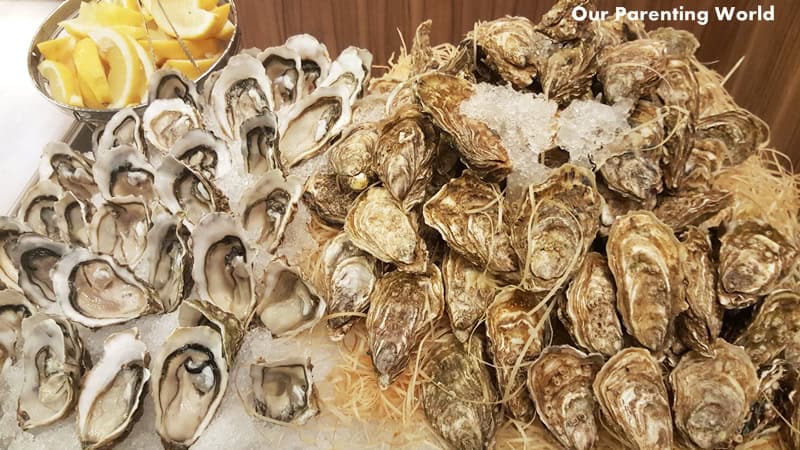 A solo station featuring fresh oysters from Australia
Heads up, Seafood lovers, J65's "Seafood Mania" buffet theme is a fantastic place to satisfy your cravings for seafood as it will offer you the freshest and wide selection seafood available for expensive seafood items like Boston Lobsters, Alaskan King Crabs, Oysters and more!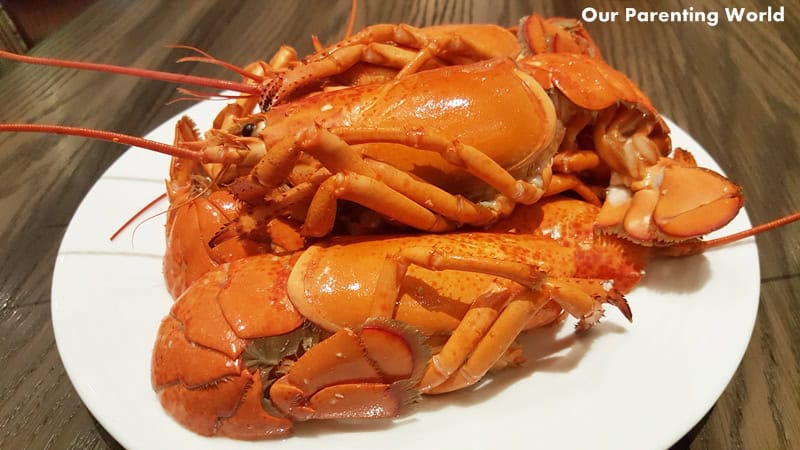 On the day of our visit, we can see that fresh seafood is very popular especially Boston Lobster, it is a lobster feasts for many! Majority of the diners have piles of the bright red juicy and plumb lobsters on their plates.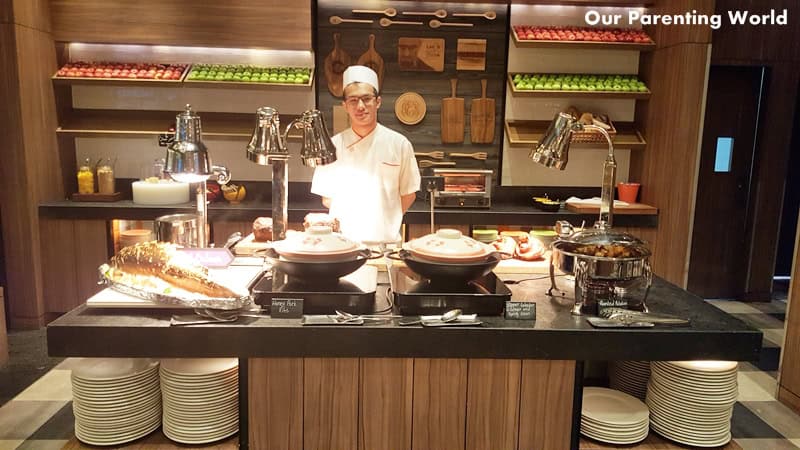 If you prefer hot food, you can visit the hot stations for delicious seafood prepared in many styles from Asian to Western. 
Baked Salmon is tasty and a healthy dish. The meat is incredibly tender and moist. 
Besides seafood, you can indulge in a wide variety of juicy and tender meat like Roast Beef, Pork Rib and Pork Knuckle.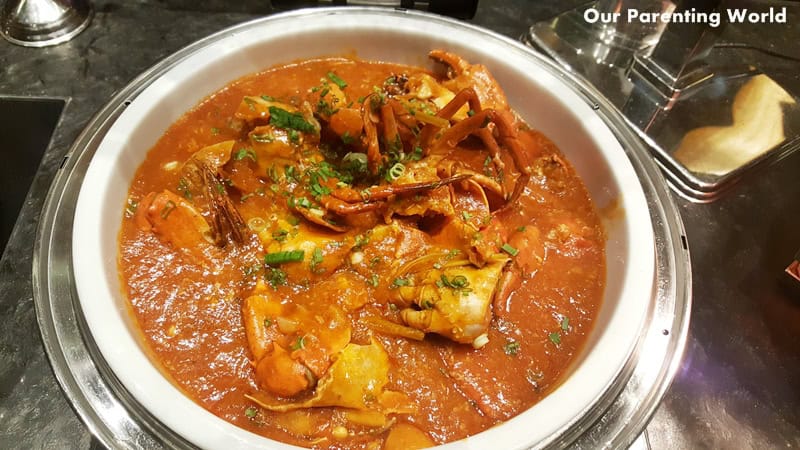 Singapore's Chilli Crab also widely reputed as King of all crab dishes and Singapore's famous crab dish. This chilli crab is definitely a must eat for seafood lovers. 
The crabs are stir-fried in garlic, ginger, shallots, tomato paste and chilli sauce. This is a savory and flavourful crab dish that you will usually enjoy and eat it with your bare hands.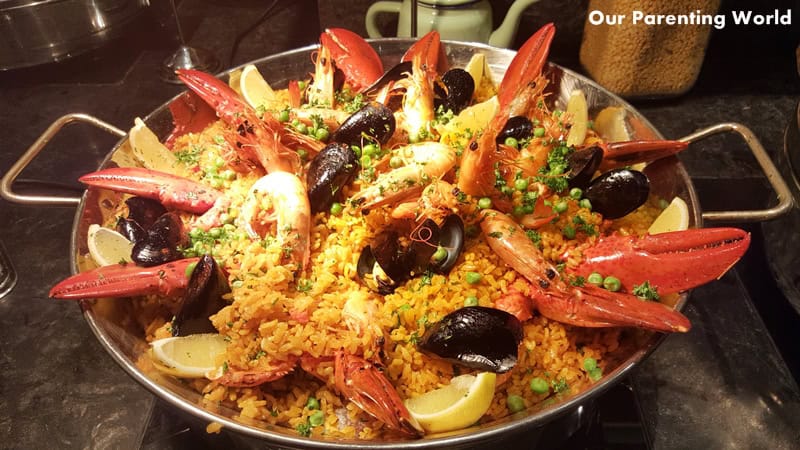 Another popular seafood hot dish is Seafood Paella that the restaurant has to replenish very often as diners often snapped up quickly. Seafood Paella is Spain's most famous rice dish. This dish is filled with various fresh seafood and the rice has absorbed the rich flavour from the seafood and is absolutely tasty!   
Have fun making your own rojak at the Rojak Station. 
Dig in to fresh, healthy and tasty salads!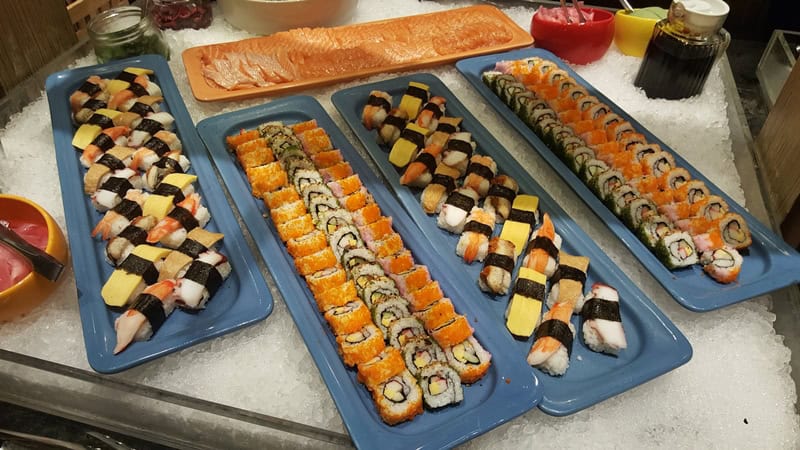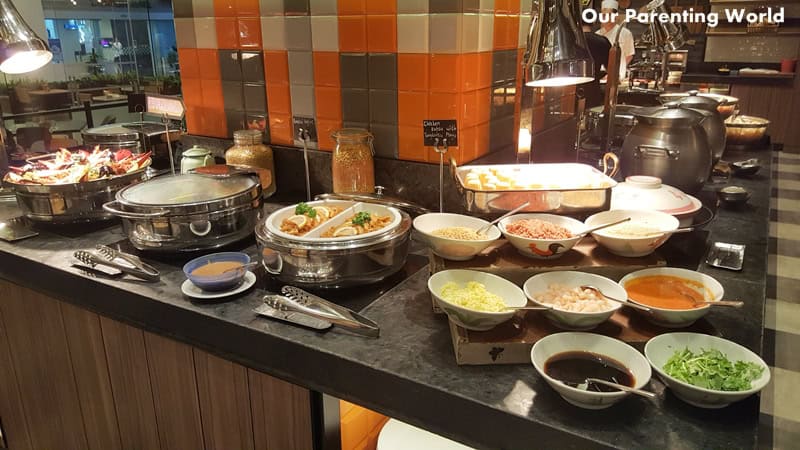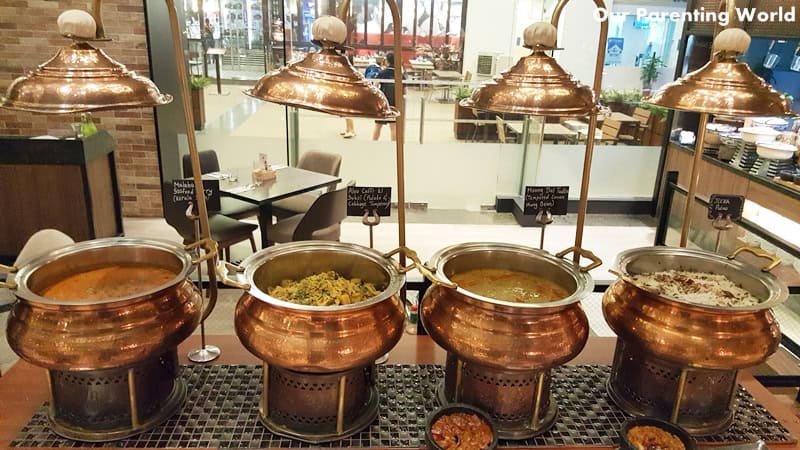 In addition to the Seafood theme, diners can enjoy an irresistible spread of International cuisines from Western, Japan, India, Chinese, Do-it-yourself stations like making your own kueh pie tee and more!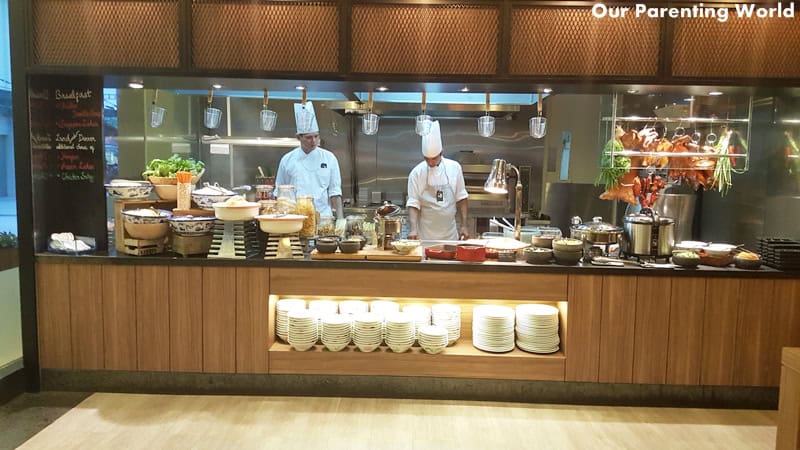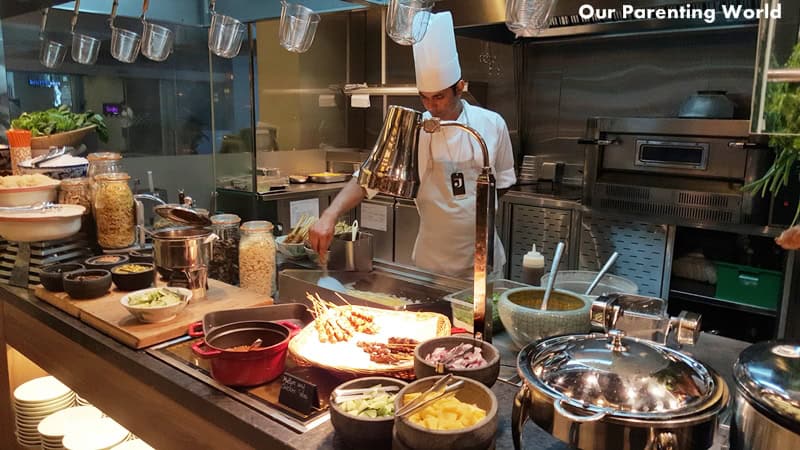 If you crave for noodles, roast meat and even locals favourites like satays, you can get them all at the buffet.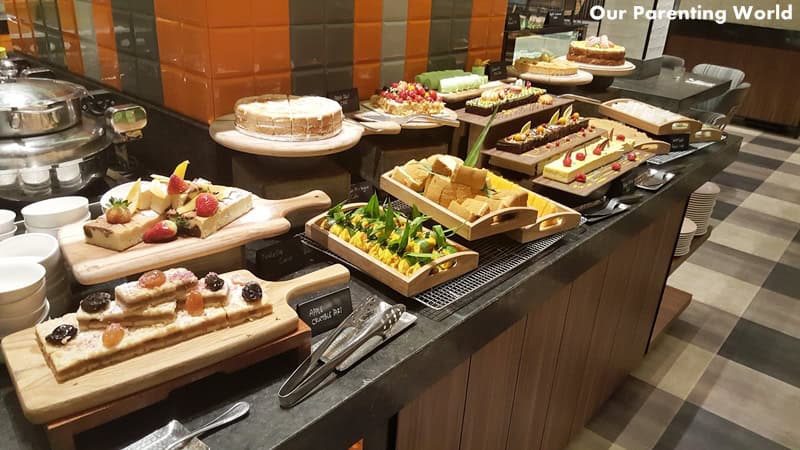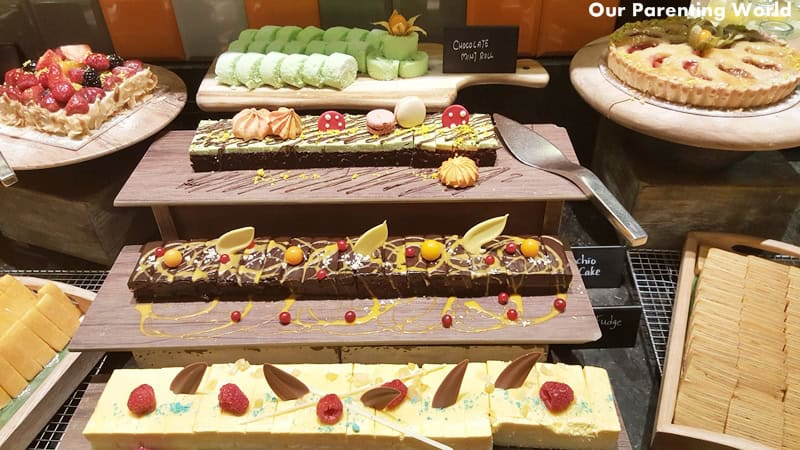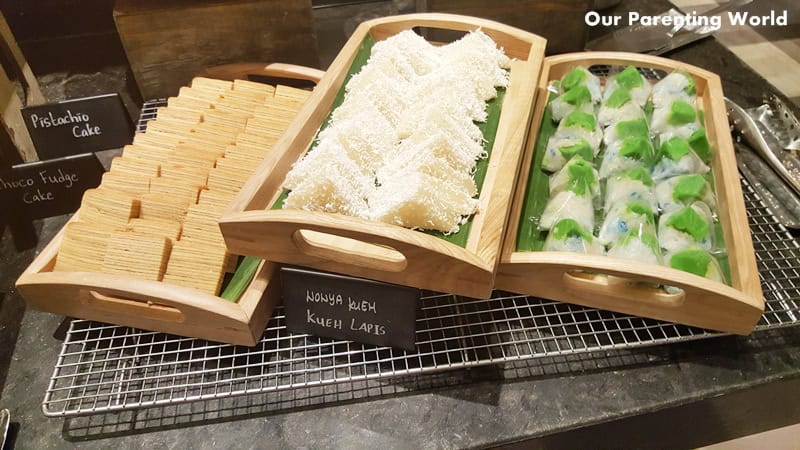 After a hearty meal, don't forget to leave some stomach space for desserts! Look at the delightful spread, it is a desserts haven filled with cakes, pastries, kuehs, fresh fruits, sweet soups like red bean soup and many more!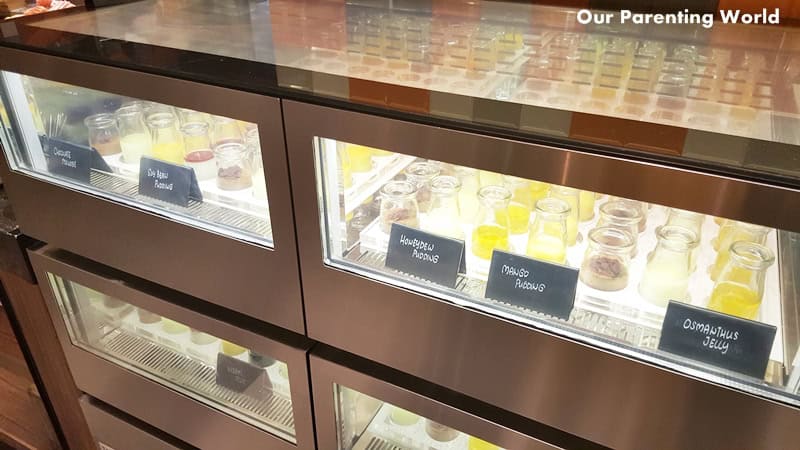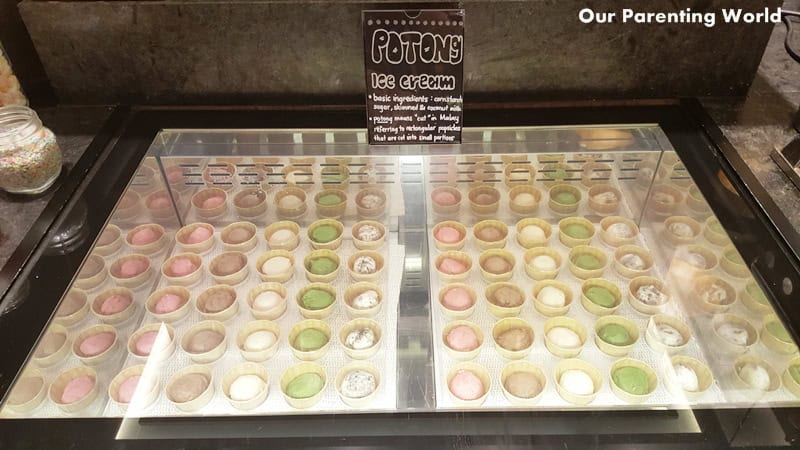 That's not all, there is still an extensive selection of jellies, puddings and ice creams. There are so many to choose from.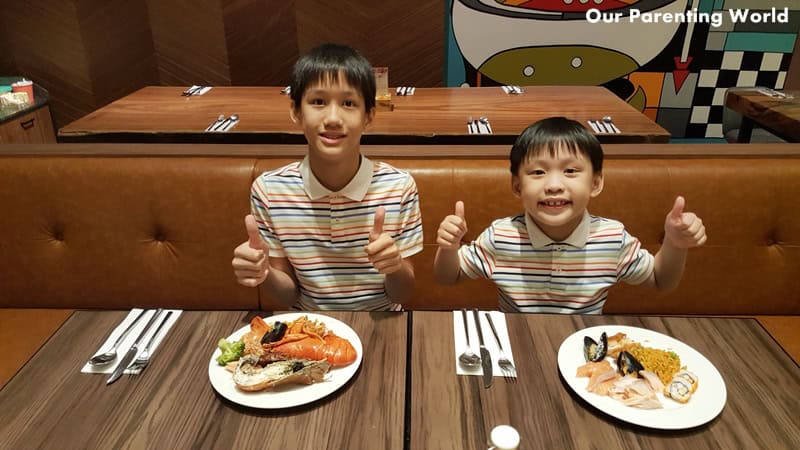 Thumbs up for the fabulous buffet with impeccable services! This is a paradise for food and seafood lovers! 
J65 is currently featuring its 5 theme buffets, full details as follows: 
Sundays and Mondays, enjoy the "International" Buffet. The spread comes with a generous selection of roasted prime beef ribs, pork knuckles and Virginia honey lemon ham, baked whole Norwegian Salmon and barbecued pork ribs. And on the mains discover braised herbal duck, roasted chicken, Kam Heong prawns, Kungpao Squid and a lot more. 
Tuesdays, look forward to the "Colours of Asia" Buffet with specialties from various Asian countries from home favourites to Malaysian, Indian, Sri Lankan, Chinese, Indonesian, Thailand and many more.  Don't miss the extended buffet at the alfresco (outdoor) stations of "Teh-Tarik", the live whirling and twirling of "Roti Canai" to indoor live-kitchen churning out Tandoors to Laksa and soups. On the main, look out for the Indonesian Oxtail rendang, Thai steamed fish and many more. 
Wednesdays, its "Lobster Rock-n-Roll" and it's all about Lobster from Boston Lobsters to Mountain Lobsters to Slipper Lobsters; everywhere and anywhere on the buffet from the ice bar for the natural flavour to the baked, curried, stir-fried, grilled, paella, etc from soups to salads to mains. 
Thursdays, it's the "Live Barbecue" night.  The alfresco stations is the barbecue pit for you to pick your favourite meats or seafood and not to miss the famous Korean Bulgogi of pork belly and beef ribs. On the buffet you will find a variety of hot dishes from Champagne pork ribs to Prawn Masala to Black Pepper Crab to name a few.
Fridays and Saturdays it's "Seafood Mania" as per our review as above.
Visit J65 for its fabulous and value for money buffets, all buffets are accompanied with a wide selection of salads and a tempting array of desserts both local and international. 
Daily Themed Buffet Dinner  
Sunday and Monday International Buffet 6pm – 9.30pm / SGD 55++ per person
Tuesday Colours of Asia 6pm – 9.30pm / SGD 55++ per person
Wednesday Lobster Rock 'n' Roll 6 – 9.30pm / SGD 65++ per person
Thursday Live Barbecue 6 – 9.30pm / SGD 65++ per person
Friday and Saturday Seafood Mania 6 – 10pm / SGD 65++ per person
The above themed dinners are priced competitively at SGD55++ per person from Sundays to Tuesdays and SGD65++ from Wednesdays to Saturdays. Enjoy special introductory discount when you book online via hoteljen.com/bookJ65.
For direct bookings please call 6831 4374.
J65 
Hotel Jen Tanglin Singapore, level 1
1A Cuscaden Road, Singapore 249716
Tel: (65) 6831 4374
Email: [email protected]