Ho ho ho … Christmas is coming! Stamford Catering has introduced new dishes just in time for you and your loved ones to enjoy and celebrate the festive season!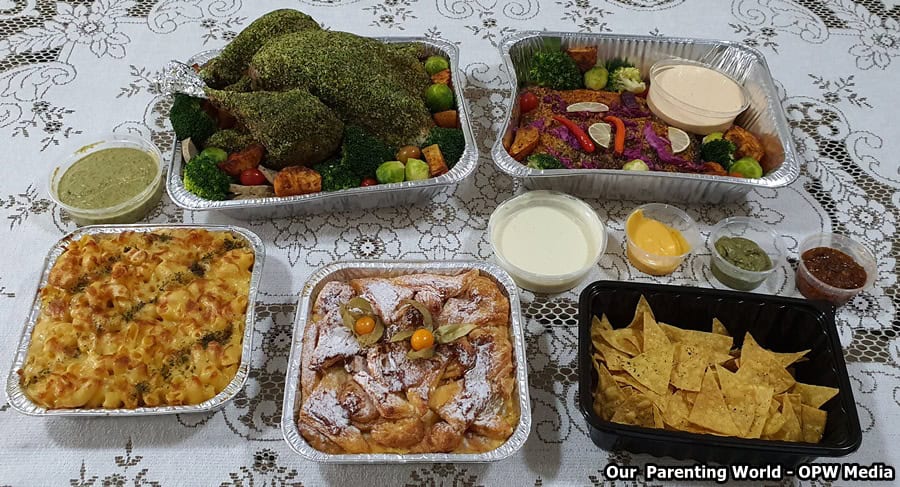 In this challenging year and with social distancing measures in place, many of us will be celebrating the festive season at home, preparing a sumptuous meal can be a stress-free affair with Stamford Catering. Thanks to Stamford Catering, we get to try out a delectable range of Christmas feast as follows: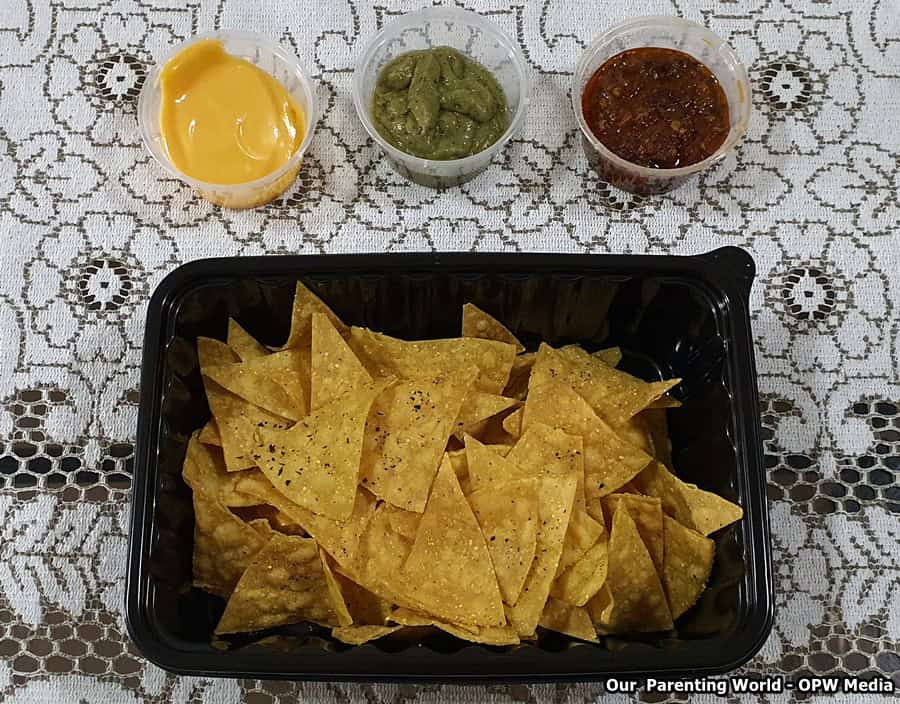 [NEW] Nacho Platter with Guacamole, Nacho Cheese & Chilli Chicken Dip – STARTERS 
First up, we have nacho platter as starters, it comes with three types of flavours consisting of Guacamole, Nacho Cheese & Chilli. We enjoyed munching on the crispy nacho and dipping on the ultimately irresistible sauces. 
The platter is available at $19+ for full portion and $10+ for half portion.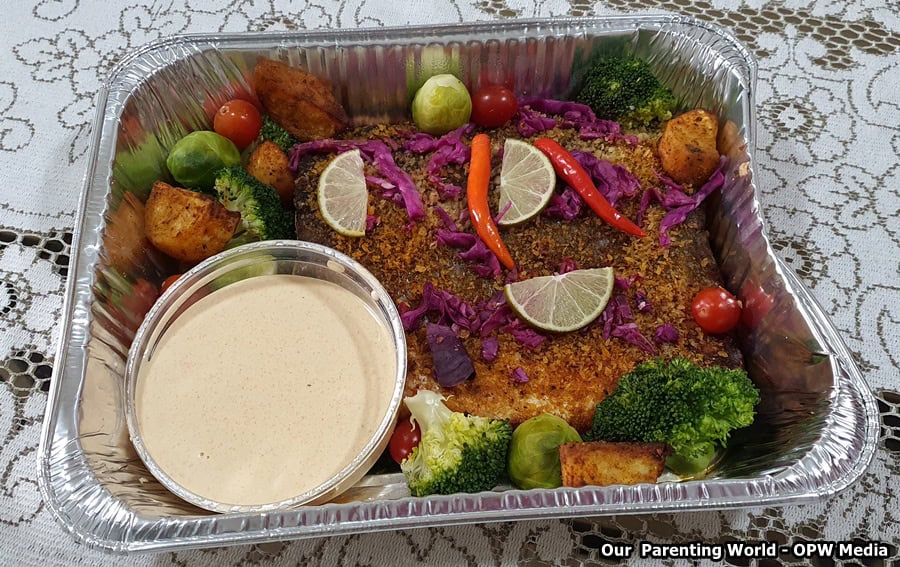 [NEW] Baked Honey Lemon Scented Whole Salmon Fillet with Chilli & Lime Cream – COMMUNAL DISH
The fresh whole salmon fillet is baked with a delightful crust on the outside and the meat is so tender, juicy and moist with added flavour of sweet, sour and spicy notes, making the salmon even more tasty! 
This dish is available at $99+ for 1.5kg and $58+ for 700g.
Triple Cheese Turkey Mac & Cheese (1kg) at $21.40
This pasta dish is baked with three types of cheese. Macaroni and cheese are the ultimate comfort food and we love every bite of the rich and creamy pasta.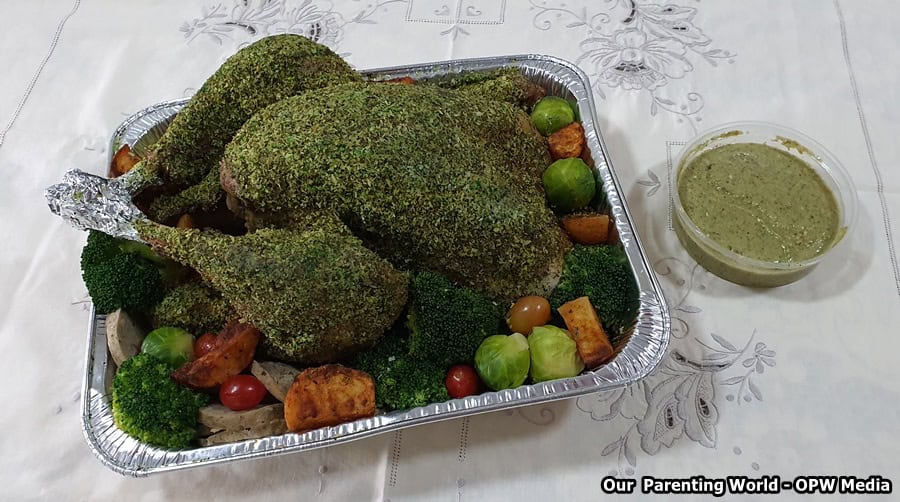 [NEW] The "Hulk" Herb Crusted Green Turkey – COMMUNAL DISH
This fabulous turkey is surely the highlight and centerpiece of the Christmas feast! The oven-baked turkey dish is uniquely different from others as it is given an Asian twist, this delicious turkey is infused and crusted with laksa leaves, coriander, lemongrass and spices making it so lip smackingly good!
This dish retails at $99+ (weighs 3.6kg – 4.5kg).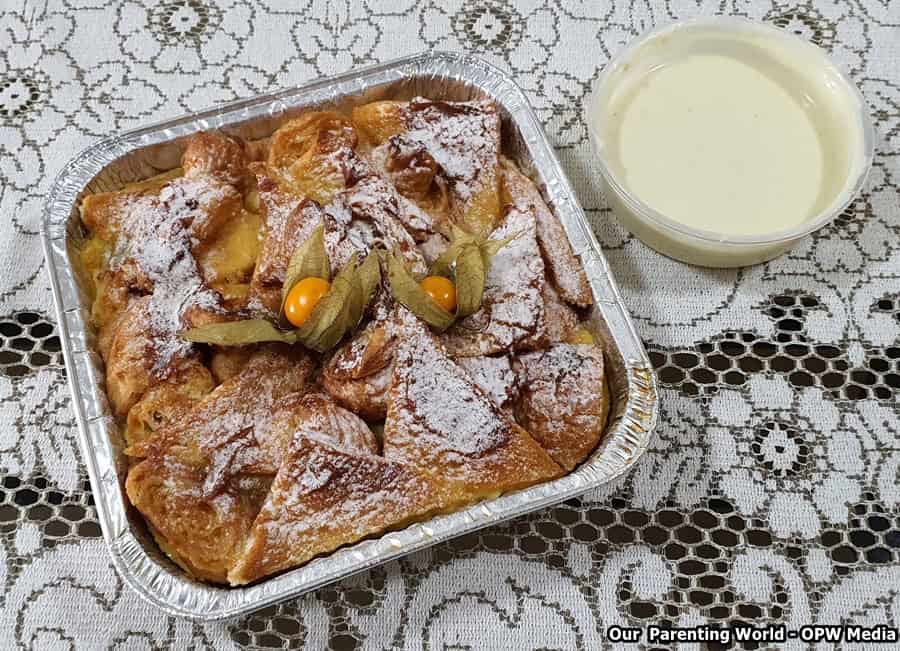 [NEW] Mao Shan Wang Durian Bread & Butter Pudding with MSW Cream – DESSERT
Durian lovers are going to jump for joy with this classic English dessert that has been turned into a local dessert delight with generous fillings of creamy and aromatic Mao Shan Wang. 
This dessert is available at $69+ for 2kg and $35+ for 1kg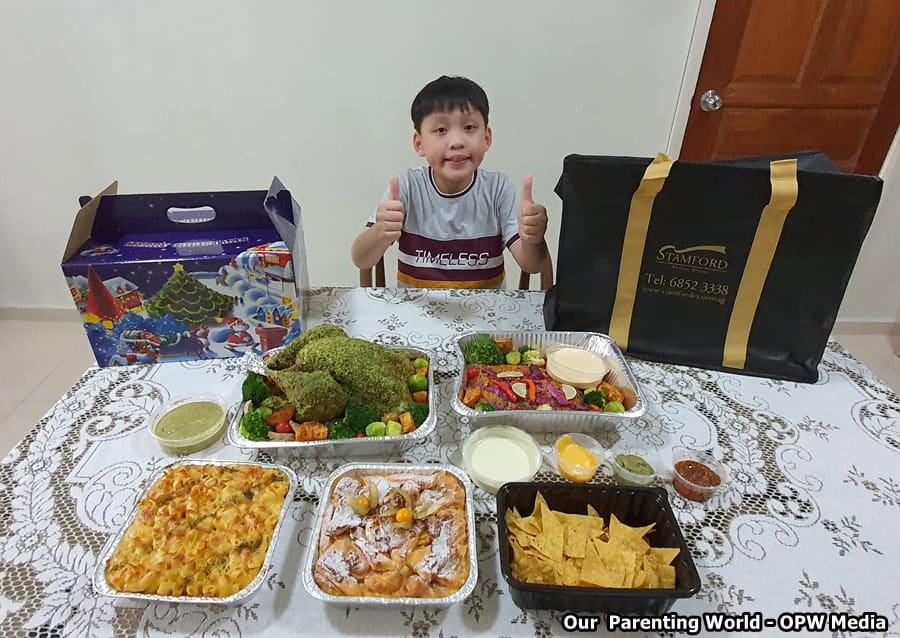 Thumbs up for this absolutely mouthwatering sumptuous Christmas feast! Now preparing for Christmas feast is made fuss-free with Stamford Catering and we can have an impressive and enjoyable meal together with our family to celebrate this joyous festive season!
This festive seasons, Stamford Catering launches nine new dishes for their Christmas 2020 menu which include "Hulk" Herb Crusted Green Turkey and Mao Shan Wang Durian Bread & Butter Pudding with MSW Cream. Stamford Catering cares and caters to different party needs and budgets, offering 3 mini feasts, 3 mini party sets, 3 bento boxes, 6 bundles and 23 sides dishes for you to choose from to create an unforgettable experience! 
Mr Vincent Tan, Managing Director of Select Group announced that "With close to 30 years of catering experience in Singapore, we understand the needs of customers to tailor our menu for family of different sizes and budgets. Loyal and new customers can look forward to new menu creations that we introduce every year to delight their tastebuds. This year, we introduced the festive Bento boxes ideal for office celebrations where social distancing is still required in the workplace."
Additional Information:
Christmas Bundles 
Enjoy time and cost savings with bundle deals that consist of must-try items picked out of the 23 side dishes. Each of the six bundles consists of four dishes and come in four prices at $68+, 88+, $168+ and $268+. For hosts who wish to impress gastronomically and visually at the dinner table, the $268+ menu include highlights such as The "Hulk" Herb Crusted Green Turkey and Baked Honey Lemon Scented Whole Salmon Fillet with Chilli & Lime Cream.
Bento Sets
Celebrating Christmas in the office is now convenient with Stamford Catering's bento boxes! These bento sets are individualised portions of the Frosty, Jovial and Yuletide menus and come complete with proteins, carbs, vegetable and also dessert! Definitely a scrumptious meal of festive goodness to bring a smile to every staff.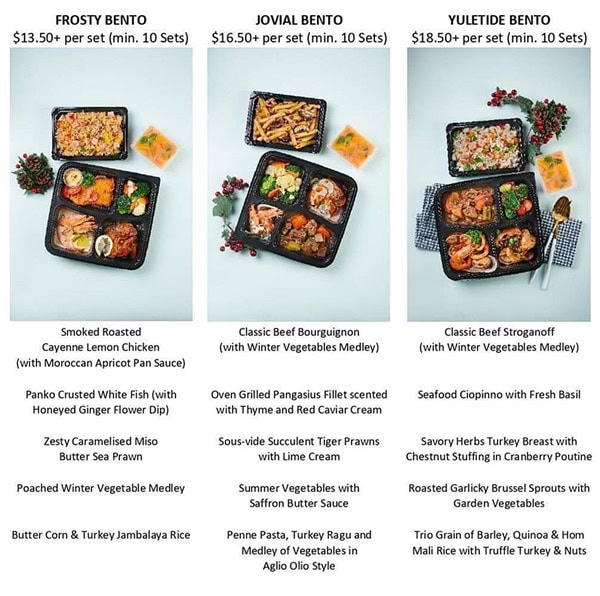 Mini Feasts and Party Sets  
Catering to families of different sizes, the Frosty, Jovial and Yuletide options offer a dizzying array of elegant gourmet dishes that will earn a *chef's kiss* even from the most discerning palate!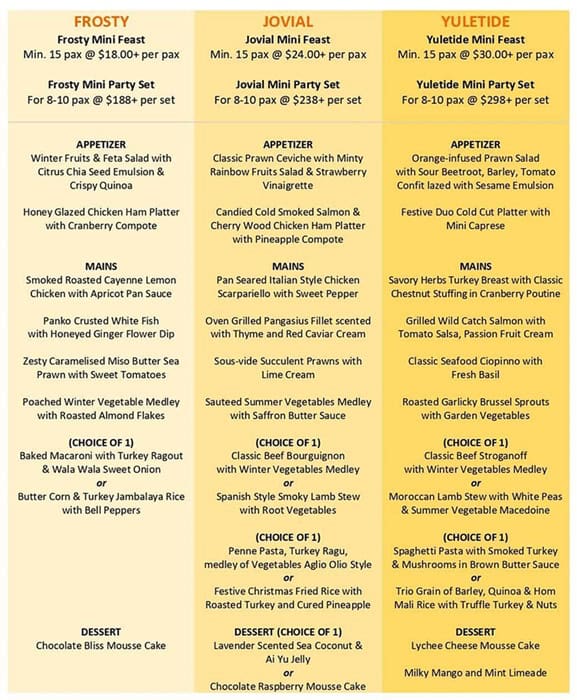 Stamford Catering's 2020 Christmas menu is available for order now at www.stamfordcs.com.sg, or you may contact their customers service at 6852 3338 or [email protected]. Enjoy and Happy Feasting!