Calling foodies especially if you love Taiwanese food, now is your opportunity to indulge in the diverse and tantalising 'Tastes of Taiwan' Buffet at Peppermint's all-you-can-eat-buffet at PARKROYAL COLLECTION Marina Bay!
Peppermint's Chef de Cuisine Leon Yee has collaborated with the newly appointed President of Taiwan Chefs Association Chef Alan Ho to present a dynamic rotating selection of over 40 iconic Taiwanese dishes consisting of Taiwanese classics and popular street food, complementing Peppermint's international buffet offerings from 6 October until 12 November 2023.
This collaboration signifies a significant milestone for Chef Alan, as it marks his inaugural international showcase following his appointment as President of the Taiwan Chef Association in early 2023. It is truly an honour for Chef Leon and his Culinary Team to partner with Chef Alan in presenting his culinary expertise beyond the borders of Taiwan. Chef Alan possesses a wealth of knowledge and a profound cultural insight into Taiwanese cuisine, cultivated throughout his extensive career in the food and beverage industry. His experience encompasses roles as a culinary consultant at prestigious five-star establishments, executive chef positions at renowned hotels, participation as a judge in culinary competitions on the international stage, and teaching at esteemed Taiwanese universities. Currently, he oversees the Ministry of Taiwan's Labour Skills Certification in Western Cooking, serves as the Associate Chairperson of Jinwen University of Science and Technology in the Department of Food & Beverage, and holds the esteemed title of Worldchefs Certified Continental Judge.
Experience his interpretations of authentic Taiwanese classics and beloved street food, all of which will be presented alongside Peppermint's renowned international buffet offerings. 
Highlights of the buffet as follows: 
Indulge in the culinary creations of Taiwanese delicacies cooked up by the President of the Taiwan Chefs Association. The Chicken Rice Stall has been transformed into a Taiwanese Rice Stall, where you can savour Taiwan Lou Rou Fan – a hearty rice dish topped with soy sauce, complemented by a braised egg and pickles. Additionally, relish the Taiwanese Chicken Pearl Rice, a premium variation of the beloved chicken rice, using top-quality pearl rice.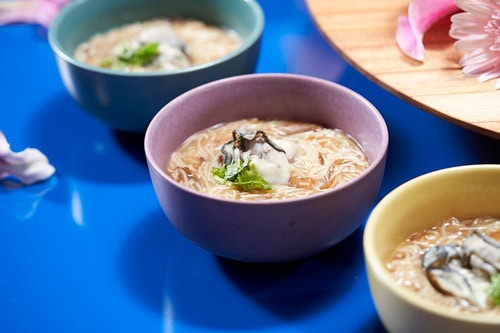 The perennially popular Oyster Mee Sua is available every day, don't miss it! This wheat vermicelli is expertly prepared to a delightful tenderness and served in a rich bonito-flavoured, egg-thickened soup. The umami notes are elevated by the inclusion of succulent, plump oysters, and a house-made chili sauce is available for those who prefer an extra kick.
These timeless dishes are presented alongside the culinary delights of Taiwanese aboriginal tribe cuisine, creating a diverse and flavourful gastronomic experience. Enjoy the aromatic Tribal-Style Roast Chicken with its smoky flavours, the sweet and succulent Seafood Cooked in Bamboo Tube, the tender and fragrant Hot Stone Grilled Fish, the umami-rich Cuttlefish Ink and Fish Roe Sausage, the irresistibly crispy Mini River Crab, and the succulent Roasted Whole Lamb Leg.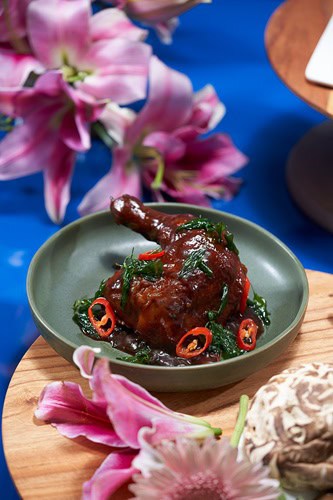 Satisfy your street food cravings with a selection of Taiwanese night market signatures that will transport your palate to the bustling streets of Taiwan. From the tantalising Flamed Charred Marbling Beef to the savoury Grilled Spiced Cuttlefish, from the flavourful Black Pepper Chicken in a Sesame Bun to the exquisite Black Angus Beef Gua Bao, and from the delightful Egg Pancake with Chicken Floss to the mouthwatering Grilled Chicken Skewers, Crispy Enoki Mushrooms, and Grilled King Shitake Mushrooms — these delightful treats capture the spirit of Taiwan's dynamic street food culture.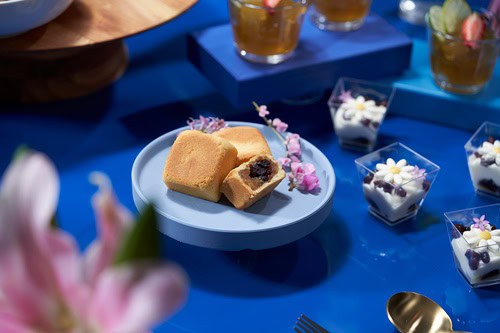 Conclude your meal on a sweet note with traditional favourites, like Taiwanese Castella Cake, Sun Cake, Brown Sugar Soya Milk with Mochi, and the refreshing Aiyu Jelly with Lime.
Complementary to Peppermint's international buffet offerings
Chef Leon's and Chef Alan's Taiwanese creations will be bolstered by equally exciting international  offerings that are a fixture at Peppermint. The Seafood Island continues to brim with fresh seafood on ice, from oysters and scallops to crabs and prawns, while the Japanese Station slices up sashimi galore alongside  seasonal  sushi dependent on the catch of the day. Help yourself to the Salad Bar for crisp greens, tossed in a variety of dressing, as well as the Bread and Soup Counters for heartwarming sips and dips from all corners of the globe.
The 'Tastes of Taiwan' at Peppermint is priced at:
Weekday Lunch (Mondays to Fridays, excluding public holidays, 12:00pm to 2:30pm)
SGD68++ per adult and SGD34++ per child (6 to 12 years old)
Weekday Dinner (Mondays to Thursdays, excluding eve of public holidays and public holidays, 6:30pm to 10:00pm)
SGD98++ per adult and SGD49++ per child (6 to 12 years old)
Weekend Lunch (Saturdays, Sundays and public holidays, 12:00pm to 3:00pm)
SGD78++ per adult and SGD39++ per child (6 to 12 years old)
Weekend Dinner (Fridays to Sundays, eve of public holidays and public holidays, 6:30pm to 10:00pm)
SGD108++ per adult and SGD54++ per child (6 to 12 years old)
'Terms and Conditions apply.
Peppermint
Venue: PARKROYAL COLLECTION Marina Bay, Singapore
Level four
6 Raffles Boulevard, Singapore 039594
Opening Hours Lunch:
12:00pm to 2:30pm (Mondays to Fridays)
12:00pm to 3:00pm (Saturdays, Sundays and Public Holidays)
Dinner
6.30pm to 11:00pm (Daily)
Reservations Tel: 6845 1111
Email: [email protected]
Website: https://bit.ly/Peppermint-sq
Nearest MRT: Esplanade Station (CC3)