Where can you dine in Singapore with a spectacular view? 
One Faber Group's Arbora Hilltop Garden & Bistro located at Faber Peak, one of the leading hilltop destinations in Singapore, offers diners a hilltop garden dining concept surrounded with lush greenery. The family-friendly restaurant offers a selection of classic western dishes, botanical-inspired beverages with spectacular views of the rainforest hillside. It now comes with a refreshed family-friendly menu selection that is great for the whole family to enjoy and have a great day out!
Here's the highlights of some of the delectable dishes from the refreshed family-friendly menu as follows: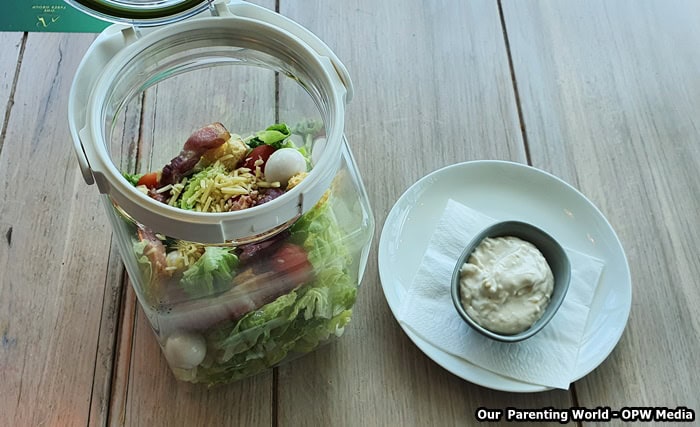 CAESER SALAD (IN A JAR) ($15++)
This is a classic favourite consisting of chicken, bacon bits, quail eggs and croutons served on a bed of crisp romaine lettuce, with salad dressing on the side. The kids have fun putting the creamy dressing on the salad and toss the ingredients in the jar by shaking it.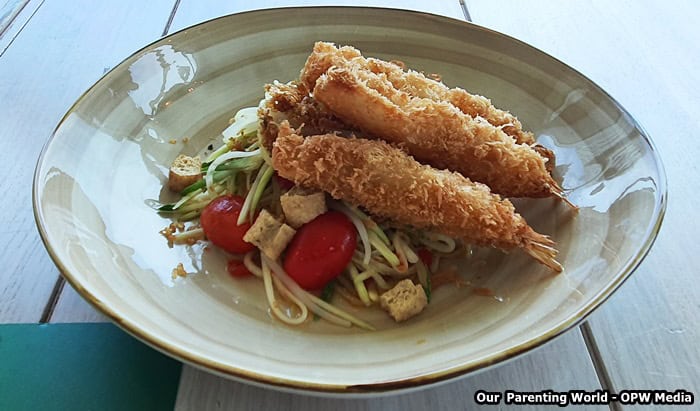 ARBORA ROJAK ($16++)
This interesting dish consists of thin slices of green mango, papaya with bean sprouts, tofu puffs and cucumber topped with fried ebi prawns. This an Arbora-only twist on our favourite local salad, rojak.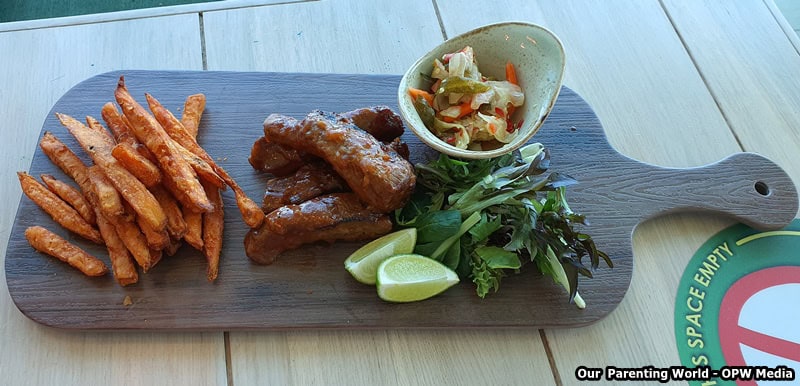 PINEAPPLE-GLAZED PORK RIBS ($28+)
This juicy and succulent pork ribs have been marinated in pineapple puree and tomato sauce for 4 hours that enables the fruits' naturally acidic properties to fully tenderise the meat, the ribs are then steam-baked in a combination oven. The delicious ribs have been browned under a grill for added depth to the flavour and served with spiced sweet potato fries at the side.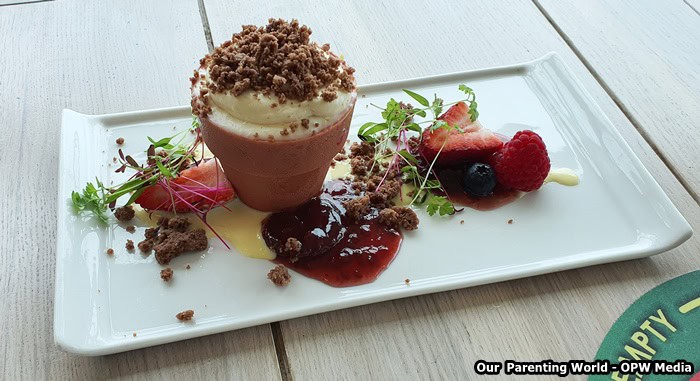 FLOWER POT SURPRISE ($16++)
This beautifully presented dessert is a treat to all your five senses and what's more, all the items presented on the plate is edible including the miniature milk chocolate flowerpot filled with rich lemon cream topped with cookie crumble, comes with sweet chocolate, cookie and berries at the side. Our kids love this yummy dessert!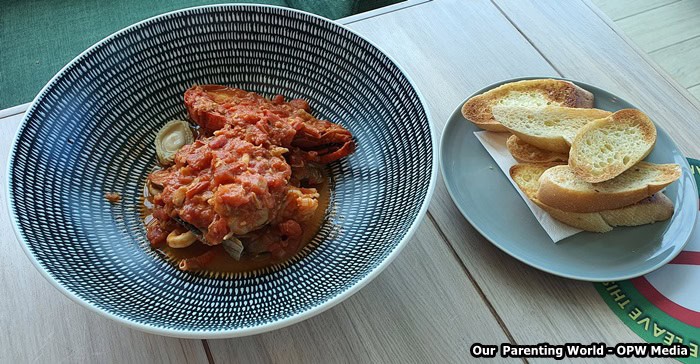 FISHERMAN'S STEW $32++
If you are a seafood lover, you will love this dish that is filled with the treasures from the sea like Abalone, Scallops, Squid, topped with tomato pronto sauce that is good for two. Flavourful Garlic Toast served at the side.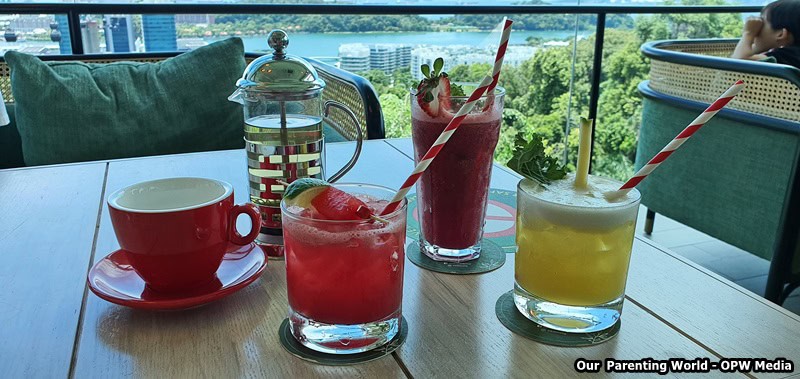 Refresh and quench your thirst with the range of curated teas and botanical concoctions like Arbora Singapore Dream Tea ($6++ a pot), and the two new botanical concoctions; the Botanic Pineapple Boost ($12++) and the Botanic Watermelon Boost ($12++). 
Family Combo
Families dining at Arbora can look forward to purchasing a Family Combo, complete with two adult
mains and up to two children's meals.
Types of combo:
Family Combo 1 ($58++), includes the following:
• 2 adults mains
• 1 kids main
• choice of side/dessert
Family Combo 2 ($68++) includes the following:
• 2 adults mains
• 2 kids mains
• choice of side/dessert
Diners also have the option to upgrade their combos with premium mains or sides.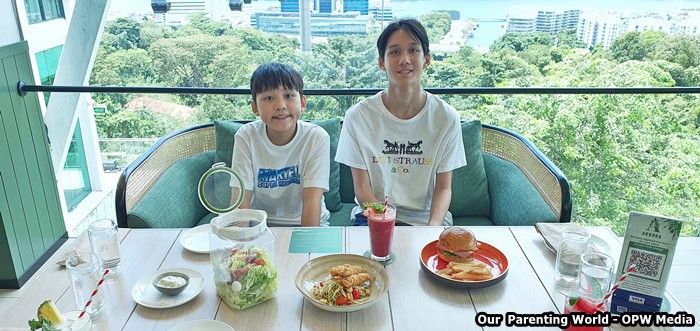 Arbora Hilltop Garden & Bistro is a wonderful place to chill out with your family and have an awesome meal together. You can indulge in fresh botanical-inspired dishes by Executive Chef Kenny Yeo and a curated beverage list by F&B Manager Mohamed Yazid and enjoy a panoramic view, 100m above sea level!
Additional Information:
Arbora has updated their kids' menu with a wider variety of choices, and even provides a kid's menu activity sheet with food-safe colour pencils that will keep them entertained till their meals arrived.  The whole family can also get together and ring Poland's Bells of Happiness at the Arbora Garden to bring blessings of joy or make a wish and hang a wishing bell on the bridge just outside the restaurant.
Affordable Lunch Dishes Catered for Local Tastebuds
Looking to elevate your lunch hour? At just $12++, Arbora's lunches provide not just a tasty, walletfriendly meal, but also comes with a natural alfresco setting featuring panoramic views to take a break in. Catered to local tastebuds, the selection includes local favourites such as the Chicken Biryani Set, Bak Kut Teh, Prawn Hokkien Mee, Singapore Laksa, and Curry Chicken with Roti Prata, along with regional delights like the Teriyaki Salmon Don, Beef Hamburg Don and Chicken Somen. These will be offered on a revolving menu of four dishes weekly, so there will always be something new to try.
PEAKnic at Mount Faber
Available till 28 November, guests will be able to purchase the Arbora PEAKnic Set ($78). A picnic set packed with classic comfort food like Roasted Potato Salad, Cheese and Mixed Berries, and Homemade Meatball Burger with Tuscan Tomato Sauce. Great for up to three persons, the set needs to be ordered online with Arbora at least one day in advance. With zero food preparation required, it even comes with a free picnic mat, so you can focus on picking the perfect picnic spot at Mount Faber.
Good Old Days (GOLD), One Faber Group's family-friendly Halal-certified restaurant in Sentosa, will
also offer the GOLD PEAKnic Set ($48) featuring local favourites such as Ayam Masak Merah and Chicken Biryani Rice. GOLD is located near the Beach Station and Wings of Time, easily accessible via the Sentosa Express or Shuttle Bus.
One Faber Group on GrabFood and Deliveroo
Want to enjoy One Faber Group signature dishes from the comfort of your own home? Whether you're craving Chili Crab Potato Skins from Arbora Hilltop Garden & Bistro or the Tiger Prawn Capellini from Dusk Restaurant & Bar, get your fix by finding us on GrabFood and Deliveroo now! Plan a stay-home date night and feast on exclusive combo meals perfect for two.
One Faber Group's Mastercard Promotions
Pay online with Mastercard to enjoy 30% off Cable Car Sky Pass and a complimentary Arbora Cake
Set* (U.P $12++). The set includes a hot tea or coffee with a slice of cake. Choose from a variety of cake flavours like Gula Melaka Jackfruit or Pandan Coconut.
*Limited sets available.
Dining with a Peace of Mind
To allow guests to dine with a peace of mind, One Faber Group has implemented a series of enhanced hygiene and safety protocols at Arbora, a SG Clean certified F&B establishment, These include the provision of disposable mask bags for guests to store their masks while dining, plastic wrapping of cutlery to prevent contamination and QR code menus through which diners will be directed to a digital menu.
For a full list of safety measures implemented across One Faber Group's attractions, F&B outlets and retail offerings, please visit www.onefabergroup.com/covid19.
Reservations
Diners are encouraged to make a reservation in advance, please go to https://www.onefabergroup.com/arbora or call +65 6377 9688.