Pilot Pen introduces the next chapter of its green journey and eco-friendly efforts, the new Pilot Biomass Series which features pen barrels partially made from raw materials from plants.
The new Pilot Biomass Series is made with a carefully calibrated combination of biomass plastics using raw materials from plants. The series is available in Pilot Pen favourites such as the FriXion Clicker (with 16.7% biomass plastic) and the Acroball pens (with 15.1% biomass plastic). In addition to being eco-friendly alternatives to regular pens, the Pilot Biomass FriXion pen boasts FriXion's revolutionary thermo-sensitive gel ink that disappears with friction, making erasing and rewriting smooth and easy. On the flip side, the Pilot Biomass Acroball pen is all about its smooth low viscosity ink for incredibly effortless writing, making it a firm favourite amongst ballpoint pen lovers.
With the Pilot Biomass Series, Pilot Pen hopes to create greater awareness about the rapid depletion of fossil fuels, and also encourage consumers to be a part of its green journey by choosing its eco-friendly writing instruments to make a positive environmental impact! 
Encased in a white pen barrel with a soothing pale green rubber grip reminiscent of plants, the Pilot Biomass Series was intentionally designed with a clean and minimalist look, alongside a sleek body and ergonomic rubber grip to ensure maximum comfort when writing. The pens are refillable (in black, blue, green, black-blue, violet, pink and red ink and the Pilot Biomass Acroball is refillable in black, blue, green and red ink) and available in different nib sizes – 0.5mm for the Pilot Biomass FriXion (black ink only) and in 0.5mm and 0.7mm for the Pilot Biomass Acroball (black ink only).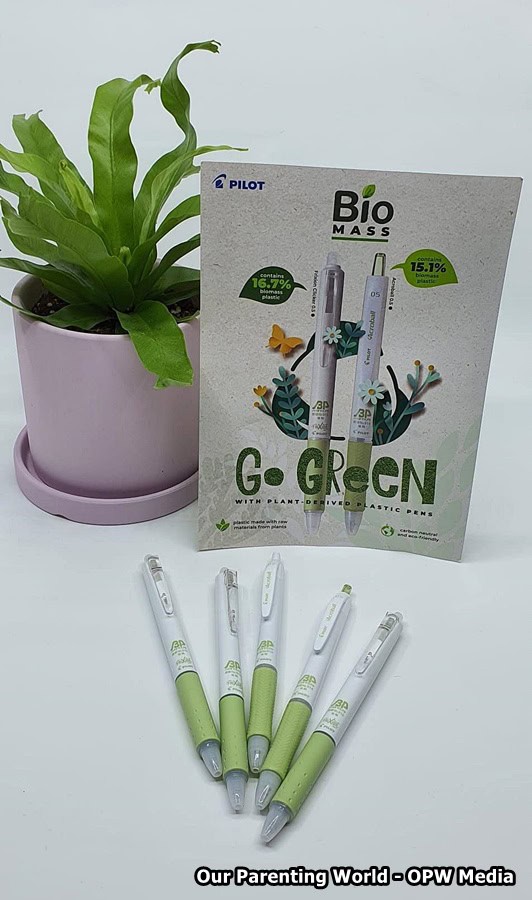 The Pilot Biomass FriXion pen retails at S$3.25 (with GST) each and the Pilot Biomass Acroball pen retails at S$2.15 (with GST) each. Choose green, choose conscious – the new Pilot Biomass series is available at all Popular bookstores and on Pilot Pen Singapore's e-store.