Fans of Hello Kitty, Goodnews!
Hello Kitty in Oz has launched in SANRIO HELLO KITTY TOWN located at Puteri Harbour, Johor. Our Parenting World team checked out the latest themed attraction at SANRIO HELLO KITTY TOWN.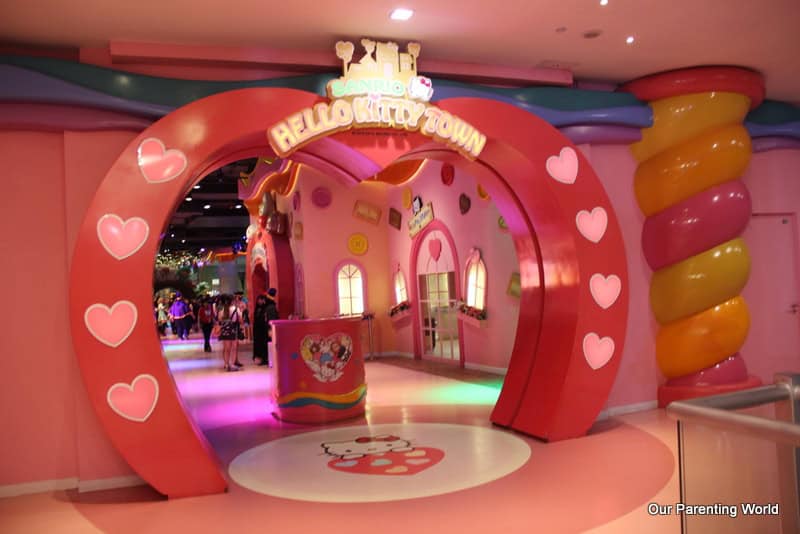 For visitors residing in Singapore, you can travel to the venue from Tuas gateway to Johor which will take about 20 minutes depending on the traffic.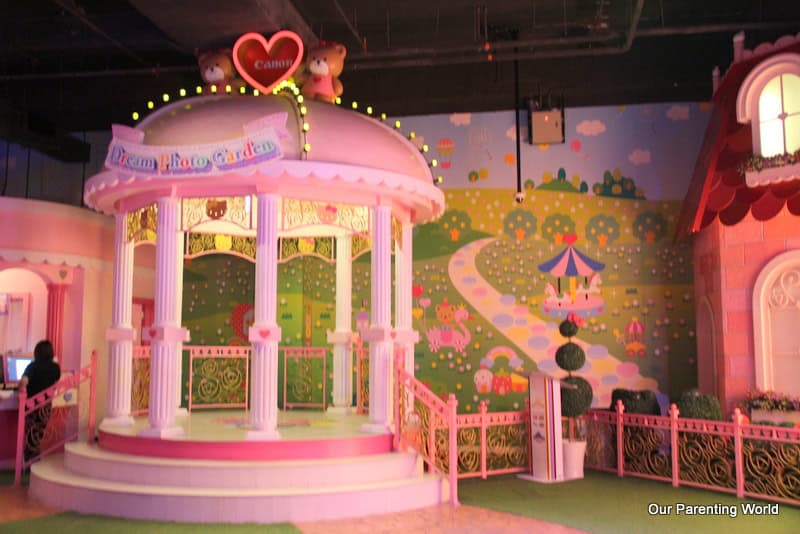 Upon entering SANRIO HELLO KITTY TOWN, we are greeted and amazed with the beautiful and dreamy place and we can't wait to explore it.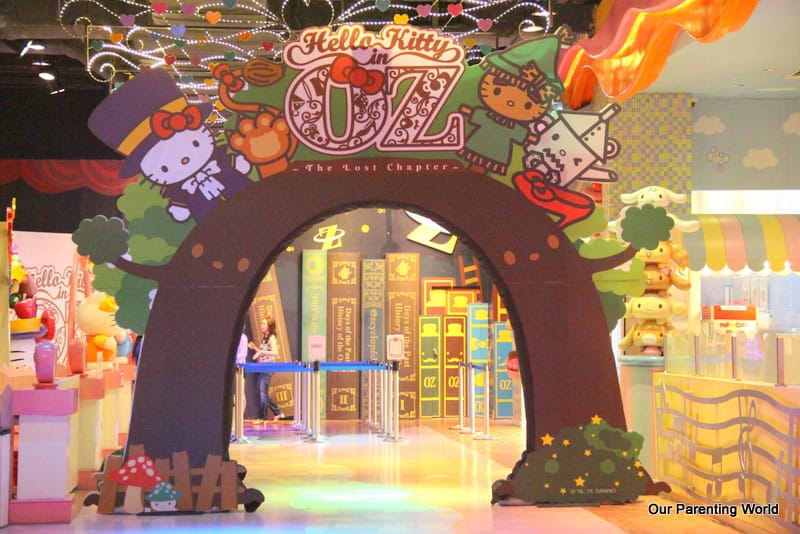 Our team together with media friends from Singapore and Malaysia have a first hand experience of the latest themed attraction, Hello Kitty in Oz during the media preview. All of us are excited to meet the lovable Hello Kitty and her friends and to embark on a magical journey in Oz.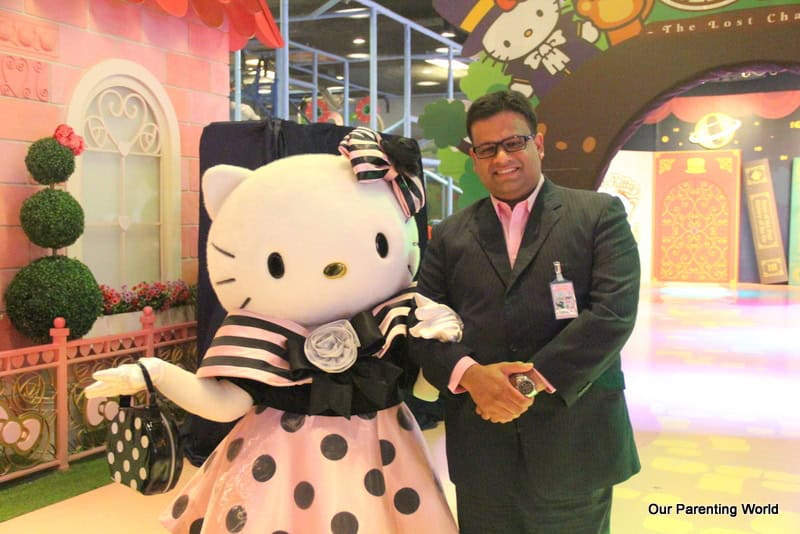 Fahruddin Najumudeen, General Manager of SANRIO HELLO KITTY TOWN (R) together with the adorable Hello Kitty (L).
SANRIO HELLO KITTY TOWN at Puteri Harbour, Johor is the first themed attraction in the world outside of Japan since it first opened the doors in 2012. 
Fahruddin Najumudeen, General Manager of SANRIO HELLO KITTY TOWN said "I am very honoured and thrilled that Hello Kitty in Oz is finally here at Sanrio Hello Kitty Town. The Wonderful Wizard of Oz is a timeless classic that has brought joy and magic to countless lives and to have it adapted to Hello Kitty is something that we can truly celebrate. This will be a permanent addition to Sanrio Hello Kitty Town and I am sure this will be an experience that will excite children and adults alike, as this is the only Hello Kitty in Oz attraction in the world."
Yes, indeed, we are excited and can't wait to start our exploration!
Hello Kitty in Oz takes place after Dorothy defeats the Wicked Witch and returned home. There has been widespread rumours that the Land of Oz is ending and Hello Kitty, the Great Wizard of Oz is very worried.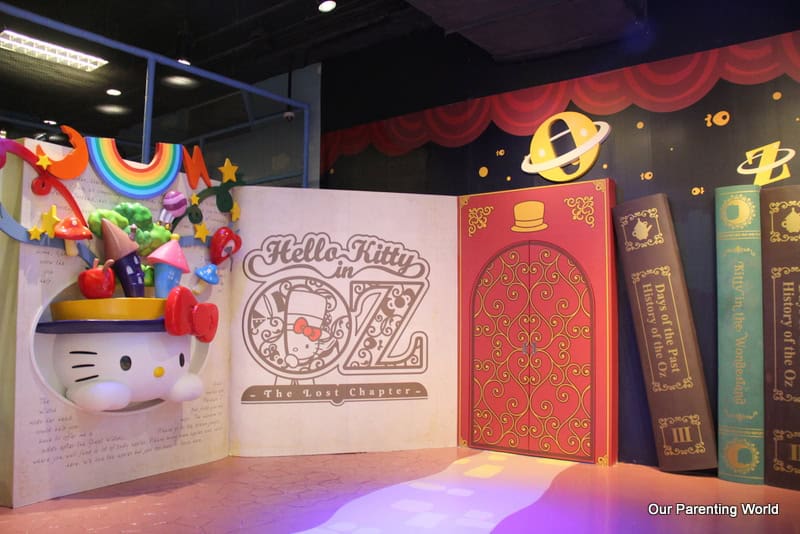 In a decision made with a heavy heart, she removes a chapter from the Great Book of Oz hoping to change the ending. However, her actions had proved to be detrimental as the Emerald City Machine malfunctions, as a result, Oz was plunged into chaos.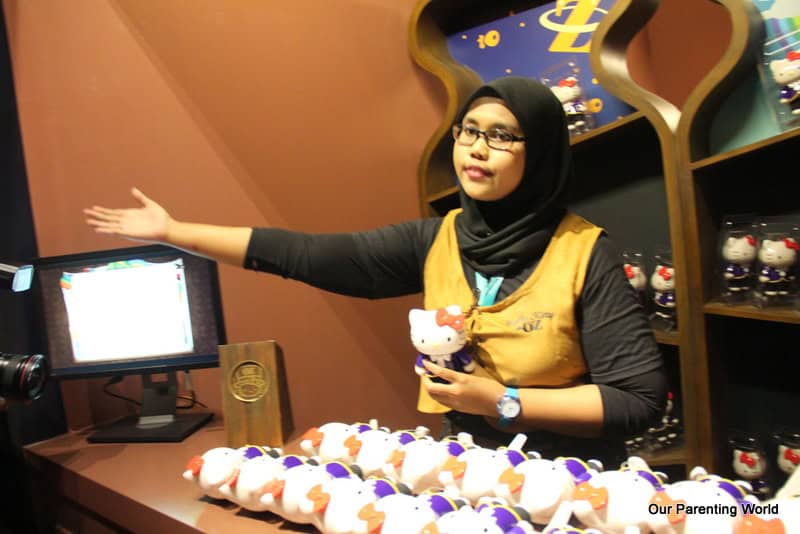 To help Dorothy, together with her friends, the Scarecrow, the Cowardly Lion and the Tin Man, visitors are invited to join them as Heroes of Oz in an adventure to help The Great Wizard save Oz from chaos! 
There are four challenges to complete. Upon entering, we were given the help of Hello Kitty aka the Great Wizard of Oz, an electronic device which is used to record our results after completing each challenge.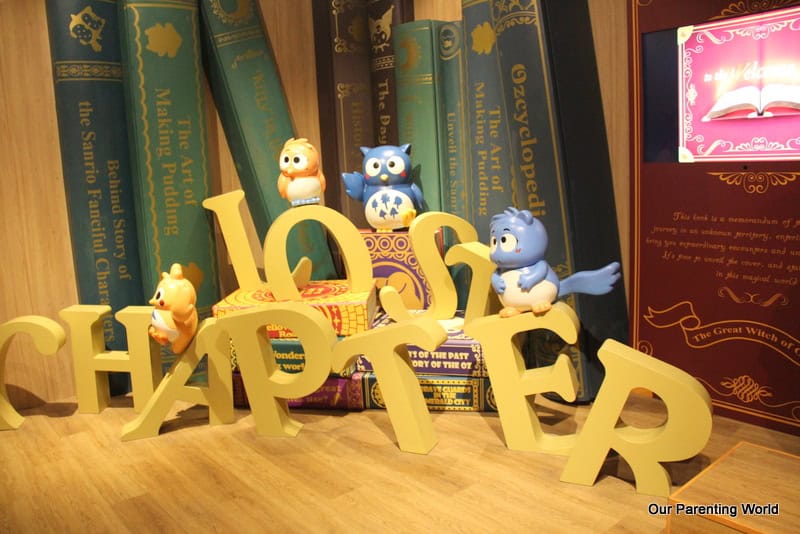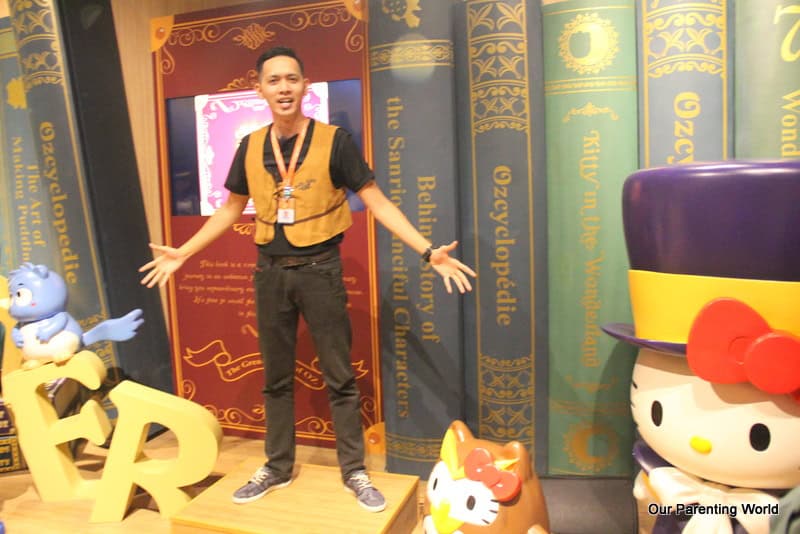 Once we received our Wizard, we proceed to a briefing session by the Librarian of Oz before we can begin on our magical quest. At every challenge/game, the Oz Guardians will be around to help us complete the mission.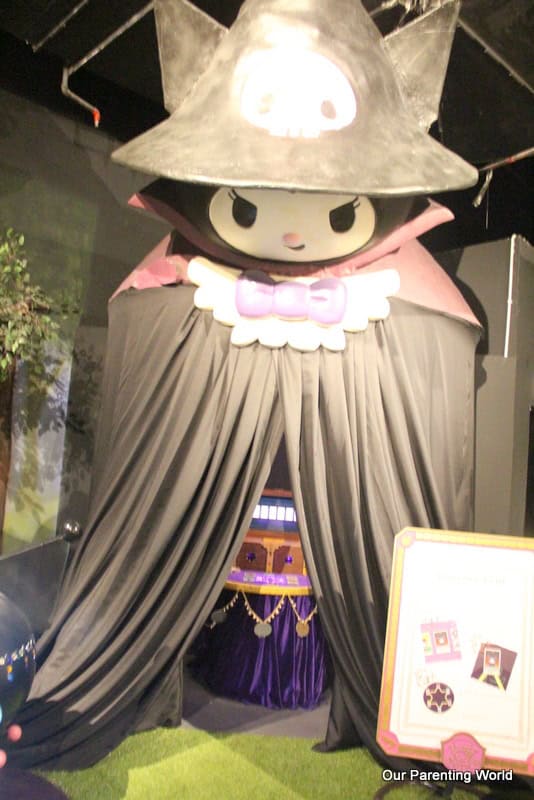 After the briefing, we have to find our way and pass through a mirror maze successfully before starting our challenges. There are four interactive challenges/games to accomplish. Visitors have to complete all four interactive activities in order to help Hello Kitty the Great Wizard to save Oz. 
The first challenge is Kuromi's Tent.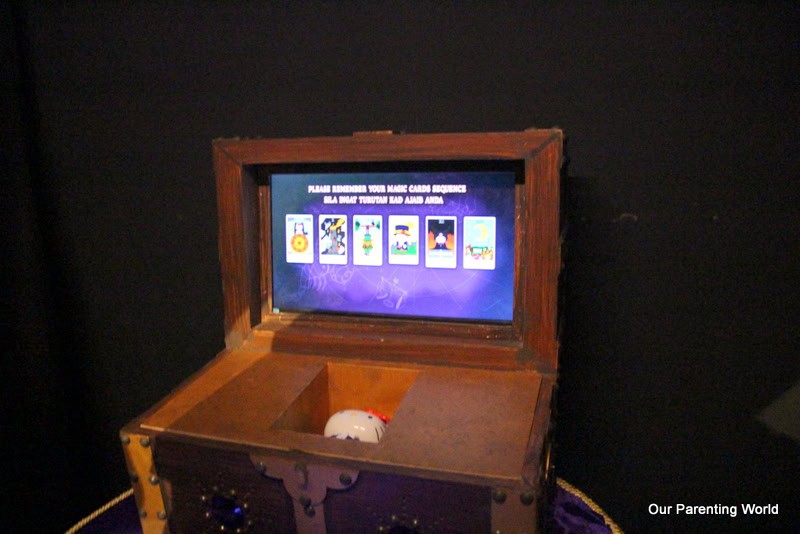 At Kuromi's Tent, Kuromi the Fortune Teller will read your fate with her cards. It is a memory card game and you are given 15 seconds to remember the sequence of the 6 cards reflected on the computer. After that, you have to arrange the cards correctly in the same order to complete your mission. Each challenge, you only have one chance to do it correctly.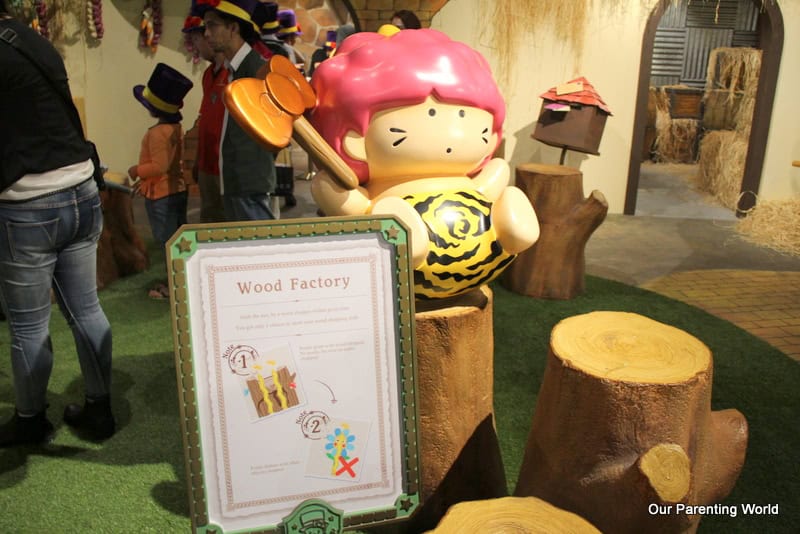 The second challenge is Wood Factory. Over here, you are required to chop wood in order to pass the test.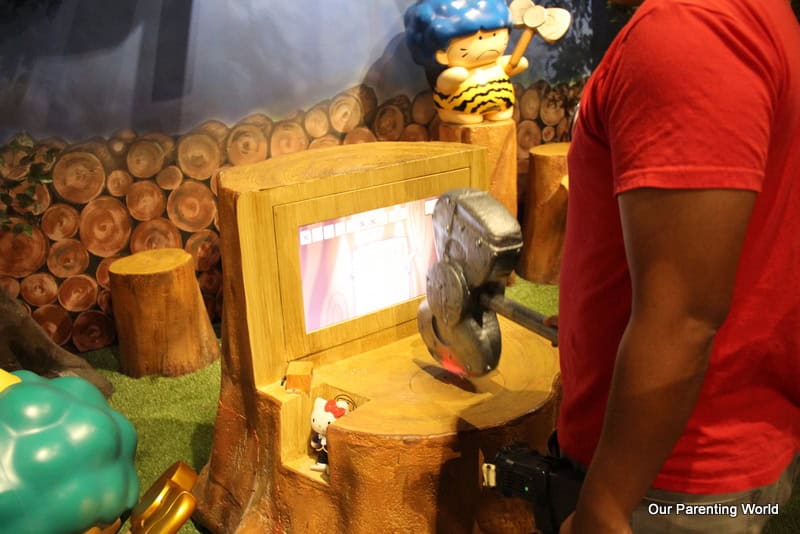 This challenge is not too difficult, follow the instructions on the screen closely and responds correctly to how many times each piece of wood need to be chopped. 
The third challenge is the Corn House. You are required to roast the corn and make sure the fire is just nice so that your corn is tasty and that it will not be burnt but in a nice golden colour.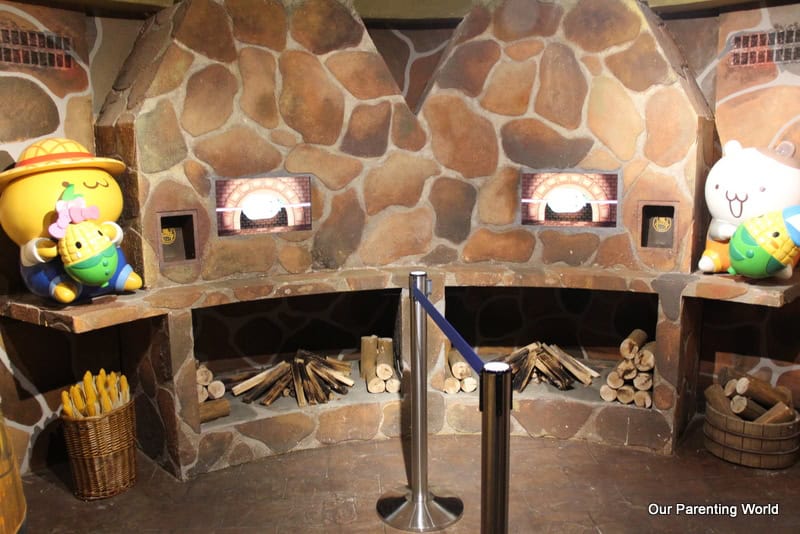 You have to concentrate on controlling your fire by following the instruction on the screen to wave your hand accordingly over the "fire" to ensure that your corn is cooked perfectly in order to pass the test.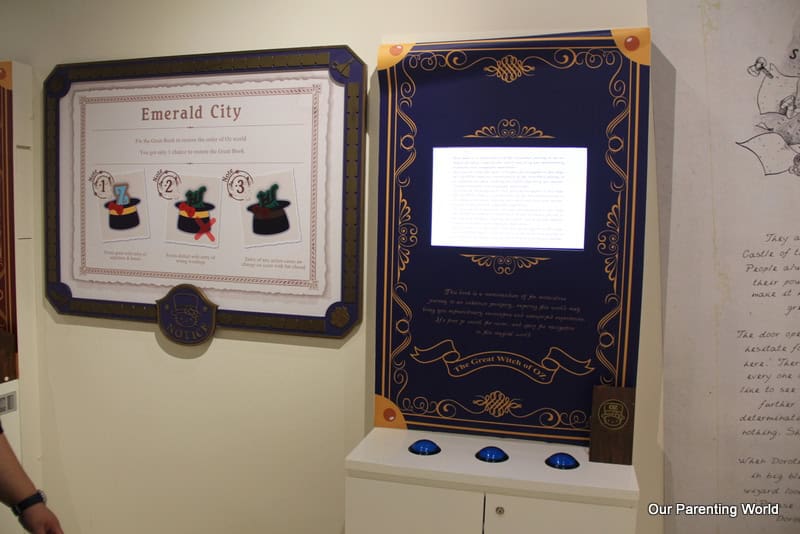 Last challenge is at Emerald City. Participants have to pay close attention to put the alphabets into the right hat.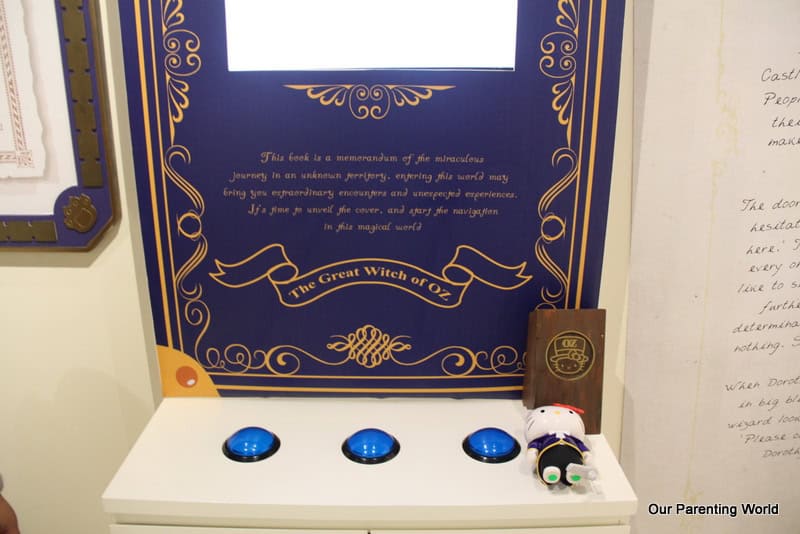 The Emerald City challenge can be a bit tricky but manageable and our team member managed to pass all the challenges successfully.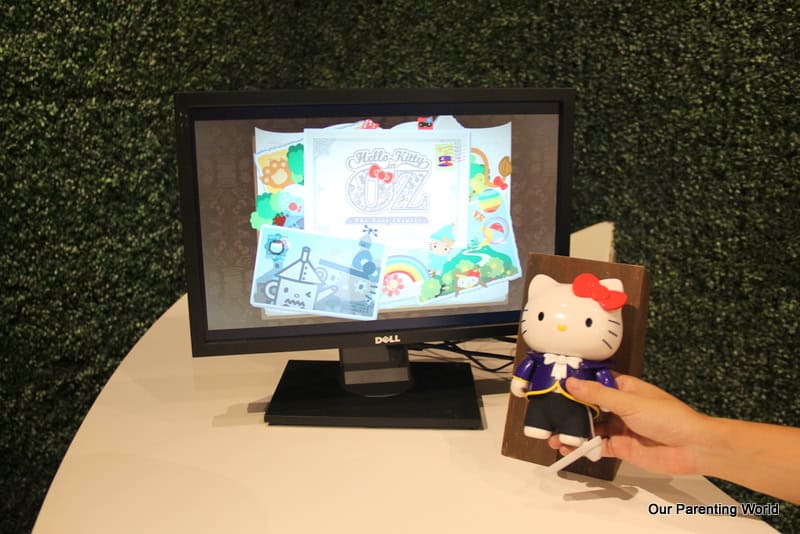 After you have completed all the challenges, you will retrieve your results from the Hello Kitty device.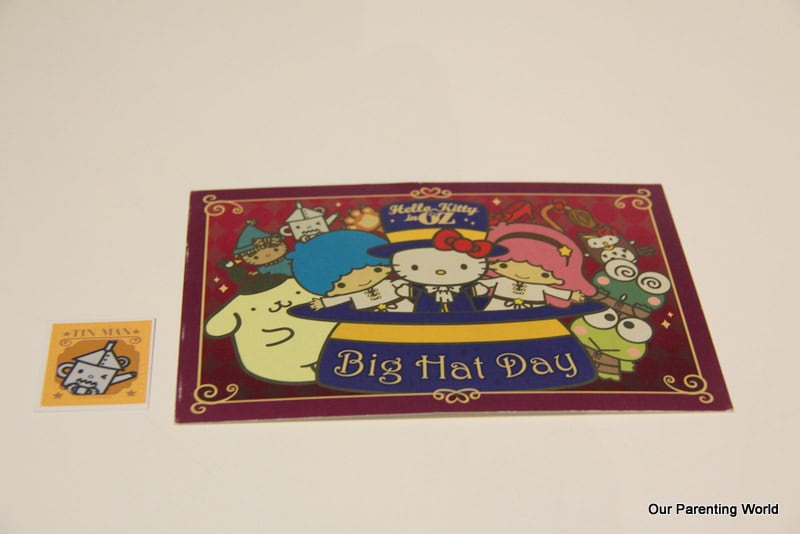 Upon completing all four activities with at least three of them completed successfully at one go. You will be rewarded for restoring the Land of Oz back to order and bring back a postcard containing your results as a souvenir.
The challenges/games are fun and suitable for both adults and children. Estimated time to complete all the activities is about 20 minutes. 
[slideshow_deploy id='12945′]
While you are completing the challenges at The Lost Chapter, don't forget to take lots of pictures at Munchkin Village where you'll get to meet Strawberry King and his angels and with My Melody, Little Twin Stars, Hello Kitty dressed as the Scarecrow and many more.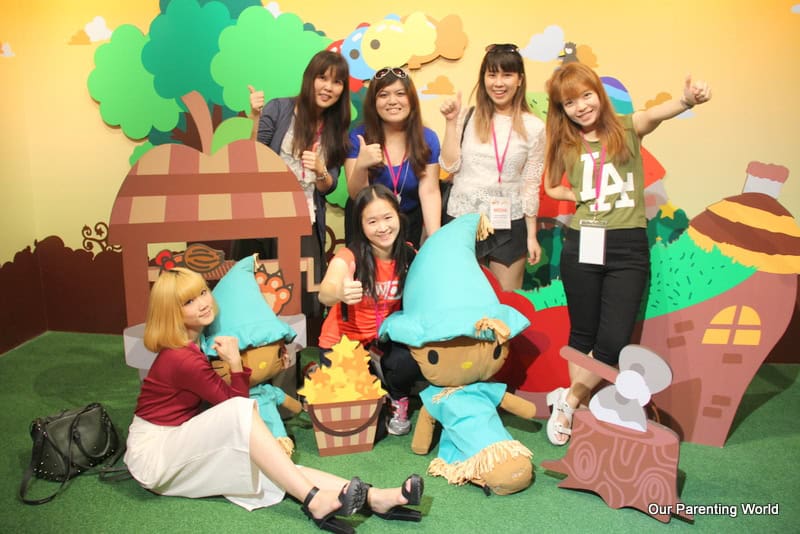 Thumbs up for the fun and wonderful time at SANRIO HELLO KITTY TOWN and Hello Kitty in Oz!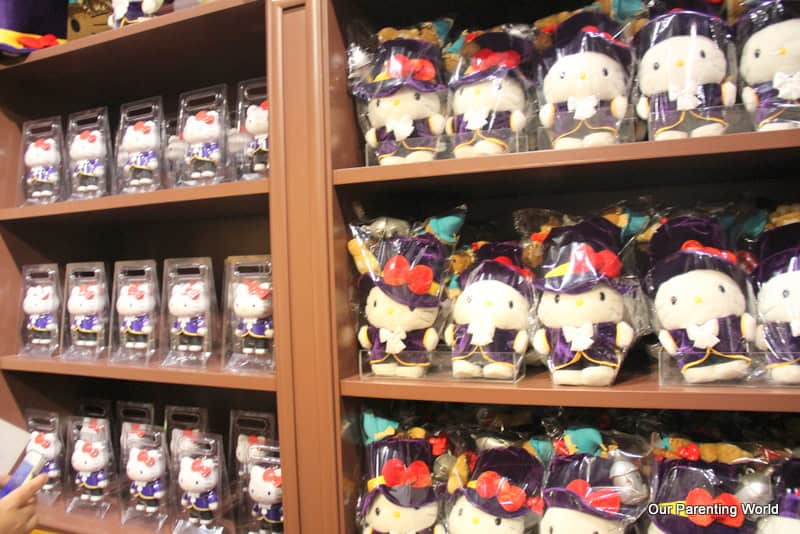 Look out for the special Hello Kitty in Oz retail shop, "Oz World Alley" that carries exclusive limited edition Hello Kitty in Oz collectible merchandises. You can get your hands on a wide range of Hello Kitty merchandise from stationery, bags, accessories to Hello Kitty plush toys.  
These limited edition merchandise are only available at SANRIO HELLO KITTY TOWN, Puteri Harbour, Johor.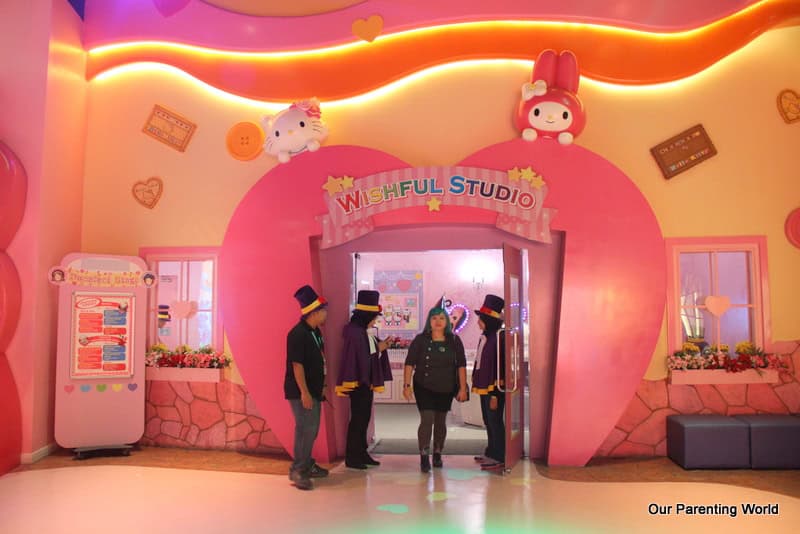 In addition to visit Hello Kitty in Oz, you can enjoy various activities at SANRIO HELLO KITTY TOWN. At Wishful Studio, you can get hands-on working on jewelry making, costume dress up at the photo studio, visit the nail salon to decorate your nails with Sanrio characters nail art, make Hello Kitty shaped cookies at the cookie studio and make your own Hello Kitty doll at the doll factory. These activities will surely bring delight to anyone who likes Hello Kitty.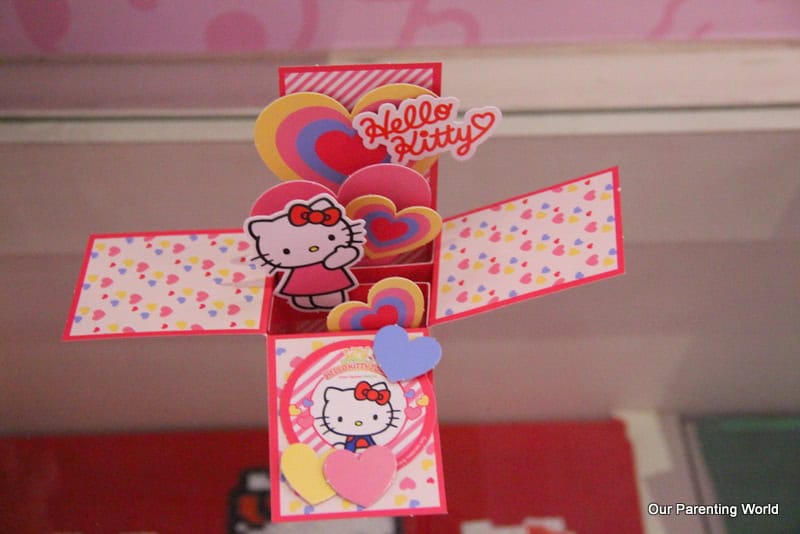 We simply love this Hello Kitty craft that we did at Wishful Studio.
Look who's here?
Its Hello Kitty! Squeak of delight were heard when the lovable Hello Kitty in pretty pink dress appeared. She is here to bring the media group for a tour around her beautiful iconic life-sized Hello Kitty house.
Hello Kitty's kitchen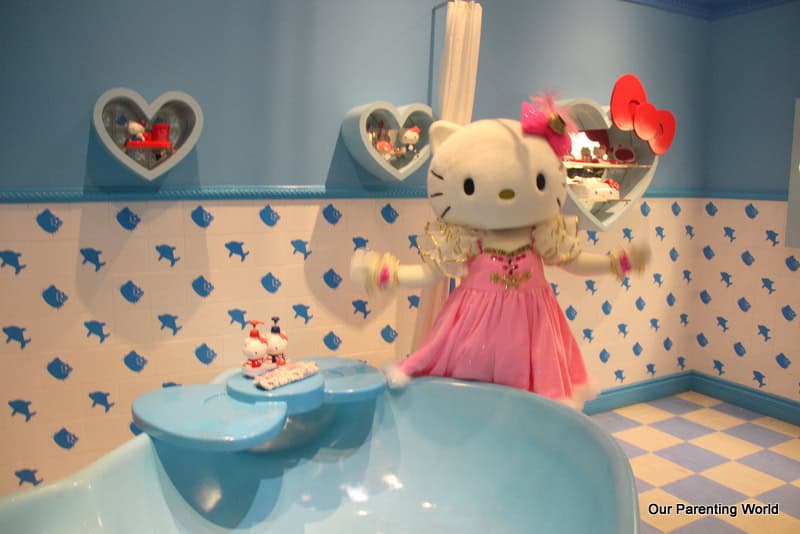 Hello Kitty's Bathroom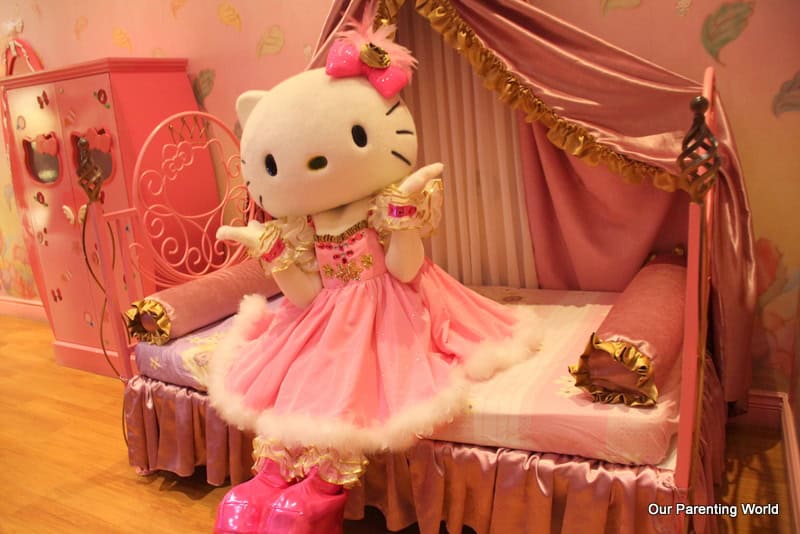 Hello Kitty's bedrooms in yellow and pink colours.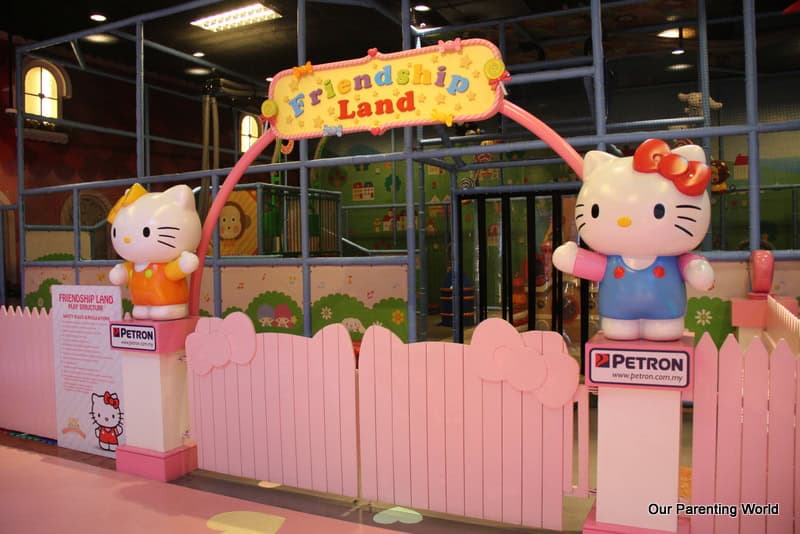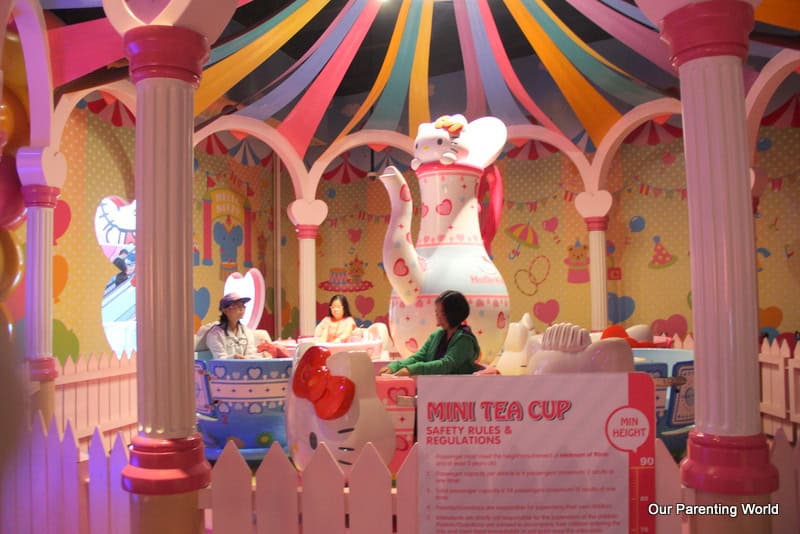 Young children can enter the Friendship Land for indoor playground activities and Mini Tea Cup for a fun merry go round themed ride with Hello Kitty suitable for everyone.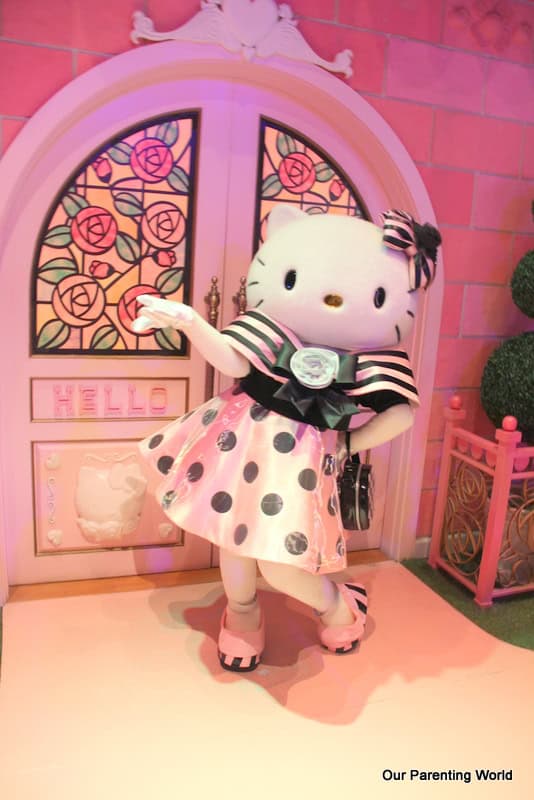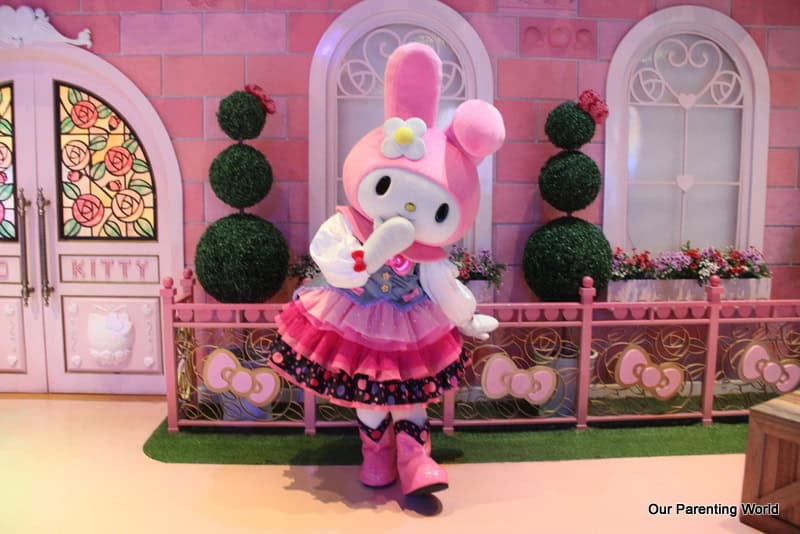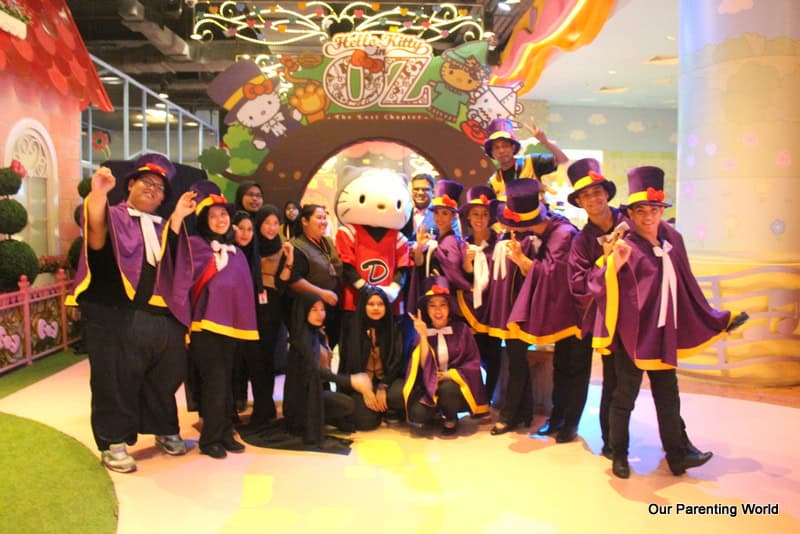 Visitors to SANRIO HELLO KITTY TOWN can look forward to enjoy the daily parades, sing-along sessions for children and meet-and-greet sessions with Hello Kitty, My Melody, Dear Daniel, Badtzmaru and other beloved Sanrio characters. We are also impressed with the helpful and passionate staff at SANRIO HELLO KITTY TOWN that make our visit a pleasant and enjoyable one. 
If you are hungry and or thirsty, visit Cinnamoroll Cafe located within the town. You will be delighted with a range of yummy Hello Kitty themed pastries, waffles and drinks. This is a good place to rest, relax and recharge your energy while in-between taking part and enjoying the activities at the town.
Thinking of buying some more Hello Kitty merchandise for yourself and or as gifts. There is a gift shop located at the main entrance of SANRIO HELLO KITTY TOWN to satisfy your shopping needs.
SANRIO HELLO KITTY TOWN is a great bonding place for family to visit and spend an enjoyable time together. Hello Kitty fans will be thrilled to meet and take photos with Hello Kitty and her friends, participate in various activities. Visit the new Hello Kitty in Oz which promises to be a big hit with the young and young at heart.
Besides SANRIO HELLO KITTY TOWN, you can also visit THOMAS TOWN especially for the boys. 
Bring the whole family to Puteri Harbour, Johor, SANRIO HELLO KITTY TOWN and THOMAS TOWN, it will be a good choice to bring your family to spend an enjoyable time especially for this coming school holidays.
Additional Information: 
SANRIO HELLO KITTY TOWN
Location:
Persiaran Puteri Selatan, Puteri Harbour
79000 Nusajaya
Johor Darul Takzim, Malaysia
Tel: 1300 88 FAMILY (326459)
Email: [email protected]
Opening Hours:
Monday to Friday from 10am to 6pm
Planning Your Trip and Transport Details:
Please click HERE for more information. 
Please visit SANRIO HELLO KITTY TOWN's Facebook page at https://www.facebook.com/SanrioHelloKittyTown
or visit the official Instagram page https://instagram.com/sanrio_hellokittytown/ for more information.