Hisamitsu Pharmaceutical Co. Inc (Head Office: Tosu City, Saga Prefecture; President and CEO: Kazuhide Nakatomi) launched the Salonpas® Diclofenac Patch 1%. It is the first in the Salonpas® line to use diclofenac, a clinically-used ingredient that is powerful and efficacious and penetrates to alleviate pain at its core.
Singapore is the first market in S.E Asia outside of Japan to get the new product, in line with Hisamitsu's recognition of the ageing yet active population in Singapore.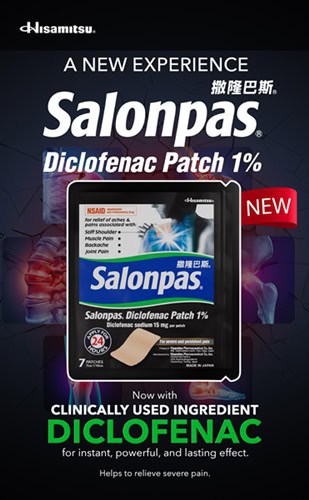 The new Salonpas® Diclofenac Patch 1%
Each patch measures 7cm by 10cm and contains 15mg of diclofenac sodium. Diclofenac is a nonsteroidal anti-inflammatory drug (NSAID) used to relieve severe, persistent pain and relieve symptoms such as inflammation, swelling, stiffness and joint pain. The powerful and efficacious ingredient of the patch penetrates deeply into the body to alleviate pain at its core.
Just one patch will provide all-day, all-night relief as it can be applied for 24 hours – significantly longer than other Salonpas® patches that last up to eight hours. This makes it ideal for round-the-clock relief of aches and pains associated with stiff shoulder, muscle pain, backache, joint pain and more.
The Salonpas® Diclofenac Patch 1% seven-piece pack is an eco-friendly product that does away with an outer box to reduce the amount of packaging material used, as part of Hisamitsu's environmental, social and governance (ESG) commitment. The horizontal opening of the packaging makes removal of patches easy while its compact and resealable design make it easy to store or carry around for anytime use. Designed to be easy to peel and to stick well, the new patch is suitable for use in adults and children of 15 years of age and over.
"The everyday comfort and health of our consumers is Hisamitsu's topmost priority. By launching the Salonpas® Diclofenac Patch 1% in Singapore, we aim to help customers of different age groups and lifestyles, from senior citizens to sports enthusiasts to working professionals achieve higher quality of life," said Mr Katsuhiro Sato, Executive Officer, General Manager APEA Sales Headquarters, International Division of Hisamitsu.
About Hisamitsu Pharmaceutical Co
Hisamitsu Pharmaceutical has been engaged in the pharmaceutical industry since 1847. Today, its flagship product, Salonpas® is known worldwide as a pioneer in the field of transdermal patches and has been trademarked in over 100 countries worldwide.
Hisamitsu strives to deliver a better QOL (Quality of Life) to the world through its "TE-ATE" culture which literally means putting one's hand on an injury of loved ones to cure while heartfully wishing for good fight and recovery. "TE-A-TE" is a Japanese concept of compassionate treatment.
Moving forward, Hisamitsu is committed to improve formulation technologies in the area of topical and transdermal patches based on their world-class TDDS (transdermal drug delivery system) to contribute to a healthy society. In 2022, Salonpas® was recognised as the brand with the world's No. 1 market share in the OTC (over-the-counter) category of topical analgesic patches for six consecutive years by Euromonitor, a global market research firm.