What a great way to end a hectic and fulfilling year, an enjoyable staycation right in the heart of Orchard Road! Our Parenting World team checked into Hotel Jen Orchardgateway during the Christmas season and we had a wonderful time at this awesome hotel. 
Hotel Jen group is part of the Shangri-La Hotel group family. Their range of hotels is generally 4 stars compared to the Shangri-La hotels' 5 stars rating but from what we experienced at Hotel Jen, we have no doubt their services, quality of facilities and food etc. are comparable to many of the 5 Stars hotels in Singapore but their prices are more afforable. Furthermore, Hotel Jen Orchardgateway is located right in the centre of Orchard Road above the MRT Station, not many hotels have such excellent location in Singapore. It is surrounded with shopping malls, cafes and restaurants, interconnected to Orchard Central just next to [email protected] and opposite of CentrePoint Shopping mall. It is so convenient!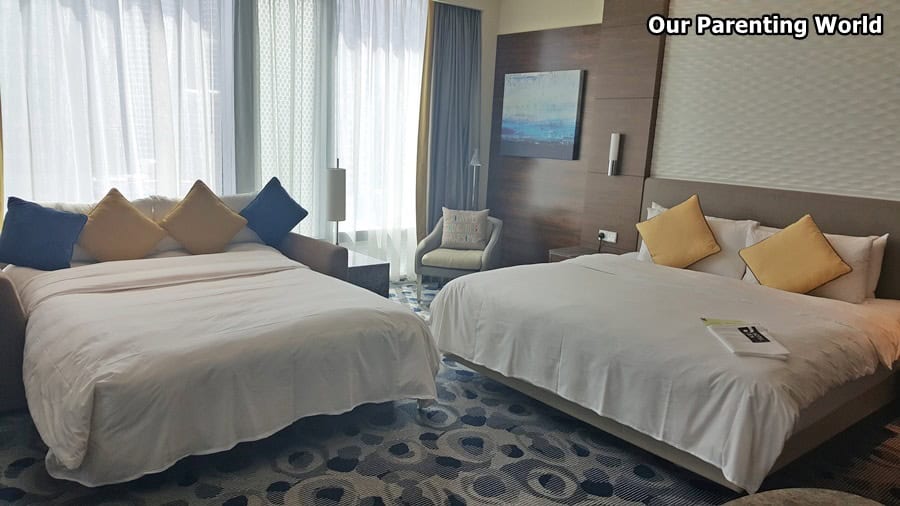 The hotel recently launched their Deluxe Family Room and our family staycation was in one of these rooms. Upon arrival, we checked into our room and were surprised at how spacious the room is, we were so pleased with the super comfy king-sized bed and 1 huge sofa bed. The room is stylish, comfortable, brightly-lit and very cosy. Our two active boys simply love staying in the room.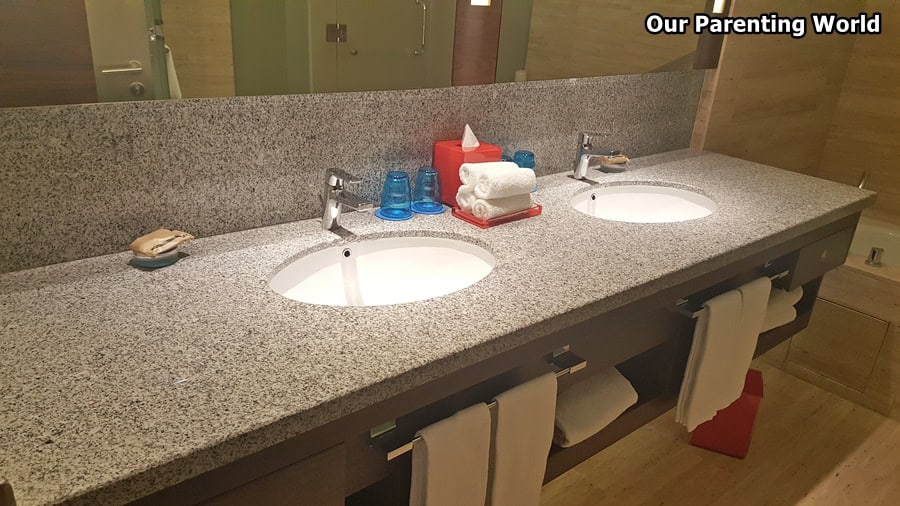 The smart en-suite bathroom is also spacious, it must be one of the largest one that we have stayed consisting of a shower, bath, filled with soft, fluffy towels and toiletries with ample space for the whole family to move around in the bathroom.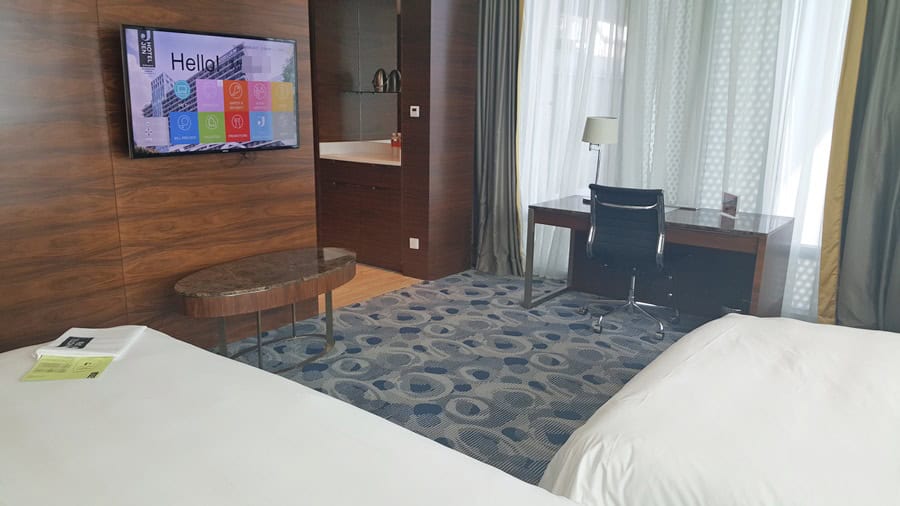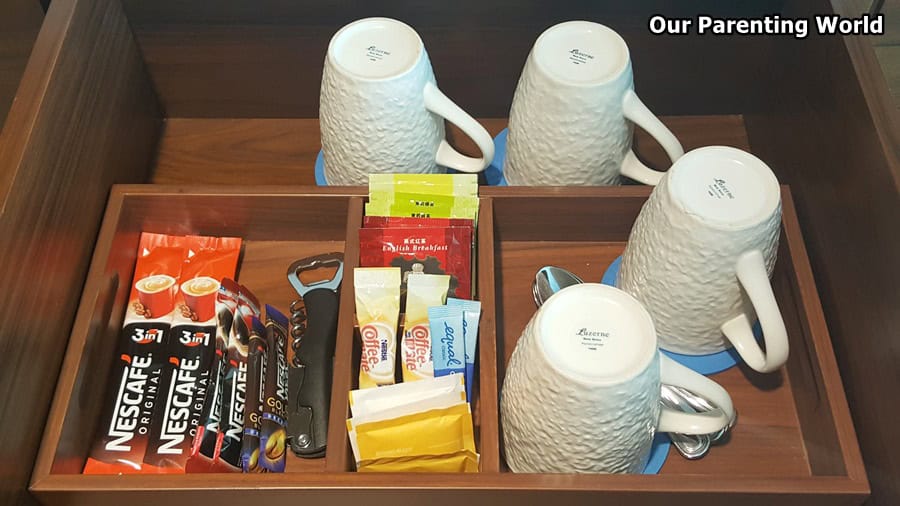 Total size of the room is 47 sqm, it has a tea and coffee station, 40-inch Internet Protocol Television (IPTV) system and comes well-equipped with steam iron, ironing board, hairdryer, PressReader with access to over 7,000 newspapers and magazines, international direct dialling service, electronic safe and more. There are vending machines located within the hotel if you need something to snack on. 
You are able to do your reading or work on this large executive writing desk facing a full length windows and enjoy the scenery at the same time. Hotel guests are entitled to free and fast WiFi to keep you connected.
If you are feeling hungry and don't wish to leave your comfortable hotel room, 24-hour in-room order-in service is available.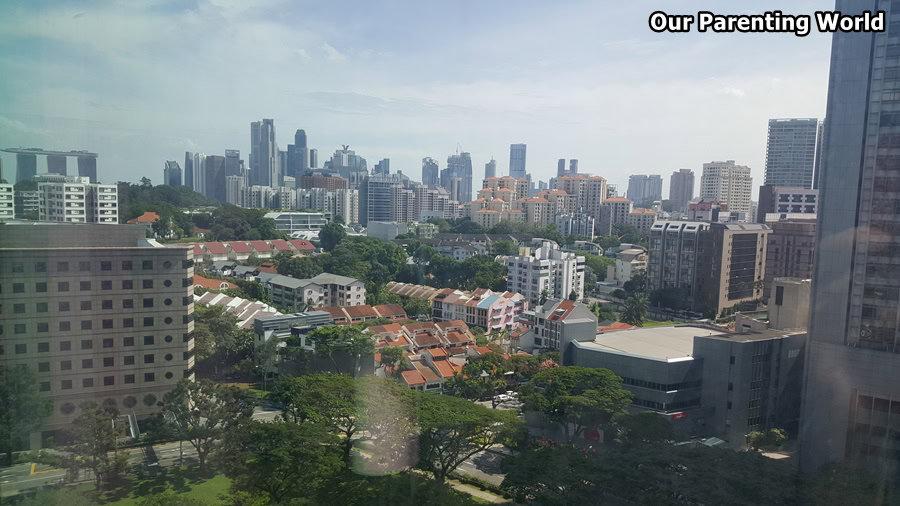 The view of Orchard Road taken from our hotel windows.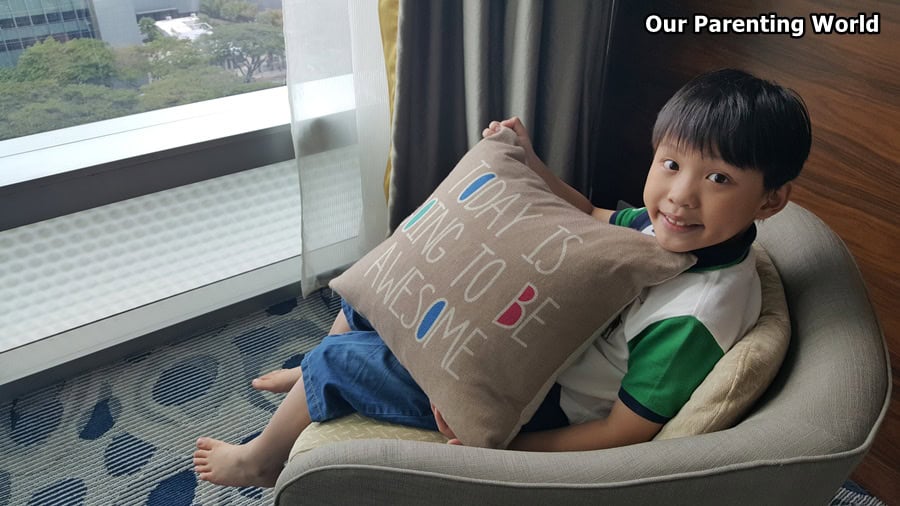 You can just chill out, relax and admire the amazing view of bustling Orchard Road at the comfort of your hotel room.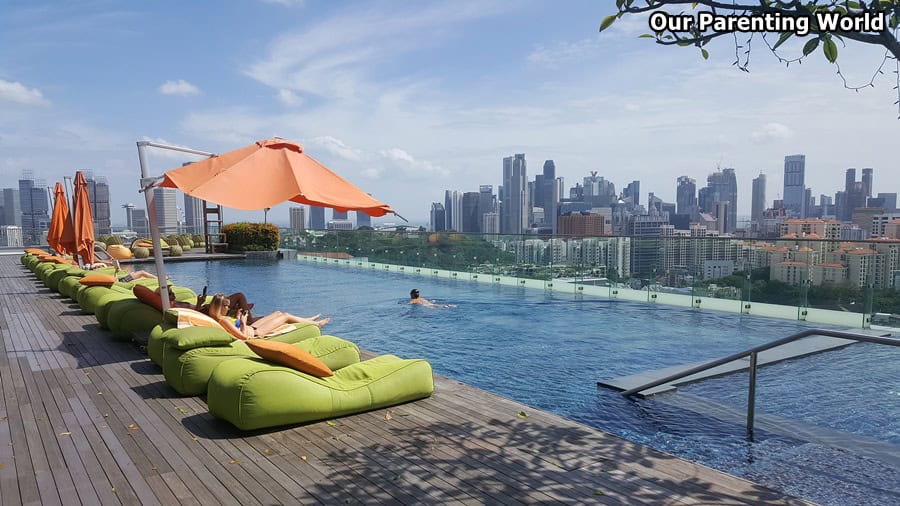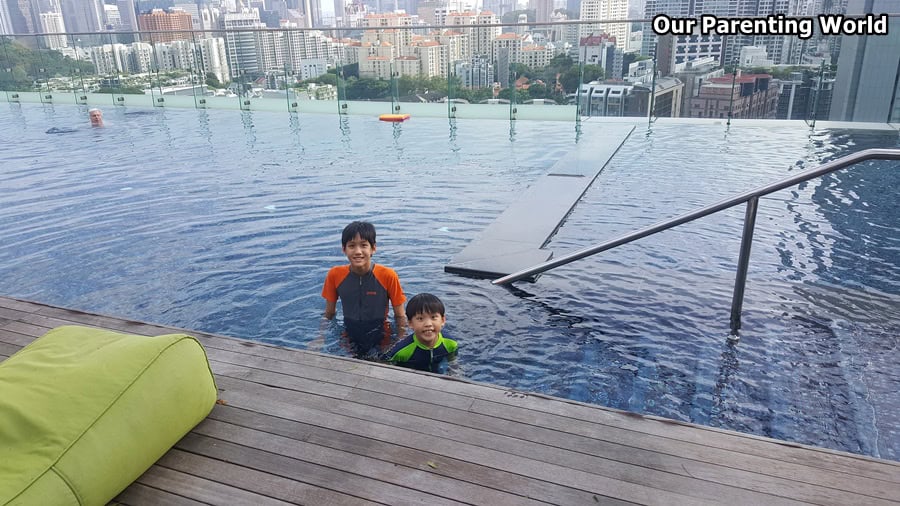 Hotel Jen Orchardgateway features a stunning 47-metre rooftop infinity pool that you simply can't resist swimming in it. The view from the sky pool with jacuzzi is simply amazing, you can see as far as Marina Bay Sands at one side to the Orchard Road skyline at the other side.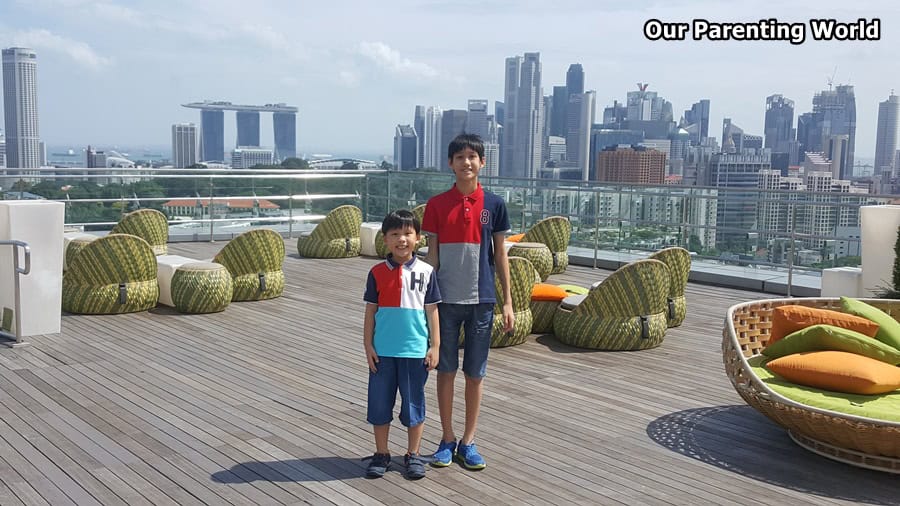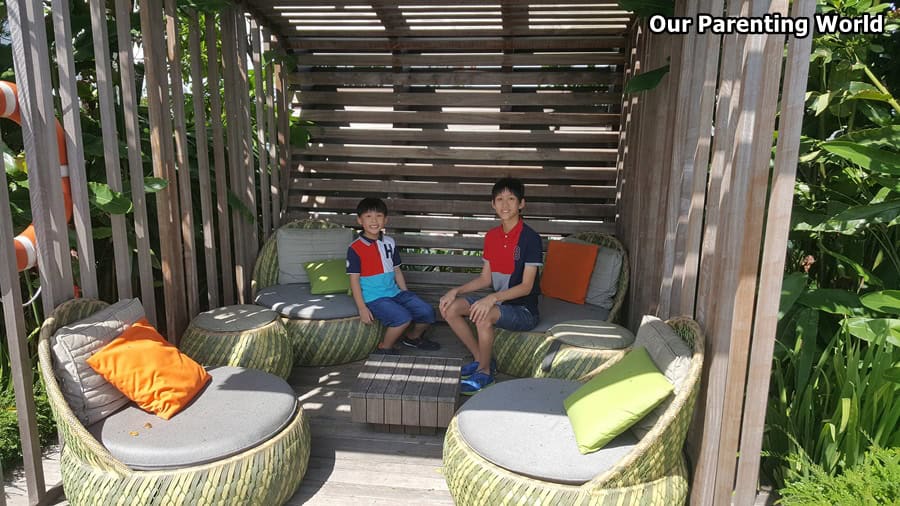 It is a good way to unwind at the pool or relax and enjoy the panoramic views of Singapore's skyline at the stylish and comfortable poolside cabana. During the day, you can book an indulgent massage at the poolside cabana.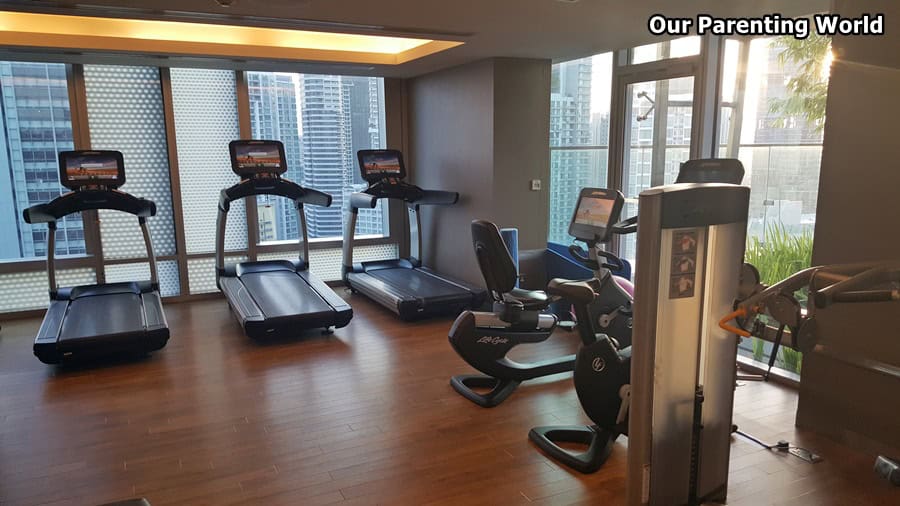 For guests who want to work out and keep fit, there is a 24-hour Fitness Centre and sunset yoga sessions on the deck of the rooftop infinity pool running on every Thursday, from 6.10pm to 7.10pm. Non-paying guests can also participate in the sunset yoga for SGD$10, to make a booking, please contact [email protected] team via +65 6708 8832. Please note that the yoga session is subject to weather conditions.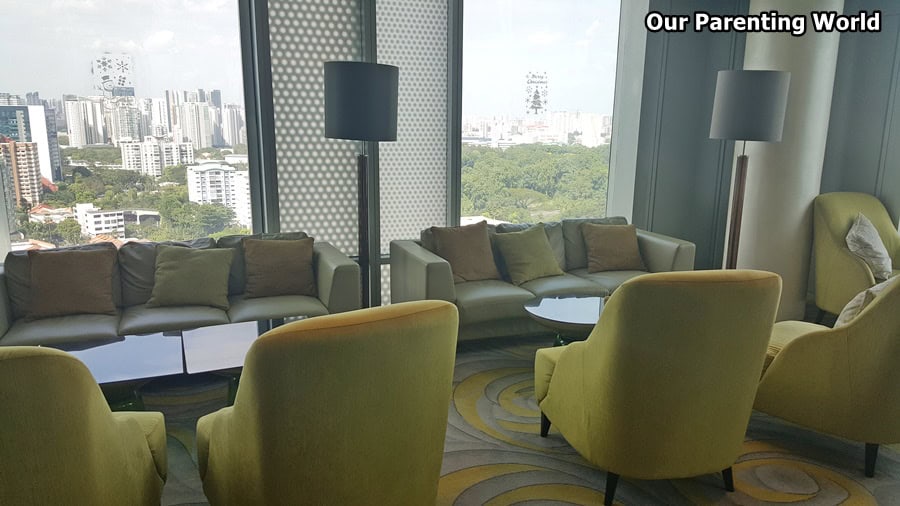 For hotel guests who booked the hotel rooms with lounge access, the exclusive lounge is located on the 19th floor with a 360-degree view of Singapore. You can look forward to enjoy exclusive personalized service and indulge in a delectable breakfast buffet, along with all-day drinks and snacks at your leisure. Unlike some other hotel lounges that generally cater for business travellers (i.e. children are not welcomed in the lounge), Hotel Jen Orchardgateway's lounge is family-friendly, children are welcome to visit the lounge. The evening cocktail will be served from 5.30pm to 7.30pm which has a good range of delicious and savoury finger food for you to indulge in that you can even skip dinner if you wish.
Here's what you can expect at the Club Lounge as follows: 
– Exclusive check-in and check-out, so the hotel can welcome you back as if you never left
– A totally in-the-know concierge to help you get the most out of your stay
– Complimentary non-alcoholic beverages and snacks all day long, with a special breakfast buffet, too
– Complimentary evening cocktail and alcoholic beverages from 5.30 pm to 7.30 pm daily
– One piece of laundry pressing per stay (in case you've got somewhere special to go!)
– Two hours complimentary use of the hotel's meeting room suites per stay (bookable in advance)
– PressReader access to over 7,000 newspapers and magazines
– Internet surfing desk and high-speed Wi-Fi
Fret not if you forget to bring your mobile charger, the charging stations are available for guests to charge their mobiles. In fact, these charging stations are available at all Hotel Jen's properties. All you need to do is to plug your mobile in, lock the self and take the keys out. You can return the keys after your phone is fully charged. What a thoughtful gesture from Hotel Jen!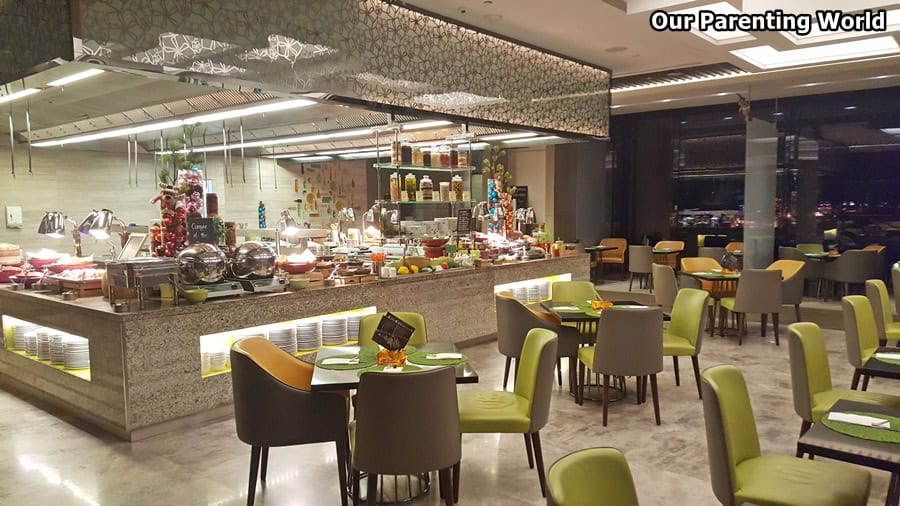 Rise & Shine! Look forward to a sumptuous breakfast buffet spread at the hotel's signature restaurant [email protected] located at the 10th floor to kick-start your day!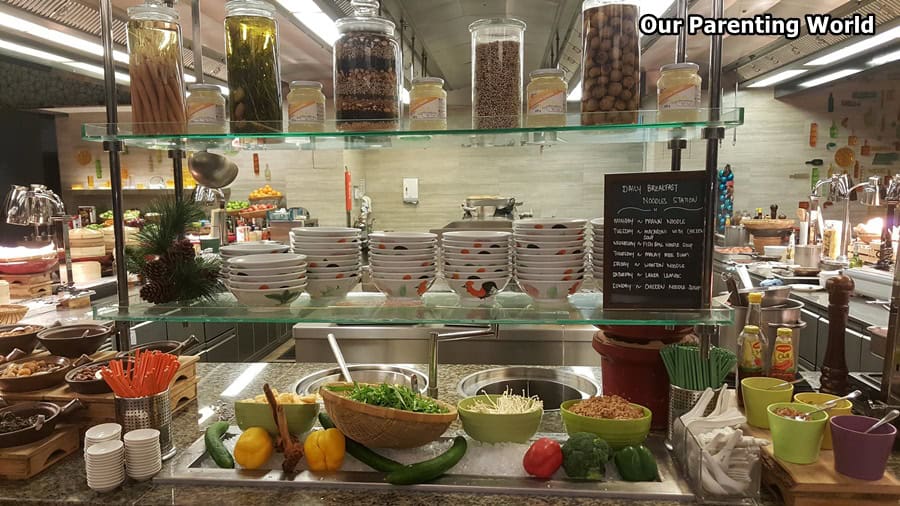 Daily breakfast noodles station, check out the delicious noodles station and order your bowl of hot and comforting noodles soup like prawn noodles, wanton noodles, malay mee siam, chicken noodles soup, menu is updated everyday. 
Look forward to indulge in a wide spread of sumptuous breakfast items ranging from international right up to local dishes. There is a good mixture of western delights like sausages, omelette, pancakes, a large offering of different types of bread and pastries and local delights like noodle station, nasi lemak, porridges, roti prata with curry etc. We simply enjoy our breakfast at [email protected]!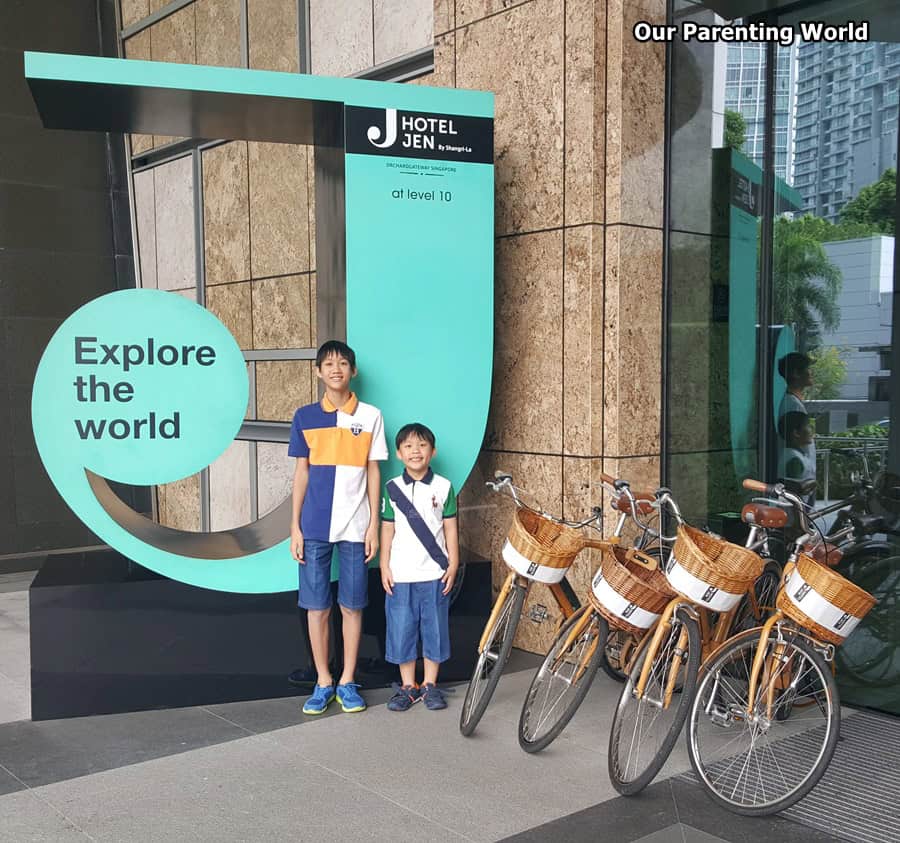 One other thing that really stands out with our family staycation at Hotel Jen Orchardgateway is everyone working in the hotel whom we met, from the reception check-in to the lifeguard at the swimming pool to the chef at the restaurant always gave us an enthusiastic warm smile and they are always helpful! We are very impressed with the warm hospitality given by the hotel! 
Time really flies when we were having an enjoyable time at the hotel. Before we know it, it's time to checkout from our hotel staycation. What a nice way to end our busy 2017 year.
Five Reasons Why Our Parenting World recommends Hotel Jen Orchardgateway for a Family staycation:
The services and facilities are five stars quality but the hotel rate is at the 4 Stars category. It is definitely value for money.

Location is excellent, right at the heart of Orchard Road on top of the MRT Station and surrounded with shopping malls. 

The amazing view from its sky pool can be on par with the Marina Bay Sands sky pool view.

The sumptuous morning buffet spread is one of the best we ever experienced.

Choose the family room option if you are staying with your children. The room is so spacious, clean and luxurious.
Visit Hotel Jen Orchardgateway and stay in its Deluxe Family Room that is carefully designed with families in mind, the room provides the perfect combination of comfort and relaxation for everyone suitable for the whole family to have a wonderful bonding time together right at the heart of Orchard Road!
Additional Information: 
Deluxe Family Room
Children's Meal Plan:
Up to a maximum of 2 children of registered hotel guests that are under the age of 6 can enjoy complimentary buffet meals at the all-day dining restaurant when accompanied by a paying adult. Additional children that are under the age of 6 and all children that are between the ages of 6 and 12 will receive a 50% discount on the buffet price.
Children of non-registered guests that are 12 years old or younger will receive a 50% discount on buffet meals.
Note:
Children's price is only valid for children between the ages of 6 and 12.
Prices are subject to 10% service charge and 7% GST.
Hotel Jen Orchardgateway 
Address: 277 Orchard Road, Singapore 238858
Check-in: 2pm / Check-out: 12noon
To find out more about Hotel Jen and to book its Deluxe Family Room, please visit: 
https://www.hoteljen.com/singapore/orchardgateway/stay/rooms/deluxe-family-room/