La Belle Epoque, meaning 'the golden age' in French, this brand new European Restaurant & Bar has recently opened its doors in the heart of Singapore's vibrant dining belt, Boat Quay on 3 February 2022.
The restaurant is helmed by the dynamic, creative and passionate Chef Firdauz Nasir specialising in creating culinary masterpieces using old-school techniques for his cooking and infused with herbs cultivated from his very own herb garden. To enhance your dining experience, pair the innovative creations with unique concoctions by their very own bartender, Andy.
Singapore Restaurant Week Set Dinner Menu at $68++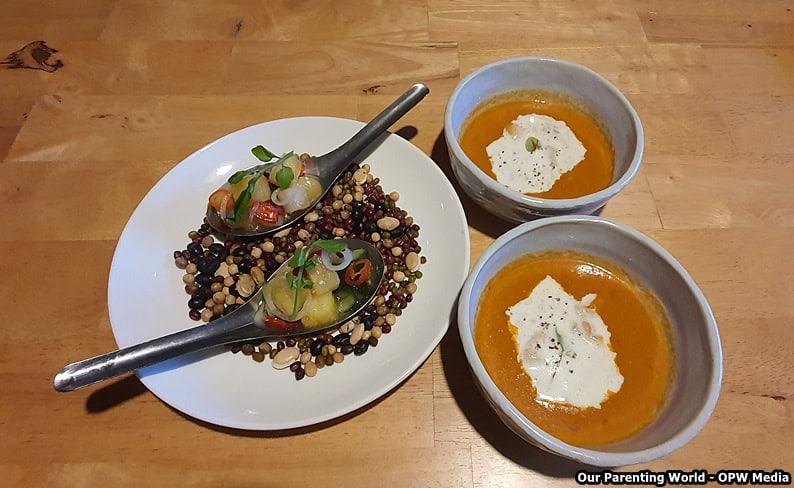 Watermelon Tartar and Soup
We tasted the amazingly delicious four course dinner set ($68 ++) at this restaurant. This sumptuous dinner set menu is offered in conjunction with the Singapore Restaurant Week and it is available till 27 March 2022. There are also 4 choices for the main course and 2 choices for the dessert.
We started off with the appetizer, which is Watermelon Tartar. This light and fresh serving dish contains Smoked cubes watermelon, pickled shallots, spearmint, pomegranate, cube pears, yuzu dressing, cubed Japanese cucumbers, served with watercress salad. It's a great start for the dinner.
Next item is the soup. This soup is made from Tortellini stuffed with pork and beef ragu served in tomato broth. The broth is thick and juicy, and it's a nice way to prepare your taste buds to the main course.
Choice of Main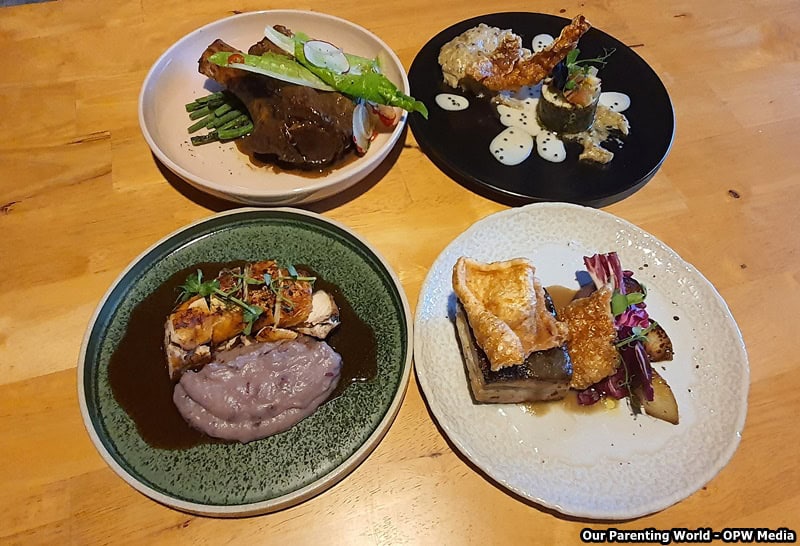 4 different types of main course to choose from (clockwise from top left, beef, fish, pork and chicken)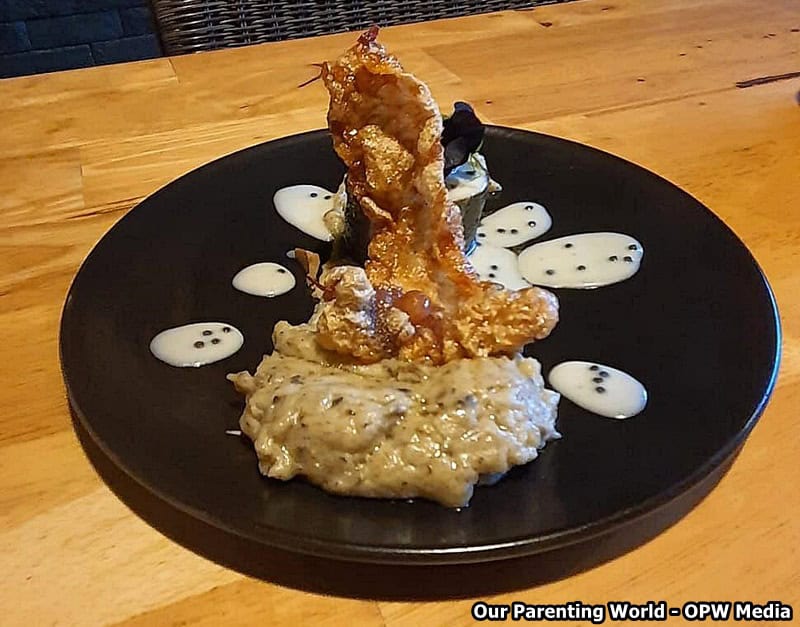 Pan Seared Turbot
The highlight for the set dinner is of course the main dish. For this dinner set, there are 4 choices of main dish, i.e. fish, chicken, pork and beef. With the selection of 4 types of meat available, you'll be spoilt for choice!
The Pan Seared Turbot comes with kombu skins, served with potato pommes and caviar sauce. This is a fairly light main selection, for those who prefer to have a lighter meal. The fish meat is rolled into a cylindrical shape and the meat is soft and juicy for consumption.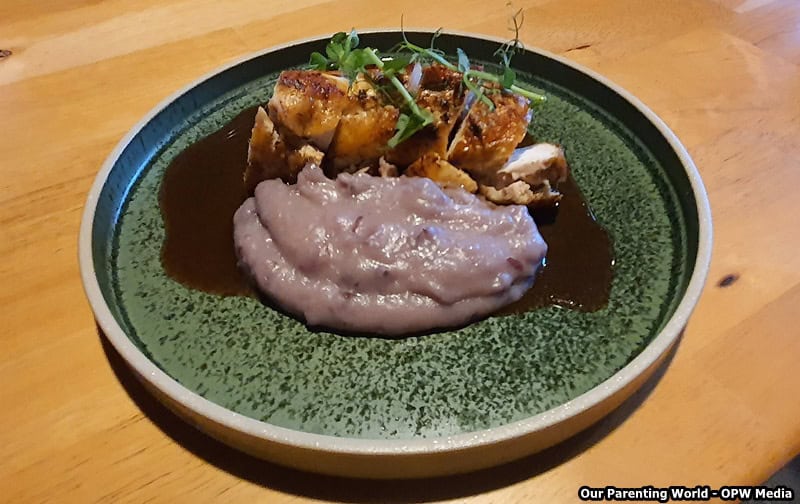 Poulet (Roasted chicken)
For the chicken main consists of roasted chicken served with purple pommes potato and vegetable demi glace. The tender, juicy chicken slices are paired perfectly with purplish mashed potato. The mashed potato looks a bit like the Teochew Orh Nee (sweet yam paste) dessert but without the high calories and sugar. 
Smoked Pork Belly
The other two main dishes are more meaty and good for those who prefer their main course to be heavier. The Smoked Pork Belly is from a thick sliced of roasted pork belly marinated with Chef's special seasoning, comes with grilled peach salad, pork and palm sugar velouté. It has a layer of fat just beneath the skin that melts in your mouth.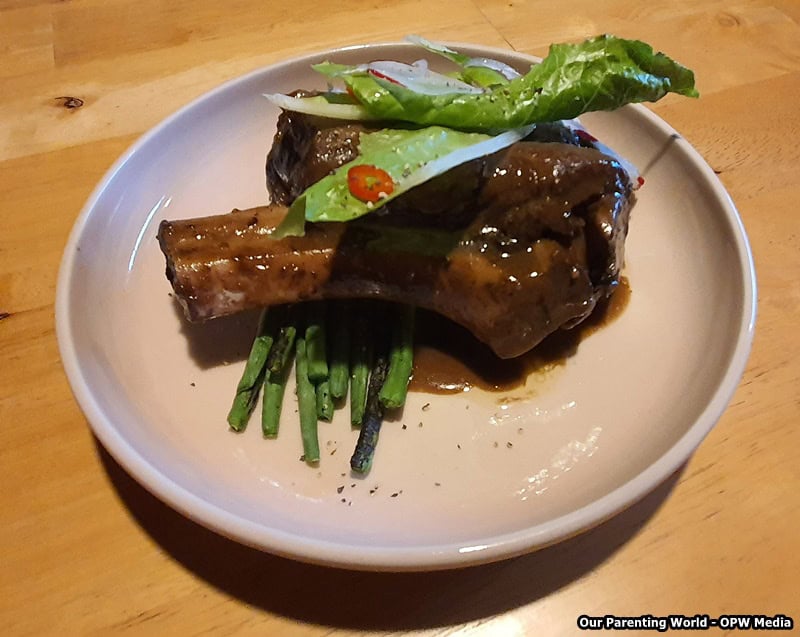 Coffee Beef Short Ribs
The beef main course is Coffee beef short ribs. This is the largest main course among the 4 main selection and the beef short ribs marinated with spices & Guatemala Nespresso coffee sous vide for 48 hours served with pan sear haricot fine bean & romaine salad.
The beef is nicely cooked and tender, pairing with the vegetables make this a full meal for those who can eat more. You can taste the delicious coffee taste in this dish.
Choice of Dessert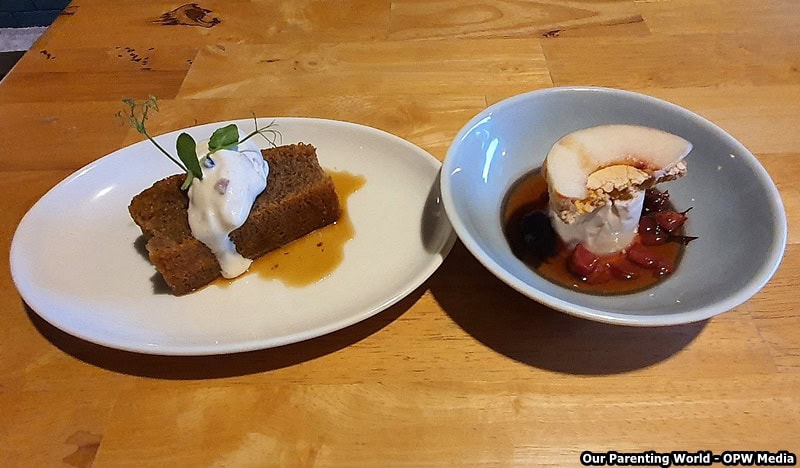 Desserts: Coffee Rum Baba (left) and Peach Panna Cotta (right)
For the desserts, there are two options to choose from for this dinner set. They are Peach Panna Cotta with berries soup and flat savoiardi biscuits or the Coffee Rum Baba which is made from Brazil Nespresso Coffee yeast cake soaked in Kahlua rum served with berries cream chantilly. We prefer the nice rum taste in the Coffee Rum Baba to end our meal, but if you like sweet, sour and milky taste, Peach Panna Cotta will be a good choice for dessert.
In addition, you can pair your meal with their signature refreshing Signature Cocktails at $20++ including Swirly Highball, which is available in gold, silver and even pink, Passionfruit Tropika, Butterscotch Sgroppino, the recommended Jamon Boulevardier using Iberico washed whiskey and more. Wine lovers can enjoy a diverse selection of grape varietals from various European regions, from Spanish Sauvignon Blanc, Italian sweet wines to the popular Bordeaux and Burgundy wines in France.
La Belle Epoque is certainly an impressive, cosy place for you to enjoy a fabulous meal and chill out with your family and friends!
La Belle Epoque
Address: 63 Boat Quay, Singapore 049851
Tel: +65 6732 1687
Website: https://www.lberestaurant.com/
Facebook: https://www.facebook.com/LBEsg
IG: @Labelleepoquesg
Reservations 
Opening hours
Monday to Friday – 12pm to 11:30pm
Saturday – 4pm to 11:30pm
Closed on Sunday